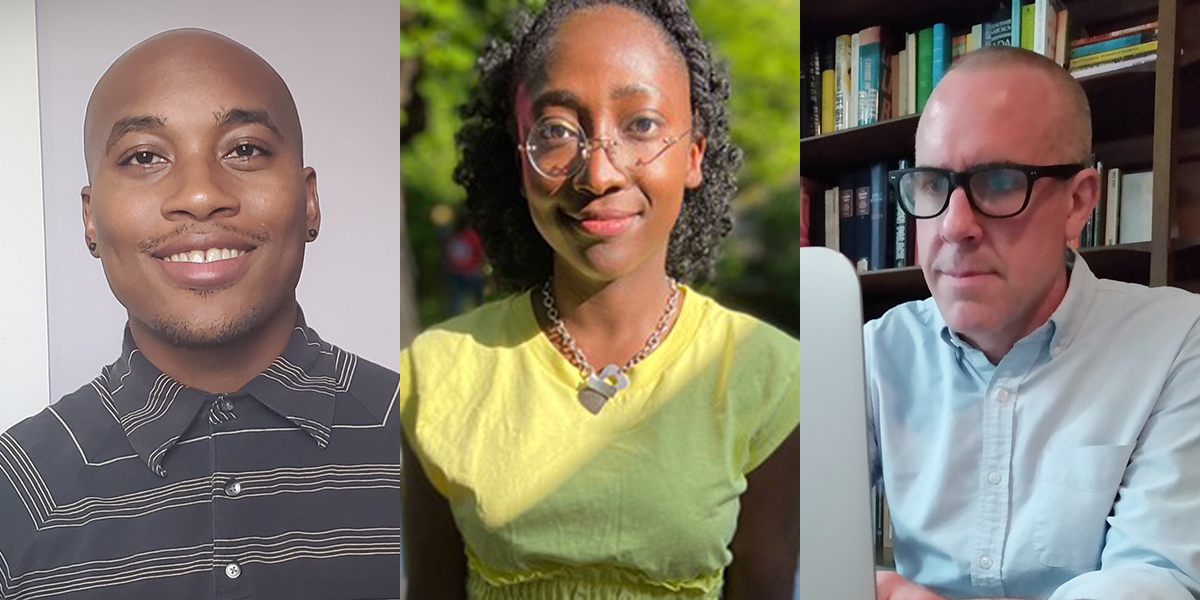 When the pandemic forced the Price Lab for Digital Humanities to cancel its Dream Lab summer camp, the team turned its focus towards a new project, a Dream Lab podcast series. The eight episodes, each about 15 minutes, feature a collaborative team of digital experts from Penn and four other universities. 
"We tried to think of a low-impact way to be true to our mission of being a resource for our campus and our region for the digital humanities. We wanted to keep the momentum going," says Stewart Varner, managing director of the Price Lab, who conducted the podcast interviews. "The goal was to have the podcasts introduce the topic of the classes that would have been taught and also include links to other resources." 
The Price Lab, part of the School of Arts & Sciences, funded the podcast series with a grant from The Andrew W. Mellon Foundation. More than 100 people participated in the inaugural Dream Lab last summer, and this year organizers hoped to continue to be a resource in a different way.  
The podcasts are meant as a "gentle introduction" for those who are interested in digital humanities but aren't sure where to start. "We worked to find the best people to teach the classes. The idea is to give people the tools and resources they need and also to shine some light on some of the experts and scholars who are doing amazing work," Varner says. 
The four instructors featured are Clay Colman on Afrofuturism, Scott Enderle on text analysis, Jennifer Garcon on creating community digital archives, and Dot Porter on digital surrogates.
Other instructors are Alex Gil of Columbia University on minimal computing, Roberto Vargas and Nabil Kashyap of Swarthmore College on digital humanities in the classroom, Mark Sample of Davidson College on creative coding, and Matthew Lincoln of Carnegie Mellon University on tidy data. 
"I'm fairly good friends with all of them. One of the highlights for me was talking with my friends in this very weird time," Varner says. "The interviews went well, and the editors did a good job of putting the episodes together." 
Four paid student interns worked as editors on podcast episodes, giving them experience and making it possible to complete the series in time for a summer release. 
"It was a very collaborative process," says Sarah Milinski, program director for both the Price Lab and the Wolf Humanities Center. She was the main producer and editor on the podcasts, working with the interns on their assignments.  
"I never ceased to be amazed at the rigor and curiosity of Penn students," Milinski says. "They engage with the material in a very robust way, using their analytic powers and their writing skills as well as their creativity to take on the material." 
May graduates Kelcey Gibbons, Alexis Masino, and Emmet Foley, were chosen for the internship after taking a podcasting course in the spring with Julie Napolin, the Price Mellon Postdoctoral Fellow. The fourth intern, rising senior Maria Kiamesso DaSilva from Philadelphia, is an assistant at the Price Lab and Wolf Center. 
Gibbons, who was a digital humanities minor and science, technology, and society major, edited the Afrofuturism episode. "I am interested in using digital technologies to share history, not just a history of how people thought but a history of how people felt. Editing this episode helped me build skills and confidence to do that," she says. 
The class on Afrofuturism "is super popular and generates a lot of excitement," says Varner. Colmon, associate director of instructional design in Penn Online Learning, focused his Ph.D. dissertation on Afrofuturism, which he broadly defined as "a radical Black movement that situates race, gender, and sexuality within technology and creative world-building" with a goal of empowering Black communities as agents of social justice and imaginative change.
"Afrofuturism can make us aware of the absences and the silences in representation that happens in digital perspectives and help us think about what we create for future archives," he says on the podcast. "Digital humanities has such power and potential and can lead to a host of different ways to interact with social and culture and political and ideological spaces that we want to create."
Being a part of the digital humanities team and editing the podcast were the highlight of her summer, Gibbons says. "Working on this podcast made me more bold and more creative," says Gibbons, who is headed to MIT to pursue a Ph.D., continuing the research she started at Penn on the history of African American computing communities. "Creativity in selecting sounds is something I will definitely use in the future."
Varner says the Price Lab will use podcasts more in the coming year, especially with pandemic restrictions. "While I hope we are able to have Dream Lab in person next summer, I think we will do another podcast anyway," he says. "It was a good experience and it was fun and it does have the potential to reach more people."