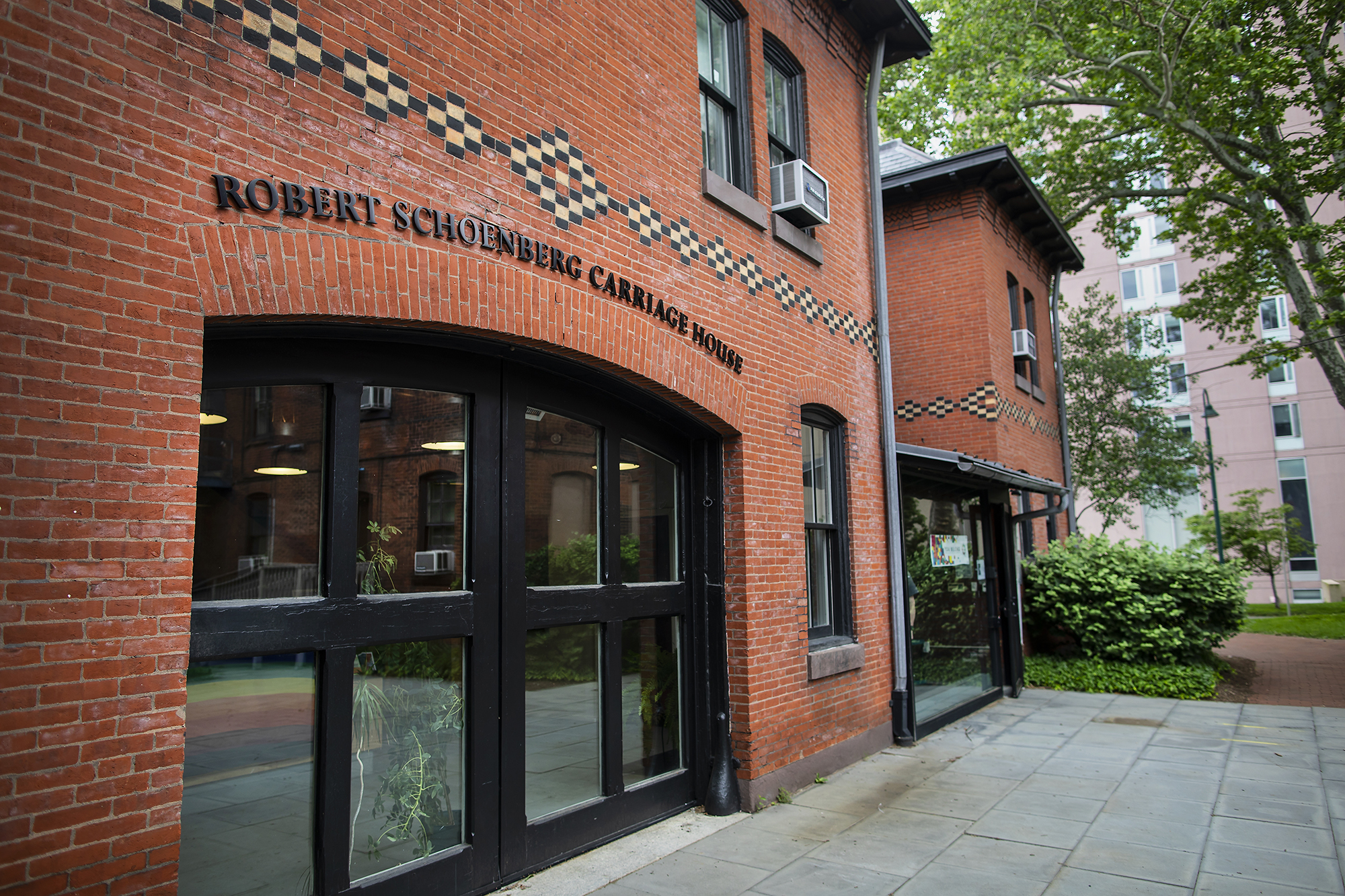 Each year, when the calendar page flips to June, rainbow flags resurface to brighten streets and a bevy of events spring up to celebrate the powerful combination of LGBTQ progress and personal identity. 
And at Penn, there's a lot to celebrate. 
To be specific: the Penn LGBT Center, a hallmark of LGBT culture at the University and a trailblazer in the world of academia as a resource for LGBT students. A place to, truly, be proud of—and proud in. 
Penn LGBT Center: Where it's been 
The Penn LGBT Center, which today features three full-time employees as resources and advocates, and many more as work-study students, operates out of the Carriage House at 3907 Spruce St. It was founded more than 35 years ago as a response to the assault of a male student who exhibited effeminate qualities. In the fall of 1981, the young man was punched by a fellow student, his face left bloody and bruised, and the student body was left stirred by the horrifying incident.
For the active members of Penn's LGBT student body, it was a wake-up call for change. 
A cohort of student leaders, including the chair of the Student Government at the time, petitioned to the vice provost, then Janis Somerville, and convinced the administration to allocate a small stipend for hiring a part-time point person for LGBT—then called "LG"—students at Penn. That individual was former Penn LGBT Center Director Bob Schoenberg, who retired last fall after 35 years of service. Schoenberg had a background in social work, and at the time was a doctoral candidate at what was then called the School of Social Work.
His early responsibilities included counseling services, but the role, he realized quickly, was his to shape—and bit by bit, as years passed by, his position began to mold to the needs of the student body.
"We identified some key projects, and when I spoke with a researcher recently who studied the development of the Center, she called it 'an incremental model.' Bit by bit, we identified projects and made some progress," Schoenberg says. "And then we started politely asking for more resources."
Schoenberg says he was fortunate to have a supportive administration at a time when support for LGBT programs at academic institutions was not popular, let alone recognized as a need. As years went by, he picked up two work-study students as part of his team, which was then operating out of Houston Hall, and his hours per week increased steadily. The administration would also slowly devote more resources to the LGBT program (it was not officially called a center until the early '90s) for events and other projects. 
"I would say that, in 35 years, I almost never had to beat down a door," Schoenberg says. "That's one aspect of what's remarkable about it. Many of my counterparts across the country, they had to have task forces, university-wide committees, sponsors, alumni advocates, studies—and there are places still doing that, even now."
Schoenberg estimates he was the second or third person in the country who was a professional person doing LGBT advocacy on a college campus; today, he says, there are still only about 150 to 200 campuses with staffed offices or centers—out of thousands of institutions. 
In 2000, alumni couple David Goodhand and Vincent Griski donated the lead gift—$2 million, in all—which, in combination with other alumni donations, allowed the renovation of the Carriage House. The University gave the space to the Center with the stipulation that the Center—Schoenberg, in essence—would fundraise for the project. The Center opened in 2002, a space for events, counseling, and student hangouts. 
As the face of the Center through the years, Schoenberg says it is "gratifying" to have witnessed progress on campus—to the extent he had anything to do with it. He recalls interactions with students who faced threats from parents to stop funding their education because of their openness about their sexuality—a story that, while not gone completely, is less common to hear. 
Key accomplishments, he notes, include Penn being the first major employer in Philadelphia to offer domestic partner benefits, collaborations with the Perelman School of Medicine to inform LGBT health needs, and the funding allocated for trans-related surgeries and services for students, staff, and faculty. 
"And also, a lot of small stories," he adds. "I don't know how many students I touched over 35 years, but it's certainly in the thousands. And they all have stories to tell."
Penn LGBT Center: Where it's going
For a sense of what the Center might look like in the future, one need only turn to current Director Erin Cross—a part-time hire at the Center in 1998 who ascended to the role of associate director, and in September 2017 succeeded Schoenberg as director.
Lately, she says, her work runs the gamut. It might involve sitting on a park bench answering a student's questions, organizing an event or program linked in with the larger Philadelphia LGBT community, or engaging with University administrators about LGBT representation among the faculty. 
"We have a large queer community among students, but not so much for faculty," she says. "We have a very small number out for a university our size. [One challenge] is to see how we can make sure folks know that queer folks can be targeted for opportunity hires—how to best recruit LGBT faculty, making sure people don't overlook it so we can diversify."
She also, she says frankly, "talks a lot about toilets."
"'Queer Toilet Queen' is outside my door because we have single-use restrooms around campus, so we have a map [of the marked single-use restrooms]," she says. "Any time anybody spots a single-use toilet not properly marked [to be all-gender], they send it to me."
She also works closely with the University architect to make sure new construction considers feasibility for all-gender restrooms, which, she says, the office has been incredibly receptive to.
In the immediate future, she is working with the University as it redesigns its student information system—and to reduce the number of instances when trans-identifying students are misgendered; or, for example, referred to as "mister" or "ma'am" when called upon in class, or sent an email that uses wrong "him/his, she/her, or they/them" pronouns. She describes it as "a huge issue on campus," partly because the University has an approximately 3 percent trans-identifying student population, compared to a national average of .5 percent. 
In the long run, Cross aims to make sure the Penn LGBT Center has a bigger presence on campus—for all populations, but especially graduate students who don't realize the Center exists. In a clever move, she even offers free printing at the Center to draw those who might otherwise be apprehensive about stepping foot inside. 
"I think really, truly, I want to make sure the Penn LGBT Center is a place where everybody feels they belong," she says. "It's key to me in particular that students, undergraduates, staff, faculty, or alumni members, that they all know this is a place for them. Where they can truly be themselves."