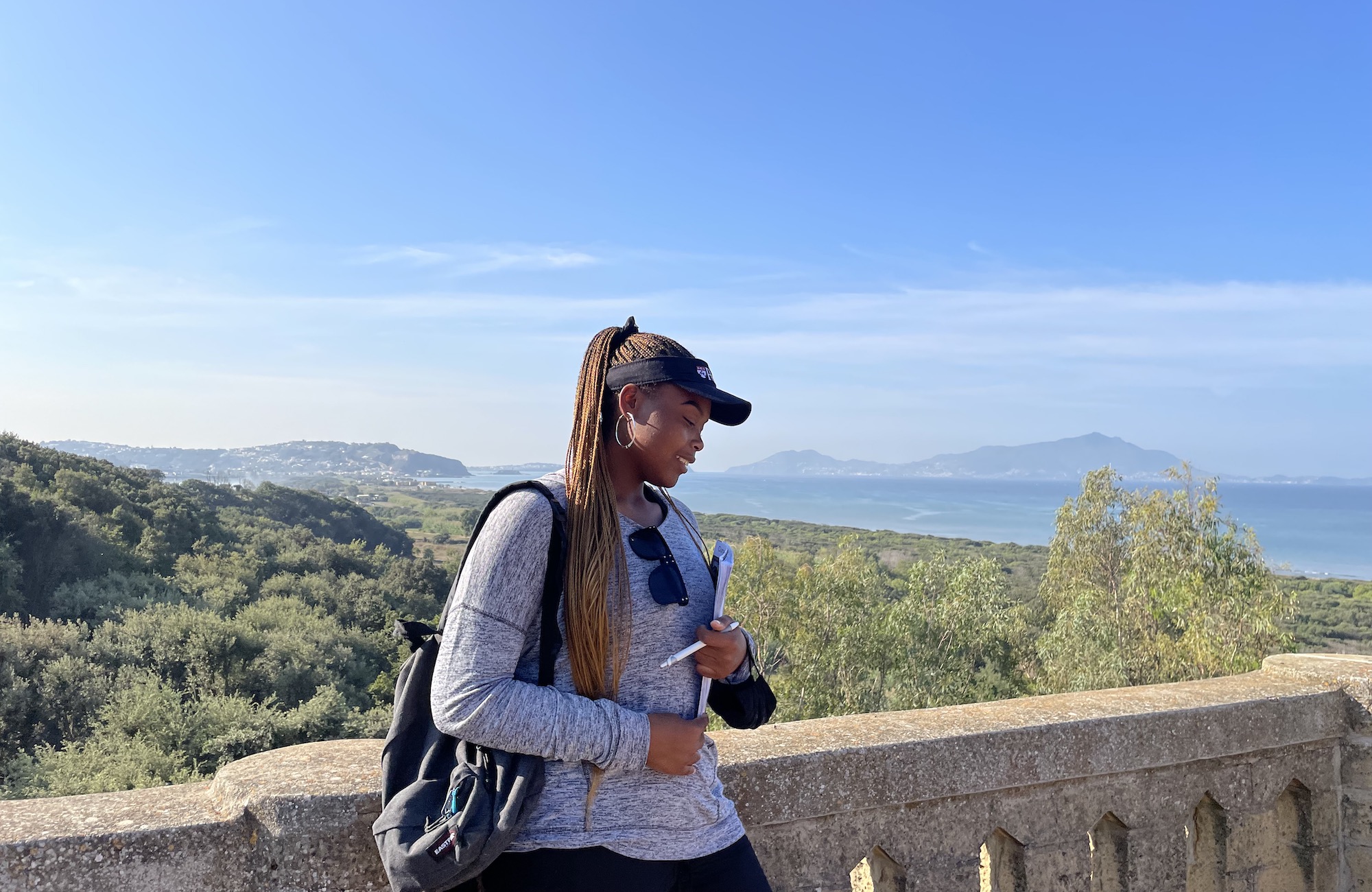 Once upon a time in Philadelphia, a woman gave birth to four daughters, all named Princess, and a son, named King. "It definitely goes to his head," says Princess Dekira-Tahylor Ariannah-Aneasah Ladson Rahman, the youngest of the girls.
A May graduate from the School of Arts & Sciences, Rahman came to Penn from Sacred Heart Academy in Bryn Mawr, Pennsylvania. The school was an hour and 40 minutes away from her home in Northeast Philadelphia, but she was awarded a scholarship and leapt at creating a bigger life for herself, "a better chance," Rahman says. 
That chance is what Rahman continues to create for herself, carving out opportunities. When COVID-19 hit and campus depopulated, Rahman found a way to continue her college education, living with a supportive mentor. In Rahman's senior year, when global travel was finally possible, she signed up for a study abroad semester in Italy. And against her family's pre-med expectations, Rahman chose to major in ancient history, to follow her own interests. Rome, she says, changed everything.
Rahman kept up with all her pre-med classes and says she is happy to have that background. "It has given me a solid footing in navigating potential jobs," she says. "And I do enjoy research in STEM." But archaeology—and all things ancient—give Rahman a rush. 
"I never thought I'd be the poster child for saying, 'It's okay, you don't have to stick it out at this stage in the game because I always thought I had a plan,'" she says. "But things change."
While in Rome during the fall semester, Rahman found herself face to face with the ancient art and artifacts she had been studying for years. That was also the first semester Rahman did not enroll in a STEM course. Ancient history had been an intriguing character relegated to the background of her college life but "definitely one of those characters who you wish had more of a developed plot," she says. 
Finally, ancient history got its own episode. In Rome, Rahman was surrounded with other "die-hard" classicists. "It felt so welcoming," she says. The group would spend the day in a classroom, listening and learning. In the afternoon, they'd take a bus to, say, the Arch of Constantine, a monument built in 315 C.E. that commemorates the emperor as the victorious ruler of the Roman empire.
"That kind of just blew my socks off," Rahman says. "We were studying the real thing, as it was standing. It was crazy." Rome was "a riveting experience from start to end," Rahman says. "And it just—I don't know, I came alive, in a way."
Far from the flat plains and rolling hills of Philadelphia and its suburbs, Rome is a city of staircases and terraces, Rahman says. "Please be fit and have a water bottle," she says. And the food, from pasta to shawarma, is amazing. "It's like I lost weight, picked it back up because the food is so good; I lost it again. The people over there are so balanced and I see why; you have to hike a mile to go out to eat."
Studying abroad was a highlight of Rahman's Penn career, she says. "For it to come directly after a period of isolation—a period of staying inside a period of watching days go by, constantly living through a computer screen—that contrast made the experience even more rich."
The pandemic was particularly poignant for Rahman. Navigating college has been "one huge stressor for my family," she says. "They don't really have the answers that I need." Even now, college is a taboo topic, she says. "It's scary to not know things and then it's also scary to be a parent or in a mentor position to me and not be able to help me with these things."
During her time at Penn, Rahman was declared independent due to family conflicts. She mentions the word homeless. "It's such a charged term, but I was without a home when Penn said everyone needed to leave campus," she says. Mentors with whom Rahman had grown up provided her with support, along with Collective Success at Penn, a branch of Career Services that works with first-generation, low-income students. 
"A lot of the community was struggling with finding storage for their things, getting back home, just sort of … everything," she says. Working with Collective Success at Penn gave Rahman a like-minded community and the opportunity to help others, she says. "It was so helpful for me because I felt really good during the time that I was really down bad," she says.
When COVID first hit, Rahman says she thought, "Oh, well, that's it. I can't finish school. I'm hanging it up." To go from that point to studying abroad in Italy and graduating with her class, Rahman tears up just thinking about it.
Rahman now plans to pursue a Ph.D. in Egyptology, taking a gap year to work and improve her candidacy. "This is definitely where I feel like the most challenged and happiest," she says.
She advises any student considering studying abroad to find a way to make it happen. "If it's something that's important to you, your undergraduate experience will never sit right with you because you didn't partake in these opportunities," Rahman says. "When you're scared to jump into something, that's when you jump."