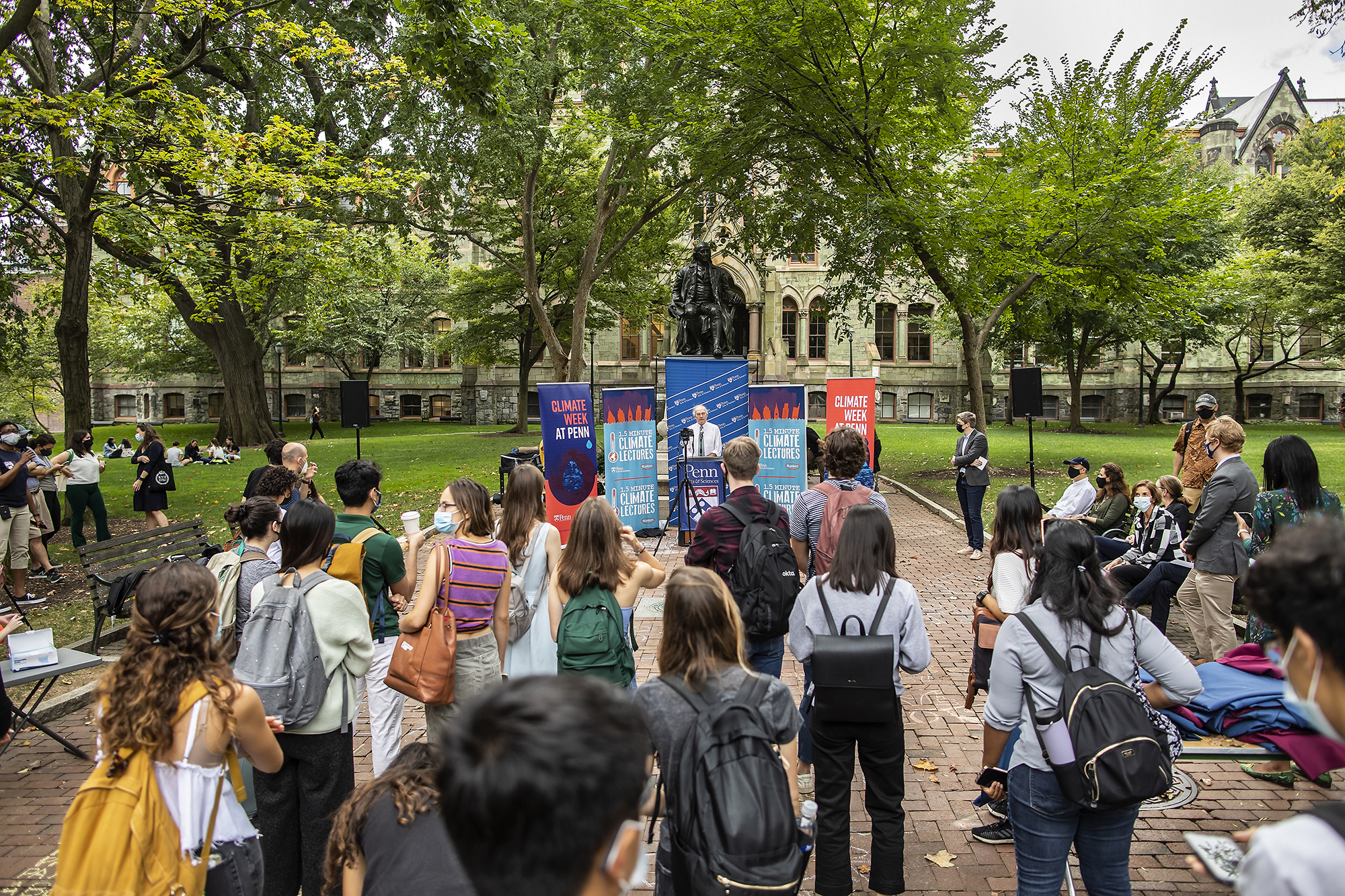 Back in 2007, Penn organized the Environmental Sustainability Advisory Committee (ESAC) to advise President Amy Gutmann on sustainability issues. That original group, representing faculty, staff, and students from across campus, established an early plan for lightening the environmental impact of Penn's academics and operations.
Today the University's Climate and Sustainability Action Plan 3.0 (CSAP 3.0) incorporates some of the strategies and objectives from those guidelines and goals, energized with a new urgency and an increasingly inclusive and broad-minded approach, to address the growing climate crisis and other environmental challenges.
In each of the seven focus areas of the CSAP 3.0—academics, utilities and operations, physical environment, purchasing, waste minimization and recycling, transportation, and outreach and engagement—Penn is making significant strides toward its goals, according to the recently released Annual Report for fiscal year 2021. Among its highlights: a 44% reduction in overall emissions from 2009 levels, the founding of the Environmental Innovations Initiative to build collaborative solutions for the challenges around the globe, and hosting the inaugural Climate Week to educate and catalyze action around the climate emergency.
"We committed long ago to making Penn's extraordinary campus cleaner and greener, and I am enormously proud of how far we've come," says Gutmann. "The innovative roadmap laid out by the Climate and Sustainability Action Plan 3.0 has pointed the way. It has given momentum to our collective drive at Penn to do better. This collaborative effort involves so many people on campus. The plan, coupled with the collaborative, can-do Penn community, serve as a national model of how to best address our most urgent environmental challenges today."
Best practices and steps forward
Penn has long been a leader in addressing daunting environmental concerns. Faculty, students, and staff even played key roles in organizing Philadelphia's first celebration of Earth Day in 1970. This momentum was eventually formalized into concrete goals with the first Climate Action Plan, shared in 2009. And ever since, sustainability planners have utilized expertise at the University to guide how those goals would be achieved.
"Groups like Penn's Center for Environmental Building Design, in concert with faculty and some graduate students, have assisted us annually in calculating our carbon footprint and also in developing and validating the strategies we should follow to decrease that footprint," says Anne Papageorge, senior vice president of the Division of Facilities and Real Estate Services (FRES), in which the Office of Sustainability sits.
The ESAC is also still operating in full force, with specialized working groups advising on different focus areas. Key action items have emerged from their recommendations, including a program adopted in 2010 to recommission older building systems, investing the cost-savings into other efficiency-improving areas. In addition, members of a subcommittee on procurement proposed a newly adopted initiative that will reduce the impact of air travel on University-related emissions. "That initiative will charge an extra fee for air travel that will allow us to then offset our air-travel-related carbon footprint," says Papageorge. 
Slashing building emissions
Energy use is the biggest piece of the puzzle when it comes to reducing emissions, and is also where some of the most significant gains have been seen on campus. 
"Recommissioning building systems has helped, as has the overall energy grid getting cleaner," says Nina Morris, director of the Sustainability Office. 
Changes in lighting systems and renovations to HVAC systems have also made large dents in consumption patterns—particularly in laboratory buildings, which Papageorge calls "the highest consumers of energy on campus."
In some cases Penn's commitment to keep energy use down has trickled down to affect the community beyond campus. In 2013, for example, in renegotiating a contract with the University's steam provider, Penn's involvement led the steam provider to retire an oil-burning boiler for rapid-fire boilers, reaping vast energy savings.
"That helped not only Penn but the whole city," Papageorge says.
And as new buildings go up, they do so with the most up-to-date systems in place, cutting utilities from the get-go. All major building renovations and new construction projects at Penn require a minimum of Silver LEED certification; many have achieved gold and platinum ratings. These higher performing buildings, paired with investments in the existing real estate, allow Penn to expand in square footage without a parallel uptick in carbon emissions.
Considering the local environment
While changes that address utilities and operations are top of mind when it comes to sustainability, many other factors come into play, including lessening the impact of daily campus life while safeguarding ecosystems on and around campus. 
Indeed, though heating and cooling buildings demands a lot of energy, so does feeding those buildings' inhabitants. During the last academic year, a thorough inventory of food purchases, conducted jointly by chefs from Bon Appetit and Student Eco-Reps, found that about 20% of food in Bon Appetit-managed Penn Dining facilities is local, 62% meets requirements for being sustainably or ethically produced according to an outside organization, and 30% is plant-based. Meanwhile the Green2Go program, expanded recycling, and composting are minimizing waste both in dining halls and all around campus.
Additional new initiatives are now rethinking how the campus community protects the diversity of organisms that make their home or spend time here. Based on research that documented at least 84 species of birds on campus, as well as an understanding that building strikes pose a serious threat to migrating species, Penn developed bird-friendly building guidelines and a bird-friendly design website. To date, eight buildings have either installed a film on windows that allows birds to perceive them as a solid surface, or relied on other design elements proven to reduce bird strikes.
Outside the buildings, FRES and landscape management partners have long incorporated practices that uphold the natural environment, whether it's tending to the thousands of campus trees or incorporating native plants into landscape designs. "We're trying to ensure we're doing things like stormwater harvesting, stormwater reuse, planting plants that are not as resource-intensive to care for," Papageorge says. "We want to be careful about our whole environment, not just our internal environment."
Indeed, a proactive approach is ensuring buildings and landscapes effectively manage stormwater to keep heavy rainstorms from overwhelming sewer systems and polluting waterways. At the same time these improvements bring much-appreciated green space for the campus community to enjoy.
"The New College House project did a lovely job of being conscious of its environment," says Morris. "With green roofs and stormwater projects that are beautifully landscaped, the building site can retain 90% of the stormwater that falls. That speaks volumes to the commitment to build buildings that are respectful to the landscape in which they sit."
Growing connections
And because environmental solutions can't be achieved without intelligent solutions and strong leadership, the CSAP 3.0 intentionally aims to build new knowledge, awareness, and engagement around climate and sustainability. This aspect of sustainability work has been a component of all of Penn's climate plans, but recent initiatives are bringing a new approach to how that content is taught and how related research is conducted. 
The Environmental Innovations Initiative (EII), launched in late 2019 and led by senior director Melissa Brown Goodall, aims to harness and expand the expertise at Penn by encouraging cross-disciplinary research and teaching. "We have a lot of stars and my job is to create constellations," says Brown Goodall. "There are extraordinary things happening in a lot of the centers and a lot of the schools; from our position in the Office of the Provost, we can help to foster those collaborations and help to elevate Penn's reputation locally and globally, while meaningfully impacting the critical environmental challenges of our time."
The EII has focused its efforts thus far on assessing Penn's strengths as well as gaps; for instance creating an inventory of courses that touch on climate or environmental topics. Brown Goodall will also be partnering with Joseph Francisco and Kathleen Morrison, the EII faculty co-chairs, to teach a course on climate in the spring semester.
And both inside and outside the classroom, an aspect of the CSAP 3.0 that is continuing to grow is a focus on community engagement and outreach around climate and sustainability. 
"That connection to our community, in particular around social justice, is something that we're increasingly working to fold into our climate and sustainability planning," says Morris. To that end, each of the seven components of the CSAP 3.0 highlights ways in which Penn is considering equity. That connection was also a focus of the inaugural Climate Week in 2020 and was again featured across many of the 2021 event offerings. 
Morris notes that a growing partnership with the Office of Social Equity and Community will give rise to new opportunities to engage more diverse communities while underscoring the importance of being inclusive in sustainability efforts. "For example, during this year's Martin Luther King Day celebration, we co-hosted an event around food justice issues at Penn," she says, and the partners are planning another event for Penn's celebration of MLK Day in 2022.
A model for the future
Building on these successes, the University is continuing to lay the groundwork for future improvements in efficiency and greener operations. The Power Purchase Agreement signed last year represents a major step in meeting the CSAP 3.0 goal of becoming a carbon-neutral campus by 2042. "That's going to be the next significant move," Papageorge says. 
As part of the agreement, two new solar energy facilities in central Pennsylvania will be built and will produce enough electricity to meet an estimated 75% of electric demand from both the academic campus and the University of Pennsylvania Health System (UPHS) for 25 years. Electricity from the newly constructed facilities is expected to start powering Penn in 2023.
Another foundational shift has come over the last year in terms of Penn's own investments. Penn leadership announced last month that the Office of Investments was "ceasing any new commitments to private equity vehicles dedicated to investments in fossil fuel production." That announcement came on the heels of one shared in April 2021, articulating a goal of achieving net-zero greenhouse gas emissions across the endowment by 2050.
Additional efforts through the completion of CSAP 3.0 include expanding from the core campus to account for the footprints occupied by the School of Veterinary Medicine's New Bolton Center and the Morris Arboretum when considering the work toward carbon neutrality.
"By pulling in these carbon footprints, we can be more accountable in terms of Penn's entire environmental footprint," Morris says. "We're excited to pull those parts of campus into the CSAP 3.0." 
And while the UPHS campus isn't formally part of CSAP 3.0 metrics, Penn Medicine shares a commitment to sustainability, with its leadership meeting regularly with that of the University to discuss various projects and initiatives. The new HUP Pavilion, for example, recently became the largest certified project to achieve LEED Healthcare v4 Gold Certification, and sets up the Health System to embark on new renovations that can continue to move the needle on efficiency in its established facilities.
And just after the Annual Report for CSAP 3.0 published, it was announced that the University earned a STARS Gold rating, a measure of sustainability performance. 
As efforts to meet the goals and benchmarks of CSAP 3.0 continue through 2024—and new solutions emerge to confront climate change and sustainability issues—Penn is positioned to respond and lead accordingly.
"We're always looking for new ways to engage and take action on this topic," says Papageorge.
The Annual Report for the Climate and Sustainability Action Plan is available on the Penn Sustainability website.