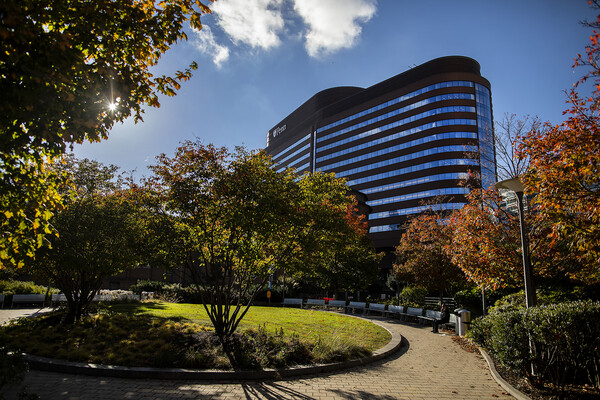 For several months this summer, 65-year-old Gary Miller underwent chemotherapy to treat a bone marrow cancer called myelodysplastic syndrome. "We didn't do anything by way of treatment until the blood started showing blast cells," he says. Then came the chemo at home in New Jersey, under the care of his Abramson Cancer Center care team, followed by a stem cell transplant, which he had about two weeks ago at the Hospital of the University of Pennsylvania (HUP). "They call it my 'rebirthday,'" he says. 
This past Saturday, just a few days before his planned discharge home, Miller joined 310 patients who crossed a new bridge over Civic Center Boulevard to reach the Pavilion, a 17-story, 1.5-million-square-foot addition to the HUP campus, home to Penn's new emergency department and inpatient services for an array of complex care. 
It's hard not to reach for superlatives when describing the Pavilion. At a cost of $1.6 billion, it's the biggest capital building project in the University's history. It's one of the largest hospital projects in the nation. In recognition of its sustainable features, it became the largest certified project to achieve LEED Healthcare v4 Gold Certification. And while the scale of the tangible building project was immense, its impact on care today and into the future will be even greater.
"The opening of the Pavilion marks the next game-changing chapter in Penn Medicine history," says Penn President Amy Gutmann. "This new facility, built by thoughtful design to boldly meet whatever challenges the future brings, will undoubtedly transform health care in Philadelphia and serve as a model across the world."
Care by design 
More than six years ago, Penn Medicine staff joined with architects, designers, engineers, and construction managers to form PennFIRST, an integrated project-delivery team that could work through concepts and obstacles together in one office in University City, rather than operating in silos. A design emerged from the team's coordinated, complementary expertise.
So many details reveal that coordination and thought, from the exterior—a glossy bronze-colored oval shape that ties it to the neighboring historic Penn Museum and Franklin Field—to the interior, divided into "onstage" patient care areas and "offstage" staff areas to prioritize the comfort and rest of patients and their families.
The PennFIRST team didn't rely on their training and instincts alone, however, incorporating rigorous and iterative feedback into the design process. 
Late in 2015, they erected a 30,000-square-foot mock-up made of Styrofoam blocks in a warehouse in Northern Liberties. It represented half of one of the Pavilion's inpatient floors, which, at the time, was built around a central atrium and included patient rooms of different shapes and configurations. Hundreds of staff came through to simulate their work, some wearing GoPro video cameras, and to interact with "patients" played by actors. Their feedback led to a significant design reimagining.
"As an example," recounts University of Pennsylvania Health System (UPHS) CEO Kevin Mahoney on a recent Pavilion tour, "when [food service workers] were delivering the food around the circular hallway, they were slowing down because they couldn't see around the corners." The architects thought the wide hall offered enough space, but the GoPro footage was undeniable. In the new design, the building took on a new layout and footprint, and patient rooms became uniform in size and orientation. 
Anita McGinn-Natali, an advisor on HUP's Patient and Family Advisory council for nearly a decade—work she was drawn to after caring for her husband as he received treatment for oral cancer—also toured the mock-up, along with other patient and family advisors. They noticed the bathroom was on the same side of the room as the patient's head. "We said that can make it difficult with a patient getting out of bed and needing to get around their equipment to reach the bathroom," she says. "And they changed that."
McGinn-Natali calls the fact that patient and family advocates could influence the new building's design "a revolutionary move." While they have long provided feedback on health system initiatives and research, this was the first time they'd been involved from the outset of a building project.
"Much of the time a building's conceptual design and development is accomplished among a small group of core people," she says. "But here they brought that all to the patients and families and staff members."
Among the group's many suggestions and recommendations, McGinn-Natali is particularly gratified by the presence of a Family Care Center, where caregivers can find peace and quiet, a massage chair, a cup of coffee, and support staff to listen to concerns. "Penn Medicine recognizes that patients, families, and caregivers are experts in their own right," she says. "The executive leadership has 100% embraced patient- and family-centered care."
Future-proofing 
Though a hospital stay can be stressful for patients and families alike, the floor plan and room features offer patients control and comfort. Striking views dominate and abundant natural light streams into patient rooms, which line the building's exterior. Stephanie Maillie, a clinical nurse specialist at HUP, says that alone can improve a patient's experience. 
"We have found that windows can be a huge benefit for our patients," she says. "Letting them know when it's daytime and when it's nighttime can go a long way toward providing a nonpharmacologic way to treat delirium."
With a single bedside remote, patients in the Pavilion can control the lighting and window shades and operate the television. The same control can also frost the glass window at the touch of a button, offering patients additional privacy from the rest of the hall. 
This separation from the hospital bustle is further supported by a "patient server"—a pass-through cabinet that allows hospital staff to stock supplies such as linens and medications without entering the room. The set-up also improves infection control, minimizing the in-and-out flow of staff. "Patients tend not to get a lot of sleep and rest in a typical hospital environment," McGinn-Natali says. "With this server, people don't have to keep running in and out. It's just a fabulous environment."
Each room has a delineated family area, with a pull-out bed for visitors. From a care perspective, Maillie says the separation will help nurses avoid needing to work around family members or have them feel like they're in the way of care. "It creates a sense of welcoming to the family, knowing they were thought of in the room design," she says.
Each of the 504 spacious patient rooms can flex between ICU and non-ICU level care, equipping the building to respond in case of a surge in need, a valuable asset underscored by some of the most devastating waves of the COVID-19 pandemic. Outside each room, a small touchscreen allows nurses and other care providers to easily read pertinent care instructions, while inside, a 75-inch monitor serves not only as a television, but also displays photos and names of care team members—triggered by a door sensor that reads a chip in each staff member's badge when they enter—plus a schedule of the day's procedures, expected discharge date, and more. 
Services moving to the Pavilion include cardiology and cardiac surgery, oncology, neurology and neurosurgery, transplant, and HUP's new two-story emergency department (ED). The transition frees up space in the original HUP building for services remaining there to expand and for all patient rooms to be updated and become singles. 
The new ED, which began receiving patients early Saturday morning, was designed to speed patient triage and reduce wait times. It includes an internal waiting room, ample exam rooms, and four specialized behavioral health rooms designed to keep safe those patients experiencing a mental health emergency. "The whole space is designed for flexibility and speed of care," says Kathy Gallagher, a long-time nurse and clinical liaison on the PennFIRST team. "The assessment area is right near the entrance, and the X-ray machine is close by, the CT machine is close by, all to be able to quickly respond."
Dress rehearsals 
With the design elements locked in, excavation began on the Pavilion in September 2016. Two and a half years later, Alyson Cole, UPHS associate executive director, began the monumental task of contemplating how to safely move hundreds of patients and train thousands of employees. 
"I've been part of Penn Medicine for 16 years and I've been involved in a number of changes that have happened here," Cole says. "Many projects end up affecting a handful of departments. This really impacted everyone." So, Cole and her team put pen to paper, methodically documenting how systems and departments interacted at HUP, plus what would be novel and different in the new space. "We started by writing everything down," she says. "That doesn't always happen." 
From there, they held virtual meetings with departments, pivoting from paper to tabletop. Those conversations led to the creation of a broad training for anyone who would work in the Pavilion, called the "Building Orientation and Life Safety" training, plus 26 discipline-specific, customized training plans. 
Then the transition team started bringing people into the building; 250 "training ambassadors" showed their colleagues around the massive space, introducing them to updated technologies, new workflows. Cole's team also ran three dress rehearsals 90, 60, and 14 days prior to opening. "In each phase, the building was a little more complete," she explains. "The first dress rehearsal was just after Labor Day. We were still wearing hard hats." 
The rehearsals included tasks as simple as clocking in and as complex as infection control for cancer patients. "We borrowed from best practices that were out there," Cole says. "It's cooking in a new kitchen, but it's so patient-focused, it's just different. We wanted to get everyone used to that, to make them comfortable." 
Moving day
The day before he was set to move to the Pavilion, Gary Miller sounded excited. "I've heard so many things about it. I hear it's beautiful. I'm fortunate it's going to happen for me." On the day of, Miller was still upbeat. 
He waited patiently for his turn to take the ride across the street. Bags of his belongings surrounded him in bed. In his hand, he held a clear Ziploc full of chocolates. He loves Halloween and he'd been giving out candy to anyone on Rhoads 7—the floor he was about to leave—who would take it. Every few minutes, another patient was wheeled by, part of a logistical effort coordinated down to the minute. 
Just six hours earlier, the new ED began seeing patients. "Once the light went on at 7 a.m. here, it had to go off over there," says Gallagher, the PennFIRST clinical liaison, pointing to the emergency room at HUP. By 7:05, the first walk-in patient had arrived at the ED. The team soon handled an obstetrical emergency, caring for both a new mom and baby born prematurely before arriving at the hospital. 
All the while, transport teams were moving patients, floor by floor, to their new rooms in the Pavilion. They moved smoothly through the balloon-lined tunnel that crossed Civic Center Blvd., by a quartet from the Philadelphia Orchestra, past the Maya Lin sculpture made of more than 50,000 blown-glass orbs and artist Odili Odita's colorful mural, "Field and Sky." 
Three people transported Miller, who was also joined by P.J. Brennan, UPHS chief medical officer and senior vice president, for the walk to the Pavilion's 14th floor, where Miller will stay the next several days. "What a view. This is fantastic. Amazing," Miller says when he arrived. "What a great ride. This is quite something." (He could be talking about the care he's received at Penn, about which he's equally as emphatic.)  
Though the final patients of moving day settled in at the Pavilion around 4 p.m., Cole's work is far from finished. Next, she and her team must figure out what's working—and what's not. She calls the first two weeks a stabilization period, after which they'll revisit the areas that they anticipated would be potential challenges and new ones that arise. "We don't see getting in as the end," she says. "It's the start of our overall transition." 
Mahoney, the UPHS CEO, is already thinking about future projects, like his desire to build a women's health hospital or the next research building. For its part, the Pavilion, years in the making, is already bustling, as thousands of employees work to treat patients like Gary Miller and hundreds of others. 
To view more videos of the Pavilion, visit Penn Medicine's playlist.