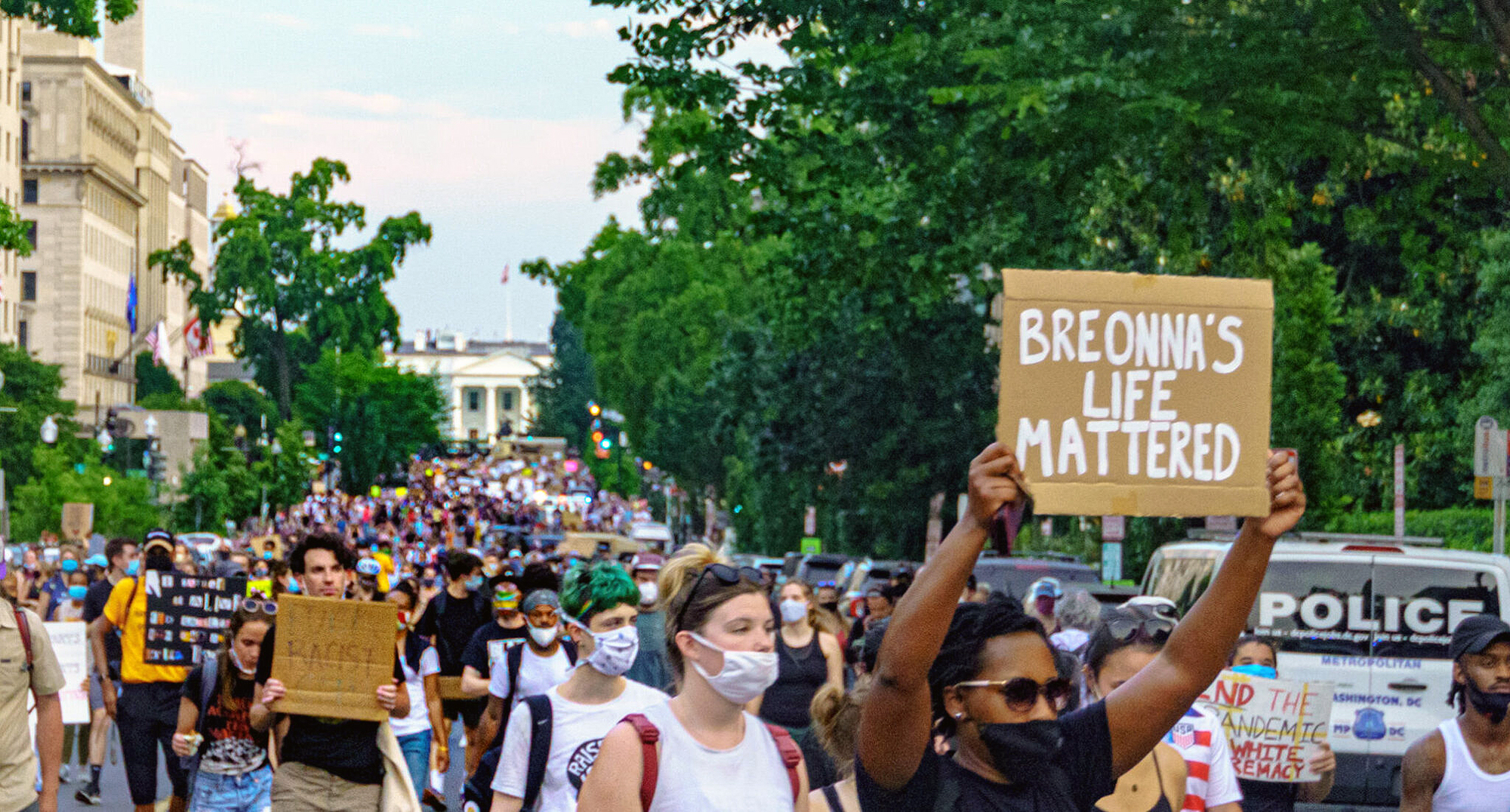 Their feet pound onto the pavement. They hoist cardboard signs in the air. Their chants are heard in cities across the country. But when they return home, they are often left to wonder: Did my protest matter?
This question has stuck with Political Science Professor Daniel Gillion since his very first demonstration as a teenager 25 years ago. An especially timely topic as millions of Americans have taken to the streets this year, Gillion discussed the political power of protests—a topic he's dedicated much of his scholarship to—during this year's Provost's Lecture on Diversity.
His research, which takes into account decades of demonstrations, especially those addressing racial injustices, has found protests to drive change in all branches of government, shape policy, increase engagement, and, yes—motivate voter turnout, also top of mind as a historic U.S. presidential election bubbles closer.
"I think 2020 is probably going to be one of the greatest elections affected by protests," he said, chatting alongside Vice Provost for Faculty Laura Perna, who facilitated an enlightening one-on-one discussion after Gillion's lecture.
The program, which lasted a bit more than an hour and streamed live on Wednesday afternoon for virtual viewers across the world, was opened by Provost Wendell Pritchett, who said mass protest is "once again" having a moment.
"I look at these protests and I'm filled with hope," Pritchett said. "Because this time around the diversity of our protests is their greatest asset."
Gillion, who has demonstrated for days in Philadelphia and 1,200 miles away in Minneapolis after the brutal police killing of George Floyd, said the protests, indeed, looked different than a few decades ago. "We are becoming an aspiring post-racial society," he explained.
But this inspiration has brought about criticism, even from the U.S. president. On the topic of Black Lives Matter, Gillion discussed President Trump's usage of the phrase "silent majority" and its historical ties to President Nixon in the late 1960s, when the older leader used the same terminology to address protests against the Vietnam War.
"If the individuals sitting at home are the silent majority, then what does that make me?" Gillion says. "Am I the loud minority?"
It does make me question: Can we make a difference with racial protests?" Gillion said later. "I believe that we can."
A pioneer in the field, Gillion's scholarship has determined quantifiable ways to measure, assess, analyze, and showcase the impact of protests throughout history. He has found that protest on race succeeds in three pertinent ways: It informs the American public (individuals in society aren't always aware of racial discrimination and police brutality, for instance); it allows for race to rise on the policy agenda (it catches the attention of government officials); and it increases the saliency of the issues ("When we do nothing, individuals lull their conscious to believe that these forms of bias are OK," Gillion said).
"Clearly, the voices of individuals over time, appealing for racial progress, they are being heard," he said.
Diving deeper, Gillion noted that individuals listening to protests are doing so through an ideological lens. This, he explained, has encouraged people outside of particular movements to still pay attention, mobilizing various groups across the board to go to the polls and advocate for change in America.
"This impact of protest and the way that it affects voters, it is seen at each level of the electoral process: campaign contributions, voter turnout, electoral outcomes," said Gillion.
Also, interestingly, Gillion said research proves the "positive perception" of protests overcome negative sentiments toward them. For example, those against Black Lives Matter did not influence their likelihood to vote or not. On the flip side, those who had a positive perception of the movement were more likely to go to the polls.
"Taking a bird's eye view of how protest on race can be influential, I have no choice but to say that protests are the canaries in the coal mines that warn of future political and electoral change," Gillion said. "They make a difference."
In further conversation with Perna, Gillion discussed the integrity of the voting process, recommendations he has for the next U.S. president, how demonstrations on college campuses have played out, partisanship and the deep divide, how technology has changed protests, and much, much more.
On the topic of counter protests, Gillion talked candidly: "That tension has existed in America for a very long time," he said. "However, what has changed is the way in which counter protest is taking place." Some individuals, he explained, have become "disillusioned" that their actions—say, someone declaring "white lives matter"—aren't against Black Lives Matter, when in fact they are. They don't even realize they are part of the counter protest, a phenomenon "not helpful for us as a nation," Gillion said.
And there's no doubt, over the past four years some people have become "emboldened to put forth their racial bias and engage in discrimination in ways we haven't seen for some time," Gillion said. "The reality is they are out front now and that's being guided by the statements of the president of the United States. We don't need to sugarcoat this. … That is problematic, that is amplifying the pushback for us to move to our better angels."
As he parted ways with the virtual audience, Gillion aptly quoted the late Congressman John Lewis, encouraging folks to continue to "get in good trouble." He assured everyone, "Your concerns are being heard."
Civic activism is a way for you to express yourself, and it's part of the democratic process, so keep up the good fight," he said. "And go vote."
Daniel Gillion is the Julie Beren Platt and Marc E. Platt Presidential Distinguished Professor of Political Science in the School of Arts & Sciences at Penn. His research interests focus on racial and ethnic politics, political behavior, political institutions, public policy, and the American presidency. He has published widely across academic journals and has three books, including his most recently released "The Loud Minority: Why Protests Matter in American Democracy."
Diversity is critical to the academic enterprise. The Provost's Lecture on Diversity was created as part of Penn's 2011 Action Plan for Faculty Diversity and Excellence. It provides opportunities to hear from faculty and experts at Penn and beyond about why and how diversity, inclusion, and equity matter in scholarship, teaching, and clinical practices, as well as in our shared community and world.