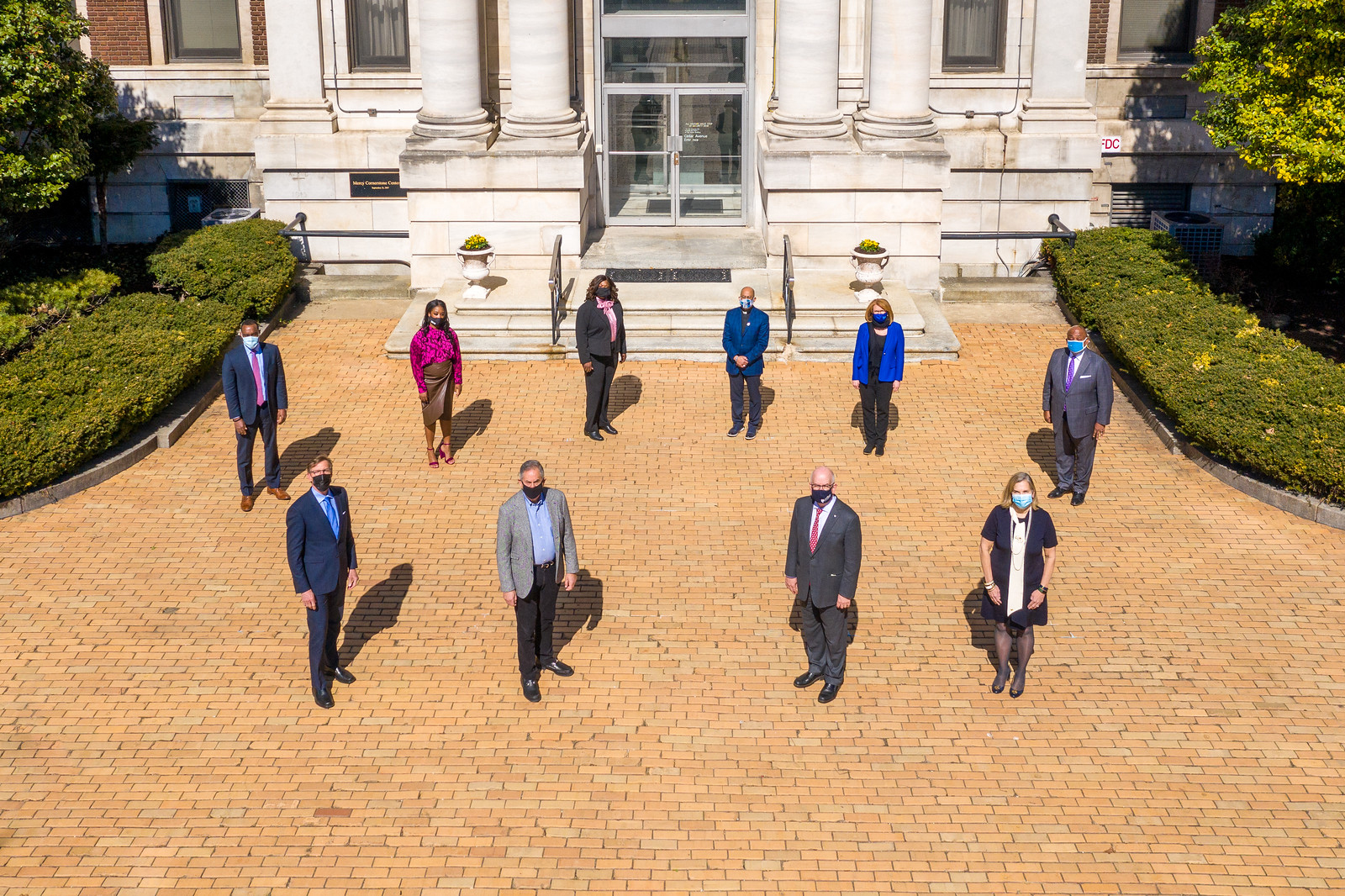 Public Health Management Corporation (PHMC) and Penn Medicine announced today that Mercy Catholic Medical Center—Mercy Philadelphia Campus has officially transitioned to the PHMC Public Health Campus on Cedar, an innovative and integrated public health campus designed to serve the West and Southwest Philadelphia communities.
Trinity Health Mid-Atlantic announced in early 2020 that it was transitioning this campus away from inpatient operations and shifting toward an approach better equipped to address the current and future needs of its neighbors.
Effective today, PHMC is the owner and operator of the property, with Penn Medicine managing the hospital emergency department, inpatient services, and hospital-based behavioral health programming as a remote location for the Hospital of the University of Pennsylvania (HUP), known as Hospital of the University of Pennsylvania—Cedar Avenue. Children's Hospital of Philadelphia (CHOP) and the Independence Blue Cross Foundation join PHMC and Penn Medicine as Coalition partners for the transformation.
The PHMC Public Health Campus on Cedar is founded on the guiding principle of providing high-quality, community-informed, patient-centered health care and social services supporting the needs of the facility's West and Southwest Philadelphia neighbors. The Coalition's goals for the new public health campus focus on health equity and aim to provide the community with access to primary and behavioral health care, emergency services, acute care services, substance use treatment, and other social support services.
"With the opening of the PHMC Public Health Campus on Cedar, today marks an exciting day for the future of public and community health in West and Southwest Philadelphia," said Richard J. Cohen, President and CEO of PHMC. "We know that the need for equitable, integrated and collaborative care has never been more critical, especially in light of this year's COVID-19 pandemic. Together with our Coalition partners, we've embarked on an effort to bring integrated service delivery on and around this campus, informed by the community and area partners and stakeholders."
In addition to managing emergency department care, Penn Medicine will provide onsite inpatient care as HUP—Cedar Avenue, leveraging Penn Medicine's downtown Philadelphia hospitals' clinical services and expertise, as well as telemedicine consultation. Emergency department services continued uninterrupted throughout the transition.
"Our commitment to the West Philadelphia community is a longstanding effort that has been brought to life not only through care provided in our University City hospitals and outpatient clinics but also through community partnerships outside the walls of our facilities," said Kevin B. Mahoney, CEO of the University of Pennsylvania Health System. "Now, we are proud to offer care at a new anchor institution closer to where our patients live, and to work with partners who share our commitment to reimagining the way we care for communities and ensure health equity, from children to the oldest among us."
The transition allows the talented Mercy Philadelphia workforce to continue its vital work engaging with and caring for the local community: All eligible employees have been offered employment with Penn Medicine with the same compensation and full benefits, and Penn Medicine plans to hire for a significant number of positions over the next few months to provide additional staffing in the facility. Penn Medicine is hosting a job fair on April 14 for open positions at the PHMC Public Health Campus on Cedar with support from Coalition partners.
Coalition partners have been working closely with elected officials and community leaders over the past several months in preparation for today's transition to ensure continuity of care for patients who depend on the facility for routine and emergency care.
"Today marks an important milestone for community health in West and Southwest Philadelphia," said City Councilmember Jamie Gauthier. "Since the plan to transform Mercy was first announced, PHMC and the campus Coalition partners have demonstrated their commitment to improving quality of life for individuals and families in our neighborhoods. I look forward to our continued collaboration on how we can collectively serve our community's needs."
The campus vision includes on-site PHMC programming, to include physical and behavioral health care and health promotion services. CHOP is exploring the option of offering inpatient psychiatric care and crisis response services, including a 20+-bed inpatient behavioral health unit, crisis center, and crisis support unit for children.
"Children throughout the U.S. are experiencing a behavioral health crisis, and we know the pandemic will have a lasting impact on them. Expanding our services is a high priority so we can provide timely, appropriate access to the treatment they deserve," said Madeline Bell, President and CEO of Children's Hospital of Philadelphia. "These services will allow us to provide a higher level of care for children with acute psychiatric needs."
In addition, the Independence Blue Cross Foundation will support the engagement of community-based, nonprofit social services that address key issues, such as health and wellness education, food insecurity, and other activities.
Since the Coalition partnership announcement in September 2020, partner organizations have engaged in a process of meeting with community stakeholders and leaders to identify partnerships and understand key issues in the community, including COVID-19, poverty, and violence.
"We firmly believe this Coalition will deliver the right mix of services and care to the community for years to come, and we thank our partners for ensuring a smooth transition for our colleagues, patients, and neighbors," said Chris Cullom, President of Mercy Catholic Medical Center. "Our team will continue to provide community-focused initiatives and remain engaged with elected officials, religious and community leaders and area residents to address health and wellness of those in need, aligning with our mission of Mercy."
In the past few weeks, Penn Medicine and Mercy Catholic Medical Center have partnered with local faith and community leaders in hosting vaccination clinics in West and Southwest Philadelphia. The effort has provided COVID-19 vaccinations to more than 2,800 Philadelphians. In addition, community engagement efforts have included discussion on key community programmatic needs, including outpatient behavioral and mental health, food security, workforce development, health education, and youth mentoring. PHMC and partners will continue to explore community partnerships and will establish a community advisory board to help inform the process.
Complementary campus services and offerings will be announced as plans are solidified in the coming months.