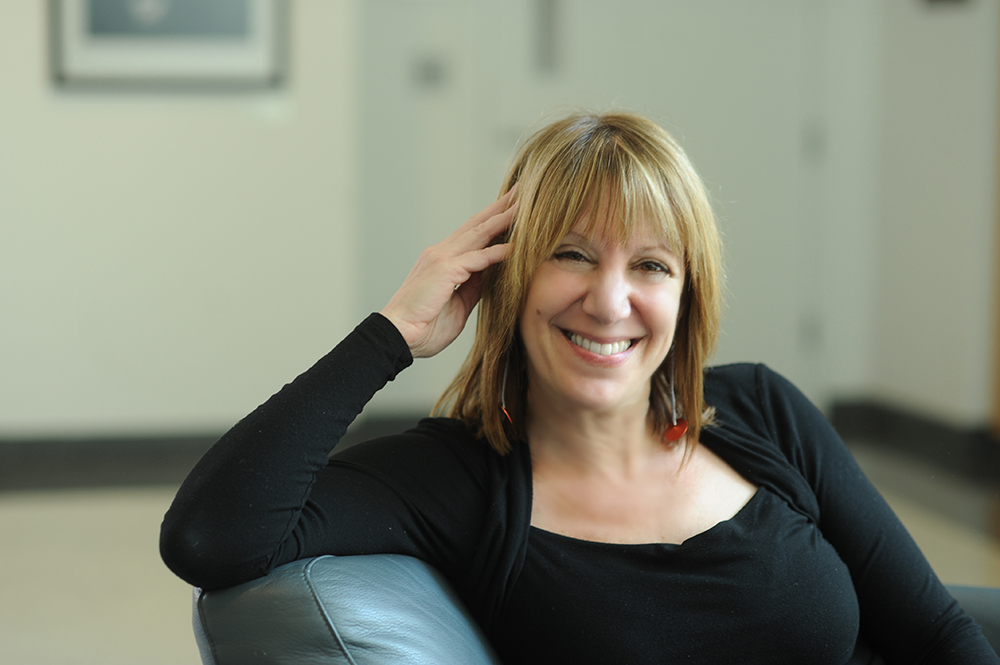 The new Center for Media at Risk, led by Barbie Zelizer, will launch at Penn with a cross-disciplinary conference at Perry World House and the Annenberg School for Communication, April 19-21. The conference, "What is Media at Risk?," will bring together media practitioners, scholars, and representatives from organizations that support media to share perspectives, examining political intimidation in the media, and how practitioners can resist it. 
Zelizer, the Center director and Raymond Williams Professor of Communication at the Annenberg School, talked to Penn Today about the Center as a locus for scholarly discussions on the global media environment and how media practitioners today must work within an ever-threatening political climate. 
What is the mission of the Center for Media at Risk?
What we're looking at is the various ways in which media practitioners are not able to do their jobs as they intend because of political interference. That runs the gamut from the effect of circumstances of creeping authoritarianism to straight totalitarian rule. It's not just one place geographically or just one platform, as in only journalism. Rather, it is the entire media environment that is at risk. The Center is hoping to create a forum that will allow media practitioners and scholars to speak to each other, to strategize with each other about how to both identify when media practitioners are put at risk and what can be done to resist it. 
What are the new occupational hazards media practitioners face?
I'm not sure that we know. Scholarship typically has tended to look at hard authoritarianism or at pristinely functioning democracies. When you have creeping authoritarianism, it works incrementally by penetrating the weakest link, with different modes of intimidation in all kinds of political systems coming down the line across journalism, documentary, entertainment, and digital practice in ways that are both parallel and different from each other. Are writers in Hollywood being intimidated in the same way that documentarians are? Yes and no. The goal here is to figure out what are the parallel practices and the differences, what are the mechanisms of resistance being used. It's important to not only focus on the most extreme cases of intimidation. When we think about journalists being killed or being tortured—as important as these violations are—do we also think enough about entertainers or media celebrities being harassed online? All of these activities are part of the same enterprise: putting media practitioners at risk.
As a former journalist yourself, you have firsthand knowledge about the media that many academics don't, and you're a woman. What are the parallels between the political intimidation of journalists and attacks against the #MeToo movement?
As a woman who worked in the wire services while stationed in the Middle East, I was part of a not extremely large population. And I admit that, as a reporter, I was never really interested in thinking things through a gendered lens. But I will say that the events of this past year have driven me to think of almost nothing but gender. These pressures, acts of intimidation, exercises of soft censorship and self-censorship, have always been there, and it took this moment to help make me realize that. As I was putting together the Center's launch, folks said to me that #MeToo isn't about political intimidation. I responded by saying that, if it's not about political intimidation, I don't know what how we define political intimidation. 
You contributed a chapter to the new book 'Trump and the Media' titled 'Why Journalism in the Age of Trump Shouldn't Surprise Us.' Can you talk about the current state of journalism in the United States and the new paradigm for political reporters covering a president who mostly addresses the public through Twitter?
I will say that thinking about how the U.S. media have covered Trump has been an exercise with a lot of ups and downs for me. I'm working on a book that tracks how a set of propositions that were developed during the early Cold War years are being activated very, very fervently when covering Trump. Much of the orientation to balance, neutrality, objectivity, deference, moderation, and euphemism reflects practices that went into high relief in the 1940s and '50s, during the formative years of the Cold War. So, it's not surprising on some level that they come back now with such a vengeance. What is surprising is that they haven't changed much from the initial paradigm. Back in January of 2017, Reuters issued a missive that told reporters that they know how to cover the Trump administration, because they have covered it everywhere else in the world. What the executives were saying was, 'treat the Trump administration like any other administration that you cover in an authoritarian or totalitarian country.' That leap in journalistic coverage, which requires a leap in how we imagine ourselves here in the U.S., has not fully happened yet. 
You were recenetly awarded a 2018 American Council of Learned Societies Fellowship to work on your forthcoming book 'How the Cold War Drives the News.' Are you taking a sabbatical to work on the book project while directing the Center?

I'll be concentrating on getting the Center for Media at Risk fully operational in the fall of 2018, and then taking a sabbatical from January 2019 to January 2020, during which I will continue to direct the Center while working on my book manuscript. 
Here at home, what kind of political intimidation do citizen journalists come up against? What risks are there for bloggers and everyday people who witness breaking news and videotape it and what they record on their cell phone goes viral? I'm thinking about the recent Starbucks situation that's making news.

I think when media practitioners of any kind are at risk, all citizens are at risk. Democracy is not necessary for journalism, but journalism is surely necessary for democracy. The question of whether or not we're thinking of bona fide, publically recognized journalists, supported by an active news organization, or about someone who blogs independently becomes less important at this moment because all are taking similar risks. As I'm watching what's been going on with citizens' capacity to document news this past year, I see that we've gotten a small glimpse of what we should be getting more of, practices of active resistance that strategically penetrate our mediascape. Amazing things are going on with digital practitioners. For instance, Amy Siskind, one of our affiliates and conference speakers, runs the New Agenda Foundation, and she started a weekly list of all the things that change in the current political climate week by week. The Library of Congress recently began to catalog it, and she's now publishing it in a book called 'The List.' The combined energy that comes from both recognized journalists and independent voices is necessary right now to rattle any complacency that might still exist.
Any final words about the Center and its import in the years to come?
There are two populations that have certainly suffered a loss of public confidence in the last year and a half. One of them is media practitioners, and the other is university scholars. We have a chance here to talk to each other, to reconceptualize what we're doing. There is a public mission for the academy and a scholarly investment that we're hoping to make ever more visible to media practitioners. My hope is that by coming together we will think forward in ways that will help keep the media and media practitioners safer and freer and more empowered than they are today.