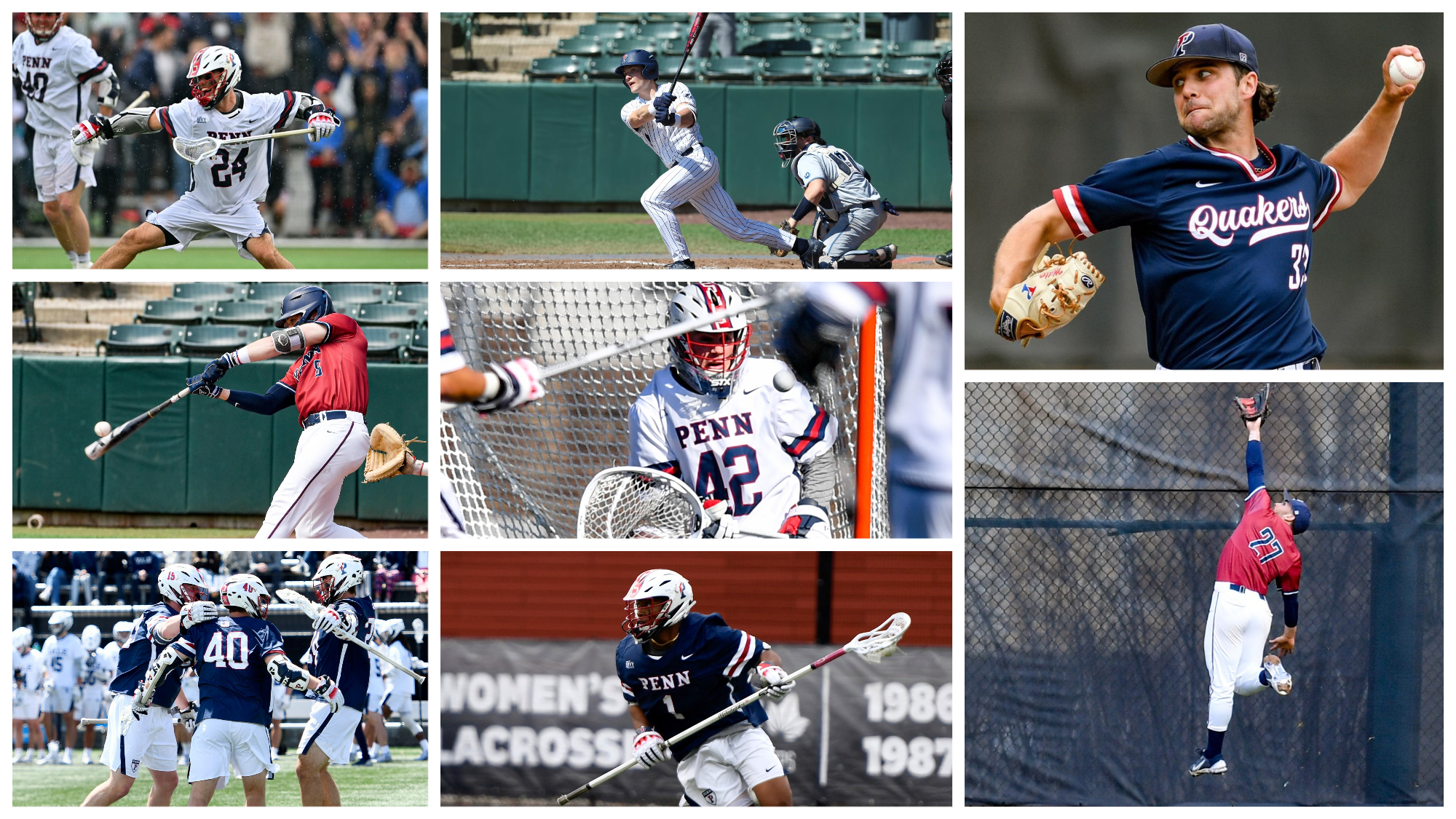 School may be out for summer, but student-athletes are still all in, still putting in work as their seasons play on.
On Saturday at noon in Hempstead, New York, the third-seeded men's lacrosse team (11-4) will tussle with sixth-seeded Rutgers (14-3) in the quarterfinals of the 2022 NCAA Division I Men's Lacrosse Championship.
Thanks to the heroics of freshman attacker Ben Smith, the Quakers have advanced to the NCAA quarterfinals for the second straight year.
The season was on the brink last Saturday in the first round against Richmond; the Red & Blue trailed 10-9 with less than a minute remaining. Smith scored a super-clutch game-tying goal with 29 seconds left in regulation, and then netted an even clutcher game-winning goal mere seconds into overtime.
Penn and Rutgers are meeting for the 35th time overall and for the first time since 1986. Offensively, the Red & Blue are led by senior midfielder Sam Handley and senior attacker Dylan Gergar.
Handley, the Ivy League Player of the Year and an Inside Lacrosse First-Team All-American, leads the Quakers with 70 points, six points shy of breaking Peter Hollis's 45-year-old single-season school record. Gerger, a Second-Team All-Ivy honoree, has scored 48 goals, the second-highest single-season total in school history.
Rutgers is led by Second-Team All-American Ethan Rall, a long-stick midfielder, and Third-Team All-American Brennan Kamish, a midfielder.
The winner will advance to Championship Weekend over Memorial Day weekend in East Hartford, Connecticut, and play either Delaware or seventh-seeded Cornell.
On Saturday and Sunday, the baseball team battles Columbia in the Ivy League Championship Series, a best-of-three showdown at Meiklejohn Stadium. Game 1 is on Saturday at 1 p.m., Game 2 is on Sunday at noon, and Game 3, if necessary, will be on Sunday at 3 p.m.
Penn has won a school-record 32 games so far this season, including a 2-1 series win over the Lions in late March. Both teams finished the regular season with identical 17-4 conference records and shared the Ivy League title, but the Quakers won the right to host the game due to the head-to-head tiebreaker.
Sophomore third baseman Wyatt Henseler has been on a tear for the Quakers. On Wednesday against Bucknell, he hit a game-altering three-run homerun in the bottom of the seventh inning, his 13th blast of the season, a new school record.
Henseler ranks second in the conference in batting average (.379), first in runs (53), second in hits (67), first in homeruns (13), and first in RBIs (50). He is only the second player in school history to reach 50-plus RBIs in a season, and the first since Chris May in 2001.
Columbia is playing in its third consecutive Ivy League Championship Series. They defeated Yale in 2018 and lost to Harvard in 2019. Lions outfielder Hayden Scott is second in the conference in homeruns (11) and RBIs (47).
The victor will earn an automatic spot in the NCAA Division I Baseball Championship and Men's College World Series.