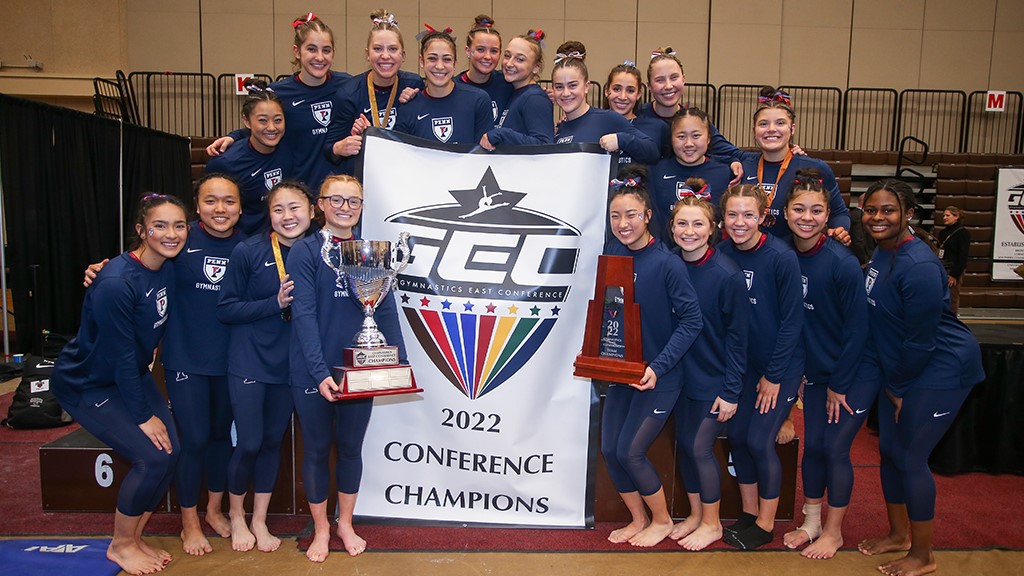 As far as progress, you'd be hard-pressed to find another gymnastics team with as much momentum as the Quakers.
The Red & Blue won the inaugural Gymnastics East Conference (GEC) Championship on Saturday at Brown University in Providence, Rhode Island, with a score of 196.950—a new team record and the highest score ever by an Ivy League program.
Brown finished second (195.975), West Chester placed third (195.250), and Yale finished fourth (194.825). Penn topped its previous program record of 196.225, which was set on March 13 at the University of Maryland Quad.
On the vault, the Quakers scored a 48.900, which tied for second. All five gymnasts scored a 9.700 or better, led by sophomore Kiersten Belkoff's 9.825, which tied for second.
With a meet best score of 49.325 on the bars, the Red & Blue broke the previous program mark set in 2017. All five gymnasts scored a 9.800 or better, headed by junior McCaleigh Marr's 9.925, which tied for second. Senior Sydney Kraez and sophomore Kristen Kuhn tied for fourth, each scoring a 9.875.
Marr scored a 9.950 on the beam, tops among all competitors and a new program record, which helped the Red & Blue score a 49.250, tops at the meet. Belkoff tied for second (9.875) and sophomore Sara Kenefick tied for fourth (9.850).
The Red & Blue scored a meet best 49.475 on the floor, led by Kenefick's 9.975 and sophomore Connie Hsu's 9.925, the top two finishers.
With a 7-1 record in conference meets, and a national qualifying score of 194.875, the Quakers entered the GEC Championships as the No. 1 seed.