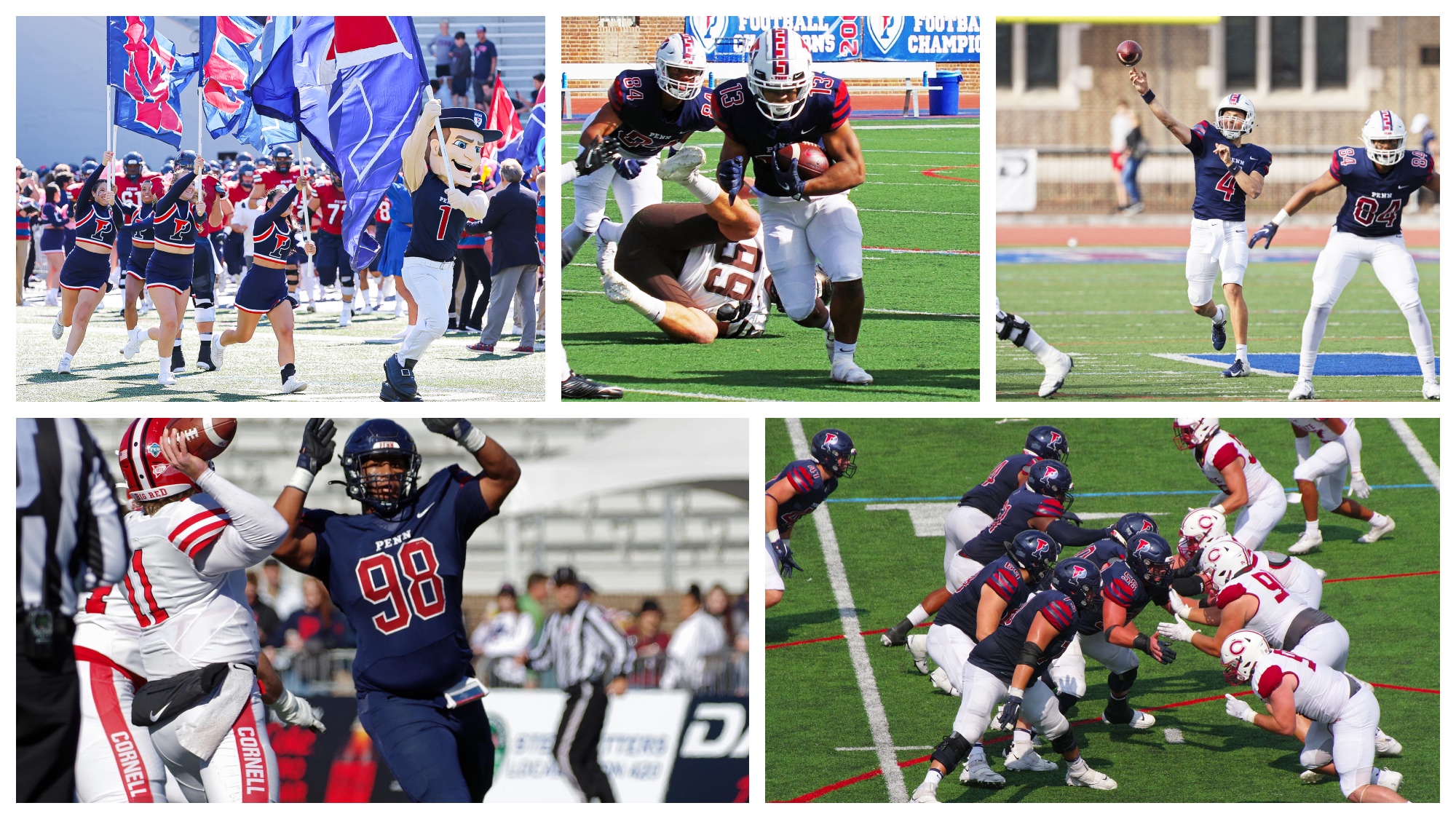 The Penn football team's pursuit of its first Ivy League championship since 2016 and 19th all in all commences on Saturday, Sept. 16, in Hamilton, New York, against Colgate of the Patriot League. The Quakers came oh so close to winning the conference chip last year. They started off the season 6-0 and finished with an 8-2 record—their most wins since 2010—including a 5-2 mark in Ivy League play. The Red & Blue were in the hunt for Ivy title up until the final week of the season and handed conference champ Yale their only League loss.
In the Ivy League's 2023 Preseason Poll, the Quakers are ranked third behind second-place Princeton and first-place Yale. A total of nine All-Ivy selections from last year's team are returning, on top of 24 seniors and 11 fifth-year players. Their first conference game is Sept. 30 against Dartmouth at Franklin Field.
The defensive side of the ball should be a strongpoint for the Quakers, featuring a bunch of standouts from the 2022 team. Fourth-year linebacker Jack Fairman was Penn's second-leading tackler with 70. Fourth-year linebacker Jonathan Melvin had 50 tackles and three sacks. Fourth-year defensive lineman Joey Slackman had 49 tackles and 4.5 sacks, second-most on the team. Fourth-year defensive lineman Micah Morris had 27 tackles, 3.5 sacks, and an interception.
The Red & Blue's secondary should be especially robust. Fifth-year defensive back Kendren Smith, a First-Team All-Ivy honoree last season, had 41 tackles, one interception, and seven pass breakups. Fifth-year defensive back Jaden Key, a Second-Team All-Ivy awardee in 2022, had 38 tackles and an interception. Fourth-year defensive back Shiloh Means, a 2022 All-Ivy honorable mention, had 42 tackles, one interception, and seven pass breakups.
"Our defense is very hungry," said Melvin, one of the five co-captains, at Ivy Football Media Day, "very, very hungry. All across the board, we are a very experienced unit, from the front seven to the secondary. And we want it. We just really want it."
Special teams should be another bright spot for the Red & Blue, although they will definitely miss star punter Ben Krimm. Fourth-year kicker Graham Gotlieb is back; last season, he was 9-12 on field goals and 29-30 on extra points. Third-year wide receiver/kick returner Julien Stokes, a First-Team All-Ivy selection in 2022 as a return specialist, had 10 returns for 296 yards and a touchdown. He led the conference in kick return yards per game (29.6) and was second in total return yards.
Offensively, third-year quarterback Aidan Sayin is back under center. QB1 since the last five games of his first-year season, he was 253-390 (64.8%) for 2,344 yards, 18 touchdowns, and seven interceptions in 2022. Rejoining him in the backfield is fourth-year running back Jonathan Mulatu. The team's second-leading rusher last year, he carried the ball 82 times for 321 yards and three touchdowns. Fourth-year wide receiver Joshua Casilli, last season's second-leading receiver, caught 52 passes for 491 yards and four touchdowns.
Casilli, another co-captain, said at Ivy Football Media Day that this is the first year he had the same offense going into the spring, so he is excited about the possibility of experimenting with the playbook a little bit and being able to "just play football."
"Especially when you have someone like Aidan back there in his second year with the offense, [Offensive Coordinator/Clarence S. Rockwell, VMD Quarterbacks Coach] Dan Swanstrom is giving him a little bit more flexibility within the offense, and I'm just really excited to see," he said.
Penn and Colgate are facing off for the second year in a row. The Quakers won last year's contest, their first game of the season, 25-14 at Franklin Field.
Colgate was 3-8 last season and returns 15 starters and 26 seniors. Third-year quarterback Michael Brescia is a dual-threat. He led the team in 2022 in rushing yards (751), rushing touchdowns (13), passing yards (1,656), and passing touchdowns (7).
 
The Raiders have already played two games this season and are 0-2. They lost to Syracuse 65-0 on Sept. 2 and fell to Villanova 42-19 on Sept. 7.
"If you look at how we won games last year, we won games because we were a very smart football team," said Ray Priore, Penn's George A. Munger Head Coach, at a pregame press conference. "We took advantage of the situations, and we played the critical, clutch plays really, really well, and it's our goal to obviously try to duplicate what we did last year.
"Our kids have had a good three-and-a-half weeks of practice. We're finishing up right now our final prep for Colgate and excited to get on the field. Hopefully we'll see some good things starting out the season."