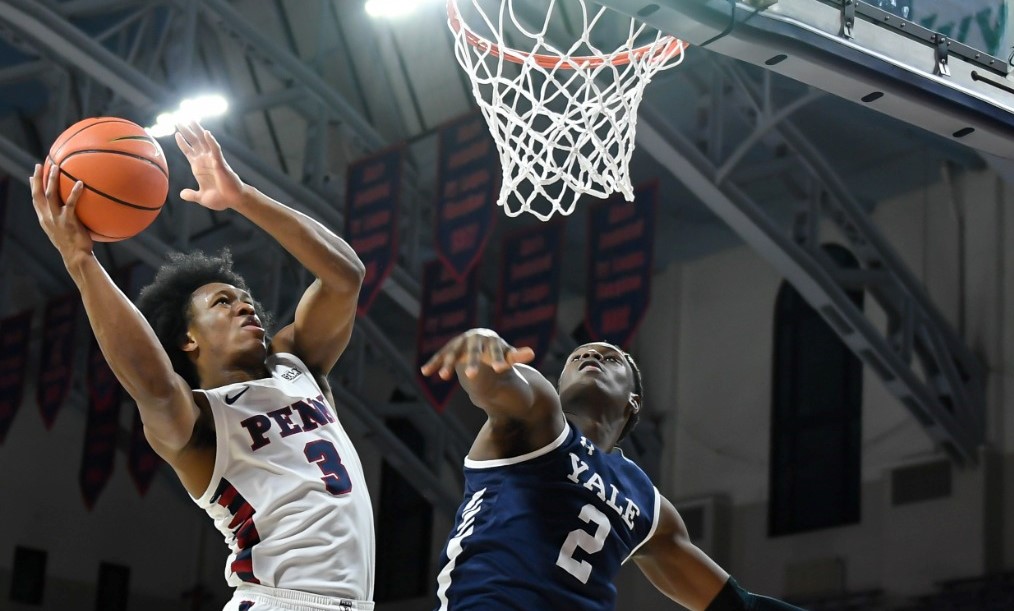 The men's basketball team clashes with Yale on Saturday at 2 p.m. in the semifinals of the Ivy League Tournament, which is being held this year at Harvard's Lavietes Pavilion. On Sunday at noon, the winner of the Penn vs. Yale game will take on the winner of the Princeton vs. Cornell contest for a spot in the NCAA Division I Men's Basketball Tournament.
Penn, the No. 3 seed, and Yale, the No. 2 seed, split their regular-season series. The Quakers (12-15 overall and 9-5 in conference) won the first matchup 76-68 at the Palestra on Jan. 22. Sophomore guard Jordan Dingle led all scorers with 31 points, including 18 in the second half.
Yale (17-11 overall, 11-3 in conference) won the rematch on Feb. 18 in Connecticut, downing the Red & Blue 81-72. Senior guard Jalen Gabbidon of the Bulldogs was the game's top scorer, dropping 32 points. The Red & Blue had a balanced offensive attack, with four players scoring in double figures, but could not overcome a poor shooting day by Dingle, who was 4-20 from the field.
Almost certainly, the rubber match between Penn and Yale will come down to Dingle versus Gabbidon. Dingle is the leading scorer in the Ivy League, averaging 20.6 points per game, and Gabbidon was the 2019 Ivy League Defensive Player of the Year.
The Quakers won both regular-season meetings against No. 4 seed Cornell 79-65 and 73-68. Princeton, the No. 1 seed, swept the Quakers 74-64 and 93-70.
This year's Ivy League Tournament is the first since 2019, when Penn fell to Harvard 66-58 in the semifinals. Due to the coronavirus, the 2020 Ivy League Tournament was cancelled four days before it was set to begin. The Ivy League did not play any winter sports in 2020-21.
Penn's last trip to March Madness came in 2018. In the second annual Ivy League Tournament, the Quakers defeated Harvard 68-65 in the final to advance to the Big Dance, and then lost to No. 1 seed Kansas in the First Round of the NCAA Tournament.