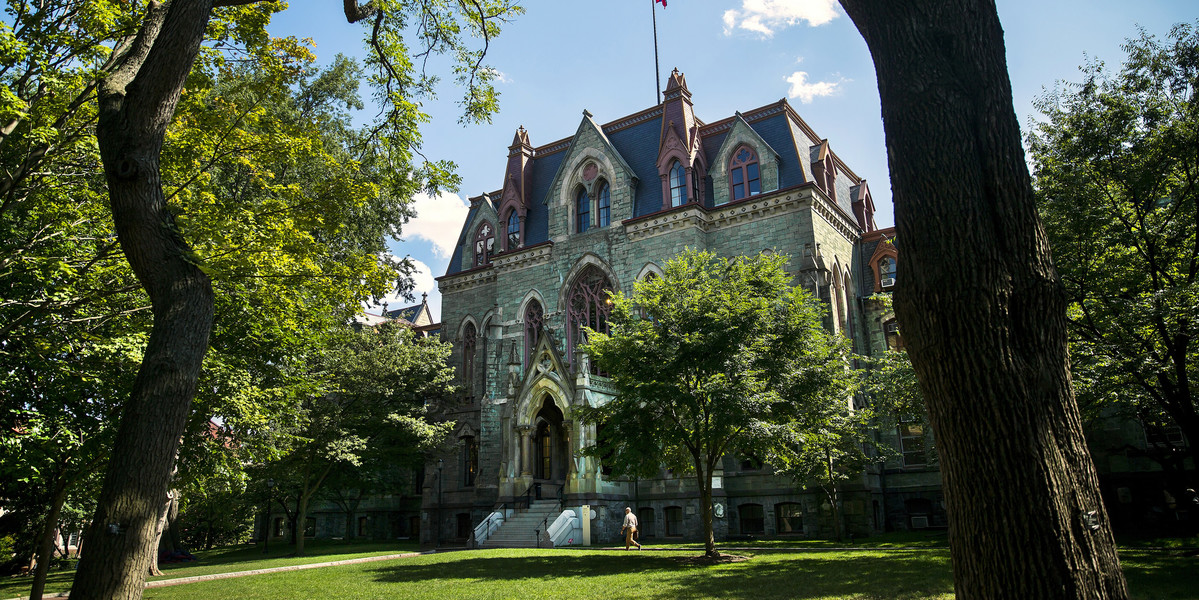 On Wednesday, March 28, at 7 p.m., the University of Pennsylvania announced admission decisions for regular-decision applicants to the Class of 2022, the institution's 266th class.
The admitted cohort of 3,731 was selected from a pool of 44,491 applicants. Penn enrolls a freshman class of 2,445 students across the College of Arts and Sciences, School of Engineering and Applied Science, Wharton School, and School of Nursing.
"Every class contains a vast array of perspectives," says Dean of Admissions Eric J. Furda, "and we continue to be proud of the many diversities represented in this incoming class. This year, one out of seven students in our admitted class are the first in their families to attend college. Since hosting the 2018 1vyG conference at Penn in January, student organizers have continued to contribute to the local and national conversation around access and equity in higher education. Our newest incoming students will continue to enrich and advance that community and conversation." 
Members of the admitted Class of 2022 hail from all 50 states, Washington, D.C., Puerto Rico, and Guam, with the highest representation from Pennsylvania, New York, California, New Jersey, Florida, and Texas. Current Philadelphia residents account for 175 of the students in the admitted class.
Fifty-three percent of United States citizens in the admitted class self-identified as students of color.  
The admitted students come from 2,176 high schools and from 104 countries. This year, the number of international applications increased by 6 percent. 
In the 10th year of a partnership, 178 admitted students applied through Questbridge, a national program that aims to increase undergraduate enrollment of high-achieving, low-income students at top universities. In the sixth year of a partnership with the Knowledge Is Power Program (KIPP), 17 admitted students attended a KIPP school. In addition, 465 students are affiliated with our many partners from community-based organizations, including the National College Advising Corps, EducationUSA, A Better Chance, the National Hispanic Institute, Prep for Prep, College Track, and Lenfest Scholars.
Penn's grant-based financial-aid initiative supports the University's long-standing commitment to its need-blind admissions policy for citizens and permanent residents of the United States, Canada, and Mexico. 
Since 2004, raising the financial-aid budget has been a top priority, with the University awarding more than $2 billion in undergraduate aid to nearly 18,000 students. On March 1, the University's Board of Trustees approved a record $237 million financial-aid budget, an increase of 5.3 percent and the largest financial-aid budget in Penn's history. 
Penn is committed to supporting a socio-economically diverse student body. For students receiving financial aid, the University meets a family's demonstrated financial need by providing a financial-aid package based on grants and work-study funding. These grants do not require repayment and are comprised of Penn's own funds, endowments, federal and state grants, and work-study funding. This program is designed to ensure that a family's financial circumstances do not prevent qualified students from attending. 
"Financial aid is one of Penn President Amy Gutmann's top priorities," says MaryFrances McCourt, vice president for finance and treasurer. "We look forward to working with students and their families to assist them in paying for what is sure to be an incredible and formative Penn education. Many admitted students have already received their financial-aid packages, and our team is hard at work and ready to answer questions from the newest members of our Penn family."
Penn's grant-based financial-aid program is aligned with the inclusion goals outlined in the Penn Compact 2020 Presidential Initiatives, which include a comprehensive effort to raise additional funding for the endowment to support undergraduate financial aid as well as graduate and professional student aid.
Admitted students will be visiting campus throughout April and will make their final decisions by May 1.