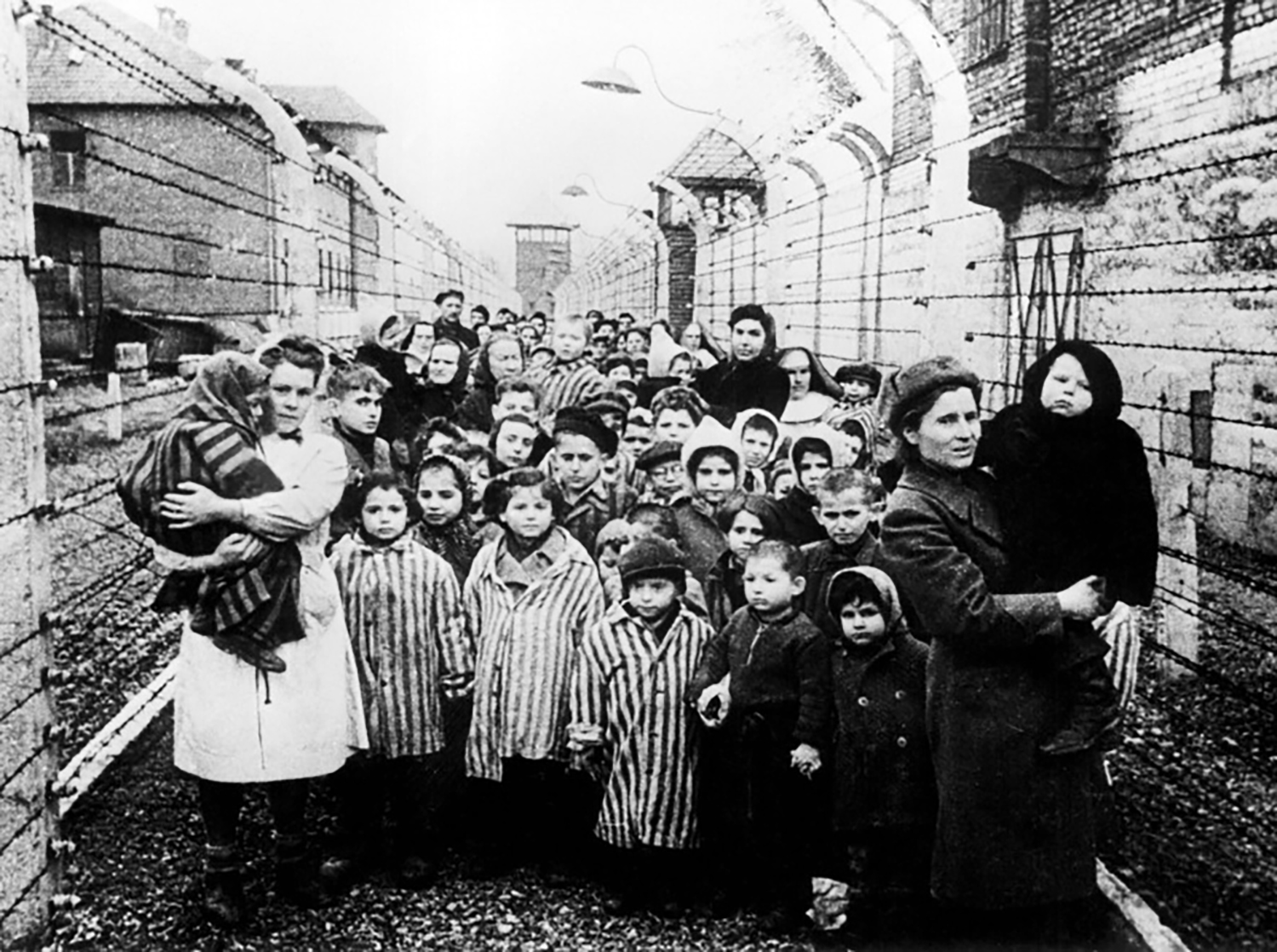 Jan. 27 marks the 75th anniversary of the liberation of Auschwitz, the largest of the Nazi concentration and death camps. Between 1941 and 1945, an estimated 1.1 million people were murdered there, mostly European Jews but also prisoners of war, gay people, and Roma. When the Soviet Red Army rolled into the camp, only about 7,000 prisoners remained. The German Schutzstaffel (SS) guards had forced most of the camp's population of about 60,000 on "death marches" in the weeks before, as the Soviets approached.
"Sometimes I am asked if I know 'the response to Auschwitz,'" Elie Wiesel wrote in the introduction to a translation of "Night," his memoir. "I answer that not only do I not know it, but that I don't even know if a tragedy of this magnitude has a response."
Penn Today asked scholars and experts on the Holocaust to share their thoughts on the anniversary, in light of the recent rise of anti-Semitism in the United States and elsewhere.
Anne Berg, assistant professor of history, studies the histories of racism and genocide
Berg is currently working on a book about the connections between waste management and genocide in the Third Reich, entitled "Empire of Rags and Bones: Waste and War in Nazi Germany."
"I spend most of my days researching and teaching the history of Nazi Germany. As I am sitting here, trying to commit to the page some reflections in light of the 75th anniversary of the liberation of Auschwitz, I am staring at a report in The New York Times about three suspected neo-Nazis arrested in Richmond, Virginia, just days before a pro-gun rally planned for Martin Luther King Jr. Day.
"Some of those rallying to protect their rights to carry semi-automatic rifles to school merely call for 'peaceful ethnic cleansing,' others advocate full-on race war. Anti-Semitism, white-nationalism, anti-black racism, homophobia, transphobia, xenophobia have been on the rise for some time, but they have certainly experienced a jolt in the United States since the current administration moved into the White House.
"Perhaps, many of us would like to look back at the millions murdered by the Nazi regime, at the pain and suffering of the victims of the Nazi race war, at the courage and resilience of those who survived these horrors and feel some hope. Yet, at a moment when white supremacists target Jews, Muslims, blacks, people of color, Latinx, and LGTBQ people; when democracies build walls, leave refugees stranded, place them in cages and separate them from their kin; when precision-strike regimes tip the geopolitical scales; when human rights violations are perpetrated in the name of democracy—at such a moment I am not hopeful. I'm angry.
"Remembrance, as important as it is, cannot inculcate against racial hatred and unmake racist policies. So, I would like to use this anniversary as a call to action, to vote with our minds, our hands, our feet, our pens, our drums, our beats in our homes, our schools, our communities, our streets. Because the world in which we can credibly affirm 'never again' needs yet to be built."
Filreis has taught the undergraduate course "Representations of the Holocaust" for 35 years.
"Survivor testimony presents its great challenges, but it is a subjectivity so intensely collective that it makes for a new kind of objectivity. One survivor's testimony I intensely admire includes the urgent observation that Auschwitz cannot be described, which is to say, of course, that an organizational machinery mass producing human death cannot be adequately put into words we will recognize from among existing human vocabularies.
"When we mark an occasion pertaining to Auschwitz we should do so by reminding ourselves, first and foremost, of that inadequacy. It is the humility from which we might begin. The survivor whom I admire, by the way, to be a little more specific, said this (close paraphrase): 'There are not words that have been invented to say what Auschwitz was.' And then a bit later in the same testimony: 'At Auschwitz, you got up and looked at the sky and the sun was not the sun. Our sun, our common human view looking up, a thing humans share, the least invented thing in the world we can imagine, is an apprehended invention like everything else.' The survivor was not invoking myth, nor metaphor, nor even affective hyperbole—nor engaging in a likening of any kind. She meant what she said.
"If we wish to pay respects to what Auschwitz was, we must learn this literality, unlearn metaphor and myth, and join that new objectivity. Most of all, too, we must believe the words of the witness telling us of the words that cannot be summoned. Thus, we are summoned."
Gold has been teaching a course called Holocaust in Israeli Culture since 2005.
"'… The Nazi Beast could come out of any kind of animal if it got the right care and nourishment,' says Bella, a character in Israeli author David Grossman's 1989 novel 'See Under Love.' Hearing this, Momik, Bella's precocious 9-year-old neighbor and son of Holocaust survivors, thinks he understands what the adults have tried to hide from him. Armed with this knowledge, he decides to raise a Nazi Beast in his building's cellar. When the Beast is big enough, he intends to tame it and force it to release its grip on his haunted parents.
"Grossman's concrete characterization of evil came to my mind when I was asked to put my thoughts on paper regarding the rise of anti-Semitism as we mark the 75th anniversary of the liberation of Auschwitz. Yet we must draw a clear distinction between anti-Semitism and the Holocaust. Although the horrors in Auschwitz could not have happened were it not for the bedrock of anti-Semitism, the Holocaust stands alone as a momentous event that ought not be likened to anything else. Outbursts of anti-Semitism here and abroad as well as other expressions of ethnic and racist hatred are of grave concern but are not synonymous with the Holocaust or Auschwitz. They can and must be nipped in the bud in order to prevent them from growing into a 'Nazi Beast.' It is upon us to stand guard."
Liliane Weissberg, Christopher H. Browne Distinguished Professor in the School of Arts and Sciences
Weissberg is also a professor of German and comparative literature in the Department of Germanic Languages and Literatures. In 2015, the USC Shoah Foundation awarded Weissberg the Rutman Teaching Fellowship, presented annually to a Penn faculty member to teach about the Holocaust.
"On Jan. 27, 1945, Soviet troops entered the most extensive Nazi concentration camp complex near Auschwitz in German-occupied Poland, liberating surviving inmates. Before that date, Auschwitz was known as a small provincial town with a once-flourishing Jewish population; from then on, the name has come to stand for the entire intricate system of concentration and death camps built first in Germany, and soon in Eastern European lands. My father could miraculously escape one of Auschwitz's satellite camps; for my grandparents and aunts, the liberation came far too late.
"For many of my students, these camps are located in a distant place and time. I view it as my task to tell them how present this history is for us today. Auschwitz has marked Germany's postwar efforts to become a liberal democracy and its current attempts to come to terms with its past; it has defined the history of Israel and the self-understanding of diaspora Jews. "Auschwitz is a specter that haunts our current discourse on race, technology, and ethics and urges us to insist on the value of every human life and demand human rights for all.
"This said, I do not think that the terms Auschwitz or Holocaust should be used too liberally. People are still persecuted because of their political or beliefs or ethnic origin; there is a rise of anti-Semitic incidents today, both in Europe and the United States. But the contexts are different, and we will have to analyze them carefully. There are also no competing Holocausts, neither in the past nor in the present. The horror of Auschwitz is not less because it was unique."
Wenger is the Moritz and Josephine Berg Professor of History. One of her regular seminars is "Rereading the Holocaust."
"The 75th anniversary of the liberation of Auschwitz presents an opportunity for complex reflections about the past and present. First and foremost, this is a time to remember lives lost in the most devastating and deliberate genocide in human history. Auschwitz stands as a symbol of the potential for human evil and destruction. It also provides a lens on perpetrators, victims, and bystanders whose everyday actions defy neat platitudes or simple lessons.
"In recent years, Auschwitz has become a rhetorical tool mobilized for all sorts of partisan purposes.  In a time of rising anti-Semitism, it is more crucial than ever to interpret Auschwitz in its time and place and not distort its meanings through casual comparisons. The past never repeats itself. This is a time for sober contemplation about the not-too-distant and tragic legacy of Auschwitz, even as we confront the vicissitudes of our current historical moment filled with its own manifestations of fear and hate."
Barbie Zelizer, Raymond Williams Professor of Communication, associate dean for research, and director of the Center for Media at Risk in the Annenberg School for Communication
A former journalist, Zelizer is known for her work on culture, memory, and images, particularly in times of crisis. Among the books she's written is "Remembering to Forget: Holocaust Memory Through the Camera's Eye" (Chicago, 1998). She was the 2017 USC Shoah Foundation's Rutman Teaching Fellow.
"Does the current rise in anti-Semitism affect remembering the anniversary of Auschwitz? It shouldn't, but it does.
"It shouldn't because memory should already be a natural part of how we craft our connections with others. Remembering distant events of the past, especially those with an emblematic link to intentional and catastrophic systems of human destruction, could play an important role in reminding us why our civic consciousness matters. If the history of the Holocaust—like that of every other intentional system of genocide, mass killing, slavery, crime against humanity, or other act of social injustice—fades in importance, we lose the value of learning from historical parallel. This isn't only about entrenching the idea of 'never again,' but it's about keeping alive a collective that proactively takes action most if not all of the time in consultation with human regard, inclusiveness, equity, decency, and a respect for difference.
"But that is not the case. Because learning from the past does not regularly inform our conduct with each other, we need external and often artificial reminders to remind us of its value. The current rise in anti-Semitism sends us scurrying in an explosion of frenzied activity that will fade as soon as the perception of threat subsides. Instead of proactively charting action that readily recognizes the past's repeatability and incorporates its lessons, we instead embrace reactive and short-lived cues for collective engagement.
"Were events like the anniversary of Auschwitz a more integrated part of our civic consciousness, today's rise in anti-Semitism might not look as it does. The past provides an instrumentally valuable guide for present codes of conduct. We just need to remember to look there."