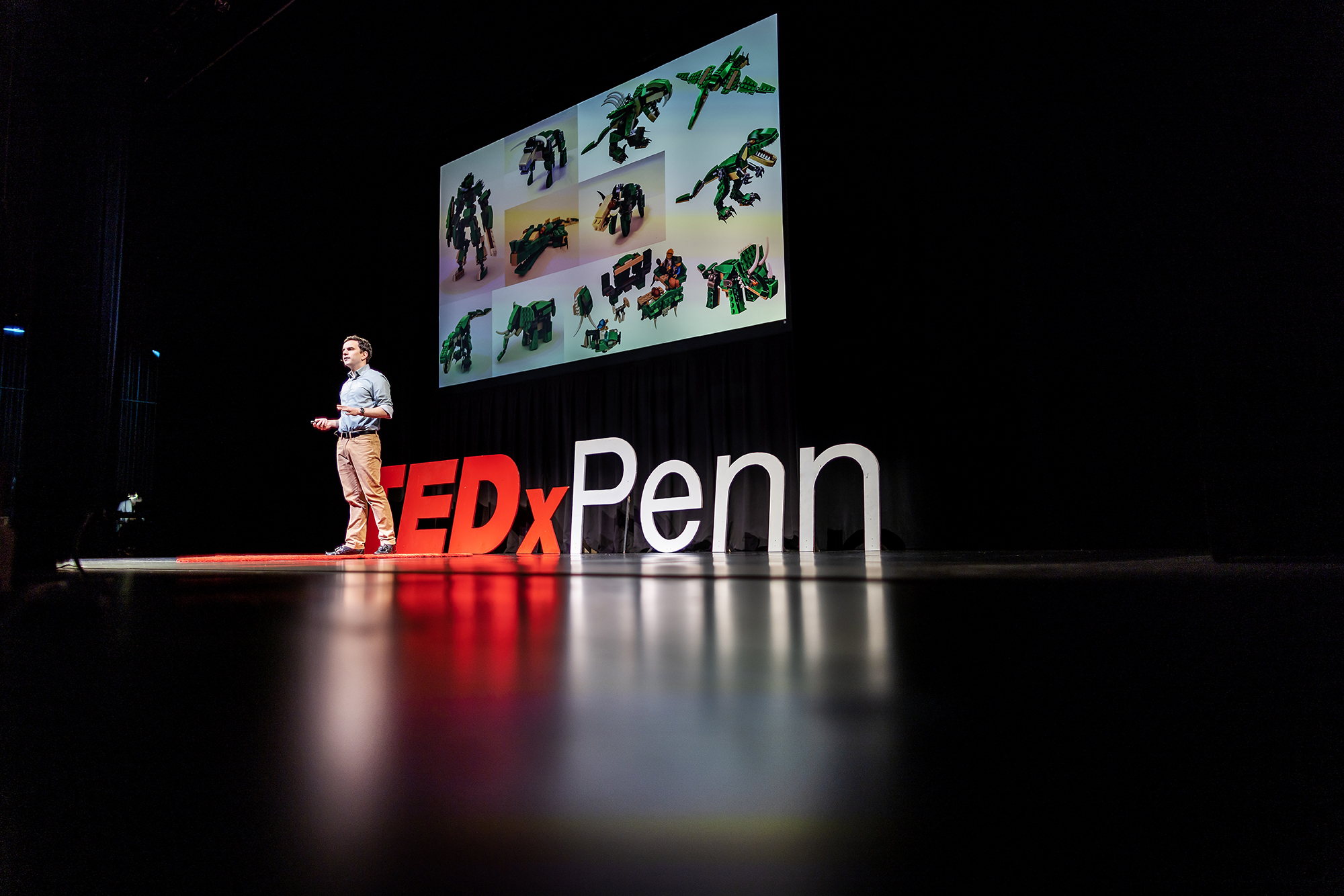 It's not often that, in a four-hour span, you hear directly from an award-winning film director, a Guinness World Record holding robot designer, and the Democratic Whip of the Pennsylvania House of Representatives. Add to it seven other completely distinct speakers—a surgeon, scientist, artist, mental health advocate, geographer, digital storyteller, and entrepreneur—and you have an unforgettable, inspiring, and thought-provoking experience like never before.
The TEDxPenn conference, now in its 11th year, brought 10 game changers to campus on Saturday, April 1, to engage on a clever theme: (R)evolution. Exploring the tension and interplay between the steady progress of evolution and the dramatic change of revolution, the speakers each shared insight into their life's work in under 15 minutes with a crowd of close to 1,000, filling Zellerbach Theatre at the Annenberg Center.
"The beauty of a TED talk is that they can be on any subject whatsoever, but they all aim for the same place: They want their listeners to come away saying, 'I didn't know that, I've never thought about it that way before,'" said President Liz Magill during the conference's opening remarks. "Learning something new, gaining an evolutionary insight or acquiring a revolutionary perspective, this is why we come to TED talks."
The entire event was organized and produced by a team of about 40 students—mostly undergraduates—at Penn, with Allison Chou, a fourth year, and Arushi Saxena, a second year, leading the charge.
Growing up watching TED talks with her dad, Saxena, a Philosophy, Politics, and Economics major from the Bay Area in California, got involved with TEDxPenn, which is an independently organized TED event, as soon as she could. Excited to bring together people across intellectual disciplines, as well as those who would have immediate interest to the Penn and Philadelphia community, Saxena said she couldn't have been more thrilled with the speakers they were able to secure for the event.
"We interviewed probably 40 or 50 people this year; we've never auditioned that many people before," Saxena said. "We had such a high response rate and such a cool group of people to recruit for the conference. Through a lot of deliberation as a team, we chose who we thought were the 10 best."
Speakers included Anthony Russo, a leading director in the entertainment industry, and the innovator behind some of the most successful and iconic blockbuster films, who shared insight into his career path and even a glimpse at some of his upcoming work; Steve Gross, the founder of the nonprofit Life is Good Playmaker Project, who talked about the power of optimism; Christopher Tucker, the author of "A Planet of 3 Billion," who discussed population, demographics, the Earth, and the destiny of mankind; Peikun Shi, an artist and filmmaker, who told a powerful story about how art can be used as a beacon of inspiration for those in mental distress; Ala Stanford, a surgeon and national leader in health equity and the founder of the Black Doctors COVID-19 Consortium, who dove into access to health care; Jordan Harris, a Pennsylvania representative who gave a glimpse into the Clean Slate law, which has sealed the records for millions of Pennsylvanians, giving them a second chance; Lyn Godley, a multimedia artist and professor who showcased how she merges art and technology in a way to positively impact viewers; and Shahd Batal, a digital storyteller with a focus on authenticity.
Two of the speakers were Penn's very own Henry Daniell, the vice chair and W.D. Miller Professor in the Department of Basic and Translational Sciences at Penn Dental, whose decades-long pioneering research is making medicine more affordable and accessible; and Penn Engineering doctoral student Devin Carroll, an expert in robot design using found materials.
"The goal of my research is to make robotics, and frankly engineering, more accessible to everyone," said Carroll near the end of his talk, which was supplemented with videos and photos of the famous IceBot and Stickbot. "I want to give everyone the opportunity to not only be an engineer but to become a great engineer because we all have it in us. The building blocks to do so, they're all around us. We just have to get out there and use them."
With a few 10-minute intermissions throughout the afternoon program, attendees were invited to the lobby to enjoy sponsored snacks and coffee as well as to network with the speakers. Carroll, for instance, had a booth set up, garnering attention for his newest invention of an arm orthosis that has the potential to be made from tree branches.
A big part of TEDxPenn, agreed Holly Shimabukuro and Junfang Zhang, second-year students who serve as the organization's co-directors of marketing, is "keeping the joy of learning alive."
"It's very, very rarely there is a conference that actively tries to bridge across this many sectors," said Zhang, an earth sciences and statistics major from Singapore. Shimabukuro, a health and societies major from Potomac, Maryland, added: "With Penn being such a leader in innovation, having an event like this here makes it all the more impactful. Our speakers are so willing and eager to share in front of this community, and it's why we go to Penn, to have these opportunities."
In their concluding remarks, co-curators Chou and Saxena challenged attendees to engage with what they learned during the program long after its 5 p.m. end time.
"Throughout this conference we've seen the power of ideas to transform the world around us," said Saxena. "But the ideas presented here are just the beginning. So as we leave here today we implore you to keep thinking, learning, growing, and pushing the boundaries of what's possible."