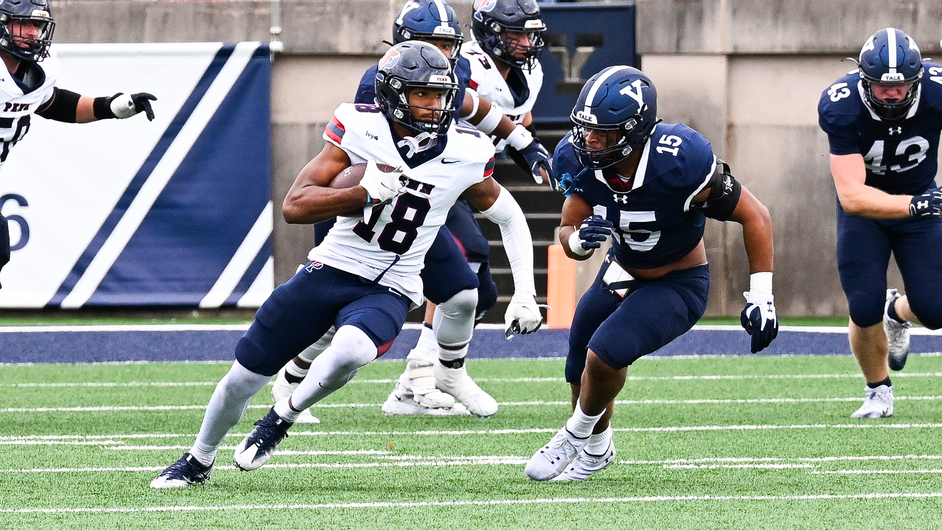 There are big games, and then there are BIG GAMES.
On Saturday, in the football team's 27-17 win over Yale in Connecticut, second-year wide receiver Jared Richardson had himself a BIG GAME. His 17 catches set a new single-game school record—breaking 2015 alumnus Spencer Kulcsar's previous mark of 16, set in 2014—and are the most receptions by an Ivy League Player in 11 years.
For his record-breaking performance, Richardson has been named Ivy League Player of the Week. First-year running back Malachi Hosley rushed 20 times for 86 yards and a touchdown, and took home conference Rookie of the Week honors.
In addition to his record-breaking catch total, Richardson had 191 receiving yards and a touchdown. His receiving yardage is the eighth highest single-game total in school history and most since 2022 alumnus Ryan Cragun had 208 against Yale in 2019.
Chas Gessner of Brown holds the Ivy League record for most receptions in a single game. On Oct. 5, 2002, he caught 24 passes against Rhode Island.
Gessner and none other than all-time NFL great Jerry Rice hold the NCAA FCS single-game receiving record. Rice, playing for Mississippi Valley State, caught 24 passes against Southern on Oct. 1, 1983. Tyler Jones of Eastern Michigan and Randy Gatewood of UNLV hold the NCAA FBS single-game receiving record. Jones caught 23 passes against Eastern Michigan on Nov. 28, 2008; Gatewood caught 23 passes against Idaho on Sept. 17, 1994.
The Quakers beat Yale at Yale for the first time in seven years and defeated the Bulldogs in back-to-back games for the first time since the last years of the Obama administration.
Penn is on a three-gaming winning streak and is a perfect 4-0 on the road.
On Friday, Oct. 27, the Red & Blue (5-1 overall, 2-1 in Ivy League) take on Brown (3-3 overall, 1-2 in Ivy League) at 7 p.m. at Franklin Field.