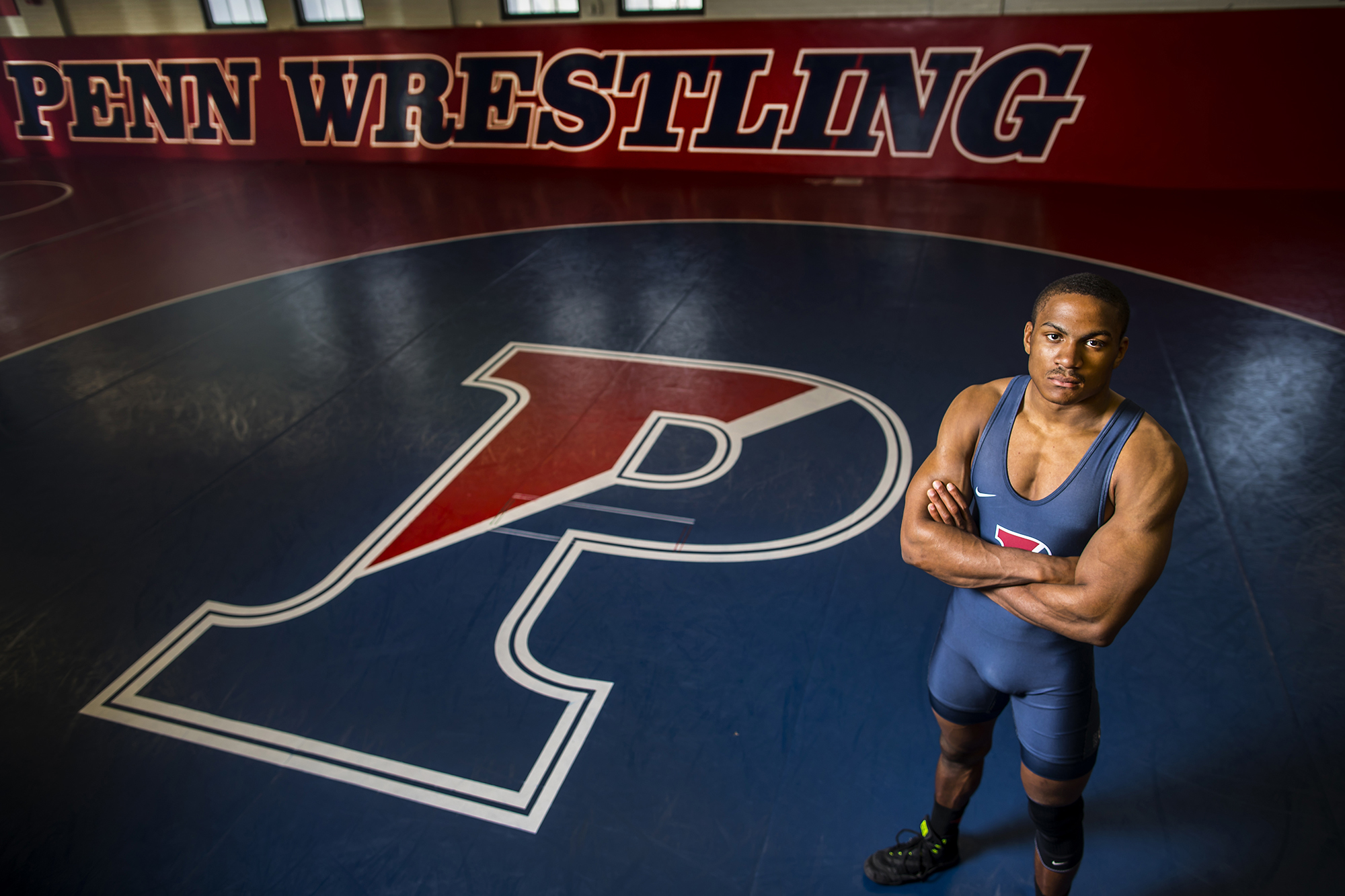 "Personally, I feel like a lot of the lessons that I have learned in life I've learned through wrestling. It teaches you about discipline, humility, bouncing back from losses and defeats, delaying gratification, and hard work. There are so many lessons that you learn that you don't think about and you might not even have a word for, but they'll serve you well later on in life."
Senior May Bethea, a unanimous First-Team All-Ivy selection on the wrestling team, comes from a wrestling family with time-honored bonds to Penn. The youngest of nine children (he has six brothers and two sisters), his brothers Ray, Aaron, and Canaan are alums and former wrestlers, his brother Isaac is a former Penn football player, and his mother is also an alumna. Bethea has been wrestling since he was 4, but he says his older brother Ray started wrestling with him almost as soon as he could walk. 
"[Wrestling] is definitely kind of a tradition and a really big part of our family and a lot of what we did together," he says. "We competed a little bit against each other and that made it more fun for each of us."
Penn Today sat down with Bethea at Penn wrestling headquarters in the Tse Sports Center at Hutchinson Gym to chat about training and cutting weight, his love of the sport, and his plans post-Commencement.
You wrestled at 165 pounds this year. What was your walking around weight? I went up a weight class this season. Last year, I wrestled at 157; this year, I wrestled 165 so I wasn't cutting a lot of weight this season. I was walking around close to 170. After a normal practice, I was a couple of pounds from my weight class so it wasn't really hard this season to maintain my weight. It was harder definitely last year. I enjoyed having that little bit of freedom to be able to eat and drink.
What's the weight cut like for wrestlers? You see it on TV with UFC fighters and it looks pretty brutal. For us, it's a little bit different than UFC fighters or boxers because we have to do it each week. UFC fighters might fight two or three times a year and we're cutting weight each week for the season. Last year, I was cutting maybe 12, 13 pounds each week and it was hard because I would have to start focusing on my weight pretty early on in the week. I'd make weight [for a match] and eat and drink as much as I want for a couple days, and then it was time to get ready to wrestle the next week, so I had to start cutting back and putting in extra time on the treadmill, and on the bike, and getting extra sweat workouts in. That was pretty difficult, but manageable. Most wrestlers have been through it.
Did you pig out once the season was over? I definitely had some things that weren't in my diet that I wanted to enjoy as soon as the season was over. Even just before coming here, I had some ice cream and pizza. I still enjoy those things.
How often did you train during the season? Our training was basically every day. We were lifting three or four times a week and then on the mat basically every day. We'd take a day off once a week. A lot of it is just really getting in there and being on mat, and drilling, and wrestling live, and getting some runs in and some extra conditioning in. A lot of it is just the sweat we put in right on the map with each other.
What do you enjoy about the sport? For me, it was a huge family thing. We always supported each other and my family came to all the matches and we got pretty excited about it together. But other than that, I do enjoy that it's an individual sport. It's very challenging. I think that's one of the things that a lot of wrestlers enjoy about it. We kind of consider ourselves a little bit crazy because of the things that we're willing to go through to have success, but that's also what makes it fun.
Who's the best wrestler out of you and your brothers? [Laughs] We're going to be debating that at Thanksgiving probably for the next few years or for however long.
You're a sociology major. What are your plans after you graduate? I'm planning to stay in the area and help out with the team and work with a nonprofit in the city called Beat the Streets. It's a wrestling program as well as a mentoring, tutoring program. I think it's a good opportunity for me to continue to learn and grow as a person, as well as help some inner-city kids also learn and grow as people.