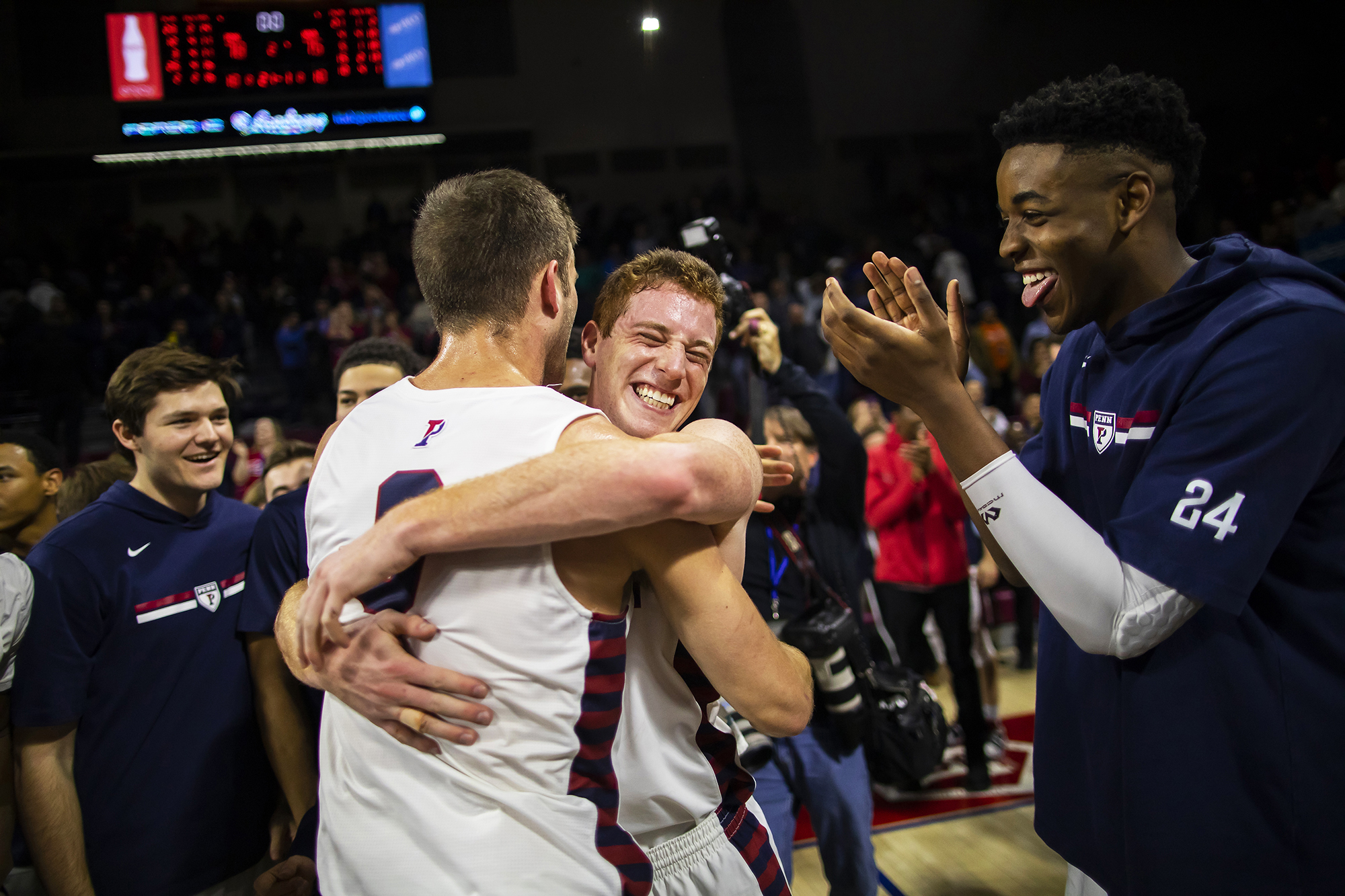 What a game!
In front of a national audience on ESPN2, the men's basketball team defeated the No. 16-ranked Villanova Wildcats 78-75 on Tuesday evening in a packed and rocking Palestra. The exhilarating victory came almost 16 years to the day of the Quakers' last win over Villanova, Dec. 10, 2002.
Penn played a game pleasing to basketball purists. They had good ball movement, set strong pick and rolls, and utilized back door cuts again, and again, and again.
From the opening tip, the Quakers played and looked like the better team.
Freshman guard Bryce Washington put the Quakers on the board with two straight three pointers. The whole team came ready to play, and were up 14-2 after seven minutes.
Villanova, the defending national champions, clawed their way back, and took a 15-14 lead at the 9:52 mark.
Clean, sharp ball play galvanized the Quakers to retake the lead, and they entered halftime up 32-28.
The Quakers controlled the game in the second half. Every time Villanova tried to close the gap, the Red & Blue had an answer.
A bucket by Wildcat forward Saddiq Bey made it a 32-36 game, but the Quakers responded with five straight points. 
Villanova cut it to 40-44, but senior guard Jake Silpe found freshman forward Michael Wang for the lay in.
Senior guard Antonio Woods hit a three-pointer with 12:03 on the clock to push Penn's lead to seven, 51-44.
Two free throws by the Wildcats cut it to 50-53 with 9:56 left, but the Red & Blue answered with layups by Washington and Silpe.
Penn was up 51-60 with around eight minutes remaining. Villanova got as close as three on multiple occasions, but the Quakers largely kept their composure down the stretch for the big win.
Five Quakers scored in double figures. Junior forward A.J. Brodeur had 16 points, six rebounds, and four assists. Woods added 16 points, five rebounds, four assists, and two steals.
Junior guard Devon Goodman contributed 11 points, five rebounds, and three assists. Wang had 14 points, six rebounds, and one block. Silpe had 11 points, four rebounds, and two assists.
Penn's win over Villanova is its first over a ranked opponent since defeating Temple 73-70 in overtime on Nov. 23, 1998.