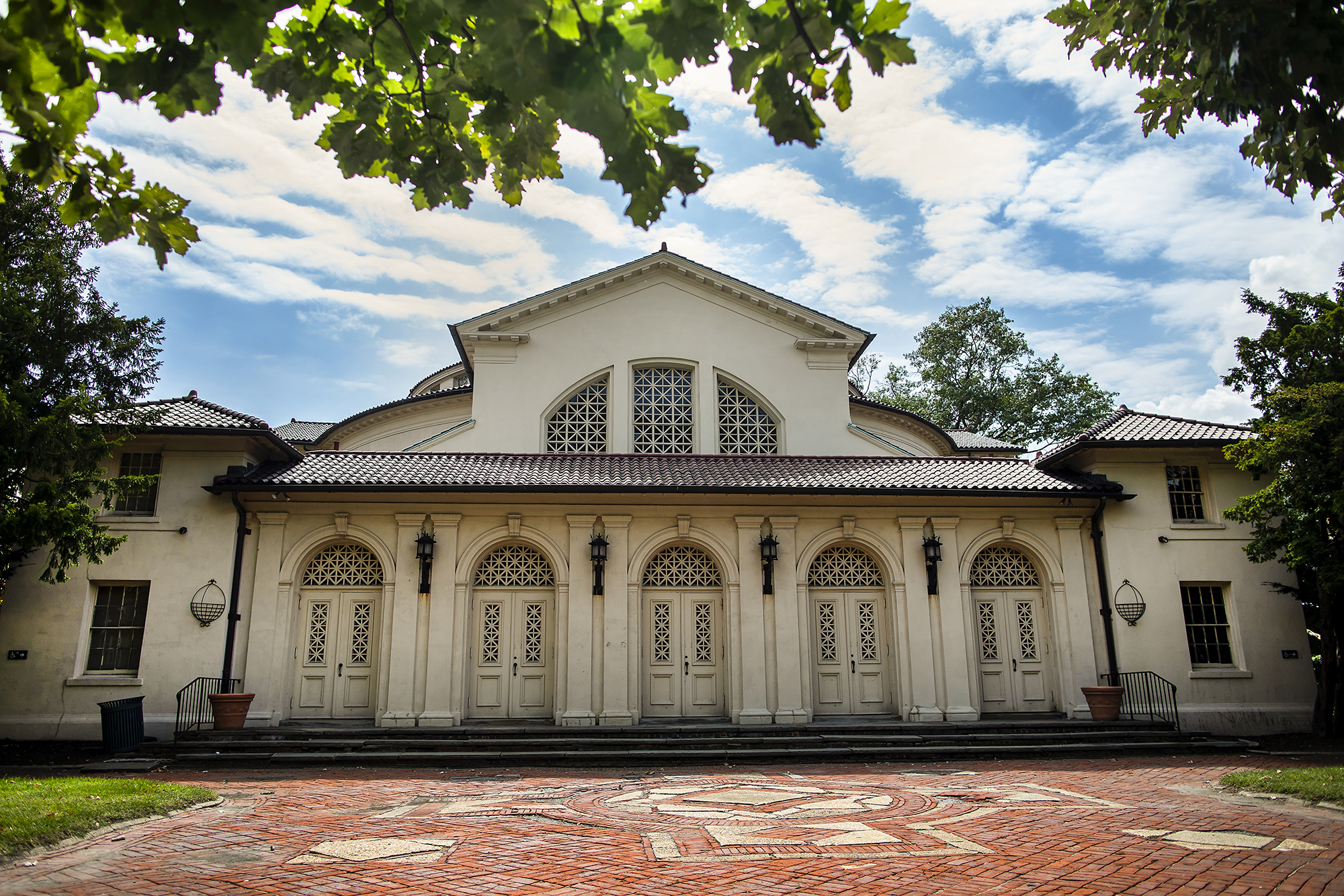 When stay-at-home orders were issued in March of last year, Gina Renzi, director of The Rotunda under Facilities and Real Estate Services, figured the busy arts-and-culture hub at 40th and Walnut streets would be closed for two weeks.
"We never thought it would be this," she says now.
She quickly got to work planning long-term for a new reality of virtual events, realizing she couldn't assemble people in a room for the usual arts and entertainment gatherings The Rotunda is known for: everything from Philly Zine Fests to concerts. Some of the curators she worked with—notably, Renzi facilitates events for the space and does not curate—were able to adapt to the new setup.
Others, among the 50 to 100 curators she works with per year, "went into a cave," often unsure how to navigate the new demands of event planning during a pandemic.
"That's the thing about The Rotunda, we work with anyone," she explains. "We are different."
The Rotunda engages with a lot of grassroots work, she emphasizes—community-level outreach to people who work in local arts scenes and are interested in hosting an event in the space. Artists are also paid for their work when they host an event. These are often artists and performers juggling full-time jobs.
"And so, it was really difficult at first," Renzi adds, "because we're so used to 'happy accidents.' Having events, and someone comes and is an audience member and has an idea, and the nature of our space is we don't have to say, 'You can apply and we'll get back to you.' It's, 'Do you need money? Do we have a date? How about we introduce you to the tech person?'"
She admits April was a rough start with virtual events, full of stumbles typical of pandemic adjustment: events that didn't translate into an online format (like a Tuvan throat-singing group that relies on improv and spontaneity), tech hurdles, and added importance to social media.
But, as Penn people do, Renzi summoned resilience.
One popular recurring event, the "Vision Driven Artists" series organized by Vision Driven Consultants (VDC), typically focuses on teaching artists skills like financial literacy, grant writing, or how to advertise their work. In translating that series virtually, Renzi and the team at VDC realized they needed to pivot not just the format but the subjects, as artists struggled with new problems like how to make a podcast, how to set up a virtual event, or how to retool grant proposals for the pandemic era.
And that retooling has continued to find an audience thanks, in part, to the grassroots work The Rotunda has already established.
"Some of the pivot was easier because the relationships don't just go away when you move online," says Brittany Campese, executive director of VDC. "The reason our relationship with Gina and The Rotunda works so well is because we're both so invested in connecting on the human level and really figuring out what community members want."
VDC centers Philadelphia in its work, and will continue to regularly host workshops through The Rotunda this spring that are more hyperlocal. But in other examples, such as virtual music performances, The Rotunda has also been successful with expanding its audience and tracking where they're coming from.
"We've used grassroots methods and relied more on social media [to advertise events]," says Renzi, who says she's found new audiences through social media. "We've been able to have events with audiences now who are tuning in from various parts of the world, and that's an interesting thing because people who would never see this stuff are now able to."
She's also been able to work with performers who have previously performed at The Rotunda but who no longer live in the area. Atypical events have been made possible as well, like an interview conducted with Chuck Van Zyl of WXPN, a mainstay in West Philadelphia. In that case, the audience was able to seamlessly ask questions.
In addition, Renzi says more introverted people have started joining events, suddenly feeling more comfortable with attending.
"We've made the best of it and figured out what really works," she says.
Since the pandemic started, The Rotunda has hosted 55 events. There have been open-mic nights, workshops, jump-roping sessions, and virtual concerts on YouTube. One, certainly tailored for the pandemic, is a "sleep concert" curated by a regular partner of The Rotunda, Bowerbird Music. That series, "Liminal States," continues on Feb. 25 with Laura Baird and is one of a variety of events at The Rotunda planned for the spring, with many more in planning stages. Because the space had a hardwired ethernet connection installed, Renzi is currently examining the feasibility of hosting events in the space but livestreamed through the high-speed connection.
Ultimately, the pandemic has, for The Rotunda, proven to be a test of strength but also a seedbed for experimentation. The Rotunda is currently working with 10 artists who live with disabilities in nursing facilities and hospitals to create work—paid for with a stipend—that will be broadcast in an online exhibit. That project is in partnership with a gallery in Toronto.
"I feel like those kinds of programs, they come from artists and individuals. I can't be everywhere and part of every community," says Renzi. "So one strength of The Rotunda is we have been open this whole time, all these years, to these people and saying, 'You do what we do. You're involved in this community or cause. Tell us what you want to do and we'll use our know-how and learn something from you in the process.'
"That's how we've operated the whole time. Even in this whole pandemic."