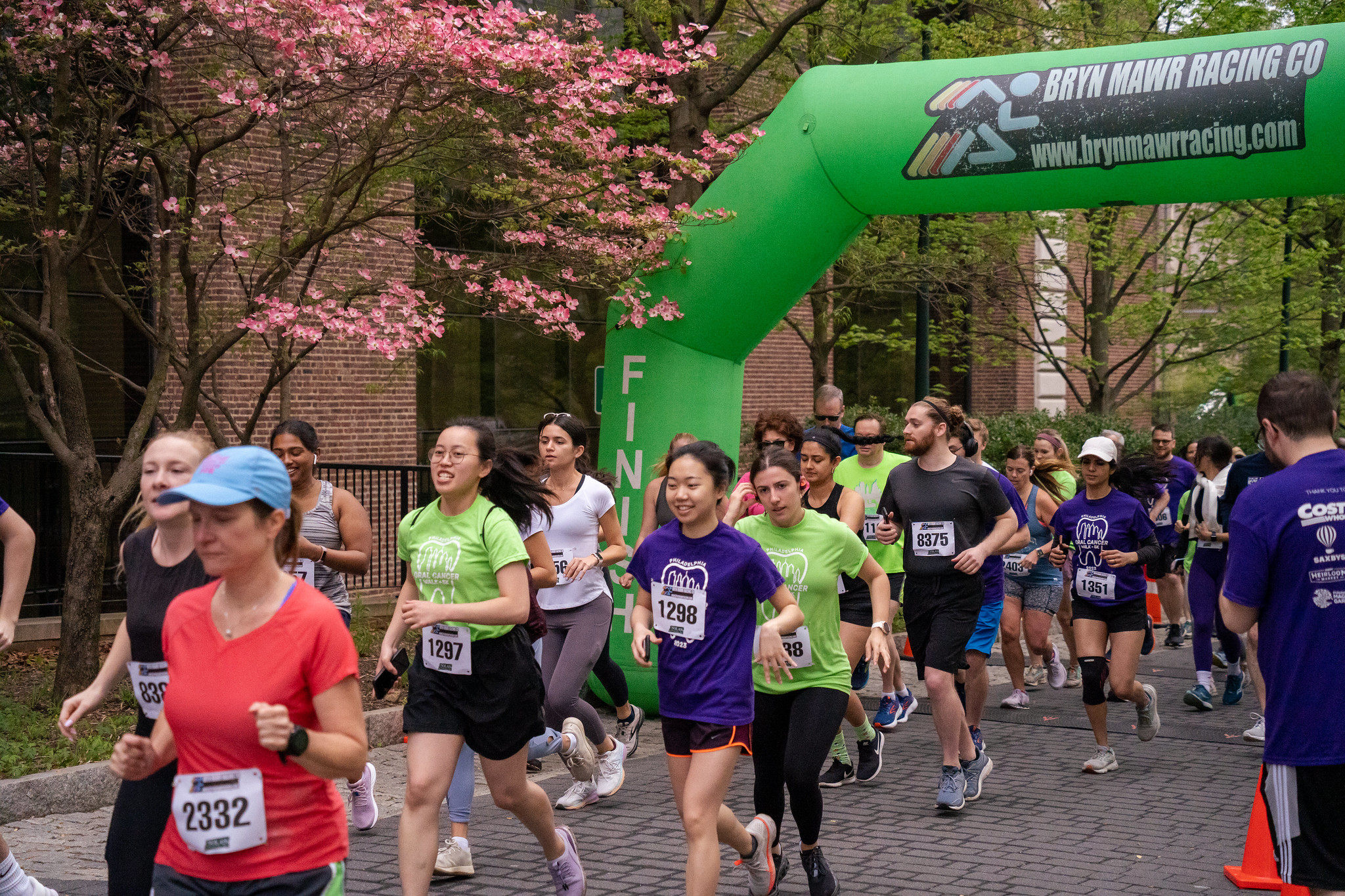 Early detection of oral cancer can make a world of difference in the invasiveness of treatment needed and mortality rates. Yet for many people the disease is not a familiar one.
The Penn Dental Medicine Oral Cancer Walk and 5K, held for the last 15 years, is intended to raise awareness about the impact of oral cancer and the opportunities for early detection and treatment. On Sunday, April 16, more than 300 participants walked or ran a 5K at Penn Park to build community and raise funds for oral cancer awareness and research. The event was followed with a festival that included snacks, raffles, speakers, and free oral cancer screenings, conducted on the Penn Smiles bus.
April is Oral Cancer Awareness Month, and a major goal of the event is to increase public understanding of the disease and the importance of early detection. Nearly 54,000 Americans are diagnosed with oral cancer each year.
"Having been in dental courses and understanding the weight and gravity oral cancer has, it's a disease that a lot of people don't know about and don't understand the severity of," says Simran Grewal, a second-year student at Penn Dental Medicine and co-chair of the Oral Cancer Walk & 5K together with third-year dental student Stephanie Ng. 
Students at Penn Dental Medicine lead the organization of the event each year. Grewal and Ng recruited dozens of volunteers, who do everything from supporting runners on the course with cheers and water to baking goodies for a bake sale to offering henna designs during post-race festivities.
In the past, walk and run participants have competed at Penn Park, then moved to Penn Dental Medicine's hub at 40th Street for post-race fun and oral cancer screenings. This year, the organizers wanted to keep everything in one place to maximize participation and create a more celebratory atmosphere. So they enlisted the help of Joan Gluch, division chief of community oral health, to arrange for the Penn Smiles bus to be on site at Penn Park following the walk and run, where dental residents and third- and fourth-year students offered oral cancer screenings to about 70 members of the community. 
"A lot of oral cancers can be asymptomatic, especially when they're small," says Katherine France, an assistant professor of oral medicine and a faculty advisor to the event, together with Gluch and Thomas Sollecito. "It's important to have dental health professionals performing extraoral and intraoral exams, checking for enlarged lymph nodes, abnormal lesions or swelling, or any other findings that might need follow up."
Such screenings should be a part of every dental visit, says France, who herself helped organized the walk and has run all four years she was a dental student at Penn. Patients should also pay close attention to changes in their oral cavity between visits, she says. "Early detection can truly be lifesaving."
Proceeds from pre-race fundraising and the race itself reached nearly $10,000 for the Penn Dental Medicine Oral Cancer Care and Research Fund, to go toward future awareness-raising events as well as scientific investigations related to oral cancer.
For more photos from the event, visit https://flic.kr/s/aHBqjAA6WC.