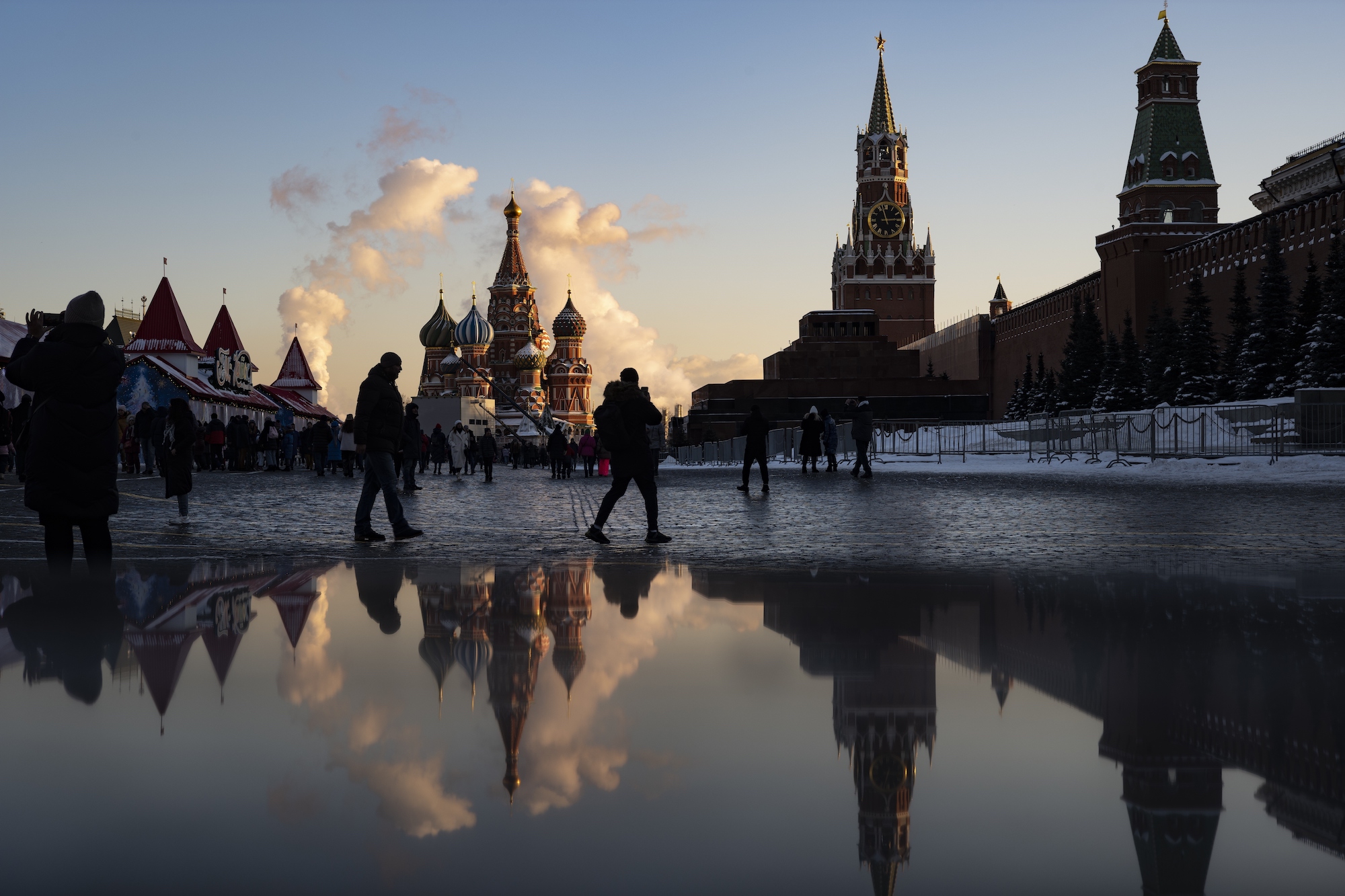 From spreading propaganda in United States in the run-up to the 2016 presidential election to perpetuating falsehoods about COVID-19 vaccines, Russia has embarked on sophisticated social media disinformation campaigns in recent years, hoping to exacerbate political tensions around the world.
Last week, American officials alleged that they uncovered a Russian plan to fake a video to post online of a Ukrainian attack as a pretext to invade the country. Moscow dismissed Washington's claims, but the U.S. and its allies have in recent months tried to highlight Russian disinformation efforts.
White House press secretary Jen Psaki described it as a "strategic decision to call out disinformation when we see it." Even "Saturday Night Live" tackled the topic on the show's opening sketch earlier this month.
But could Russia's online antagonism spill over into real-life conflict?
In a virtual conversation at Perry World House, Mitchell Orenstein, professor and chair of Russian and East European Studies, sat down with Russian politician and dissident Konstantin Borovoi to discuss the disinformation efforts, how the West should approach Russian aggression, and what Vladimir Putin's motivations are in Ukraine.
Borovoi, chair of the Western Choice political party, fled his home country in 2019 seeking refuge in the U.S. after he learned of plans to assassinate him. He told the audience he's been supportive of Western initiatives on the free market and democracy since 1990, and he served on the Council of Entrepreneurs in Russia under presidents Gorbachev and Yeltsin.
His recent book, "Russia Against USA: Russia's Disinformation Campaign Against USA and Its Citizens," warns about the extent of Russia's disinformation activities worldwide.
Orenstein asked if Putin had always been anti-Western, or if instead there was something that turned him against the West later in his career.
Borovoi pointed to Putin's KGB training as what had enabled him to mask his true views previously. "KGB officers can play different roles and different characters," Borovoi said. "I think he was always anti-Western, but he could create an image of being pro-democratic and pro-markets. He can play any role. He is a very smart person."
Russia has repeatedly denied any plans to invade Ukraine, while the U.S. continues to raise alarm bells about the prospect of war, as more than 100,000 Russian troops gather on the Ukrainian border. The U.S. has threatened sanctions and the scrapping of the Nord Stream 2 pipeline should there be an invasion, yet both President Biden and Putin have indicated a willingness to continue negotiations. Putin has said NATO's open invitation to Ukraine is a threat to Russia.
Borovoi contends that NATO expansion isn't a real factor in Russia's renewed aggression against Ukraine but rather a means by which Putin can become a global player.
For Putin, "it's a convenient instrument to influence international relations," Borovoi said. "He's very pragmatic, a cynic."
He sees Putin's motivations in Ukraine as preserving his own power and his immense wealth. "The way to save imperial power is to grow the empire, to expand it, not only to Ukraine but to other former Soviet countries. Putin's goal is always to maintain his power and his own rule," said Borovoi.
He also mentioned Putin's net worth is estimated to be as much as $2 trillion, and he's trying to save not only his power but his money, his influence, and the structures he's created.
"If Russia collapses, it could create very dangerous conditions for neighboring countries and the entire world," he said.
Western leaders shouldn't try to negotiate with Putin, whom he called a "criminal power." He said French President Macron's recent trip to Russia was a weak policy and position for France to pursue.
"It looks like before World War II, when everyone was trying to reach some kind of agreement with Hitler, and it wasn't very effective, as we know," he said. "It's very dangerous to feed wild animals."
Borovoi said he feels Biden "has been too accommodating" to Putin and questioned the motivations of the U.S. government when they previously allowed him to occupy Crimea.

In response to a student question asking what research on Russia at the moment should focus on, he said scholars need to start thinking about the future transition process in Russia, as he predicts the country could be on the brink of collapse very soon.
He also pointed to the need to study U.S.-Russia relations with the same level of interest as U.S.-China relations.
"At the moment, the focus is more on U.S.-China relations, but China is not far from Russia, and they are close to Russia not only geographically but politically. A lot of problems connected with China can be resolved by better understanding Russia, by better relations with Russia," Borovoi said. He added that Putin's recent statement with Xi Jinping would be very interesting to research, and he's very concerned about that relationship. "I believe they're trying to plan the whole world's future, and together they have the power to influence it."
Russia's disinformation campaign doesn't stop at the U.S.; there's also a domestic effort that is extremely nationalistic.
Wrapping up the discussion, Orenstein asked whether Borovoi thought war would break out over Ukraine. Borovoi said that it isn't "normal" when one country occupies another's territory. "That doesn't just mean Ukraine but Moldova, Georgia, Abkhazia, South Ossetia, and other countries. It has to be resolved," he said. "It's a very stupid position to believe it will resolve by itself."
Borovoi pointed to the agreement that was reached between former Russian President Dmitry Medvedev and French President Nicolas Sarkozy after the 2008 war in Georgia. The deal was that Russian forces would leave Georgia, but it never happened.
He sees the same thing happening with Putin, he said, adding that supporting Putin's activities, interests, and behavior "is very dangerous, Western leaders trying to reach an agreement with him is more dangerous than fighting with him. We have to be strong, we have to defend our interests, our democracy, our freedom, and sometimes there's no way to do that without military force, unfortunately."
The entire conversation can be viewed on the Perry World House YouTube channel.