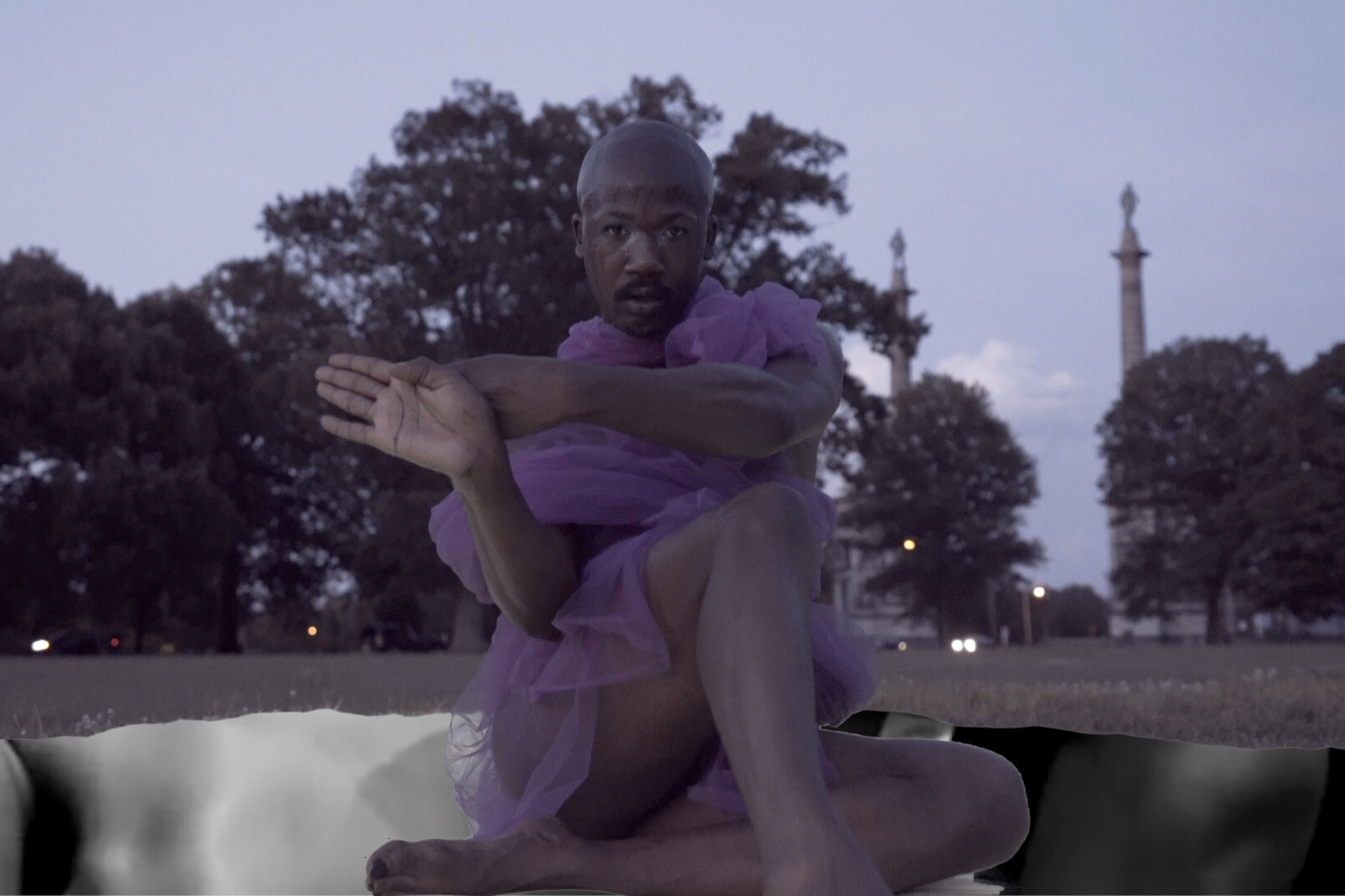 When Ricardo Bracho and Arien Wilkerson met at the Black Spatial Relics event at the Institute of Contemporary Art (ICA) last year, seated just a row apart, they fast became friends and collaborators. 
Bracho is a writer and editor who is the Sachs Artist-in-Residence in the Alice Paul Center for Research on Gender, Sexuality, and Women. Bracho teaches the course Passion Projects, a creative writing workshop on monologues, one-person shows, screenplay pilot projects, and experimental pieces. Bracho realized a need for students in the course to be introduced to a younger, practicing artist in the experimental field, and Wilkerson came to mind. 
"I met Ricardo at the ICA and had exchanged a lot of energy in the air; we met, started conversing, had me over—when you could have someone over for lunch—and we started talking," says Wilkerson. "I shared my materials and he got really invested and enjoyed, and created a conversation around working together for some events in 2020 that never happened."
One of those events was to be held in March at Slought, titled "Circa," a staged reading of a play by Bracho that would include a dance choreographed and performed by Wilkerson. When that performance was canceled as a result of stay-in-place orders, some of the visuals for that performance were repurposed and developed naturally into a photography and video project, a short piece called "Shark." That piece interweaves haikus and photographs, telling a story of Black masculinity, femininity and intimacy, the built environment and the natural world, and "the friction between all these things," says Bracho. 
"'Shark' is very beautiful and angelic and gentle, even though it's mostly about Black masculinity," Bracho says. "I think it's sort of undoing this idea of toxicity around Black intimacy. And it's also not necessarily sexual, but it's quite soft."
Shark will play before Wilkerson's longer work, "The Sis Uprising."
"'Sis Uprising' is wild and goes in every direction," Bracho says of the video. "[This is] how Arien conceives this time period, and what does it mean to uprise as a sis within an overall Black liberation movement, within the context of plague upon plague." 
Wilkerson moved to Philadelphia in 2019 from New Haven, Connecticut. Wilkerson thrives as an experimental artist who, alongside Bracho, wrote a grant proposal to The Sachs Program for Arts Innovation in June, when the program opened applications for the 2020 Black Artists Support Grants for Black artists to pursue passion projects. A grant was awarded to them and eventually allowed the completion of the dance performance film—featuring countless other artistic disciplines—in the way that Wilkerson envisioned. 
"The thing about my work is it's a lot combined in one subject, condensed into one thing," they explain. "But I enjoy multilayered contexts work, and so this piece is about the time we've spent—these six months—figuring out how to live or die. It's asking questions like, 'What does it mean to be crucified and born again?' It's about the skin that time is in. Wearing time as a skin. If time had a flesh or some sort of way in which it can show pigmentation or durability, that's what this kind of piece is."
It's also, Wilkerson says, a version of the news, tracking what's happening right now in the United States through news reels. There is film footage of a Black Lives Matter protest in Philadelphia, for example, as well as memes that have come to be a part of regular language on the internet. 
"I feel like memes are better than monuments at this point," they say. "Memes are the future; they're so radical. They love to be undefined and defined. I love that quality about what they can do."
A small team of 10 helped create the video piece, contributing music, poetry, photography, directing skills, and more. Wilkerson developed the concepts, stars as an abstract character who is costumed and performs dance (some improv, some not), and edited some scenes in a way that could be described as distorted or surreal. 
"I think right now I'm trying to make a lot of abstract digital movement that feels like an object," Wilkerson explains. 
In meaning, some of the film scenes included, they say, add up to a simple feeling overcoming them lately: a desire to love. 
"Through the protesting and barrage of trauma imagery, it makes me want to love more and more," Wilkerson says. "It makes me want love."
Wilkerson hopes students watching the video and interacting during Bracho's class will feel inspired. 
"As a queer, Black, nonbinary, undetectable poz artist, I check all of the things a lot of people maybe want to see in the world," they say. "Someone who has HIV, is Black, is nonbinary and presents like this, but also that and also whatever—you see a dress, a heel, all these facets of who I am. And also I think it's really important to see a Black queer person in charge, in a leadership position, and one in which we can show our leadership and what it means to be not just Black and queer, but also Black and queer and empowered."
Bracho is excited for the work to premiere, as an online event at Slought on Oct. 8, and for students to see Wilkerson at work. Wilkerson is the only Sachs grant recipient from this particular round who is an artist outside of Penn.
"Like me, Arien is someone who recently arrived to Philly and is trying to make work, and we make different kinds of works, but we are interested in work we might make together," Bracho says. "I wanted students to see what it means to be a young working artist, should they have fixings on being a writer in the world.
"I think it's always good to see someone already out there doing it."