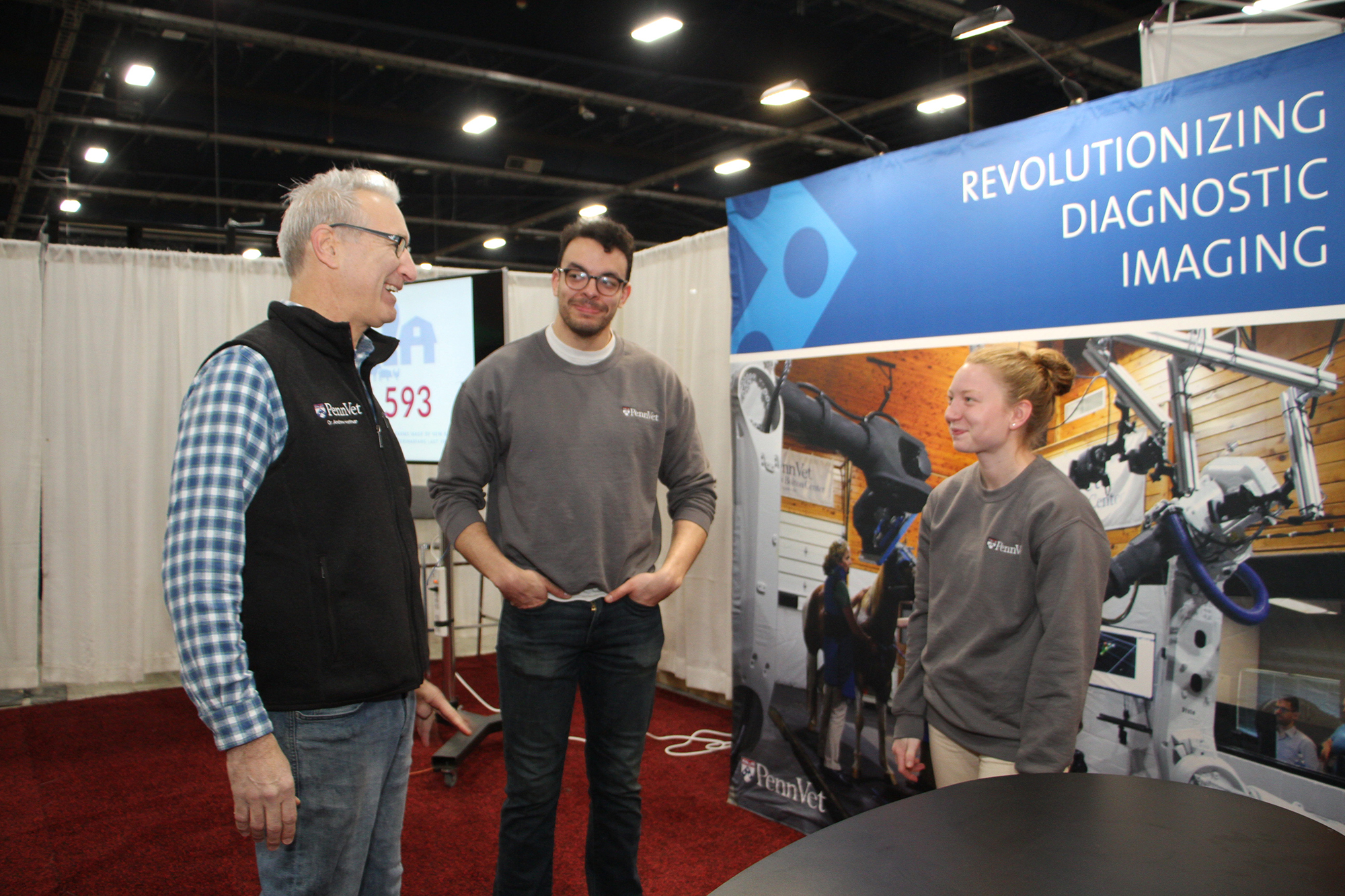 The Calving Corner is a popular attraction at the Pennsylvania Farm Show. Dairy cows on the verge of giving birth rest in a spacious pen while an audience seated on surrounding bleachers eagerly awaits. On a Saturday earlier this month, Karen, a cow from Meadow Spring Farm in Lititz, had been showing signs of readiness for hours: changing position frequently, "nesting" in the bedding straw, and breathing rapidly, with occasional pauses for contractions.
While cows in the Corner are expected to deliver unassisted, as they would on their farms, Mike Pesato, a board-certified food animal veterinarian from Penn's School of Veterinary Medicine's Field Service, was on hand as a volunteer in case any of the moms needed help.
As Karen's labor failed to advance, Pesato stepped in.
"I was preparing to end my shift but I talked with the farmers and said, before I go, why don't we just check her, assess the situation," says Pesato. What he found was a large calf on the brink of birth, but stuck upside down, with its nose butting up against Karen's pelvic bone. With the help of farmers Tom and Andy Bollinger, Pesato guided and pulled bull calf Sherman out into the world.
Veterinary expertise like Pesato's is a crucial aspect of Pennsylvania's thriving agriculture industry, and Penn Vet's presence at the 104th Farm Show, held Jan. 4-11 in Harrisburg, highlighted that fact in many dimensions of the festivities, which attract half a million people annually.
Penn Vet has been a participant at the Farm Show for nearly half a century, and dozens of members of the school community took part this year. Whether offering formal veterinary assistance like Pesato, providing engaging informal education at the Penn Vet booth, or advocating for the school with legislators and other leaders in agriculture, as Penn Vet Dean Andrew Hoffman and other faculty did on multiple occasions through the week-long celebration, their involvement highlighted the fact that the school is not just part of the show—it's a true partner in the $135 billion agricultural industry statewide.
The numbers make it plain: About three-quarters of Pennsylvania veterinarians are Penn Vet graduates, practicing in 66 of the state's 67 counties. The New Bolton Center's Field Service team cares for 23,000 large animal patients in the counties surrounding the Kennett Square facility, while New Bolton's hospital sees thousands more patients annually. New Bolton Center is home to one of the three labs that compose the Pennsylvania Animal Diagnostic Laboratory System, or PADLS, which conduct disease surveillance and testing to rapidly detect potential threats. And research programs at both New Bolton and the main campus in Philadelphia work to enhance science that can make farms safer, more productive, and more sustainable, both environmentally and economically.
Who's who of farming
The show kicked off the morning of Jan. 4 with opening ceremonies, including remarks from Governor Tom Wolf, Secretary of Agriculture Russell Redding, U.S. Sen. Bob Casey, and U.S. Rep. Glenn "G.T." Thompson, interspersed with the occasional emphatic "moo" from a cow in the arena. "It's essential that we support our farms for today, but also for the future that we want to have in Pennsylvania," said Wolf.
Afterward, Hoffman, joined by Associate Dean Gary Althouse and Office of Government and Community Affairs's Michael Smith, connected with the governor, secretary, and legislators including Thompson and State Sen. Judy Schwank, to discuss mutual priorities. During a tour of the facility—which includes a 1930s-era main hall, three arenas, conference facilities and more, totaling more than a million square feet, punctuated by the aroma of maple syrup and potato donuts in the food halls—they also found opportunities to talk with representatives from the Pennsylvania Game Commission, Farm Bureau, PennAg Industries, as well as members of the public.
"My job is to connect with people in agriculture, and share what we're doing to support the industry," said Hoffman, whose clinical veterinary background includes work in equine respiratory medicine. "We're educating people here about the profession and the necessity of veterinarians in sustainable agriculture."
Hoffman's ambitions for the school mirror what he's been hearing from industry and government leaders, farmers, clients, and members of the public: "They want to know about access—how are we going to make sure they can get the care their animals need," he says. "But they're also asking about infectious disease spread, zoonotic diseases that are being transmitted between domestic population and wildlife and vice versa or are even being brought in from different countries. There's interest in every aspect of what we do."
With a growing number of dual-degree programs, and new ventures like the Pennsylvania Wildlife Futures Program, a partnership between the Vet School and the state's Game Commission to address diseases that threaten wildlife as well as pets, livestock, and humans, Hoffman aims to train new veterinarians to meet the increasing demands placed on them, while anticipating and planning for new challanges that are coming down the pike.
Engagement at every age
Back at the Penn Vet booth in the Expo Hall, veterinary students lured in passersby with animal-themed hats and a "yucky stuff" table, which included a manatee skull, a horse's hoof in a jar, and massive intestinal deposits that formed around a tiny stone ingested incidentally.
Second-year veterinary students Julia Weeder, Katie Newcamp, and Meagan Rodriguez were among two dozen students who volunteered part of their weekend to staff the booth.
Rodriguez, who worked an afternoon shift, said attending the Farm Show is "a good learning experience," as coming from New York City she lacked the familiarity that some of her rural-dwelling peers had with livestock and farms. Newcamp enjoyed talking with the many children who approached the booth, including "one little guy who was about 7 who was very clear that he wanted to be a vet when he grows up."
The students spoke to several older veterinarian-hopefuls as well, including Sophia Sigel, a middle schooler from Media, Pennsylvania, who was attending with her dad, Matt. A member of the Delaware Country 4H, Sigel breeds and shows sheep and has her eye on vet school.
On Monday, Jan. 6, at the Farm Show, members of the FFA, a leadership organization for young people interested in careers in agriculture, were invited to come by the Penn Vet booth to discuss opportunities in veterinary medicine. Roughly 75 came by, talking with representatives from the school, including several students interested in pursuing large animal medicine. The Pennsylvania FFA state officers, prestigious elected positions in the organization, joined Hoffman on Wednesday, Jan. 8, for a dynamic hour-long conversation covering everything from the academic requirements of a veterinary education, to issues in agribusiness, which veterinary students graduating from Penn Vet are increasing well-positioned to address.
"Penn Vet offers an extraordinary training program for students—particularly those looking to pursue a career at the cross-section of agriculture and veterinary medicine," said Althouse, associate dean of sustainable agriculture and veterinary practices at the school. "With 100 percent of our students being trained in large and food animal medicine, we're preparing them to not only be exceptional clinicians in the field, but to also be visionary thinkers capable of providing solutions to some of the industry's most pressing challenges."
Fury and Ugo, two puppies in training for scent detection at the Penn Vet Working Dog Center, were among the attractions at the Show on Wednesday, prompting many visitors to stop to engage in discussions of how such working dogs may one day be deployed to detect odors such as chronic wasting disease, an insidious infection of deer, or spotted lanternfly, an emerging and highly destructive invasive insect in Pennsylvania.
Wednesday was also the Farm Show's Public Officials Day. More than a dozen legislators visited the Penn Vet booth that day, including House Speaker Mike Turzai and Senate Democratic Leader Jay Costa.
A vital partner
The theme that carried through each such interaction, whether with students or legislators, was that agriculture and world-class veterinary medicine must be inextricably linked. Speaking amid Saturday's crowds by the main entrance to the show, Joel Rotz, manager of government affairs and communications for the Pennsylvania Farm Bureau, had no trouble ticking off a number of reasons he and his organization deeply value Penn Vet's expertise, noting in particular the school's efforts on food safety assurance and animal disease surveillance. "That's a real badge of honor," he says. Chris Herr, executive vice president of PennAg Industries echoed that point, saying, "Pennsylvania is an animal agriculture state, and the work Penn Vet does is a real strength for us."
For Pesato, who enjoyed his third year volunteering in Calving Corner, bringing Sherman into the world—and sharing that with an audience of more than 100 people—was an honor in and of itself. "For the public to get the chance to see the camaraderie between farmer and veterinarian, the communication there," he says, "I think people really came away informed and pleased."
Homepage photo: Crowds gathered to watch cows give birth at Calving Corner, one of many popular attractions in the one million square foot facility in Harrisburg.