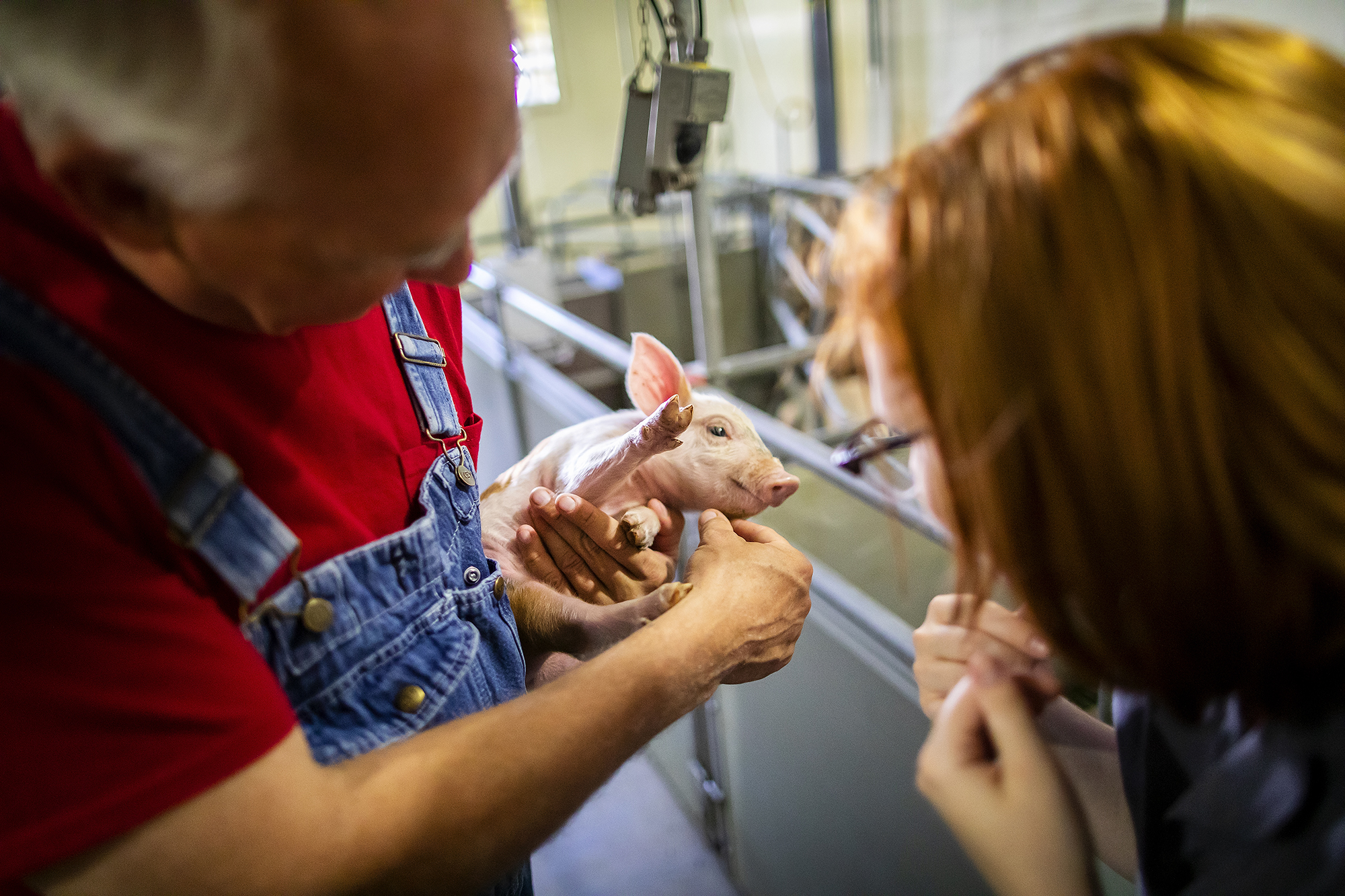 At Penn Vet's Swine Unit at New Bolton Center, 500-pound pigs squeal and strut in a sunny outdoor pen. Thomas Parsons, professor of swine production medicine and director of the Swine Teaching and Research Center, leans down to pat them on their sides as they sniff at his denim overalls.
Parsons and his colleagues have spent years crafting and refining their swine unit at Penn with the aim of making pig farms more sustainable nationwide. Their "farm of the future," with humane conditions and efficient use of resources, stands to reshape the environmental and social impacts of raising swine.
The way Parsons sees it, to define a pig farm as sustainable, it must be both socially acceptable and economically viable.
"For most farmers, farming is not a livelihood, it's a lifestyle," Parsons says. "And so if they lose that social license, not only do they lose their livelihood, but they lose their lifestyle."
Eliminating gestation stalls is one of the primary ways the swine unit has worked to introduce more socially acceptable practices. Previously, it was also standard industry practice for sows to be kept in small stalls—some so tiny that the pigs weren't able to turn around—so that they could be fed without competing with one another for food. At New Bolton Center's facility, sows instead have RFID chips implanted in their ears. When they walk into the food dispenser, their chips are scanned, and a pre-measured meal is released.
Such improvements, along with purchasing high-quality organic food and providing more room for each animal, can come with considerable expense, especially on large farms. At the Swine Center, Parsons aims to create a model farm that remains cost-competitive even when scaled up. Part of that balance is determining whether or not farmers will be able to charge more for their sustainably-raised meat to offset the higher costs of production.
"We've got the next generation becoming decision makers in terms of buying food," Parsons says. "They're asking the question where their food comes from, and in some cases, not always liking the answers. And so I think that's where we're at—we're in this transition."
Millennials, Parsons adds, are starting to spend more of their disposable income on sustainably raised products, even though they have less to spend than older generations.
Penn Vet's model farm also considers environmental sustainability in its operations. Solar panels have been installed to help run the facility, and according to the research team, many other pig barns also have south-facing roof space where solar panels could be effective at harvesting energy. The farm has also become certified organic, which means that the pigs receive their nutrients from entirely organic feed.
The Swine Center's farming research is starting to have real impacts on the nearby community. According to Parsons, around 60 percent of the sows raised in Pennsylvania are no longer confined to gestation stalls, more than any state besides the three that ban the practice. Many of those farms, Parsons says, are also looking to minimize their use of antibiotics.
Bob Ruth of Clemens Food Group is one such producer who has benefited from the expertise of Penn Vet researchers. Ruth has worked with Parsons and Gary Althouse, associate dean of sustainable agriculture and veterinary practices, for decades to innovate and modernize his company's large-scale operations.
"It's a great relationship," Ruth says. He has invited vet students to visit and work on research projects involving the company's farms, and in turn receives guidance and professional connections that have put him at the leading edge of the industry.
"Working with Penn Vet, we are continuing to innovate and adopt practices that allow us to deliver more freedom to our animals in a modern pig-producing farm. We feel very fortunate to be connected with people like Tom and Gary," Ruth adds.
 To keep firms like Ruth's at the forefront of innovation, while ensuring overall sustainability, the Swine Center is working to anticipate how the need for different resources will fluctuate and change in the coming decades.
"From an agricultural standpoint, resources are finite," says Althouse. "How are those resources best utilized for the growth that we're expecting when you look at 10 years, 20 years, 50 years?"
Althouse aims to help educate the next generation of veterinarians, as well as the public, about the importance of sustainable agriculture.
"What I'm excited about here at Penn Vet is to be able to better formalize, 'What is sustainability?'" he says. "Being able to address it beyond just looking at an organism or looking at an animal, but looking holistically, and providing that training to our veterinary students, as well as through our outreach to better sustainability of agriculture."