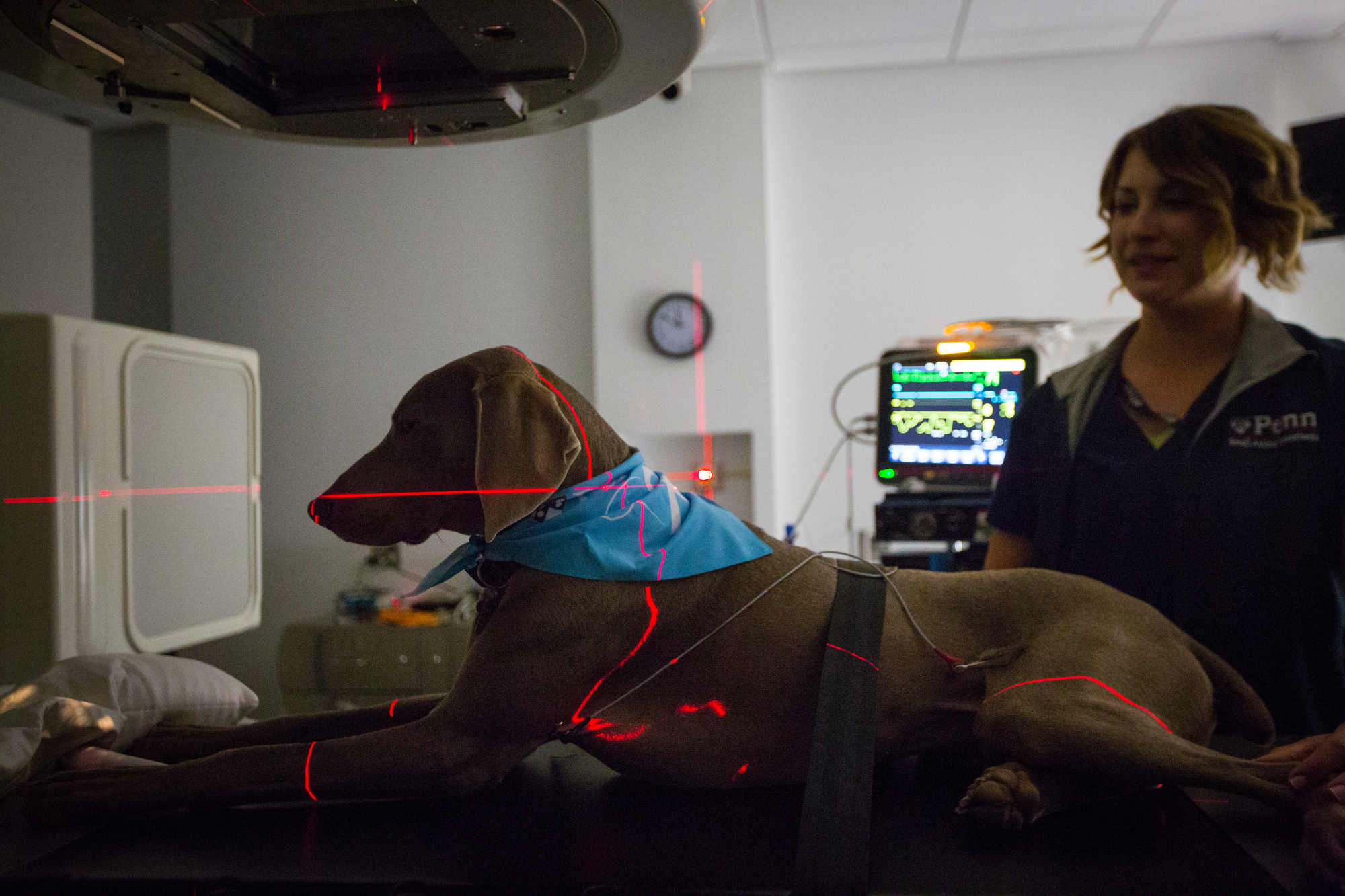 Penn's School of Veterinary Medicine has long been a scientific and clinical powerhouse. But the launch of an initiative last year is further bolstering those strengths in the areas of cancer research and care.
"Our idea with the Penn Vet Cancer Center is not only to make sure that we are taking the most evidence-based, scientific approach to treating our patients who have the misfortune of receiving a cancer diagnosis," says Ellen Puré, the center's director, "but that we're also giving the most compassionate care to those pets, and ensuring pet owners are educated and a key part of the decision-making process."
By encouraging exchange and collaboration both within the multi-disciplinary clinical teams that see patients, and between them and the researchers whose scientific discoveries lead to treatment advances, the Penn Vet Cancer Center (PVCC) aims to put a renewed focus on making breakthroughs that can save and improve the lives of animals—and the people who love them.
"The collaborations between clinicians, scientists, and clinician-scientists leverage the expertise we have in a really effective way," says Oliver Garden, chair of Penn Vet's Department of Clinical Sciences and Advanced Medicine.
Since getting off the ground officially last fall, the PVCC has grown its membership, given rise to new research partnerships and projects, and rolled out new educational programming to train students and clinicians in the most up-to-date cancer biology.
Growing the team
In Puré's eyes, Garden's appointment to the Penn Vet faculty in 2016 sparked an opportunity to more closely link the research and clinical arms of the school. As a veterinarian and a scientist himself, with a research program that investigates the role of a type of immune cell called myeloid-derived suppressor cells in cancer and autoimmune disease, he welcomed the concept of the PVCC and its emphasis on integrating research and care. Garden now leads a team of faculty that share the desire to pursue better medicine both in the clinic and the lab.
Relatively recent hires include James Perry, a surgical oncologist and Ph.D. in immunology with an interest in how a certain type of T cells influences the trajectory of sarcomas, and Jennifer Lenz, a medical oncologist who studies how tumors do battle with the immune system by promoting myeloid-derived suppressor cells. Jennifer Mahoney, a medical oncologist at Penn Vet since 2016, has research interests in chemotherapy resistance and novel therapies for canine hemangiosarcoma and lymphoma, while Michael Mison, a surgical oncologist who joined Penn Vet in 2015, was promoted to Ryan Hospital director last year, guiding hospital operations while incorporating new, less-invasive and more-tailored approaches to treating cancer surgically. They work closely with Pascale Salah, a medical oncologist at Ryan for over a decade, who evaluates and treats patients with cancer through a multi-disciplinary approach.
These faculty join established Penn Vet clinician-scientists, such as Nicola Mason, whose innovative use of a vaccine to treat osteosarcoma in dogs holds promise for translating those successes to address the same disease in children, and Susan Volk, a small animal surgeon whose scientific pursuits focus on the tumor microenvironment—and specifically the collagen proteins that surround tumors—and may lead to new approaches to treating breast cancer in dogs as well as people.
"For me, being able to do both the clinical work and the research allows me to work to change the care that I can provide to my patients," Volk says. "In my cancer work, we're interested in developing better ways to prognosticate and inform our patients, predict which patients need aggressive therapy and which don't, as well as being able to develop new therapies and take them back in to the clinic."
Meanwhile, Puré has bolstered the faculty roster in the department she chairs, Biomedical Sciences, bringing in Rumela Chakrabarti, whose research interrogates the factors that initiate and drive breast cancer; Andrew Vaughan, whose work on lung regeneration after injury has generated insights into lung cancer; and Andres Blanco, a biologist who examines the molecular processes by which cells form their identities, and how these complex processes can go awry in cancers like acute myeloid leukemia.
In addition to a slew of recent publications pushing the cancer biology field forward, the PVCC is helping foster partnerships across departments and schools at Penn, and even across the country. Mason, for example, is building on the success of her pilot study of a canine osteosarcoma vaccine, expanding the trial to 10 other institutions nationwide. And Puré is working with Penn Medicine's Steven Albelda on a cancer therapy that targets the tumor microenvironment using an engineered immune cell approach. Their initial work will aim at a human therapy, with subsequent plans to adapt the approach to treat dogs.
In a separate collaboration with Serge Fuchs and Penn Medicine's Sandra Ryeom and Constantinos Koumenis, Puré is hoping to launch a project to look at what changes occur in tissues distant from a tumor to allow cancer to "seed" and spread. That work will take advantage of a soon-to-be-established core facility that emerged out of the interests of Penn Vet Dean Andrew Hoffman. His research into regenerative medicine has studied exosomes—tiny secreted vesicles from cells—which are also believed to play an important role in tumor metastasis.
New opportunities
A key component of the PVCC is education, to train the next generation of veterinarians and veterinary scientists to work toward a future where all cancers can be prevented or effectively treated. Jennifer Mahoney has helped reshape an elective course for veterinary students to include clinicians. The goal of the new curriculum is to bring everyone up to speed on cancer biology and oncology, while having the side benefit of bringing different groups of people into the same room.
"It's just started this semester and it seems to be a big hit," says Puré. "I like it for two reasons: First, that we're serving a wider range of stakeholders. And second, that it brings students in the room with clinicians and allows them to see why it's important to get classroom training in the science, and how it's going to impact what they do in the clinic."
More such connections between students and working veterinary researchers and clinicians may be on the horizon, thanks to a fine-tuning of the VMD curriculum at Penn Vet being led by Jennifer Punt, associate dean for One Health. By condensing more classroom learning in the first three years of vet students' education, there may be more room for students to engage in research opportunities and clinical placements that bridge their biological knowledge to the health care needs of their future patients.
Yet another initiative to foster more training opportunities in cancer biology and medicine is a new fellowship program for scientists interested in translational research in veterinary medicine. In September, Matthew Atherton became the first Shuman Translational Research Fellow. He is a board-certified veterinary oncologist, and holds a Ph.D. in immunology. He will be focusing on circumventing the immune suppressive microenvironment of tumors to enable CAR T cells to function effectively in solid tumors during his time at Penn.
Cross-campus connections
Though not the first veterinary cancer center in the U.S., Penn is the only one so closely connected with a cancer center focused on human health—in this case, Penn Medicine's Abramson Cancer Center, with which Penn Vet held a joint symposium on cancer research last year.
"It's so often that the veterinary clinicians are seeking help from the human clinicians, but in fact at Penn it goes both ways," says Garden. "We absolutely have their help and expertise that we can use to the benefit of our furry friends, but our veterinary research can offer truly unique and unparalleled opportunities for the acceleration to market of human cancer therapies in turn."
One such research project beginning soon involves the evaluation of a novel approach to radiation therapy, a common treatment for many types of cancer. Called FLASH radiation, it involves a short-duration, high-dosage exposure that preliminary studies suggest may effective kill cancer cells with less toxicity than longer exposures.
Koumenis, a professor of radiation oncology at Penn's Perelman School of Medicine, who is currently spending his sabbatical at Penn Vet, will be leading the work in collaboration with Lilian Duda, clinical professor of radiation oncology at Penn Vet. The new technique may improve outcomes for pets while racking up more evidence that the approach is safe enough for wider use in humans.
"Everyone in radiation is excited to try it," Puré says. "This is exactly the kind of innovative project that is coming to mind now that the Cancer Center has permeated people's consciousness all around the University."
Looking ahead, PVCC members are pursuing new relationships with biotechnology companies and researchers across Penn, and a growing engagement with the broader cancer and biomedical community, while keeping a firm gaze on providing the best care to patients. With significant progress to date to enhance and energize what Puré calls "the lab to Labrador" pipeline, the PVCC is set to be a leader in offering new and better strategies to prevent, treat, and one day eradicate the scourge of cancer.
Homepage photo: James Perry and Jennifer Mahoney, both researchers and clinicians at Penn Vet, check on Enzo at Penn Vet's Ryan Hospital. A collaborative team of highly trained specialists offers pet owners seeking cancer treatment for their animals a seamless experience.
Ellen Puré is director of the Penn Vet Cancer Center and is Grace Lansing Professor of Biomedical Science and professor and chair of the Department of Biomedical Sciences at the School of Veterinary Medicine.
Steve Albelda is William Maul Measey Professor of Medicine at Penn Medicine.
Matthew Atherton is the Shuman Translational Research Fellow at Penn Vet.
Andres Blanco is assistant professor of biomedical sciences at Penn Vet.
Rumela Chakrabarti is assistant professor of biomedical sciences at Penn Vet.
Lilian Duda is professor of clinical radiation oncology and a staff veterinarian and service head in radiation oncology at Penn Vet.
Serge Fuchs is professor of cell biology and director of the Mari Lowe Center for Comparative Oncology at Penn Vet.
Oliver Garden is Corinne R. and Henry Bower Professor of Medicine and Chair of the Clinical Sciences and Advanced Medicine of Penn Vet.
Andrew Hoffman is Gilbert S. Kahn Dean of Veterinary Medicine and professor of large animal medicine at Penn Vet.
Christopher Hunter is Mindy Halikman Heyer Distinguished Professor of Pathobiology and Chairman of the Department of Pathobiology at Penn Vet.
Constantinos Koumenis is the Richard H. Chamberlain Professor of Research Oncology at the Perelman School of Medicine and associate director for translational research at Penn Medicine's Abramson Cancer Center.
Jennifer Lenz is assistant professor of medical oncology at Penn Vet.
Nicola Mason is associate professor of medicine and pathobiology at Penn Vet.
Michael Mison is Ryan Hospital director and chief medical officer as well as professor of clinical surgery at Penn Vet.
Aimee Payne is the Albert M. Kligman Associate Professor of Dermatology at Penn Medicine
James Perry is assistant professor of surgical oncology at Penn Vet.
Jennifer Punt is associate dean of One Health and professor of immunology at Penn Vet.
Pascale Salah is an assistant professor of medical oncology at Penn Vet.
Sandra Ryeom is associate professor of cancer biology at Penn Medicine.
Andrew Vaughan is assistant professor of biomedical sciences at Penn Vet and in the Institute for Regenerative Medicine.
Susan Volk is associate professor of small animal surgery at Penn Vet.