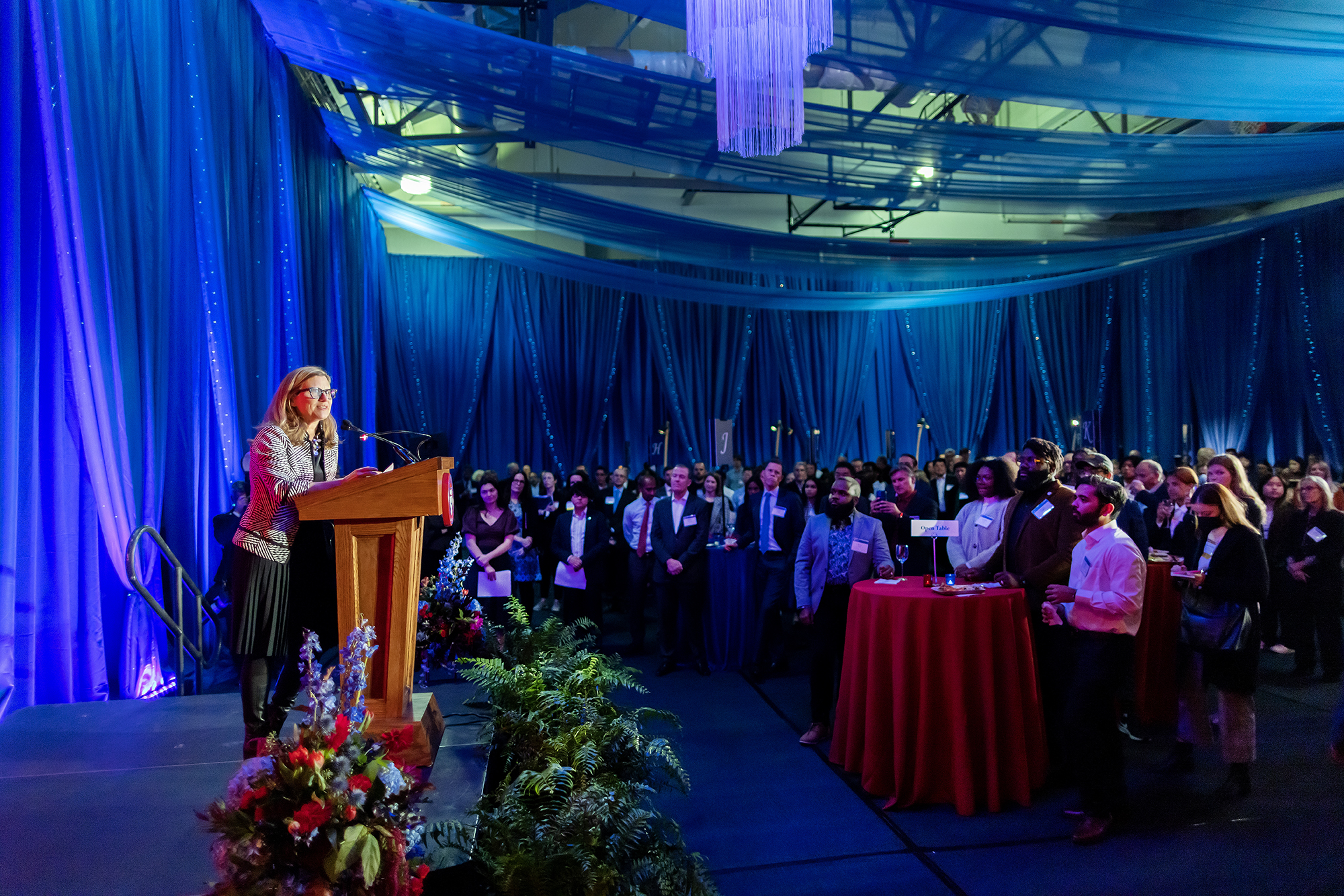 Derek Nhieu, a fourth-year Wharton student, will never forget the day he learned he not only got accepted to Penn, but would receive a scholarship to attend.
"I was so surprised," Nhieu said, adding that the financial aid—more than anywhere else he applied—was too generous to pass up. "I took it as a sign. I really had no reason not to go."
Nhieu, from The Villages, Florida, was born in Vietnam, and came to the U.S. with his parents in 2003 searching for economic opportunity. His parents do nails for a living and never graduated from college, but always instilled in Nhieu the importance of a good education, something they weren't able to pursue.
"My parents made countless sacrifices and worked long, hard hours so that I could focus on my education as best as I could," Nhieu said.
Flash-forward to today, and Nhieu—who studies organizational management, social impact, and consumer psychology and is also president of the Class of 2023, a teaching assistant, tour guide, mentor, volunteer, and more—is proud to be paving a path for his peers, as well as his three younger brothers, now in middle and high school. Nhieu shared a glimpse of his story with attendees at Penn's Named Scholarship Celebration on Nov. 16.
"Growing up, my mother once told me no matter where you are in life, you can always help someone," Nhieu said. "I didn't realize it then but service would become my life's purpose. What my mother told me serves as my mantra. Service is at the core of everything I do. It is reflected in my personal and professional career, my goals and aspirations, and it is the very reason why I am here at Penn in the first place. I came to Penn to learn how to better serve my family, community, and humanity."
As tradition goes, Rockwell Gymnasium on campus was transformed into a red-and-blue oasis for the event, which brought together hundreds of Penn scholarship donors and their recipients. It was the first time for many students—including Nhieu—to meet in-person the very folks who made their college experience possible.
President Liz Magill introduced Nhieu, as well as fellow fourth-year student Meg Gladieux of the College of Arts and Sciences, who also received named scholarships to attend Penn, to the crowd. "Listening to both of these students I suspect reminds you as it reminds me how Penn places a world of opportunity within our students' reach," Magill said. "When donor support matches students like these, you get what you see tonight: Great students having a chance to do fantastic things while at Penn."
Aside from her studies in cognitive science, French and Francophone Studies, and urban education, Gladieux, originally from Lynchburg, Virginia, is a resident adviser at Gregory College House and is involved in Penn's robust writing community, while serving in leadership positions in various campus organizations and programs including the Student Committee on Undergraduate Education, the Benjamin Franklin Scholars, and Communication Within the Curriculum.
"I often think back to the chain of events that led me to where I am now," Gladieux said. "I wouldn't be who I am without this network of people and ideas I found at Penn."
The University's scholarship program, Gladieux said, serves as a connector for many people who otherwise wouldn't be able to attend Penn. She described the 2,500-plus named scholarship donors as "central nodes," in other words, "the people who make our strong networks obtainable."
For nearly two decades, it has been a priority at Penn to increase access and bolster student aid. Today, the average financial aid package totals $56,098, which is double the 2001 average, and nearly half of all undergraduates receive direct grant support from Penn, which is need-blind for applicants in North America. With a more diverse campus community than ever before, spaces like the new Shleifer Family Penn First Plus Center thrive.
"Our students hail from all corners of the United States and all over the world," said Magill. "They represent a variety of life experiences. Their presence helps create a robust environment where all of us, them from each other and us from them, can grow and learn. This doesn't happen by accident."
"Our goal with the Named Scholarship Program is to provide access to the amazing Penn experience to talented students, no matter their background," said Herald Chen, an alumnus of the Jerome Fisher Program in Management & Technology and the chair of the Undergraduate Financial Leadership Council. "We are investing in people. We want to empower them to go and do amazing things with their lives."
Today, the average financial aid package totals $56,098, which is double the 2001 average, and nearly half of all undergraduates receive direct grant support from Penn. 
Chen, who flew in for the celebration from his home in California, said he personally benefited from financial aid when he was an undergraduate student in the early 1990s. It was natural for him to give back once he graduated.
"The energy in the room tonight is so palpable," Chen said. "This event is such a wonderful way to thank the named scholarship donors and give them a chance to connect and share stories with their respective scholarship recipients. Fostering that connection is what we are all here to celebrate."