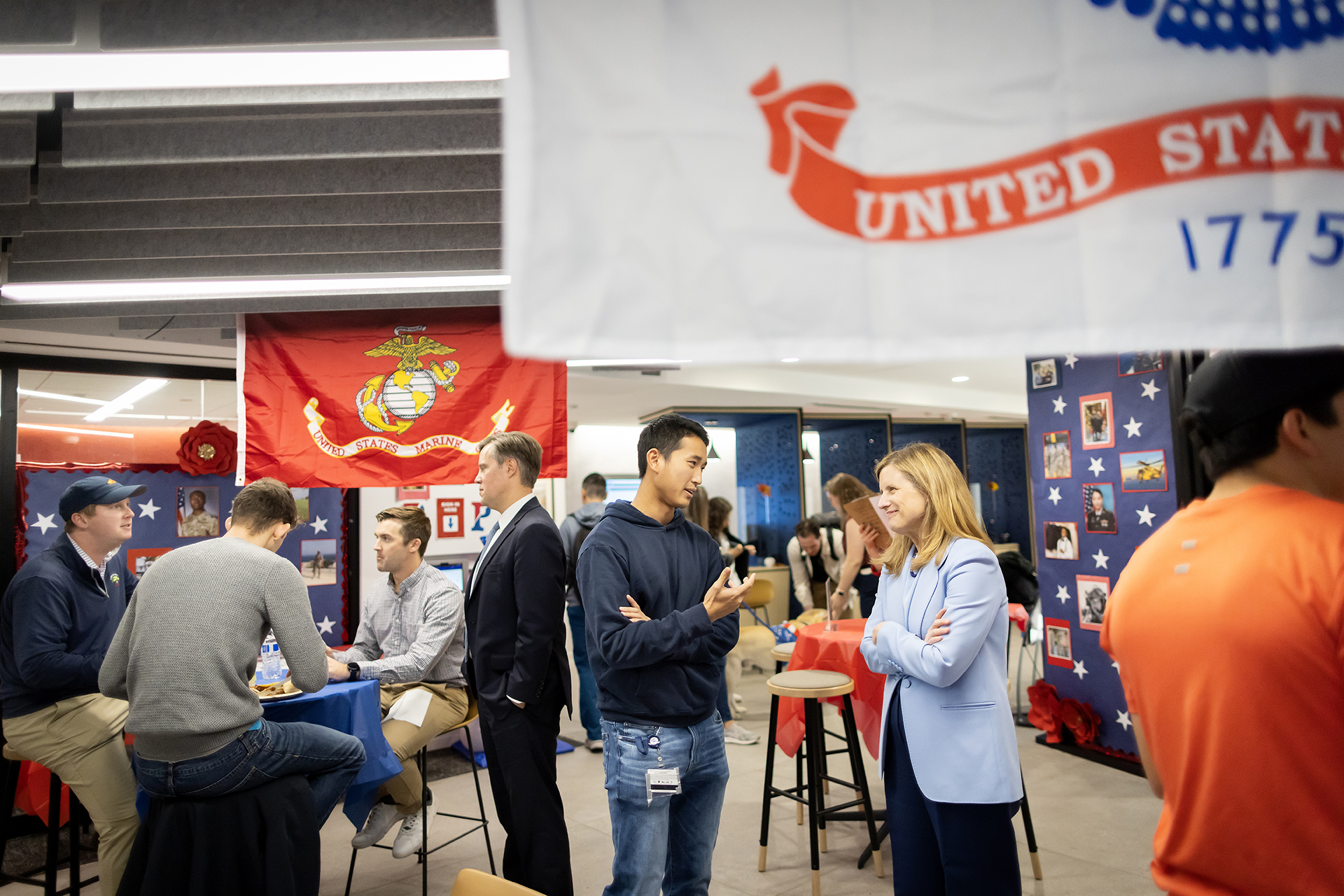 There are more than 18 million living veterans and an additional 1.6 million service members in the United States. Around 297 of them are students at Penn. In a Nov. 9 event, the University honored them with a lunch coordinated by Lynn Manuel of the Veteran and Military Affiliated Students program at Student Registration and Financial Services (SRFS) and attended by President Liz Magill. Penn has a long history with the armed services, Manuel says, with students serving in every American conflict dating back to the Revolutionary War.
Manuel serves student veterans, current service members, and students using a family member's benefits to access higher education. It's a growing population, she says, close to 400 in total, a number that has risen each year that Manuel has been managing the program. Additional veterans and service members receive sponsorships through their branches and are at Penn without using their veteran benefits. "It's a population that's done a lot for our country, and they tend to be the ones who serve others. So, this is a way of honoring them, recognizing them for their service."
Zach Ciampa, a second-year MBA student at the Wharton School, attended the event, along with his wife, Jayme, and their youngest son, Benny, 3. Both Zach and Jayme Ciampa served in the armed forces, he for 10 years in the 75th Ranger Division and she for seven as an Army nurse. 
The Ciampas also recently fostered a dog through the Warrior Canine Connection program, which Manuel facilitates through her office. The dogs are trained as companion and service animals for disabled veterans, and there is currently a two-year waiting period to receive a trained animal. As an Army nurse, Jayme Ciampa noticed her patients relaxed whenever a therapy animal was brought in. It can lift their spirits, cause people to open up, and even reduce reported pain level, she says. "I wanted to be part of helping our veterans achieve that outside of the hospital."
Wharton is part of the larger plan to transition into civilian life, Zach Ciampa says. As a Ranger company commander, "I saw the benefits of instilling values and not compromising on those values," he says, "how it can change the culture, can inspire people to do good for the rest of the team." Ciampa is part of the Entrepreneurship Through Acquisition program, which he sees as a path to apply his interests and skills to the private sector. 
Landon Le, a second-year physics major from Worcester, Massachusetts, is a member of the Massachusetts National Guard. Every month, he takes a bus to the barracks at Fort Devens, Massachusetts, spends the weekend training, and then returns to campus. "I've always been immensely proud of my country and wanted to find a way to serve," says Le, whose parents are Vietnamese immigrants. "The National Guard was a good way to do that and go to college."
Veterans Day will also be commemorated by a Nov. 10 flag raising ceremony, Manuel says, at 9 a.m. on College Green, sponsored by SRFS, the Office of Affirmative Action and Equal Opportunity Programs, Veterans Upward Bound, The Steven A. Cohen Military Family Clinic at the University of Pennsylvania, and Naval Reserve Officers Training Corps. The event honors all Penn faculty, staff, and students who have served. Lewis Dunaway, a Green Beret and current Wharton MBA student, will give remarks.