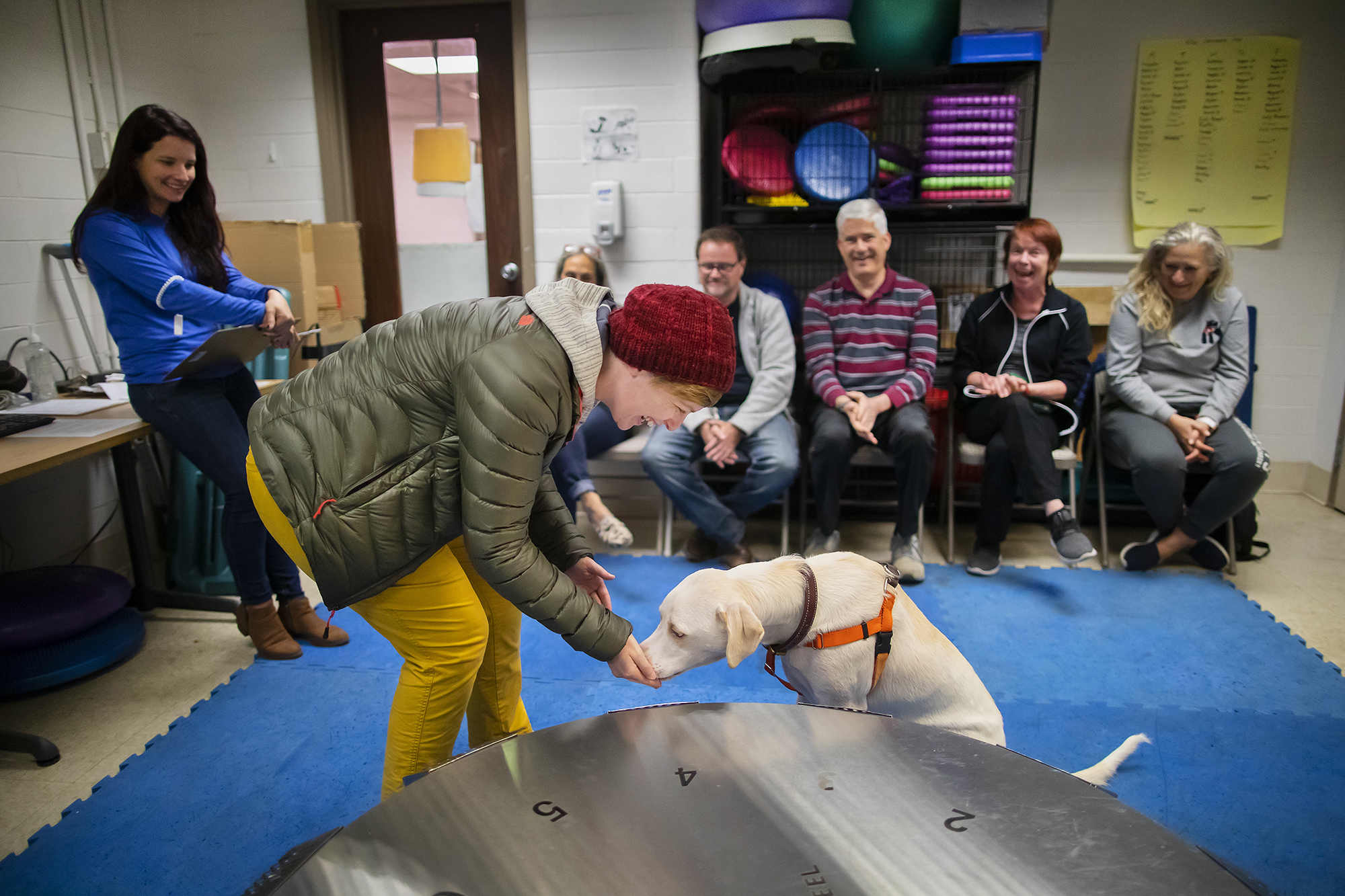 Bonnie, a sleek border collie mix, is practically vibrating with excitement. After getting a signal to start her search, her owners release her. She bounds, snuffling and wriggling, to a stainless-steel wheel, roughly 4 feet in diameter, with 12 numbered ports along its edge. Upon locating her target, she crouches down to signal her find, only to spring back up as she hears a mechanical click and cries of, "Good girl! Well done!" She finds her owner to receive a treat, and then gets ready to do it all over again.
On an October evening at the School of Veterinary Medicine's Working Dog Center (WDC), Bonnie is one of five dogs enrolled in the "Citizen Science" course, training to enhance her scent detection skills. Like other instructional offerings at the WDC, which teach principles of obedience, agility, first aid, and socialization, the course helps dogs boost their skills and engage with their owners. But what sets this class apart is that the WDC stands to gain from the dogs' eager participation. If their noses are good enough, these dogs—though "amateurs"—will go on to contribute to research projects the Center conducts in order to identify the factors that go into making extraordinary working dogs.
"All the participants seem really interested in contributing to the research," says Meghan Ramos, a recent graduate of Penn Vet who is serving as a WDC research fellow and veterinarian. She instructs the class along with Tessa Seales, the Center's foster coordinator who is also working on a master's degree in criminology at Penn. "They want to help their dog contribute to society in a positive way."
That was a motivation for Joe Lynn, who found out about the course from a friend he met while competing in scent trials with his golden retriever, Aoife. "It seemed like a way for the dog to have fun and learn new skills, while helping with research as well," he says. "It's a win-win."
The WDC, founded in 2012 by Cynthia Otto, an associate professor of critical care at Penn Vet, has a crack team of 22 pups in training to be pro scent detectors. Sixty-six graduates have gone on to careers in search-and-rescue dogs and law enforcement. Part of the Center's mission is also to advance what scientists know about breeding, training, and caring for working dogs. To do this, it conducts research projects with its dogs on a variety of fronts, from determining optimal fitness to seeing how traits displayed in early puppyhood correlate with the dogs' suitability for various careers. The Center also investigates how to use dogs' skilled noses in less traditional ways, such as identifying ovarian cancer or sniffing out looted antiquities.
For these studies to be powerful scientific tools, however, robust sample sizes are necessary, and the Center can train only so many dogs. The students in the "Citizen Science" course, therefore, will help boost numbers in the Center's studies, allowing for more confidence in the conclusions. 
"It's always better to have more participants in these studies," Ramos says. "But it's also great to expand the spectrum beyond just working dog lines so we can ask, 'Can all dogs do this?' It gives us a better global picture of dogs' smelling ability."
The introductory class is held once a week for eight weeks. In the first several meetings, dogs are introduced to an odor developed in a lab called Universal Detection Compound (UDC), found nowhere else in nature. Ramos and Seales introduce the dogs to the scent wheel, the tool used in the Center's own research programs with the puppies-in-training to distinguish scents such as black powder, narcotics, or ovarian cancer cells.
If the participants perform well enough, they're invited back for a more advanced course where they hone their skills on the scent wheel. Finally, successful dogs will be invited to participate in a research study at the center, including the ovarian cancer, bacterial biofilm infections, and K-9 artifact finders projects.
Working one at a time in a small room at the WDC, the dogs use their noses to check the wheel for the UDC scent. Each has a different search personality, some moving deliberately from slot to slot, while others drift about the room, visiting with other handlers (and checking their pockets for treats) before being coaxed back to the wheel. The most diminutive student, a regal-looking dachshund named Cameo Ludwig Boltzmann, Boltz for short, maneuvers his way from port to port by traveling under the wheel. 
At the first sign a dog has identified the UDC odor, Seales sounds the clicker and the owner cheers and provides treats. Ramos and Seales give feedback to the owners, sharing strategies for helping their dogs focus or signal in a more obvious way. After each "find," Seales spins the wheel, putting the target scent in a different position, and volunteer Shelby Wise, a master's student at Penn in social work and criminology, wipes each port down with alcohol to keep things clean.
For Melissa Hopkins, who moved from Austin, Texas, to Philadelphia in August, the course is a great opportunity for her to simply spend time with her dog Cedar, a leggy Great Pyrenees mix. The pair had participated in some "nosework," as odor detection training and competitions are called, in Texas, and Hopkins was excited to find out about Penn Vet's offering. 
"It's been interesting to learn how dogs use their nose," she says. "I learned from training in Texas that if dogs get lost they can find their way home using scent. So it's something that could potentially help him as well. And he'll do just about anything for carrots. He loves carrots."
The last student of the night was Challah, a powerful giant schnauzer who announced her readiness to search with a forceful bark. A skilled scent detector, Challah has earned a number of recognitions for her performance in other venues. And despite having had a toe removed due to cancer at Penn Vet's Ryan Hospital earlier this fall, she continues to seek out the UDC-containing vial swiftly in each test. 
"She's so driven," says Anastasia Ayzenberg, Challah's owner.
Ideally, Ramos, Seales, and colleagues at the WDC hope the course is only the beginning of long-term, mutually beneficial relationships with these dogs and owners. 
"These owners are helping the world and the fact that they can do it with their dog," says Ramos, "that makes it the best collaboration ever."