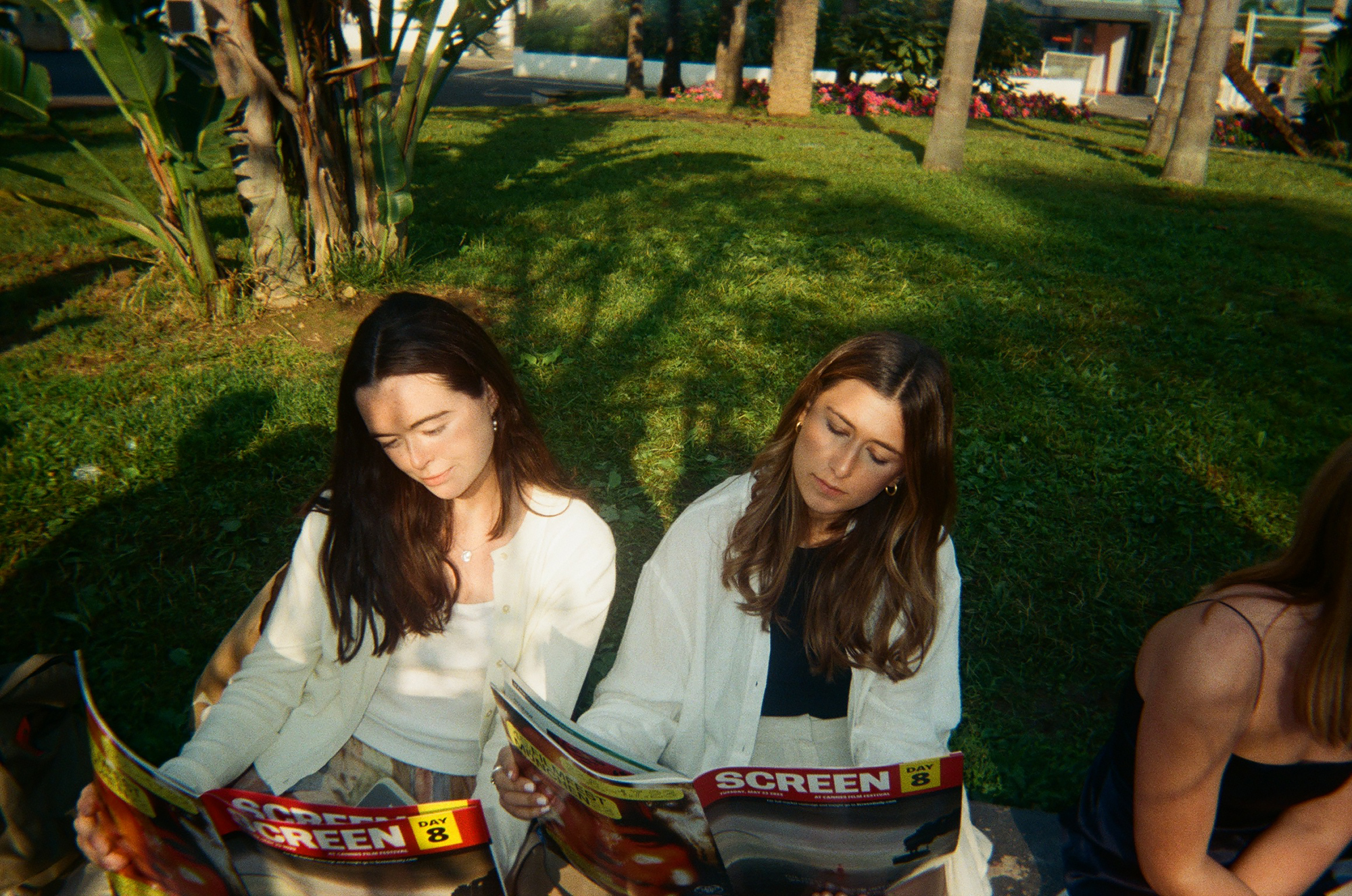 It was 4 a.m. when Jacob Pollack was putting on his tuxedo, struggling with the bowtie. The rising Penn third-year was getting ready for a movie premiere that would start 14 hours later at the Cannes Film Festival in France.
Meeting up with two other students in the Penn Summer Abroad program, Pollack walked the 20 minutes from their dorm to the Lumière Theater to join the "last-minute line," knowing he would have to wait all day, against all odds, for a chance at a seat in the most exclusive world premiere of the festival, "Killers of the Flower Moon," directed by Martin Scorsese.
"That was the film I really wanted to see. It was, by far, the hottest and most highly anticipated film of the festival," says Pollack, who is from Millburn, New Jersey. "I knew that I needed to go to this premiere, no matter how many hours it took."
Arriving just before 5 a.m., they were not the first in line. Pollack was 13th by his count. Would it prove to be his lucky number?
Penn in Cannes
"Cannes is the most important film festival in the world," says Nicola Gentili, associate director of Cinema & Media Studies at Penn. He took over and reorganized the Penn in Cannes program in 2006, two years after the cinema and media studies major was established at Penn. "It is one of its kind in the country" and Penn students have one-of-a-kind access, he says.
The annual program is very popular, typically with more than 90 applications for 30 spots, a number determined by the available festival credentials, as well as bunks in the dormitory-style housing at Collège International de Cannes, Gentili says. Priority is given to cinema and studies majors and minors, he says.
The program's built-in course is taught by a faculty member, this year Meta Mazaj, senior lecturer and undergraduate chair of Cinema & Media Studies, a world cinema expert who teaches a popular course on film festivals. Before leaving for France, students attended her "pre-departure lecture" on the language of film and film festivals and wrote a paper about previous Cannes winners.
In the early years, Gentili secured basic "cinephile" credential badges that allowed students to attend films available to the general public. It took 10 years, but in 2016 Gentili secured badges that grant Penn students much broader access, allowing them to enter the online lottery for tickets to all films, including the top premieres. The badges also get them into the restricted area known as the Marché, the marketplace, where the business of the global film industry, the pitching and buying and selling, happens.
"They can meet people from everywhere," says Gentili. "The experience gives our students an incredible level of introductions in terms of what the world cinema industry is."
The main objective for the students and faculty is to watch films, at least three to four a day, during the storied 12-day festival, this year, the 76th, held from May 16-27. Film screenings start at 8 a.m. in multiple theaters and occur throughout the day and the evening, and the parties go way past midnight.
Rising third-year Jude Ferrigno says he got up at 6:30 a.m. each day and went nonstop until at least 1 a.m., seeing 35 films. "You are constantly going, running from screening to screening to screening. It is so absolutely wonderful. It has exceeded all of my expectations," says Ferrigno, who is from Deptford, New Jersey.
The online ticket lottery opened each morning for that day. For the big premieres, those without tickets resort to standing outside the theater in formalwear holding hand-made signs, or they gamble with the last-minute line.
Mazaj says this year there was "an incredible sense of collaboration" among the Penn students, keeping connected and supporting each other in their attempts to get tickets, and helping deliver food and drink to those waiting in line.
13 hours at number 13
Even among the big premieres, the one for the epic Western crime drama "Killers of the Flower Moon" was exceptional. "The Scorsese film only had one showing," Mazaj says. "You knew that whoever had tickets for the premier of that film was going to go. Everyone knew this was an inaccessible kind of event."
Even so, Pollack was determined. He is pursuing an uncoordinated dual-degree in cinema and media studies in the College of Arts and Sciences, and economics in the Wharton School, with a concentration in business economics and public policy. He is in several film and media clubs at Penn, including Wharton's Undergraduate Media and Entertainment Club.
Joining him in line were rising fourth-year Daniel Kaplan and rising third-year Aden Berger. Arriving just a bit later was Ferrigno, a double major in cinema and media studies and English, who got spot number 20 behind a group of students from France.
Pollack wanted to make sure they didn't lose their places to last-minute line-cutters, a notorious hazard for those in the last-minute line. "I made a sign, 'The Killers of the Flower Moon line starts here,'" Pollack says. "We came up with a system of writing down who was there and keeping track."
They took turns going to the bathroom and recruited runners to bring food and drinks. But for the most part, they stood in line, even when it rained, hard. "Throughout the entire day we had no idea if we were actually going to get in. So, it was really nerve-wracking," Pollack says. "It was a long day. But it went pretty quickly because we were able to talk to each other."
At about 5 p.m., with more than 200 in line, the guards let the first few people through a set of barricades next to the red carpet, including Pollack, Kaplan, and Berger. Just as Ferrigno got to the front, he was pushed and fell, mud splattering his tuxedo. The guard at first denied him entry, but then relented. "I was the last person to get in, the very last person," Ferrigno says.
Pollack practically ran up the red carpet, while also passing the performer The Weeknd on the lobby stairs. "I didn't think I was actually going to see the movie until I sat in my seat," Pollack says. In the balcony, he had a view of the cast and crew in the center below, including Scorsese and film stars Leonardo DiCaprio, Robert De Niro, and Lily Gladstone.
Going to the restroom to clean up his tuxedo, Ferrigno ran into actor Tobey Maguire. "It was the most surreal experience," he says. "I'd grown up on Spiderman, and there he was, just waiting there."
Scorsese got a standing ovation as he entered the theater that Pollack describes as a loud roar. "It was such a cool experience," he says, "and then watching the film in the theater with the cast for the first time." The applause at the end went on for nine minutes. "When this film was over you could feel the emotion in the room," Ferrigno says.

Absorbing the experience
The students wrote daily in a journal to digest and chronicle their experiences, which they referenced for a final paper of about 15 pages explaining a common theme at the festival through an analysis of two films, Mazaj says. The films at that point have not been released to the public, so students have to rely on their memories and their notes and the next-day reviews in trade journals, like Variety, and Hollywood Reporter. The journals proved to be important to remember their experiences since they see so many films.
"It's not just the quality of the films they see, but the atmosphere. They're in a theater with the best image and sound quality they have ever seen. None of them has been in a movie theater that sits 2,000 people and that no matter where you're sitting you have amazing access to the screen," Mazaj says.
"And in that atmosphere, they feel validated. So many of them brought that up in their journals because they all want to be in the industry in some capacity. And to be in a place that has this kind of validation of the art, where you're watching a great film, and at the end you hear a rupture of applause."
This was true for two rising third-years, Isabel Sweeney and Drew Naiburg-Smith, who stuck together during the festival and saw 25 movies, lucky to get tickets online to a few premieres, including the crime drama "Monster." "It was so moving to sit in that massive, massive theater and to be with so many people seeing this for the first time, and to have the applause be so moving and so appreciative," says Sweeney, a double major in communications and cinema and media studies, from Riverside, Connecticut. "It was really, really powerful."
Their generation is used to watching films in a private sphere, streaming on their phones or computers or televisions, not in a big theater with a crowd, Mazaj says.
"Seeing the standing ovation for a director who just took 2,000 strangers in a dark room on one single journey, and then everyone moved to rise to their feet and clap for this artist for 10 minutes, was something I had never experienced," says Naiburg-Smith, a cinema and media studies major from Jericho, Long Island, New York. "And I was crying really hard because it was this team mentality that I've never seen before."
For Sweeney and Naiburg-Smith, the festival experience made a career in film seem possible. "I think being here and seeing the different types of people that it brought in, and the different types of positions, and reasons that people were there, opened my eyes to how many ways there are to get involved, and how huge this opportunity is for people who are interested in the industry," Sweeney says.
Students also meet with Penn alums and other professionals, this year Richard Klubeck, a talent agent and producer, who represents stars including director Wes Anderson. That experience had a "measurable impact" on Ferrigno's interest in becoming a talent agent, the liaison between actors and producers and directors. "His talk specifically, and my experience being at Cannes, and seeing the business side as it occurred in the marketplace, really strengthened and bolstered my resolve to go into the industry as an agent," Ferrigno says.
"They come here and they realize yes, this is real," Mazaj says. "I think it's a unique experience that you don't get even at other festivals. You don't get it on that scale."
Star encounters
Although each year at Cannes students try the last-minute line, Gentili says this year's students showed a unique dedication to seeing the films, and appreciation for what they watched. "I admire tremendously their effort," he says.
Sweeney and Naiburg-Smith, who are roommates this summer in Los Angeles where they both have internships in productions, did wait in line with seven other Penn students for the comedy-drama "Asteroid City," and they all made it in, walking up the red carpet together. "We had a good time since we were all in one big group," Naiburg-Smith says, passing the 14 hours on the hot, sunny day by playing hangman and charades.
Pollack, who watched 29 films during the festival, waited nine hours with rising third-year Matthew Schwartz for an afternoon Q&A with director Quentin Tarantino, and snagged two seats two rows directly in front of him. The film that night was "Rolling Thunder," one of the director's favorites. "He was right behind me. It's like we watched the movie together," Pollack says. "He has the loudest laugh I have ever heard."
Famous people were visible outside of the theaters. Walking into the Marriott Hotel to get a break in the air conditioning, Pollack saw the cast of the film "Asteroid City," including director Wes Anderson, in the lobby. He even spoke with some of the stars, including Anderson, and took a selfie with him.
Pollack had seen the film premiere the previous evening, sitting just a row away from stars Tom Hanks and Scarlett Johansson. He also got a ticket to the opening ceremony by standing, dressed in his tux, with a sign outside the theater. For the closing ceremony, he befriended a member of the Hollywood Foreign Press Association who gave him an extra ticket.
But, by far, the "Killers of the Flower Moon" premiere was Pollack's favorite experience. As it turns out, 13 was his lucky number. "Thirteen hours is a very long time, but I got into the premiere," Pollack says, "so it was totally worth it. It's my favorite experience so far during my time at Penn."