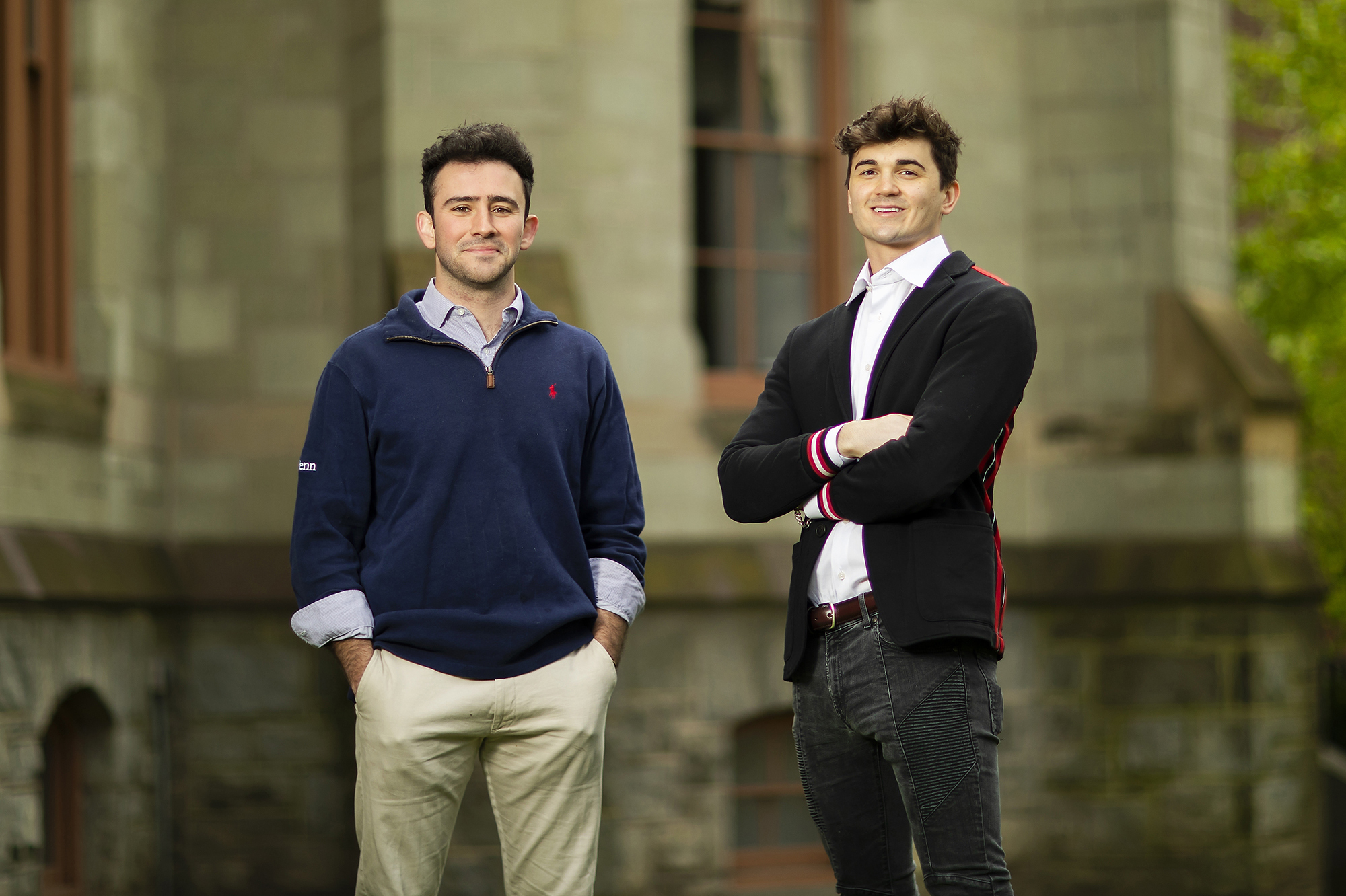 William Danon and Luka Yancopoulos are best friends. They're also business partners.
The duo, who received this year's President's Innovation Prize (PIP) for Grapevine, met during sophomore year, connected through Yancopoulos' roommate. As time went on, they did everything together: cooked meals, played basketball, and read and discussed fantasy novels.
"We spent a lot of time together," Danon says.
It was only natural, then, that when the time came to start an actual venture, they'd do it together.
"They're like brothers, in a very good way," says mentor David Meaney of the School of Engineering and Applied Science, who describes their working dynamic as "complementary." "I think that will serve them well. Most of what we do in faculty is collaborative, and I see elements of that in their partnership. I give them credit for stepping out and doing something unusual and keeping at it."
How Grapevine came to be
Grapevine is a software solution and professional networking platform that connects small-to-medium-size players in the health care supply chain. It's a sort of two-pronged solution: It helps institutions like hospital systems connect disjointed operations like procurement and inventory management internally, but also serves as a glue between these institutions and purveyors of medical equipment.
"William and Luka are impact-driven entrepreneurs whose collaborative synergies will take them far," says Penn Interim President Wendell Pritchett. "The software provided by Grapevine is poised to reinvent how the health care industry buys and sells medical supplies and services and, truly, could not come at a timelier moment."
The company is the evolution of a project they began at the onset of the COVID-19 pandemic, called Pandemic Relief Supply, which delivered $20 million of health care supplies to frontline workers.
"My mom was a nurse practitioner at New York Presbyterian Hospital, the largest hospital in the United States, and she was coming home with horror stories," recalls Yancopoulos. "In surgery or the ER, a surgeon had to put on a garbage bag because they didn't have a gown. And they gave her one mask to use for the rest of the month, and I'm seeing on the news, 'Don't wear a mask for more than three days.'"
This is where Yancopoulos and Danon first developed an interest in the health care supply chain. Using a database Penn allows students access to that maps the import of any good in the country, they did keyword matching to identify instreams of different goods and handed off findings to New York Presbyterian procurement staff. When McKesson, the largest provider of health care products and services in the U.S., took notice of what they were doing and reached out, they realized they were onto something. In response to their success, they started a company called Pandemic Relief Supply to distribute reliable medical supplies, including items like medical-grade masks and gloves, to frontline workers in the healthcare space.
As time passed, that project evolved into something larger: Grapevine.
In short, Grapevine's software creates a professional networking platform to resolve miscommunications between suppliers and buyers, as well as adds a layer of transparency between interactants. Suppliers on the platform display real-time data about their inventory and shipping process, with timestamps; this prohibits companies from cherry-picking data or making false claims and creates a more health-care-supply-specific space for companies to interact than, say, LinkedIn.
"Primarily, the first step is we want people to use it internally, and streamline operations, and then through that centralized operational data, you can push that externally and that's where [Grapevine] becomes a connector," explains Danon. "Because when you're choosing to connect with someone, the reason you can do so way more efficiently or quickly, is that data is actual operational data."
To accomplish this level of transparency, the beginnings of Grapevine involved lots of legwork. Last year, the duo moved to Los Angeles to take stock of what suppliers existed where, and how reliable they were. They realized that many suppliers existed around Los Angeles because of port access; many medical supplies are imported from Asia. Their time in LA made the problem feel even more tangible, they agree.
"We were able to see people were doing outdated processes—manual processes—because there's no other option," Danon says. "So, we said, 'Let's get out there and do some work to be digital and technologically innovative."
From the BioMakerSpace to market
Since hearing about the PIP in his freshman year, Yancopoulos has carried around a notebook of innovative ideas. The journal initially carried far-out ideas like a lava lamp that captures energy.
"It's been on my mind since I was a freshman, so it's just 'Which of my crazy ideas do we want to apply to this opportunity and dedicate ourselves to for years to come?'" Yancopoulos says. "And COVID really gave us clarity."
COVID-19 was a problem, he says, that they—nor anyone else, surely—could, or can, escape.
"It made me and Will want to solve a problem," he says. "It's always the idea of doing good, with the PIP being the biggest honor to do that."
But the idea also has origins in the Stephenson Foundation Educational Laboratory & Bio-MakerSpace, an interdisciplinary project-based lab that incorporates biology, chemistry, and other fundamental disciplines of engineering. It's a space meant to allow and encourage experimentation and allow students to feel more comfortable with failure. Meaney describes Yancopoulos as a student in his educational lab course who, he says, "found the status quo a bit boring."
For a lab project at the end of one semester, Meaney challenged students to stimulate a cockroach leg by sending signals to the leg and moving it. Yancopoulos' approach converted sound from music into a frequency that stimulated the leg to resemble dancing to the music with a disco set up and laser light show.
"That's the point where I said, 'This [lab] group is creative and willing to take on something ambitious," Meaney says, noting that another student in the lab went on to become a Rhodes Scholar.
When the time came to start Grapevine, Yancopoulos remembered Meaney and asked him to be their mentor for the project. Meaney has advised by making introductions at Penn Medicine and elsewhere, and by tamping down enthusiasm about any ideas that were perhaps a little too ambitious.
"Luka and Will really took this idea and ran with it, and they've been very good at being persistent and also very creative in not just how to approach [customers] but how to respond to feedback," Meaney says. "They'd build a prototype, ask for feedback, rapidly incorporate changes into the prototype, and were very responsive. And as the product developed, we had conversations about how it becomes a business, how to make it profitable."
Though Danon was a history major in the College of Arts & Sciences, he's taken several business and entrepreneurship courses at Penn to advance his business acumen. He says it "blew me away" how willing resources on campus, like Venture Labs and the Venture Initiation Program-Community, were to help guide them with the project.
"I was nervous about putting Grapevine out to the Penn ecosystem, initially, because I was like, 'Alright, just like any academic environment, it's going to be formal, structured, and we'll have to hit on these specific things to even participate.' And what I found was that Penn is remarkably flexible," Danon says. "Especially with an idea or something you're working on; they value passion and work ethic."
What's next?
In the coming months, the two recent graduates and their team of 12 additional full-time employees will continue collecting feedback from their approximately 20 current customers using the platform before opening it up for a full launch in the fall. The PIP, they say, has allowed them to fast-track that launch from 2023.
All the while, they're insistent about keeping pricing fair and not growing for the sake of growth. "The only thing that grows for the sake of growth is a cancer," they like to remind themselves.
"We created this platform that is a playing field for innovative businesses across the space to come together, driving progress through collaboration, and we really do believe there's strength in numbers and differences of opinions, and skillsets," says Yancopoulos. "And that's our goal: Each business has its own specialized skillset, and connecting one specialized skillset with another, and another, in series, that's where you build the most efficient supply chains in the world. It's not by having one company who owns it all, an Amazon, a McKessen; it's by having little guys who know what they're doing, are specialized, adaptable, creative, and working together and automating operations on a unified operating system.
"That's what we're trying to build."