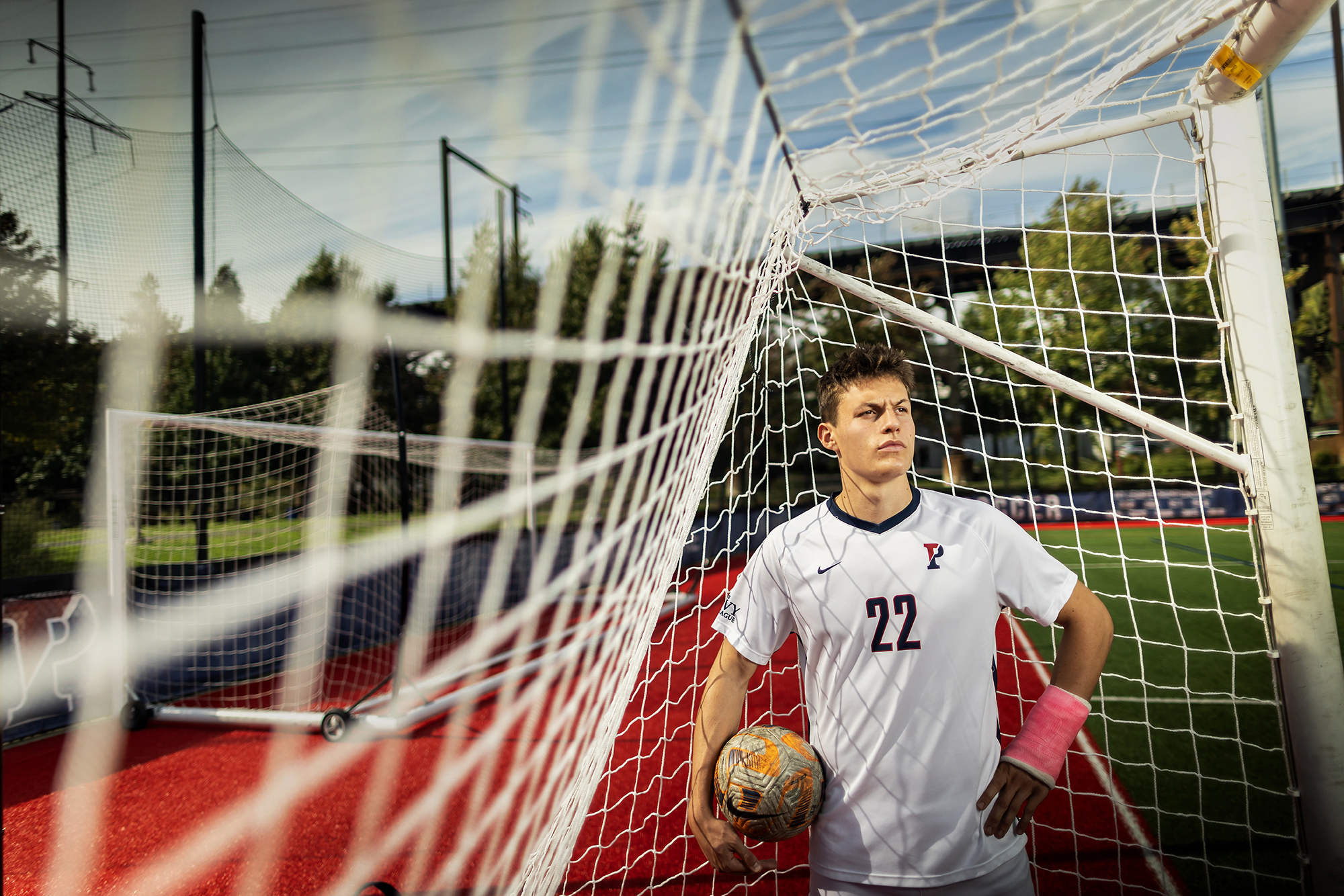 Prime-time players come up big in prime-time games, so expect a premier performance this weekend from third-year forward/striker Stas Korzeniowski as the men's soccer team competes in the premiere Ivy League Men's Soccer Tournament at Dunning-Cohen Champions Field at Penn Park.
The Quakers, who have won the last two regular-season conference titles, are looking to punch their second straight ticket to the NCAA Division I Men's Soccer Tournament. They enter the Ivy League Tournament as the No. 1 seed and will take on No. 4 seed Brown in the semifinals on Friday, Nov. 10, at 6:30 p.m. The victor will battle either 2nd-seeded Harvard or 3rd-seeded Yale in the Championship Game on Sunday, Nov. 12, at 1 p.m.
Korzeniowski, a Philosophy Politics & Economics major in the School of Arts & Sciences from Skillman, New Jersey, is an offensive juggernaut. He ranks second on the team and eighth in the conference in goals (five), first in the conference in assists (seven), fifth in the conference in points (17), and he was the 2022 Ivy League Offensive Player of the Year.
Twice this season, following a two-goal performance against Albany on Sept. 16 (a 3-1 win), a two-assist game against Lehigh on Oct. 17 (a 5-0 win), and a one-goal, one-assist outing against Harvard on Oct. 22 (a 2-1 win), Korzeniowski was selected Ivy League Offensive Player of the Week.
Penn Today kicked it with Korzeniowski at Penn Park to discuss the mind of a striker, America's growing soccer culture, his first-year to second-year jump, competing in semi-pro ball, playing injured, and what he enjoys about the beautiful game.
Before we begin, is Skillman, New Jersey, Eagles country or Giants country? That's a great question. I'm an Eagles fan so we'll put it as Eagles country.
That's a great answer. When did you begin playing soccer? I've been playing soccer for as long as I can remember. My parents signed me up for recreational soccer when I was little. I played in my hometown. I grew up on three sports, but then at some point I committed to soccer more so than the others.
What were the other two sports? Swimming and ice hockey, so I had quite the diverse range of sports.
What do you enjoy about soccer? I like all components of it. But given that I'm a forward, some of my favorite things are attacking, scoring goals, assisting goals, being involved in the attack—just being a dangerous, threatening player. I also enjoy the team aspect, which is an extremely rewarding experience. You play with others, and you play for others. It's just such an unpredictable game. Momentum can swing in an instance. I really have fun playing and it brings out the best in me.
Was there a professional player you looked up to when you were younger? I would go with the cliché answer: Messi. But when I started concentrating more on my position, specializing in being a striker, there were an array of players whose highlight tapes I watched: Ronaldo, a Dutch player named Dennis Bergkamp, a really famous Dutch player named Johan Cruyff. Erling Haaland at the moment. Just all the guys that are the best at the position.
I'm a little bit older than you, by almost a quarter century, and I remember when soccer was pretty much an afterthought in American sports, but now people are crazy about it. Have you noticed the same thing at your age or has soccer always been popular? From what I could tell, it always seemed to be popular in my neighborhood. I've definitely seen the growing appreciation for soccer culture in America. When you have international players that are retiring and finishing their careers here, especially Messi, they're changing the game and they're making it a really serious sport culture here. I love that and I appreciate that for what it is because soccer is the world's most played sport and it's good that it's transnational and crossing into new borders.
You made a big jump from your first-year season, when you were the team's primary offensive sub, to your second-year season, when you were named Ivy League Offensive Player of the Year. To what do you credit your improvement? My success in the college game really developed in my sophomore year. My freshman year was definitely a transition period where I was feeling out the college game and learning what it entailed and what it valued. It was a learning process and I had to adapt and really find my feet in the new environment.
In my sophomore year, I think I trusted the process more and really bought into the idea that sometimes you take a couple steps backwards to go forward. That's just kind of the developmental part of sport, where your trajectory isn't always going to be upward; you're sometimes going to plateau or move backwards. I grinded in the spring and I had a great summer, and I came into the fall with an aspirational plan for myself, and I was very focused. It was really rewarding to see that come together, especially after the first-year struggle that I had.
As a striker, what are your focal points during the game? Are you watching the ball? Are you watching the person with the ball? The position where you are on the field? What goes into your mentality as a scorer? It's a lot of things happening at once. For one, as a striker, I'm not on the ball all that much so a lot of it is me reading the movement of guys around me, reading their body language, reading their touch, looking at where their eyes are. A lot of balls that I might get come from a mutual understanding. If we exchange eye contact and he knows that I want it, I know that I'll probably get the ball from him. It also depends a lot of how the other team positions themselves, so I have to find my gaps in between their defense, I have to find ways I can sneak behind or pivot off of them, or even if I can isolate myself on a holdup moment Also, sometimes I'll have to try and find the game myself, so I'll have to run to free myself, to bring myself an opportunity to get on the ball.
I noticed you have a cast on your arm. Can I ask how you broke your arm? I fractured my wrist in the fourth game of the season against Rider in early September. I pressured the goalie who was holding onto the ball and blocked his kick. However, the speed at which I was traveling and the way I extended my leg to block the ball led me to fall, and I tried to use my hands to break my fall. I landed awkwardly and fractured the wrist.
Has it affected how you play? Playing with the cast has definitely affected my playing in some ways. It is uncomfortable and inconvenient. I have to use padding for every training and game. I frequently use my hands and arms to shield defenders and protect myself on the field from pressure on my backside. The cast has changed the way I feel pressure and protect myself, but I've made it work. I have had the cast for nearly six weeks now, so it has become second nature and I don't think about it during games as much as I did in the beginning. I will wear the cast until the end of the season, and then have surgery to heal the fracture in my wrist.
Last February, you signed with Ballard FC, a men's semi-professional soccer team in the Ballard neighborhood of Seattle. You played for them over the summer. How was the experience? It was one of my best soccer experiences. It was a great team. It was just a great environment. It's a really unique soccer culture that they're building in Seattle, and that they've had for a while. They had a great community there. Turnout for games was always like 1,000-plus. And we had a lot of success. We won the national championship in Seattle, which was great fun. [Korzeniowski scored a key goal in the 2-1 win]. I'm really thankful for the experience.
Do you hope to play professionally after you graduate? I would love to. I would really love to.
In the United States or Europe? Or it doesn't matter? It doesn't matter. Just playing professional would be sick. It would be a really, really cool experience. And if it doesn't work out, at least I tried it.