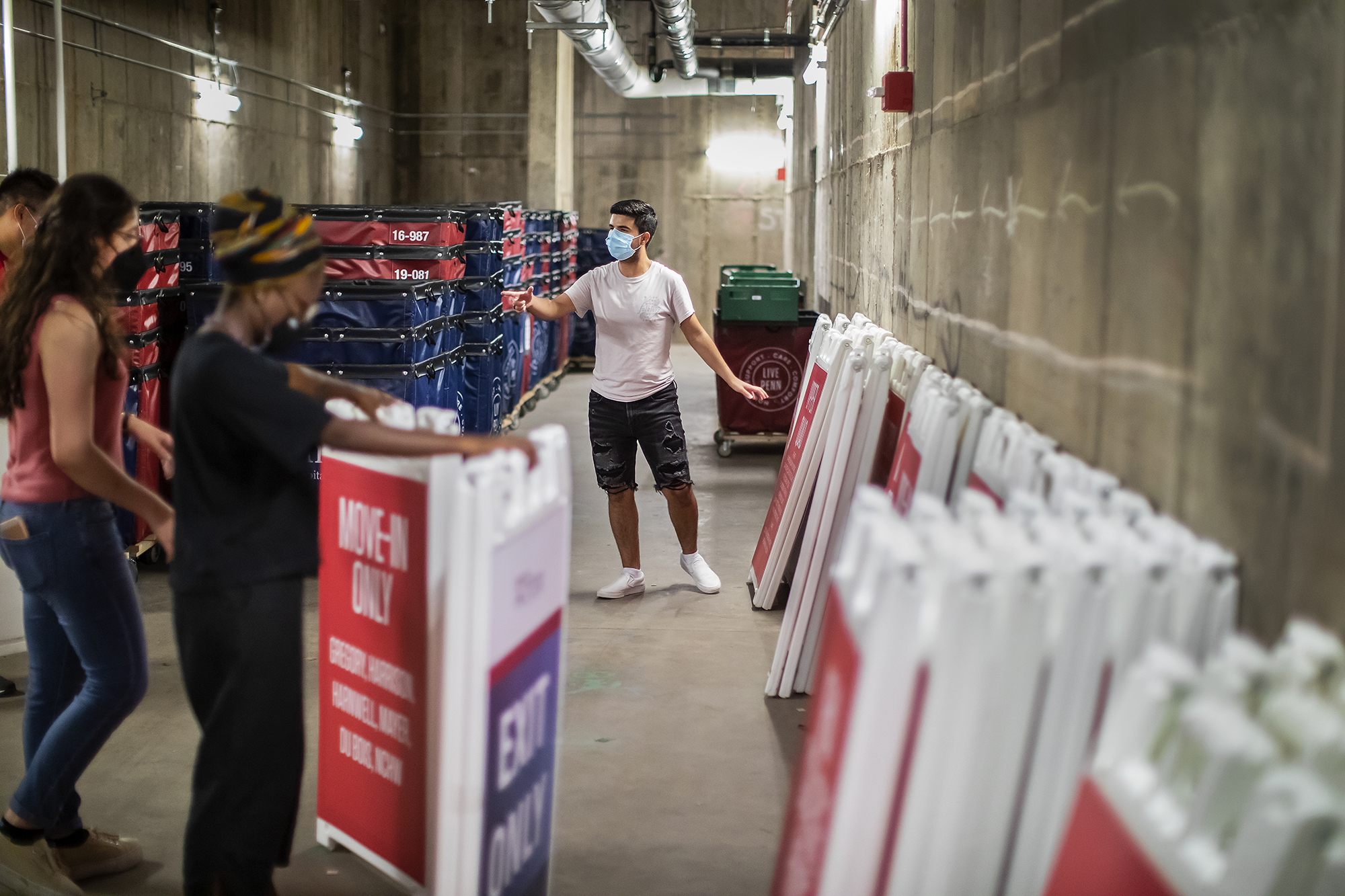 Meeting and talking with students at check-in made the first day on campus much easier for rising junior Rodolfo Peña Jr. when he arrived for his first Move-In to Penn three years ago, coming by himself from his small Texas town. 
Now Peña is one of 25 student coordinators working as paid staff during Move-In this week, ready to welcome new students, many of whom have not been on campus before due to the pandemic. 
"I wanted to get back to campus early and gain that new experience of working behind the scenes during the Move-In process," says Peña, from Sullivan City, Texas, a mathematical economics major in the College of Arts and Sciences. "It's more than a job for me. I see it as a way to give back to the community." 
The student coordinators completed their four-day training on Friday in anticipation of the start of Move-In, including an overview of the entire process, practice with tasks in the check-in tents, and even on how to drive a golf cart. Freshman and transfer students are scheduled to move in Monday through Wednesday in anticipation of New Student Orientation, which runs through Aug. 30. Classes start on Aug. 31.  
Sophomores, now required to live in College Houses, are scheduled to move in Thursday and Friday in time for the first-ever sophomore orientation, part of the Penn Second-Year Experience. Juniors and seniors are scheduled for Sunday, Aug. 29. Nearly 6,000 students are expected to live in College Houses this semester.
The student coordinators will be working throughout the week, checking in students at the tents set up by the College Houses, scanning guest passes, answering questions, helping with logistics, and generally welcoming students to campus. They will wear red shirts with the words "Support. Care. Comfort. Home." in a circle around "Live Penn."
"Their visibility is really important because they are the first connection for families and students when they arrive on campus. We have been really impressed with how the students inherently know the importance of this role," says Courtney Dombroski, senior associate director of residential and hospitality services. "They are a combination of operational support and someone to give a perspective of living on campus." 
Because the pandemic delayed the recruitment process there are fewer students helping with Move-In than in a typical year, says Pat Killilee, director of residential services. In addition, College House Move-In is stretched out over an entire week, instead of the usual couple of days, to accommodate the sophomore Move-In. 
"We want to give our returning students leadership opportunities. And when new students are nervous while moving in its nice for them see students who are already moved in and excited to be there," says Killilee. "We are really happy we can have the coordinators this year." 
Rising senior Natasha Chity-Guevara, a Hispanic studies major in the College from Philadelphia, was a volunteer during the fall 2019 Move-In. "It was just really nice and really rewarding because it is important to me that the first impression people get of Penn and Philly is a good one," she says. 
Identifying as a first-generation, low-income student, Chity-Guevara says the student outreach she received when she moved in as a freshman is an experience she remembers well. "It's challenging to acclimate to Penn. It's just a lot at one time. I like being able to help facilitate that transition," she says. "It's all about making people feel comfortable and welcomed to the Penn community regardless of their backgrounds."
Peña, who also identifies as a first-generation, low-income student, says he is impressed with the diversity among the student coordinators. "We are a very diverse group, and I think that adds to how powerful Move-In coordinators can be," he says. "Just being able to answer all the questions, we do have that student perspective and experience." 
Among the student coordinators 11 are sophomores, eight are juniors, and six are seniors. The sophomores have had fewer opportunities to be leaders on campus because of the pandemic restrictions, even if they were able to live on campus during the spring semester, Dombroski says, and their enthusiasm has been impressive. 
Josias Zongo, who is from Ghana and Burkina Faso, is one of those sophomores, planning to major in international relations in the College and business analytics in the Wharton School. The first time Zongo stepped foot on the campus was when he moved into Hill College House in January for the spring semester. He stayed in Philadelphia during the summer for his job as a teaching assistant with the Wharton Global Youth summer program.
"I think bringing my experience and what I've learned during the past eight months to help people who are joining our community for the first time will be a great way to introduce them to Penn and make them feel welcome," Zongo says.
In addition, Zongo says he missed having a typical fall Move-In. "I'm looking forward to having a great experience during this bigger Move-In and excited about the process as a whole," he says.  
Siani Ellis, a rising senior from McKinney, Texas, says she has worked in retail positions and for the Red & Blue Call Center and knows the importance of customer service. "I am genuinely excited to meet these new students," says Ellis, a neuroscience major in the College. 
"I think it is a unique experience that is part of this job, being there as the first line of students for the new incoming classes," she says. "Being able to ask, 'Are you a freshman? Welcome to Penn.' We will be the first group to say that to these students."  
And integral to that welcome will be pandemic protocols, with the coordinators modeling best practices, like wearing masks and using hand sanitizer and sharing information when asked about precautions related to COVID-19. 
"I've been thinking about all the anxiety a lot of families are going to have moving in and I think an important job we have is to reassure them of the things Penn is doing to make their children safe. We lived here spring semester, so we've all been test-run," Ellis says. 
"I want other students to understand we all have to participate together to make sure this is a safe space for everyone," she says. "I don't want there to be a stigma about the precautions. I want to make it clear that everyone's doing it and we need to protect each other."