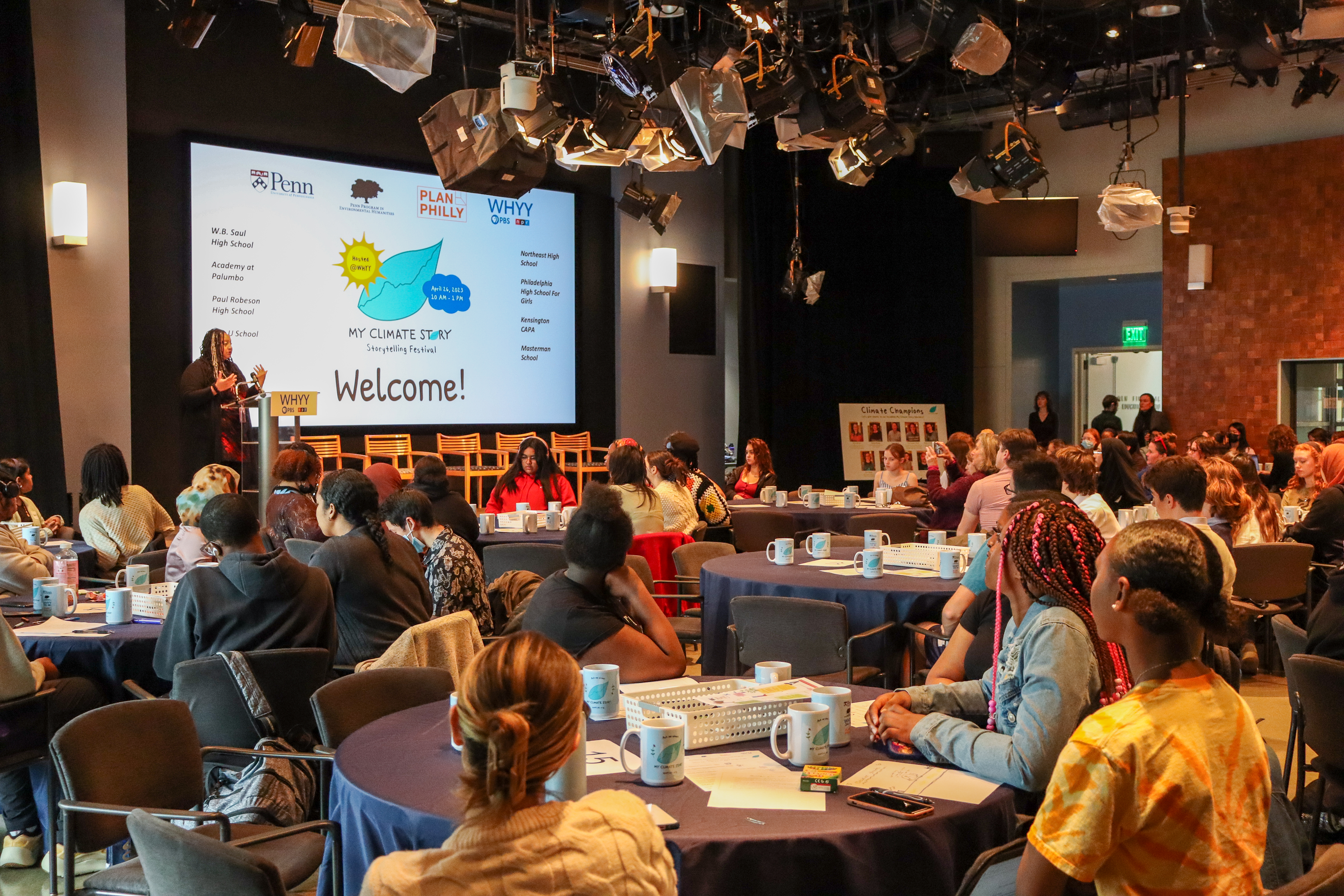 In an airy room at WHYY more than 150 high schoolers whipped out phones and laughed in shock as a singer in a polar bear costume strolled around them, cajoling all to join in with a rendition of the 4 Non Blondes' song "What's Up?" ("Hey yeah yeah yeah yeah, hey yeah yeah, what's going on?") 
The cameo, by performer John Jarboe of The Bearded Ladies Cabaret, was a stirring reminder of the varied, creative—and sometimes unorthodox—ways that it's possible to convey the urgency of the climate crisis. Jarboe billed herself as "the last polar bear on Earth" and peppered a few songs with commentary on the perils of capitalism and the need to protect the planet. 
The high school students gathered at WHYY studios in Center City Philadelphia on as part of a half-day-long event, convened by both WHYY and the Penn Program in Environmental Humanities (PPEH). The My Climate Story Storytelling Festival served as a celebration and showcase for work the students and their teachers have been doing throughout the academic year, all centered around sharing their experiences with climate change. Some of the students' stories will be featured on-air through WHYY and on its PlanPhilly website. 
Coverage of the event by WHYY was one of the first stories to emerge from the station's newly established climate desk.
"The partnership with WHYY has been really important because they have a huge listening audience," said Wiggin of Penn's School of Arts & Sciences. "They've committed to produce five of our students' stories on air in addition to four multimedia stories online. It feels like an amazing lift getting these stories in front of more eyes and ears."
Climate change gets personal
Since launching in 2019, PPEH's My Climate Story initiative has had at its heart the conviction that everyone has a story to share and that one needn't be a scientist or government official to contribute to society's understanding of the impacts of climate changes.
Over the last year, PPEH rolled out the storytelling project to Philadelphia public schools, appointing nine Climate Champions in April 2022. These teachers from eight schools integrated the My Climate Story curriculum, written by Wiggin and piloted with past PPEH interns, into their own classrooms. Across subjects from environmental science to history to agriculture to English, the teachers gathered for workshops and then shared their learnings with their students. 
In February, 11 "Climate Heroes" were announced; all were students from the schools selected for workshops run by Cosmic Writers and journalists from WHYY and The Philadelphia Inquirer. At WHYY, those students and others had the opportunity to share their writings in the form of personal reflections, poems, and stories.
Making their voices heard
Aziza Hamza, a 10th-grader at Paul Robeson High School, kicked things off with a poem imagining how the planetary condition might be different "if Mother Earth was a person." Aster Chau, a 9th-grader at the Academy at Palumbo, spoke of a double standard that adults tell children to believe in "a future of endless possibilities and dreams," yet leave them "scared to plan for the future because climate anxiety is real." 
Mehreen Khan, a 12th-grader at Philadelphia High School for Girls, described the torrential rains and flooding that devastated her hometown in Pakistan. Cousins Scarlett Peralta and Edithza Jaquez-Reyes, seniors at Northeast High School, spoke with both love and concern for their home country of the Dominican Republic, where rain has at times been so scarce that Jaquez-Reyes "could hear the grass crunch" beneath her feet.
After the students shared their writings, attendees listened to a panel moderated by WHYY climate and environment reporter Susan Phillips that featured artist and "aspiring farmer" Anisa George, WHYY reporter Sophia Schmidt, Philadelphia's Office of Sustainability's Nidhi Krishen, and teachers Matthew Scanlan of Northeast High and Anna Herman of the U School. Each told a bit of their own climate story. For Schmidt, a love of both science and creative writing launched her into a career in journalism. Krishen related how a mid-career epiphany inspired her transition from software engineer to government official striving to make Philadelphia a more climate-friendly city.
"It's tough work," Krishen told the students, "but seeing your passion keeps me going."
Attendees had the opportunity to visit with fellow students, standing beside posters and displays detailing some of the work they'd done as part of the My Climate Story project—and beyond—in their school communities, from a plan to create an outdoor learning area at Walter B. Saul High School to a used clothing swap orchestrated by students in Palumbo's environmental club.
Lasting impact
Later Jarboe, dressed as a polar bear in heels, wowed the crowd. Then Aman Sharma, a second-year student at Penn and a PPEH intern, related his entry into environmental activism. Sharma shared how most people consider his hometown of New Delhi one of the most polluted in the world, but he came to realize that it is also one of the richest in terms of bird diversity. Inspired by the colorful bird life he could see from the terrace of his home, he started a bird watching club and an Instagram account to highlight the natural beauty he spotted.
"I think the large gap that exists when it comes to the climate movement or the climate narrative is that we mainly focus on the science," he said. "Facts in themselves can't move people to action; it's stories that move people to action."
At Penn Sharma is working to bring to light more untold stories through a project called My Climate Story in Color. "The aim is to bring forward the stories of people of color in terms of climate change impacts because they do face disproportionate impacts," Sharma said. "When we talk about their stories, we don't just talk about climate action but climate justice and intersectional equity."
The final speaker of the event was Shawmar Pitts of Philly Thrive, who said he was ignored when he shared his vision of a different future for the site of the Philadelphia Energy Solutions refinery, after seeing his South Philadelphia neighborhood suffer health impacts. 
"One thing I wanted you all to leave with is, it brightens my day to know that you all get it," he told the students in the audience. "What we need is the young people, people in this room, to be the next policymakers because you all get it."
To connect directly with today's policymakers, students were invited to draw and write postcards, communicating their own experiences with climate change and their desires and demands for the future.  
Wiggin said she hopes these stories will continue to resonate. PPEH interns like Sharma and Christy Choo, a third-year earth sciences major from Leonia, New Jersey, are helping to amplify young voices. Choo's PPEH public research project has taken her on regular visits to Robeson High School, where she's been convening workshops with students to explore their climate stories in greater depth. Currently, she's putting the finishing touches on a documentary that highlights their engagement as well as the ways in which disinvestment in the school system and a warming climate have combined to impact their learning and their lives.
As students left the WHYY studio, they were given a climate action flow chart, designed by Emma Koropp, a Penn master of environmental studies student, which highlights the many ways to take action, from pursuing activism to switching to renewable energy to writing a climate story.
"We think these stories are incredibly important because they tell us and they show us how the changing climate is changing our life stories," Wiggin told the storytelling festival audience. "Understanding and sharing stories is a powerful tool for climate literacy and also for climate action. I'm convinced you're going to leave here inspired by one another's amazing work."
Kayla Rideout, an 11th-grader at Kensington's High School for Creative and Performing Arts, echoed that thought.
"This is a good opportunity to have different schools come together and see that other people our age have the same mindset," she said. "We can inspire each other and make a way bigger impact together."