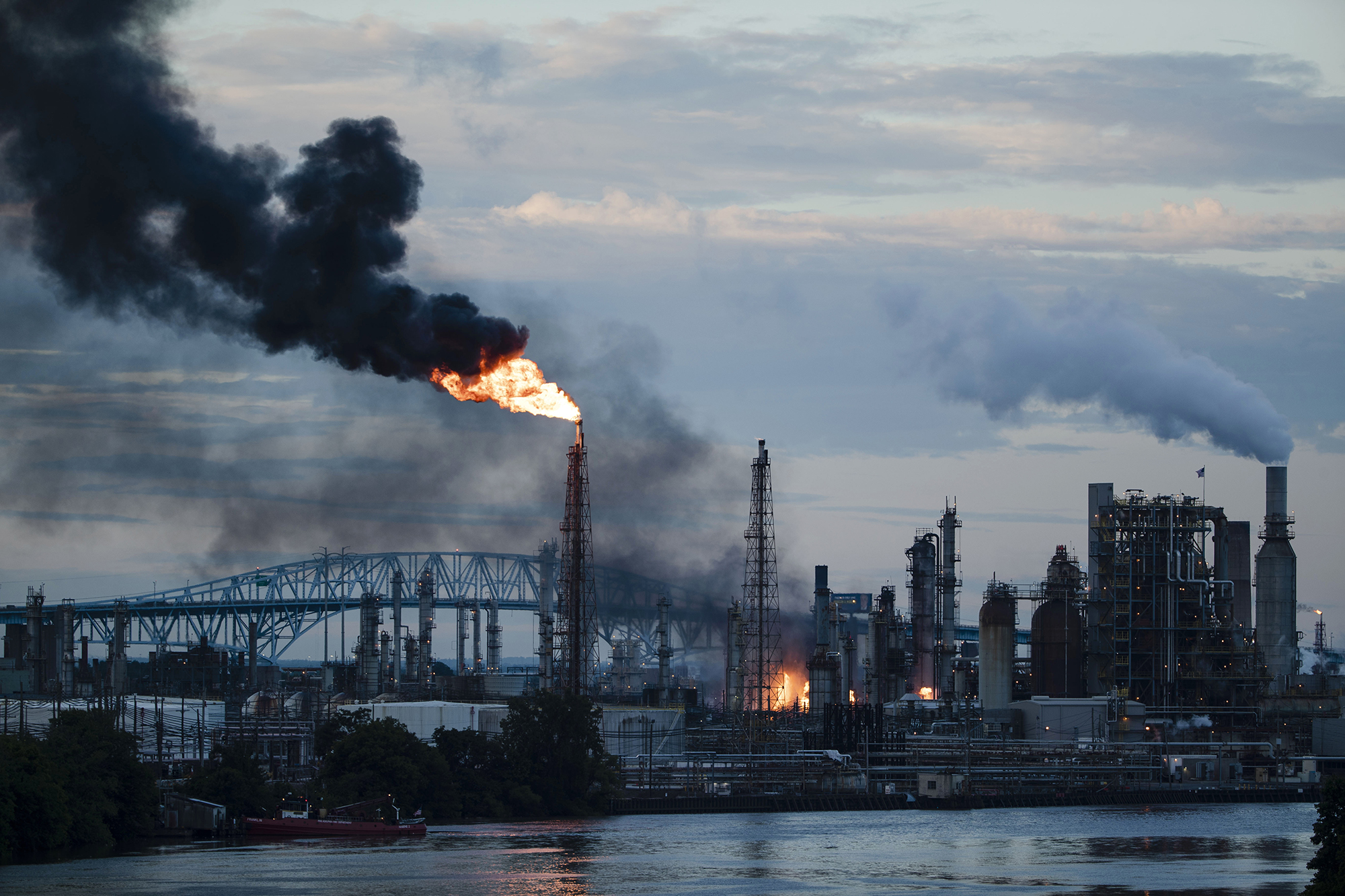 During the early morning hours of June 21, 2019, multiple massive explosions occurred at the Philadelphia Energy Solutions (PES) refinery. Not long after the dramatic accident, PES filed for bankruptcy and officially closed what was then the oldest and largest refinery on the east coast.
But for residents of South Philadelphia, the 2019 explosion was just one part of the story of the refinery's wide-ranging impacts. Now, as activists and community members work toward a greener, more equitable future, Penn faculty, researchers, and students are supporting the work of community organizations shaping the future of the site.
A history of industrialism with wide-ranging impacts
Oil refining had been taking place in South Philadelphia since 1870, first at Point Breeze and later at Girard Point, with both facilities later purchased by Sunoco. But before the industrial revolution, the 1,400-acre site was a major Lenape settlement and used for hay farming since the 1700s.
Part of the efforts toward understanding this pre-industrial landscape and how it changed was conducted by Bethany Wiggin, professor and faculty director of the Penn Program in Environmental Humanities (PPEH). As part of a "Making a Difference in Diverse Communities" award, Wiggin used ethnographic research to "re-story" the river, incorporating historical records, maps, and studying the refinery site from the Schuylkill River itself. With students and community members, she developed a project straddling research and advocacy called "Futures Beyond Refining." Recently, Wiggin and PPEH also hosted artist-in-residence Amy Balkin, who created a visual essay about the refinery called "Area of Interest." Displayed on a billboard along I-76, next to defunct refinery infrastructure, the art work will provide the dramatic backdrop for the upcoming "Remembering Refining" program.
"Especially at these old, tired infrastructure sites that have really difficult histories, if you think about their future and don't think about humanistic dimensions—how it was produced, the sacrifices that were made, and the ongoing sacrifice of communities that were marginalized—you can't re-envision a future, especially a just and 'green' one," says Wiggin.
In terms of public health impacts, while the 2019 accident made for dramatic images and news headlines, Marilyn Howarth, director of community engagement at Penn's Center of Excellence in Environmental Toxicology (CEET), says that the refinery was a "major environmental exposure source" for many years prior to the explosion. "It was the single largest contributor to the toxic and hazardous air pollution in the City of Philadelphia," Howarth says.
The current contamination levels and work required to fully remediate the site remain a massive challenge for the site, Howarth adds. This includes the thousands of gallons of spilled petroleum that are pumped from the ground water to prevent contamination of the Schuylkill, incredibly high lead levels in the soil, and a detailed cleanup plan that has yet to be developed. The current approved cleanup levels would limit the future site use to predominantly industrial, which is not consistent with the community's vision.
Penn experts provide testimony after the explosion
Shortly after the PES refinery was closed, a number of experts were convened to advise the city on how best to respond. Mark Alan Hughes, faculty director and chair of the Kleinman Center for Energy Policy, was brought on as the Chair of the Environmental and Academic Committee, which provided expert testimony on refining trends, legal and regulatory implications, and the refinery's negative impacts on air and water quality. Along with Howarth and Wiggin, members of the Penn community who testified included Cary Coglianese, Nadine Gruhn and Karen Goldberg, Frederick Steiner, Kenneth Lande, and alum Richard Ling.
"What [our committee] wanted is an outcome for the refinery's future that maximizes economic opportunities for Philadelphia residents while providing sufficient public safety for regional neighbors," Hughes says. "In the final report, we laid out what you can expect, what your aspirations should be, and what the science shows about the health issues based on the best available science, legal, and political expertise."
Wiggin, who collaborates with communities in South Philadelphia on oral history projects and refinery neighborhood tours, used her testimony to share neighbors' perspectives and highlight the numerous explosions and accidents that occurred while the refinery was still active. "In doing these oral histories, the residents are alarmed by the refinery but also so many other dangers that have been allowed to flourish in its shadow," says Wiggin.
Now, with the bankruptcy proceedings completed, the land has been purchased by Hilco Redevelopment Partners (HRP), the city's preferred bidder, and the site will no longer be a refinery but will be redeveloped as an "environmentally responsible" commercial hub, although the exact details of how this will look, and how the space will serve residents and community members, are still to be determined. Despite these promises, HRP's recent renewal and changes to two permits has residents and activists dismayed and worried by future prospects at the site which Wiggin calls "ground zero" for climate change.
The power of design to envision a greener, brighter future
Before the COVID-19 pandemic, PennPraxis executive director Ellen Neises connected with Philly Thrive, a community membership organization dedicated to environmental, racial, and economic justice, at a meeting with youth climate strike leaders. After offering to support the group's work, Neises became interested in continuing the partnership through a graduate studio at the Stuart Weitzman School of Design. "Philly Thrive is the leader in Philadelphia on climate and environmental justice, and we thought that led me to think that we could do more to support their work," says Neises.
Last spring, students in Weitzman's Department of Landscape Architecture second year studio worked on six regenerative agendas that were developed by Philly Thrive members, with topics ranging from alternative visions for the future of their neighborhood to supporting Thrive's efforts to form a community coalition. Throughout the semester, students met with a circle of Philly Thrive members over Zoom and the studio culminated in a public review session with Philly Thrive members and local residents at Stinger Square in Grays Ferry.
At the end of the spring semester, both Neises and Philly Thrive wanted to continue this work, especially amidst the growing need for youth opportunities that summer. "That spun off into 'What else can we do together?' because this really seems like a solid partnership," says Philly Thrive campaign coordinator Alexa Ross. "And that led to Design to Thrive."
Design to Thrive was a four-week, in-person summer program for high school students, with the goal of getting young people engaged with design. Workshops were led by PennPraxis Design Fellows at Pennovation Works, with a curriculum focused on on drawing, model-making, mapping, and envisioning their neighborhood's future that allowed students to learn more about opportunities in architecture, art, environmental justice, and community building.
"When the Design to Thrive program started, the kids were reluctant to say the things they could design, because they didn't know that design meant they could design their lives," says Derek "Chill" Hixon, Philly Thrive youth coordinator. "When they first started to see that you can design something for the future, they all got what we were trying to teach them with 100% success."
Daniel Flinchbaugh, Master of Landscape Architecture student and one of the Design to Thrive instructors, says that through extended conversations, lab tours, and lots of hands-on activities, the high school students were able to expand on what they think is possible with design. At the same time, Flinchbaugh says he was inspired by the students in the program. "I'm excited about the young people, because I think they symbolize a lot of hope," he says. "It's not every day that 10% of a city is open for development, and it's really going to define the future of Philadelphia, so it's important that the whole city is in the conversation."
Continued partnerships to support local communities
In addition to the landscape department studio and the Design to Thrive summer program, Neises and a group of Penn students are supporting Philly Thrive and other community organizations surrounding the former refinery as they develop a Community Benefits Agreement, or CBA, a contract between a developer and organizations representing residents' interests, for the HRP site. This effort unites 21 community organizations including Penn's Environmental Humanities Program, led by Wiggin, through the United South Southwest Coalition for Healthy Communities, with the goal of collating priorities and deciding as a coalition what they want for the site as they draft the CBA document.
Landscape Architecture Masters student Emily Bunker and Landscape Architecture and City Planning Masters student Jackson Plumlee, who were also involved in the LARP 601 landscape studio last spring, are both serving as research advisors and facilitators during the CBA drafting process. In collaboration with working groups of local experts, they look at research strategies used by other groups in similar circumstances, and develop survey questions to help the coalition determine its priorities, and facilitate working group meetings.
"I'm struck by the power of coalition building," says Bunker about what she's learned from being involved in this process of creating the coalition, a major achievement in building community voice and power. "No matter how much research we put in, it's a lot of conversation and discussion to mobilize any of those strategies. I think forming this coalition will continue to be the strongest part of this entire process, even beyond the CBA."
"Something that struck me is how big of a project and an opportunity this is, for the coalition and the city as a whole, but how under the radar the development process is," adds Plumlee. "We did a lot of research into CBAs in Philadelphia and it's not that popular of an approach, so the fact that these organizations can come together is really cool to see."
Howarth is also working with Philly Thrive on this CBA, focusing on ideas for improving the environmental health of the local neighborhoods during remediation. "The science helps level the playing field for people who are advocating for their health and that of their families, but it was the community's activism that was the most important driving force," Howarth says about CEET's role in this partnership. "We may have provided the science, but it was the sheer will and persistence of the community activists that made this happen."
Working toward a healthier future
The recent announcement of the Bellwether District branding, done in advance of the CBA and, Neises says, without involvement from community organizations, has placed a renewed emphasis on the importance of community engagement and activism. Philly Thrive is looking forward to continuing the "solid" partnership established with Penn. "To feel the depth of their intentions, that sense of possibility that's been there from the beginning, is a sharp departure from how academic partnerships usually go," says Ross.
There are concerns about what the future will bring alongside hopes for what the site might become, with students, faculty, and Philly Thrive members citing a desire to see better job opportunities, affordable housing, better flood control, educational facilities and community meeting spaces, and, above all, a space that's clean and safe. "The most important feature of the redevelopment is not what it turns into but how clean it is, because that level of cleanup will directly impact its future," says Howarth.
Wiggin continues to be "blown away by the strength and resilience of the community" and is inspired by the community's openness to working with researchers amidst such challenging circumstances. "With rising sea levels and more rain events, those toxic histories are going to be toxic futures if we are not really bold and visionary about the steps we take to mitigate them, because for Philadelphia this is ground zero for climate change," she adds.
"There's a lot of amazing potential for that site if the city and the developer can join forces with the surrounding communities that have been so affected by its history," Neises adds. "I think in five years you'll have seen the transformation of some parts of the 1,400 acres, and if those can be climate smart, transformative, community-minded projects, then I think that shows the way for the evolution of the city that would give a lot of people hope."
Ellen Neises is the Laurie Olin Professor of Practice in Landscape Architecture and executive director of PennPraxis in the Stuart Weitzman School of Design at the University of Pennsylvania.
Marilyn Howarth is the Director of the Community Engagement Core at the Center of Excellence in Environmental Toxicology at Penn's Perelman School of Medicine.
Mark Alan Hughes is the founding faculty director of the Kleinman Center for Energy Policy. He is also a professor of practice in the Department of City and Regional Planning at Penn's Stuart Weitzman School of Design.
Bethany Wiggin is an associate professor of Germanic Languages and Literature and the Founding Director of the Penn Program in Environmental Humanities at Penn's School of Arts & Sciences.
Homepage image: During the early morning hours of June 21, 2019, multiple massive explosions occurred at the Philadelphia Energy Solutions (PES) refinery, a dramatic accident that led to the bankruptcy and closure of what was then the oldest and largest refinery on the east coast.