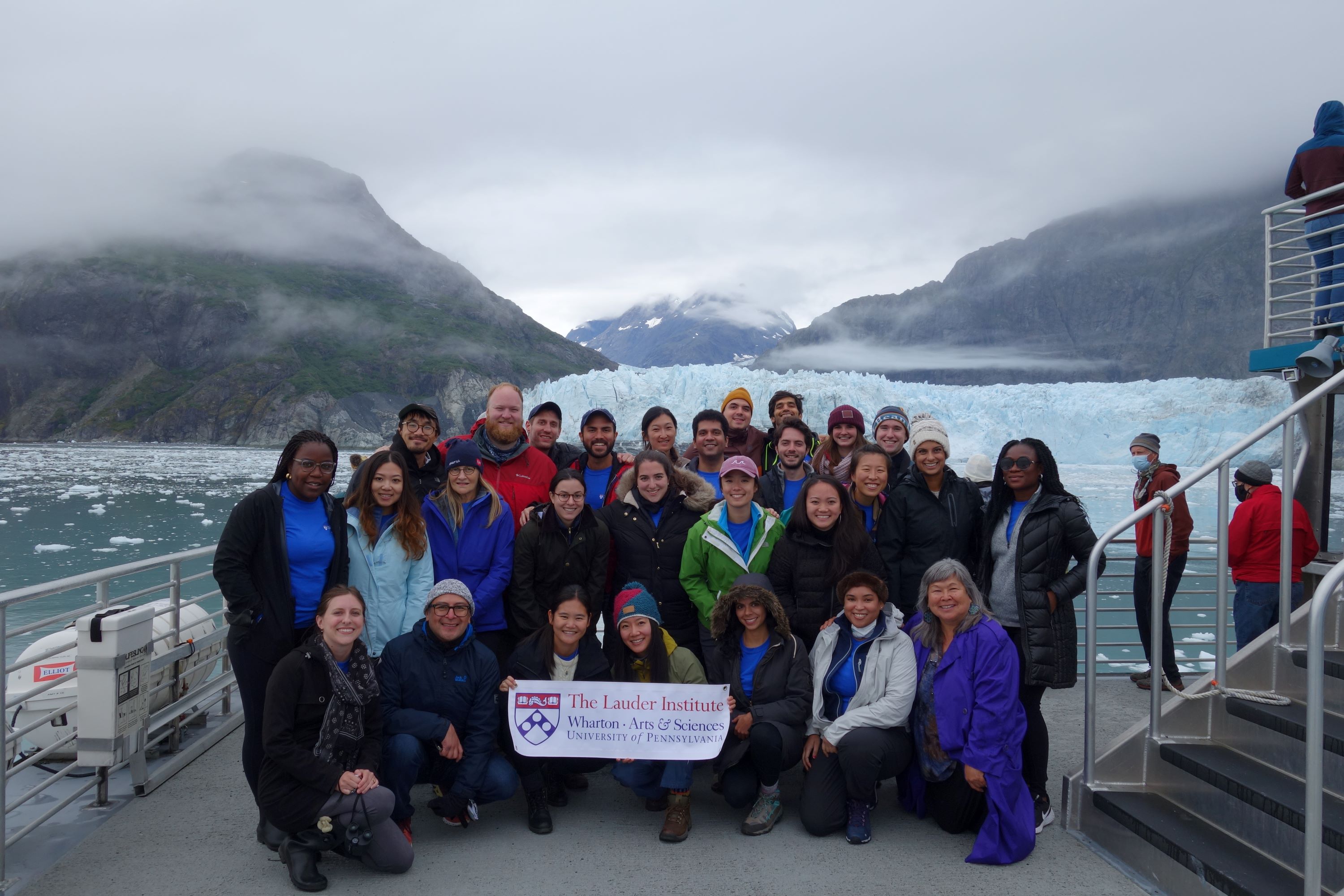 "Long awaited."
That's how Joaquín Ormeño, a second-year graduate student in the Lauder Institute of Management & International Studies, describes the feeling of once again being able to travel with his Lauder peers—to bond with them, learn with and from them, and have the sort of on-site education that makes travel so valuable.
Twenty-four students from Lauder traveled to Juneau, Alaska, in late August as part of Lauder's program, which combines an Master of Arts in international affairs from the School of Arts & Sciences with an MBA from the Wharton School, rounded out with language studies. The trip, designed as a Lauder Intercultural Venture (LIV), was part of the "Leadership and Intercultural Learning" core course, which typically involves travel to unfamiliar cultural contexts and aims to cultivate leadership skills. The trip marked the first time since the pandemic began that Lauder has been able to gather students for travel, although the program intentionally set out to travel domestically in light of pandemic restrictions.
Alaska, then, with its Tlingit Indigenous culture in the southeastern region of the state, proved to be a good candidate for cultural learning.
"Things aligned," says Lucy Fowler Williams, associate curator-in-charge and senior keeper of American Collections of the Penn Museum, who led the trip.
Williams works with Lauder Managing Director Kenric Tsethlikai on a committee at the Penn Museum, and through their interactions, Tsethlikai realized Williams' knowledge of the Tlingit people—she's studied their culture and history for decades and has built relationships—had potential to be of great value and insight to Lauder students, who do not typically engage with Indigenous cultures as part of the program.
"When we learned that some travel will resume, we realized that Alaska would be a great opportunity," says Mili Lozada, director of the language and culture programs at Lauder. "Not only would it be safer health-wise, but students, and especially those from abroad, are in fact really interested in learning more about the United States.
This is why we developed a new LIV in Alaska on the theme of perpetuating Tlingit culture and resources in Southeast Alaska."
The trip was planned carefully: masks would be required, many of the activities would be outdoors, and speaking events would take place outdoors or in a large conference hall. 
The trip began, Williams says, in Juneau, Alaska, where the group spent two days meeting Tlingit specialists and historians. The students viewed Tlingit art and regalia, listened to elders and CEOs of tribal corporations, and engaged in a symposium in an auditorium that overlooks the city, reached by tram.
On the third day, they departed on a three-day excursion by catamaran to Huna, Alaska, that was hosted by the Huna Totem Corporation's catamarans. Williams explains the access was unique, and that the excursion would not have been possible without their help, given the limited access to the area at this moment. The group traveled to Icy Strait Point, which includes a new multimillion dollar ferry dock, and learned about a historic salmon cannery that also manages the arrival of cruise ships that dock with thousands of tourists. (Williams notes it's an "interesting time" for the cannery, given the limited number of tourists coming on cruise ships right now.)
On this leg of the trip, the students saw not just the awe-inspiring landscape and wildlife at Glacier Bay National Park—Williams reports seeing a variety of whales, mountain goats, sea lions, and bears—but were able to engage with the town of Huna, where they met a carver and a historian, and learned about the Tlingit clan system.
"The Huna Tlingit people originally lived in this region of Glacier Bay National Park, but a glacier historically pushed their people out of the Bay. But now the glacier has retreated, so [the bay] is filled with water," explains Williams. "So, it's a fantastic setting to learn what I call 'place-based learning,' to learn about Tlingit history and relationships to the land itself.
"Those places hold these peoples' histories in interesting and important ways, including subsistence living like hunting, gathering, and fishing in this region; they live off the land there still today in important ways."
The students were able to experience an eight-hour, guided tour into Glacier Bay, with a Tlingit cultural specialist, Darlene See. Ormeño described the scenery as being "like out of a painting."
"All the mist and the green forest—which is actually a rainforest—and the contrast against the glaciers, it was beautiful," Ormeño says. "And just sitting there and feeling the boat moving fast, but along miles of rainforest and sometimes ice was stunning."
He recalls a moment when See took them to a clan house and gave an account of the story behind Glacier Bay and how it was the home of Tlingit people, only for falling ice to destroy their homes, and their efforts to reclaim the land from the U.S. National Park Service, who took it over a century ago.
"I was getting first access to the Tlingit Nation in a sort of way," he says. "Meeting the people who had made the artifacts, who led initiatives, I think it was honestly a very privileged opportunity. No one will necessarily go there and have access to all these experts, and Lucy and Lauder made that possible."
He says he knew little about Alaska or Tlingit culture before embarking on the trip, but walked away with what he describes as a deeper connection to the struggles they face, particularly of identity preservation.
"It was a great trip to reflect on what we are doing to keep our identities alive," Ormeño says.
Williams says she was impressed by the students' engagement with Tlingit specialists, and particularly their own specializations in language. (Particularly given that Tlingit as a language is struggling to survive.) She says she was also able to learn from the experience, notably about some of the more business-focused elements of what the Tlingit community is facing, such as bringing investments home instead of in other parts of the country.
"I think it was a great trip," adds Williams. "A fantastic opportunity, and to have Lauder-Wharton students and professors and the program be interested in these issues right now is really wonderful. It tells me that, maybe, there is some hope out there.
"And that," she adds, "maybe the world is changing a tiny little bit, you know?"
All images courtesy of The Lauder Institute.