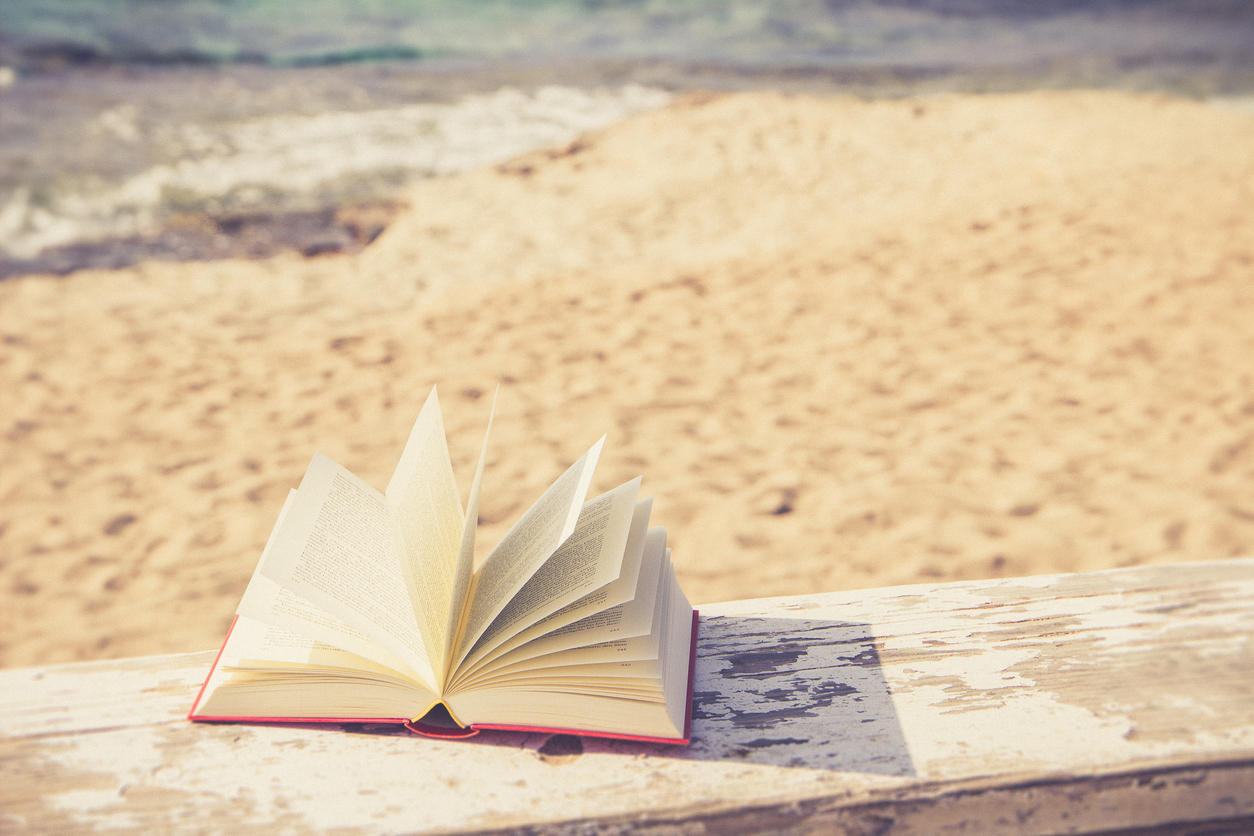 Up there with camping and sun-bathing on the summer to-do list is reading—as essential to summer as pumpkin is to fall. 
To help highlight some potential reads for the Penn community this summer, 18 Penn faculty and staff members share their recommendations for what to read this summer—everything from essay and poetry collections to an autobiographical book of life advice from Agatha Christie. 
Brett LoGiurato, senior editor, Wharton Digital Press
The book: "Calypso," by David Sedaris 
Why I picked it: In Calypso, Sedaris confronts aging and mortality by blending poignancy with trademark humor. You laugh as he strives every day to feel the tingle from his Fitbit. You root for him as he tries to secure ownership of a (benign) tumor he needs taken out of his body. You feel desolate as he describes the death by suicide of his sister and the last time he saw her.
Kathleen Shields Anderson, director of Operations and External Affairs, Penn Public Safety
The book: "A Small Place," by Jamaica Kinkaid; "Crossing to Safety," by Wallace Stegner
Why I picked it: Taking a break this week to Antigua. For something a bit more than my normal paperback, I picked up this essay, "A Small Place," about the writer's island home. This book offers an eye-opening view to tourists on the history of this paradise and its transition from British rule.
I reread ["Crossing to Safety"] every other year. It is a beautiful semi-autobiographical story of a young English professor and his wife who befriend another couple in his first years in academia. It takes the reader through decades of complex friendship. Stegner also has a way of describing places that put you there with him. It provides a lens through which I think about my own relationships as time passes.
Peter Fader, Frances and Pei-Yuan Chia Professor of Marketing, The Wharton School
The book: "Putin Country: A Journey into the Real Russia," by Anne Garrels; "The Return: Russia's Journey from Gorbachev to Medvedev"
Why I picked it: Why Russia? I'm going there with a bunch of other Wharton faculty in two weeks—it's one of our annual Faculty Internationalization Seminars. From my early reading (and other pre-trip prep work I've done) how little we know about the place—and how biased are our standard American perceptions of the country and its people (and leaders). This is a perfect opportunity to learn and experience what Russia is really all about, and I'm excited to have the opportunity to do so.
Linda Chance, associate professor of Japanese studies
The book: "Toxic Archipelago: A History of Industrial Disease in Japan," by Brett L. Walker
Why I picked it: As you start thinking (or not) about heading off to Tokyo for the Olympics next summer, you may find books that will laud Japan as a high-tech superpower training robots to take care of the elderly, or books that praise the traditions of the nature-loving Japanese. Walker argues for an important truth between: "Everything on Earth, living or otherwise, is integrated into one interconnected, bufferless web that is neither artifice nor nature." The nation, trying to transcend nature, gets caught in this web. While teaching much about culture, especially religion, Walker exposes the pain and sacrifices that have made Japan what it is today, and global dangers that threaten to unmake what we all are.
John McInerney, executive director of The Sachs Program for Arts Innovation
The book: "A Manual for Cleaning Women," by Lucia Berlin
Why I picked it: Lucia Berlin was rediscovered in 2015 and that compilation that brought her back, "A Manual for Cleaning Women," is so good. I just read it for the second time. She writes short stories, direct, autobiographical, personal and very real, and they just stick with you. Each story ends in a way you don't expect. I loved the little stories, just a few pages. "My Jockey, the Love Affair." "Angels Laundromat." She unfolds lives that are so real. She was many things, had many jobs, saw joy but often grief and sadness, but the stories capture the underlying love and hope she had for life. Highly recommended, perfect tales for the beach (imho)!
The book: "Sabrina," by Nick Drnaso
Why I picked it: Every year books I want to read accumulate and accumulate in a corner of my office. I can't get to them until the summer because during the teaching semester it's all business; reading for my lectures or for my research. So, what I call my 'candy books' pile up until I wrest some freedom away from the fabric of summer's space-time continuum and then pick a book to launch the good times. This summer, I'm starting with Nick Drnaso's "Sabrina," a graphic novel that came out last year and that has been lavished with praise and prizes. It's not an uplifting or comforting story (I never really like those anyway): it's bleak, involving murder, conspiracy theories, depression. Underneath the plot it's really about this new frequency of loneliness, anxiety, and nihilism that has sprouted in the age of the internet. The minimalist art perfectly complements its themes and its full impact really only comes through the unique language of comics; Drnaso has mastered the art of the silent panel. It's astonishing. I'd love to teach it next year. That's the best of both worlds; when the "candy book" migrates to the syllabus.
David W. Christianson, the Roy and Diana Vagelos Professor in Chemistry and Chemical Biology
The book: "The Mold in Dr. Florey's Coat: The Story of the Penicillin Miracle," by Eric Lax
Why I picked it: Roy Vagelos had recommended this book during a recent lunch, and it is an utterly fascinating account of the discovery and development of the first broadly used antibiotic. The title derives from the contingency plan to flee the UK in the event of a German invasion during WWII—the Oxford scientists working on penicillin planned to saturate their coats with mold spores, so that once they made their way to safe haven they could re-grow the mold and continue their penicillin research. The book is also sobering in its descriptions of the morbidity and mortality of simple infections prior to the arrival of antibiotics in the pharmacopeia. In this era of developing antibiotic resistance, this book underscores the pressing need for new discoveries in antibiotic research.
Karen Redrobe, the Elliot and Roslyn Jaffe Endowed Professor in Film Studies and director of the Wolf Humanities Center
The book: "Undocumented: Great Lakes Poets Laureate on Social Justice," by Ron Riekki and Andrea Scarpino
Why I picked it: My summer reading pile always has something about pedagogy to energize my teaching (this year I'm reading everything I can find about the visionary alternative pedagogy of the double bass player François Rabbath); things to prepare for future semesters (I'll be reading, for example, all the novels of Kamila Shamsie, who will be the Wolf Humanities Center's Dr. S.T. Lee Lecturer on Oct. 16); and things for sheer pleasure. "Undocumented" is a collection of poems by poets laureate at the national and local level, both young and old, so we get to hear the voices of renowned poets like former U.S. Poet Laureate Rita Dove, as well as youth poet laureates (including my daughter) from cities in the Great Lakes region. I remember hearing Angela Davis speak when I was in graduate school, and one of the many formative things she said was that the world will never change until old people start listening to young people—this collection is a great place to start. Poetry offers us a different way to listen to what language can do—the philosopher Maurice Blanchot celebrates what he calls its indirection—and I am finding these poems very nourishing in this climate where we hear so much about hate. But if you're looking for important, beautiful, and hilarious summer reading for young people, run now to your local independent bookstore to buy Adam Gidwitz's "The Inquisitor's Tale," or "The Three Magical Children and Their Holy Dog," illustrated by Hatem Aly.
Dawn Maglicco Deitch, executive director, the Office of Government and Community Affairs
The book: "Rush: Revolution, Madness, and Benjamin Rush, the Visionary Doctor Who Became a Founding Father," by Stephen Fried
Why I picked it: The closer we get to Independence Day, the itchier I get for a great historical read about the American Revolution and especially Philadelphia's role in our early history. My boss and I went to the Rosenbach last winter to hear Stephen Fried describe how his team researched Benjamin Rush (featuring a starring role for Penn Libraries!). Being a founding father and building a nation was a messy business. Add to that the drama of successive outbreaks of yellow fever in Philadelphia. Who can resist a story like this?
Anthony Sorrentino, assistant vice president, Office of the Executive Vice President
The book(s): "Trust Exercise," by Susan Choi; "Capitalism in America: A History," by Alan Greenspan
Why I picked it: For my fiction selection, it is the recently released "Trust Exercise" by Susan Choi—an incredibly talented and inventive novelist. The setting is a creative and performing arts high school during the 1980s in the American south, and the student body and faculty coexist in a precious bubble that the real world does not intrude upon, until it does, and the entire plot and perspective pivots in a shocking and twisted way. This is an upending and captivating novel. It's a very timely piece of art (and one that is not imitating life, but helps us do some sorting out), as it goes deep into themes of truth and facts, versus the power of memory; the politics of harassment and the dynamics between adolescents and adults.    
For non-fiction, it is "Capitalism in America: A History" by Alan Greenspan. A terrific read in layman's language which uses a sequential chronology of milestone moments—through present day—to cogently articulate the rise of America's extraordinary productivity, power, and prosperity. Readers learn about the connectivity between major economic policies and world war, domestic economic depressions/recessions, specific U.S. presidential and Congressional policies and theories. Greenspan covers a lot of ground, from the role of slavery in the antebellum Southern economy to FDR's New Deal, and current conflicts in the Middle East and China's looming presence. Greenspan suggests America's genius is a unique tolerance for the relentless churn of innovation driven by new people with new ideas, and examines where innovation comes from, and how it spreads. Recommended for anyone who is a reader of history books, or a reader of business books, as it satisfies both categories.
Julia Ticona, assistant professor of communication
The book(s): "On the Run," by Alice Goffman; "The Beneficiary," by Janny Scott
 
Why I picked it: As a new assistant professor, my summer reading goal is to learn more about my new town. Goffman's ethnography of a West Philly neighborhood and Scott's investigation into her own privileged background on the gilded Main Line depict two poles of living in this area.
Anthony Elms, chief curator, the Institute of Contemporary Art
The book(s): "Wayward Lives, Beautiful Experiments: Intimate Histories of Social Upheaval," by Saidiya Hartman; "Vile Days: The Village Voice Art Columns, 1985-1988," by Gary Indiana
Why I picked it: I can never read one book at a time. As I have been moving forward and rereading passages in Saidiya Hartman's "Wayward Lives, Beautiful Experiments: Intimate Histories of Social Upheaval," I continue taking pauses to read columns one by one from Gary Indiana's new collection, "Vile Days: The Village Voice Art Columns, 1985-1988." Both titles are models for how large the scope of critical writing can be while focused equally on the hurt, the horror, the joy and the beauty of people and/or details wrongly ascribed as insignificant. For Hartman, the day-to-day indignities of women living through racial terror; for Indiana, the weekly chore of reporting on art when the world around is indifferent to the health crisis decimating your community.
Christopher Gruits, executive and artistic director, Annenberg Center for the Performing Arts
The book: "A History of Venice," John Julius Norwich 
 
Why I picked it: I'm traveling to Venice this summer for the first time to attend the Dance Biennale. I wanted to understand the history of the place and Norwich's book is a fantastic read that outlines the humble beginnings of the lagoon city and its rise to global power. It's a fascinating read for anyone interested in urban European history.
Bill Cullina, executive director, Morris Arboretum
The book: "The Overstory," by Richard Powers
Why I picked it: What an amazingly well written tour de force about trees and our conflicted but intertwined human relationship to them. I can't think of a more perfect book to convey the mission of the Morris Arboretum.
Kristen Ghodsee, professor of Russian and East European studies
The book: "Alexandra Kollontai: A Biography," by Cathy Porter
Why I picked it: Because I am currently obsessed with Kollontai and her theoretical and practical work as a socialist feminist. Kollontai was a pioneer of women's rights who lived between 1872 and 1952. She was the first commissar of social welfare after the Bolshevik Revolution in 1917, and had some radical ideas about reimagining women's roles within the family. I am currently hosting a podcast which discusses 47 selections of the writings of Alexandra Kollontai (appropriately called "A.K. 47"), and so this book is giving me fabulous insights into her private life and the challenges she faced as an activist in the early 20th century.
Kenneth Lum, professor and chair of Fine Arts
The book: "Empire's Tracks: Indigenous Nations, Chinese Workers, and the Transcontinental Railroad," by Manu Karuka
Why I picked it: As chair of Fine Arts, I found myself always busy but with odd gaps in time between meetings. In that time, I was able to fashion a Penn course titled: "The Chinese Body and Spatial Production in Chinatown." I did a lot of research on a subject I thought I knew a lot about. That led to my working on a screenplay about Chinese laborers in the late 19th century.  It took me nearly four months to complete the story for "The Cook," and I hope to have the screenplay completed by the end of this summer. I rather have an obsessive personality so I have been reading as many books for the sake of the screenplay as possible.
Katherine Blanchard, The Fowler/Van Santvoord Keeper of the Near Eastern Collections
The book: "Come, Tell Me How You Live," by Agatha Christie Mallowan (the only time she wrote using her married name)
Why I picked it: I find this book so relatable, from trying to buy larger-sized women's clothes, to her love of train travel, I find that people think they know Agatha Christie because they have all read her fiction. But until you read her words about her life? Can you really know the queen of suspense?
Bob Thurlow, special projects manager at Penn Museum
The book: "The Feather Thief," by Kirk Wallace Johnson
Why I picked it: In the true crime vein of "Devil in the White City" and "The Orchid Thief," Kirk Wallace Johnson uses in-depth reporting and a lively narrative to tell the fascinating story of a truly bizarre museum heist.