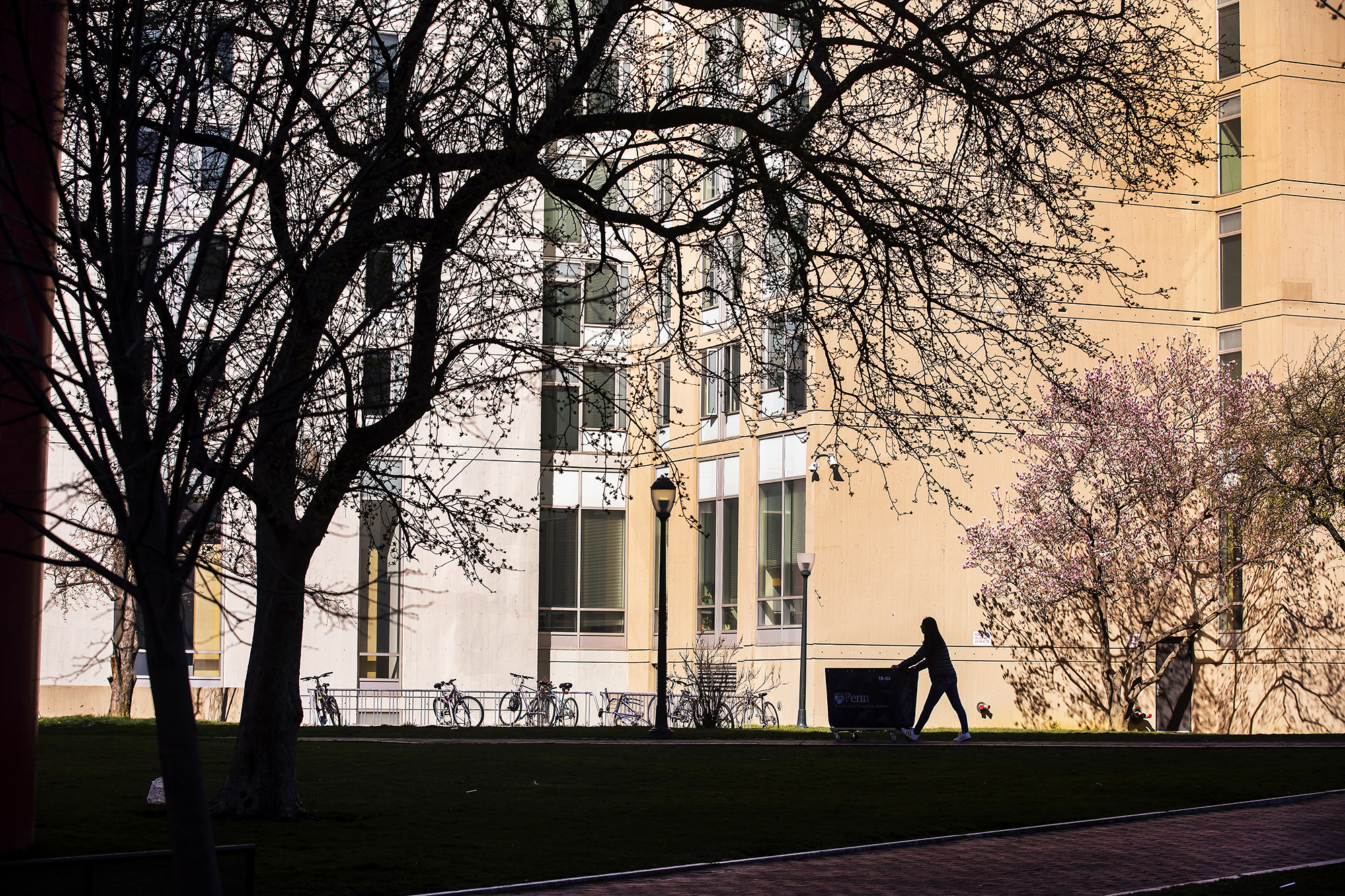 In an approximate span of four days, the University's Residential & Hospitality Services has tirelessly worked with colleagues throughout the Division of Business Services and across the University to execute a move-out effort that typically takes months. 
"It's been an exercise in organization and readapting our systems and still trying to keep everyone's morale up," says Douglas Berger, executive director of Business Services who oversees housing and dining. "This is all new to us. I've been in [higher education] for 40 years and never had to do anything like this."
Of the process, he explains, the University quickly got a system in place last week to notify students to move out as quickly as possible. Students were informed not to return from spring break, which was extended for an additional week, and also to stay home; those who were already on campus had until 8 p.m. on Tuesday, March 17, to gather their belongings before the rooms were off-limits. It has not yet been decided when or how students can retrieve their belongings, but Residential Services and the Division of Public Safety will be securing the buildings and ensuring that student possessions are kept safe. 
Late last week, a process was established that gave students an opportunity to submit an online application if they were facing a circumstance in which they could not move out. Those applications were reviewed Saturday morning by a committee made up of representatives from Penn First Plus, Student Financial Services, International Student & Scholar Services, and Student Intervention Services. Students were reached out to and accommodated with ways they could safely leave campus without undue hardship including assistance with travel arrangements and financial issues.
As of Tuesday, approximately 400 to 500 students will remain on campus, out of 1,200 who applied to stay. Many who remain are international students and can't return home due to travel bans.
Since Friday, Residential & Hospitality Services has had staff fielding unprecedented levels of anxious phone calls from students and parents and assisting—with the help of local workers from a hired company that accommodated on short notice—students and their parents with removing belongings from the college houses. 
"The staff and support staff from the University, they've been working nonstop—they're great," says Berger. "It's a lot of stress, a lot of personal stress about the virus and pandemic, but they've been showing up. We worked 12-to-13-hour days through the weekend, and we're going to do about a 16-hour day [Tuesday]. They're tired but they are motivated by their concern for our students and their parents, many of whom were obviously worried and disappointed. I give them a lot of credit for trying to keep things rolling and provide support for our residents, while also worrying about their own personal well-being." 
Courtney Dombroski, senior associate director of Residential & Hospitality Services, describes the biggest challenge as—aside from the fast-moving nature of the crisis—the amount of anxiety palpable in the voices of parents and students who have written or called in the past week. 
"Students are upset, and everybody wants to know what's going on and they want information, and because of the evolving nature of this, it's been really hard to provide the answers we want to for students and families," Dombroski says. "Because no one knows how long this will last, we just keep telling them that we will keep in touch as we have the information."
Still, she says—while also offering "the biggest shout-out" to the work of Residential & Hospitality Services—that she's been heartened by the University's willingness to call out all the stops during a time of great need. 
"I think what's amazing about Penn is the how much everyone on staff cares about the students," she says. "There were tough decisions that had to be made, as I heard from colleagues [tasked with reviewing applications to stay], and Penn was still able to gather respond to very diverse needs of our students and it's sort of the 'power of Penn' that they are able to provide support to students locally, nationally, and globally."
Lisa Margolis is a parent of a freshman and a senior at Penn. She helped move her freshman daughter out of the Quad over the weekend after receiving an email about the move-out plan last week. Her son lives off-campus in a fraternity house and will remain there. 
Margolis says her experience in the move-out process was actually calmer than move-in thanks to the lower volume of students spread over several days, but she naturally has mixed feelings as she reflects on being a Penn parent of two students entering and exiting their time at the University at this unusual time. 
"It's hard to see your children disappointed," she says. But, too, she says she's trying her best to keep her perspective in check: "They're both healthy, and they both have a safe and civil home to return to. Not all of us have that same situation."
Now, with thousands of students home and preparing to begin online classes next week, the small number of students remaining on campus will still need to be accommodated. Dining services will stay open for remaining students with pick-up meals. Penn will also assess this weekend whether some students will need to move to ensure appropriate measures for social distancing are being adhered to. (For example, no one will be sharing bathrooms.)
It's all an enormous effort that, frankly, has required an exceptional amount of resilience. 
"I think the staff everyone involved in this–staff and students—have been amazingly resilient because they have been able to respond quickly. This situation changes hourly and they have been able to adapt each time something new happens," says Berger. "The students are naturally frustrated, and confused, and our staff along with our partners across the University pulled together to make the best of this situation. Their top priority is the safety of the students and we are doing everything to make sure that their belongings are secure, that they're able to leave campus, that they're getting the support they need to return home, and for those who stay here, even though the University is adhering to the public health mandates, it will be able to assist with essential services."
Anyone with questions about residential life on campus during this time are encouraged to view Residential Services' Coronavirus (COVID-19) Information and Resources page.