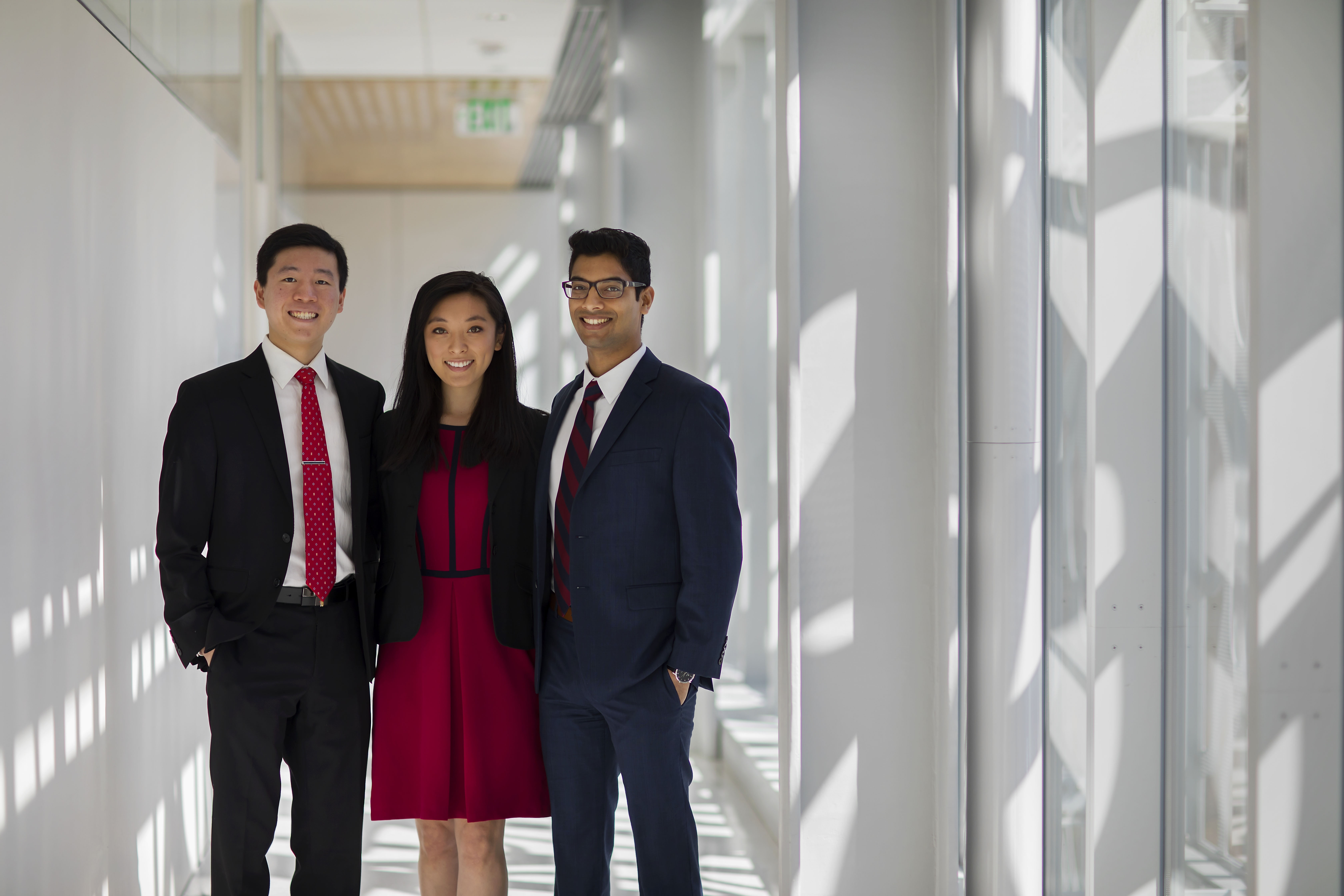 Last year, seniors Brandon Kao of the School of Engineering and Applied Science and Rui Jing Jiang and Adarsh Battu of the Wharton School were named winners of the Y-Prize, a competition that challenges participants to find commercial applications for emerging technologies being developed at Penn. With support from the President's Innovation Prize, their work continues.
Kao and Jiang met in 2013 during a Penn summer high school program called the Management and Technology Summer Institute (M&TSI), which teaches students to integrate the disciplines of business and engineering. The goal of the program was to get students to envision a new product, prototype it, and then pitch it. Kao and Jiang were so motivated by the experience that they both ended up applying and getting accepted via the early decision program at Penn.
Kao, who was particularly interested in chemistry in high school, decided to pursue a degree in materials science and engineering, while Jiang was more interested in entrepreneurship and decided to pursue degrees in strategic management and finance. She met Battu, who is also concentrating on strategic management and finance, as well as real estate, and joint marketing and operations, in a business-strategy class in the fall of their junior year, where they discovered their shared interest in technology.
During the Y-Prize contest, the team found themselves most inspired by nanoscale-thin sheets developed in the lab of Igor Bargatin, the Class of 1965 Term Assistant Professor of Mechanical Engineering and Applied Mechanics. The 100-nanometer-thin sheets—thousands of times thinner than aluminum foil—have a corrugated hexagonal structure that allows them to maintain their shape under physical stress, and are the only films of this thickness that can be manually handled. 
Each student's unique perspective, such as Jiang's experience working in pharmaceutical companies, Kao's knowledge of materials science engineering, and Battu's understanding of need-finding through past startup experience, allowed them to take a very research-focused view to leverage this novel nanotechnology in the human body. 
"We asked ourselves where the smallest implants in the body are right now," Jiang says. "And the answer was the eye and the ear. Vision is such a huge component of quality of life and it's something that we wanted to help improve. We discovered that the two leading causes of blindness in the world are cataracts and glaucoma, but within cataracts there are already a lot of really amazing solutions. We thought we could have a bigger impact by treating glaucoma."
The students came up with Visiplate, a nanoscale ocular implant for the treatment of open angle glaucoma, a condition in which fluid builds up in the eye, putting damaging pressure on the optic nerve and often leading to blindness.
Their device is 10,000 times thinner than existing last-line-of-defense implants for glaucoma. Because of its nanoscale size, they are able to place it just under the surface in the front of the eye, where it can shunt away excess ocular fluid. This, they say, allows for shorter operations and better patient experiences. Since the implant is less than 1 percent of the thickness of a contact lens, they expect it to be more comfortable with fewer side effects.
Now, after continuing to develop their device from both an engineering and business perspective, the students have been awarded the 2018 President's Innovation Prize (PIP). 
"The team's goal is to cure blindness that currently is incurable in glaucoma," says their project advisor Jeffrey Babin, associate professor of practice in Engineering and associate director of the engineering entrepreneurship program. Babin is also the academic director of the M&TSI, where he first taught Kao and Jiang in 2013. 
"Their clarity and vision is going to be really important in figuring out the steps they need to take to get there," he says. "I think what enabled them to win is that they have been committed to this regardless of prizes and competitions. They really wanted to do this. The amount of work that they have done, and the complexity of the issues that they've navigated, is truly exceptional. They're both talented entrepreneurs and really nice people. If you take intellect, talent, drive, ambition, and just being a delight to work with, it's a tough combination to beat."
Founded by President Amy Gutmann in 2016, the President's Innovation Prize is intended to help Penn students design and undertake innovative, commercial ventures that make a positive difference in the world. As President's Innovation Prize winners, Kao, Jiang, and Battu will receive as much as $100,000 to further develop VisiPlate as well as a $50,000 living stipend per student. 
The students will also be able to take advantage of dedicated co-working space at the Pennovation Center, as well as continued mentorship from the Penn Center for Innovation, to proceed to the next steps, which will include continuing to build prototypes, doing further preclinical tests, and getting FDA approval so that they can take their device to market.
"Not only will we be able to have dedicated funds and resources, such as the intellectual capital here at Penn, but also dedicated space to work," Jiang says. "This will enable us to further refine and develop our prototypes and allow us to enter into preclinical testing, which will allow us to see whether our device can lower eye pressure to a point where we can stop the progression of blindness."
Jiang says that she hopes VisiPlate is just the beginning.
"So much incredible research is being done at universities like Penn and someone needs to go and commercialize it," she says. "I think it would be incredible if we could build out a portfolio of life-changing healthcare solutions that really leverage cutting-edge technology."
The students have received guidance and mentorship from Penn ophthalmologists, including Eydie Miller and Richard Stone, the William C. Frayer Professor in Ophthalmology. Both are professors of clinical ophthalmology in Penn's Perelman School of Medicine. The PIP winners have also been helped by engineers such as Sam Nicaise, a postdoctoral researcher in the Bargatin laboratory in Engineering. 
"Just being at Penn," Battu says, "which has so much expertise in so many different disciplines, means that we're able to reach out to experts in engineering, medicine, and health care policy. We're getting guidance from leaders in the field. One of the most important things I learned was about the human interaction that happens when you're doing a startup. I've learned from my teammates, but also all the people we've interacted with at Penn and outside Penn. Ultimately, what really has moved us forward is these relationships that we've built with people who have become our supporters."
The students have also taken advantage of all the financial resources Penn has to offer, including the Penn Wharton Venture Initiation Program Accelerator, the Penn Wharton Innovation Fund, and the Penn Wharton Entrepreneurship Startup Challenge. 
"Penn provides an embarrassment of riches," Babin says, "and taking advantage of that to the fullest requires driven individuals that understand what they're trying to accomplish and use every possible resource at their disposal. This team has done a better job of that than most."
The students stress the importance of undergraduates getting involved in these sorts of hands-on experiences and business ventures early in their education and taking advantage of the resources Penn has to offer.
"It's been amazing to learn about all these real-world aspects of medical devices, businesses, and engineering that you don't really see in the classroom," Kao says. "Rather than solving a problem set, you're going in completely blind and trying to make this new device and learn how to take it to market. It's all really new and interesting. There's so much potential for you to succeed during your undergraduate career and you don't have any of the other restrictions you'll have later on in life. If you succeed, it's great and, if you don't, it's always a learning experience."
Jiang adds that it's important to stay curious about the world.
"Do something that interests you and do it even if it makes you feel uncomfortable," she says, "because those are the moments when you learn the most."