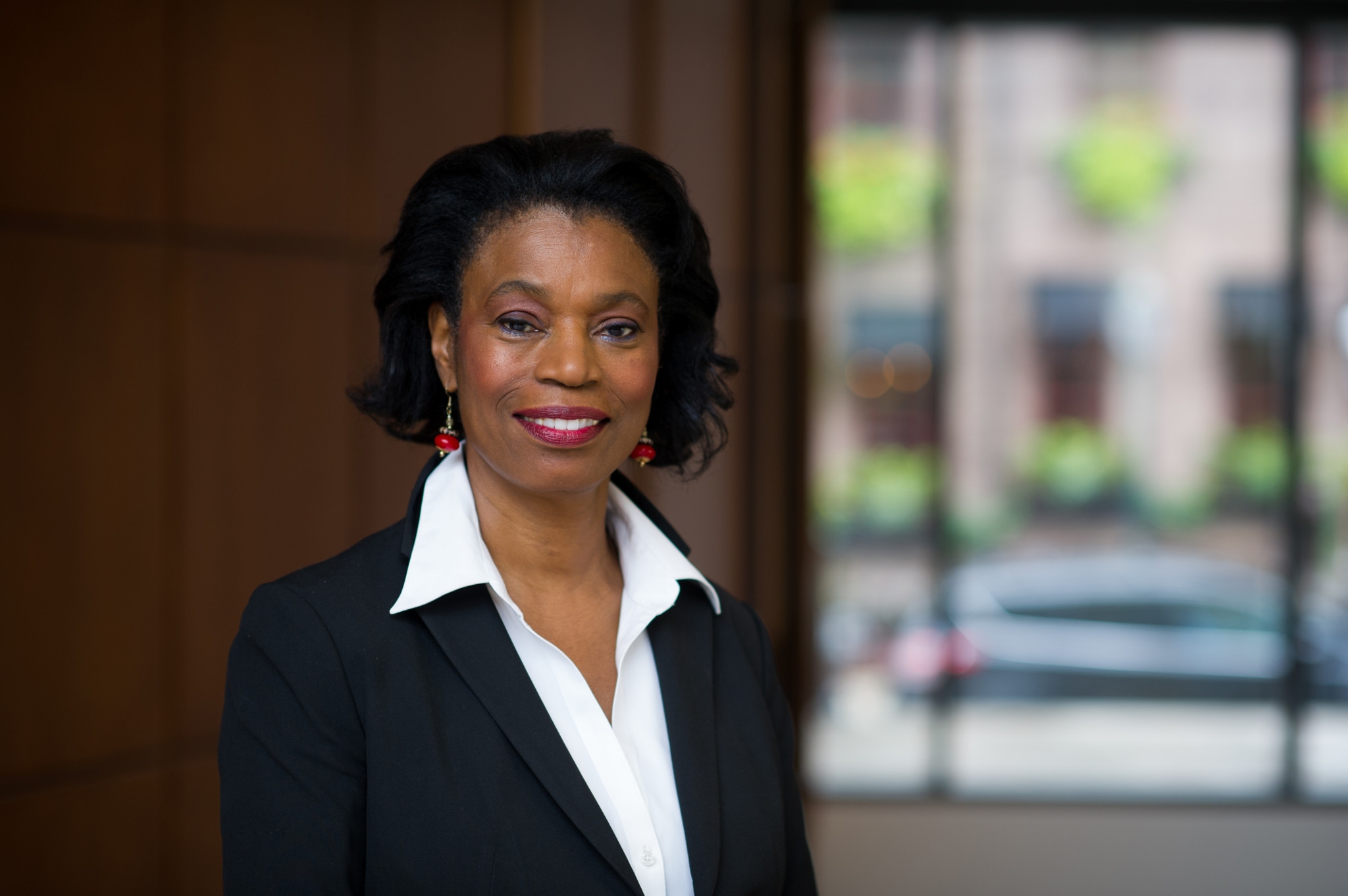 When Anita Allen started studying philosophy in graduate school in 1974, just a handful of other African-American female scholars had attempted to enter the white-dominated, mostly male field. Yet Allen pursued her passion nonetheless: The magnetism of the philosophical canon drew her away from a potential career in medicine toward a future dedicated to teaching, philosophy, and law. 
Anyone paying attention during her youth might have predicted her trajectory. Allen grew up in a military family, moving from base to base with her parents and five siblings before they eventually landed at Fort Benning, outside Atlanta. As a spiritual and religious teenager, she began reading books on western philosophy in a quest to challenge herself and her newly forming beliefs about the basic foundations of life and knowledge. After graduating from New College in Sarasota, Fla., Allen headed to graduate school at the University of Michigan, once describing it as an intellectual paradise—even without the female role models she craved.  
During a career that has so far spanned more than four decades, including earning a degree from Harvard Law School, she has become that very role model. 
In early July, Allen, the Henry R. Silverman Professor of Law, professor of philosophy, and vice provost for faculty, celebrated 20 years at Penn. She also began her three-year term as the first female African-American president of the Eastern Division of the American Philosophical Association (APA). Penn Today spoke with Allen about the intersection of philosophy and the law, how the field has changed, and her thoughts on being head of this organization. 
Can you explain what the American Philosophical Association does?
The APA is the main professional organization for academic philosophers in the United States. It's very large and quite old. It has three divisions, the Eastern, Midwestern and Pacific, and I'm now president of the Eastern Division. The organization does a lot to promote the profession. It helps people find jobs, helps increase diversity and inclusion. It also promotes opportunities for scholars to have their ideas heard and comment on important public issues. 
What does it mean to you personally to take the helm of the Eastern Division?
This is a huge moment. It was inconceivable to me, when I went to graduate school in philosophy in 1974, that a black woman—let alone me—would not only be able to obtain a Ph.D., but also someday come to be a leader, someone to whom others can look up. It's a great honor. I was elected by my peers, and that vote of confidence is enormously satisfying, especially for someone like me who grew up with parents who didn't go to college. 
You mentioned that from a young age, you loved western philosophy and books. So from that perspective, it's not a hard leap to a career in philosophy. But where does law fit in?
Philosophy and law are, for me, so intertwined that I sometimes forget which one I'm doing. I believe that the best laws are laws that can be defended, not only on practical grounds but also on moral grounds. You have probably heard the expression, "Law is but the means, justice is the end." That motto is very important for me, the idea that law is great but not an end in itself. Law is valuable because it promotes justice. Also, law and philosophy both emphasize rational arguments, truth finding, plausibility, logic, order, systematic thinking. 
Is there an area within the disciplines that really speaks to you?
I focus primarily on what I consider the philosophy of privacy and the law of privacy and data protection. Those are my two main specialty areas. But I've also worked on issues involving reproductive health, biomedical ethics, and racial and gender equality. 
To that end, do you think there's more racial and gender equality in philosophy today?
Philosophy as a discipline is moving in the right direction. By opening the doors to women and people of color, the field is expanding the kinds of questions to which attention is given. But it's not just about diversifying in terms of the color or gender of participants; it's also a matter of expanding the range of issues and topics and methodology that come with different kinds of scholars. And that's all very exciting and positive. 
In a recent interview with The New York Times, responding to a question about black female undergraduates today feeling detached from the field, you said that it's "right to emphasize barriers but encourage pursuit." What did you mean by that?
It wouldn't be kind to pretend there are no barriers, no special circumstances that might affect a person of color, a woman of color entering the field. It's simply not the case yet that it's routine, normal, expected, and easy. On the other hand, when you love philosophy, you love philosophy. If someone is really determined and passionate about the field, I think she should be encouraged, and encouraged with enthusiasm. But you should be realistic with her about the challenges she'll face, and there are many different ways to deliver those kinds of messages.
Do you feel that kind of advising is an unspoken part of your job these days?
I recently got back from Princeton, where I was a mentor in a program called Athena in Action, a four-day summer institute for female Ph.D. students in philosophy. There were several women of color—Asian women, black women, Hispanic women—who are part of that class. That event was the kind of opportunity I'm talking about, where we can focus on women's challenges and minority challenges, but at the same give them the chance to be taken dead serious as intellectuals.
Your own intellectual pursuits have led to real-world changes, notably in the realm of privacy. How has this work evolved during your career?
When I started writing about privacy in 1987, there was very little technology in everybody's lives beyond their landline phones and their crude computers. Now, technology has blossomed, it's taken over our lives, and we need to come to terms with it, particularly in regard to ethics and justice and fairness. These are the issues gripping me now. 
One final question: What was your dissertation topic? 
Great question. My dissertation was about Thomas Hobbes' and John Locke's theories of parental authority and their implications for education. In other words, liberal political theory. 
Anita Allen is the Henry R. Silverman Professor of Law in Penn Law, a professor of philosophy in the School of Arts and Sciences, and the vice provost of faculty.