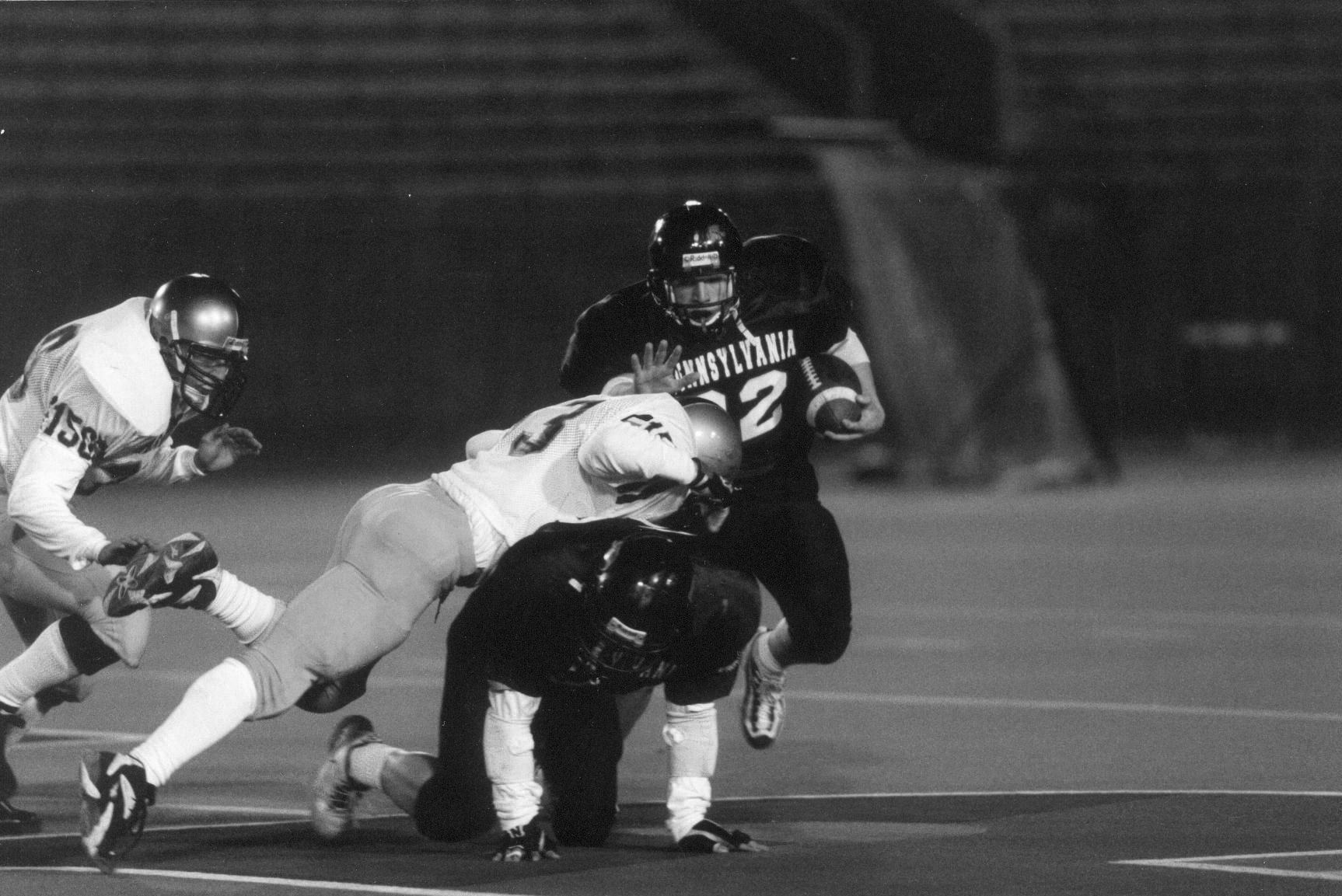 Running back Tim Ortman of the sprint football team rumbled, bumbled, and stumbled for 363 yards against Navy on Nov. 6, 1999—a school record that still stands almost 21 years later.
On Senior Night at Franklin Field, Ortman, the reigning Collegiate Sprint Football League (CSFL) MVP, carried the ball 47 times and scored four touchdowns in Penn's 37-14 win.
Ortman's first touchdown came on a 25-yard run on the first play of the second quarter, which gave the Quakers a 7-0 lead. Senior kicker David Sherman nailed a 27-yard field goal with 6:52 remaining in the second quarter and the Red & Blue entered halftime ahead 10-0.
Early in the third quarter, Ortman scored again on an eight-yard run, putting Penn up 17-0. A Midshipmen touchdown made it a 17-7 contest; Ortman's third touchdown of the game, a six-yard dart with 2:56 left in the third, gave the Quakers a 24-7 advantage.
After the two teams traded touchdowns in the opening minutes of the fourth quarter, Ortman broke open for a 70-yard touchdown run in the closing minutes.
Entering the game, Navy had the CSFL's top-ranked defense and allowed only 118.0 yards per game in league play. Steered by Ortman's 363 yards, the Red & Blue amassed 552 total yards and outgained the Midshipmen 422-189 on the ground.
The victory improved Penn's record to 4-1 and kept the Quakers in the hunt for the CSFL championship with Army and Navy (Army ended up winning the title).
***************
Reminiscing recently on his record-setting feat, Ortman remembers it like it was yesterday.
"It was my last home game and as my number of games dwindled in college, I used to think about it a lot because I knew I would never play football again after college was over," he says.
The Quakers were coming off a 17-9 loss to Army and needed to beat Navy to keep their championship hopes alive.
"I knew I needed a big game, and I knew that coach would be handing me the ball quite a bit, so I was ready," says Ortman. "I knew Coach Wags was going to call my number and I didn't want to let him down, nor my team."
Appertaining his 47 carries, Ortman says he was able to handle such a heavy load because of his conditioning as a two-sport athlete—he was also an All-Ivy standout on the wrestling team—and his long hours and years lifting weights. His father was a football coach and weightlifter, and made sure his sons were well acquainted with the weight room.
"I had always been very, very methodical about lifting weights, and I think that had a lot to do with me staying healthy and being able to power through to however many carries [Coach Wagner] was going to give me," Ortman says. "But certainly, cross training and being a wrestler also helped. It's a different type of conditioning. I felt both sports helped me prepare for the other one."
Ortman's 363-yard game broke his own school record. On Oct. 23, 1998, he carried the ball 49 times for 262 yards against Navy, which currently ranks third in school history. ("You're sore," he says, about carrying the ball so many times. "You're definitely sore for a few days after that.")
Of the 10 highest single-game rushing totals in school history, Ortman holds six slots: 1 (363), 3 (262), 5 (246 against Princeton in 1997), 6 (241 against Cornell in 1998), 7 (226 against Princeton in 1999), and 9 (207 against Princeton in 1998).
He finished his career as the leading rusher in school history with 3,670 yards, a mark that still stands, and holds the program record for rushing yards in a season (1,218 in '99). He was also a two-time co-captain ('98, '99) and two-time CSFL MVP ('98, '99).
In 2012, the 2001 alumnus was inducted into the Penn Athletics Hall of Fame. Annually for the past 20 years, the sprint football team has bestowed the Tim Ortman Offensive MVP Award to the squad's top offensive player.
***************
Interviewed by the Daily Pennsylvanian moments after Ortman's 363-yard performance, Coach Bill Wagner called it "the best offensive performance I've seen in my 30 years here."
Speaking with Penn Today last week, Wags, as he is affectionately known, says his sentiment still stands.
"You can expand that to 50 now," he says. "Timmy Ortman is a special person. He was so good that he set the benchmark for every other running back who came after him. He was in a class by his own."
Wags, who retired last year after 50 years as sprint football coach, says Ortman's passion for the game made him such a tremendous talent on the gridiron.
"He just loved to play," he says. "He was durable. He led by example. His leadership was so strong on the field that when he got the ball, you knew that he was going to advance it. He would actually find people in the secondary that he could run through or actually seek out and hit them, and yet he had the speed to break away and go the distance."
Twice during Ortman's sprint football career, Penn won the CSFL championship: the 1996 team—his freshman season—was tri-champions with Army and Navy, and the 1998 team was the undisputed champion. While not a member of the 2000 team that won the CSFL championship with a perfect 6-0 record, Wags says Ortman helped lay the foundation.
"The spirit and leadership and the fact that we could compete and beat these academies, the tone was set by Tim and that group of guys who played with him," Wags says. "That was a great era."