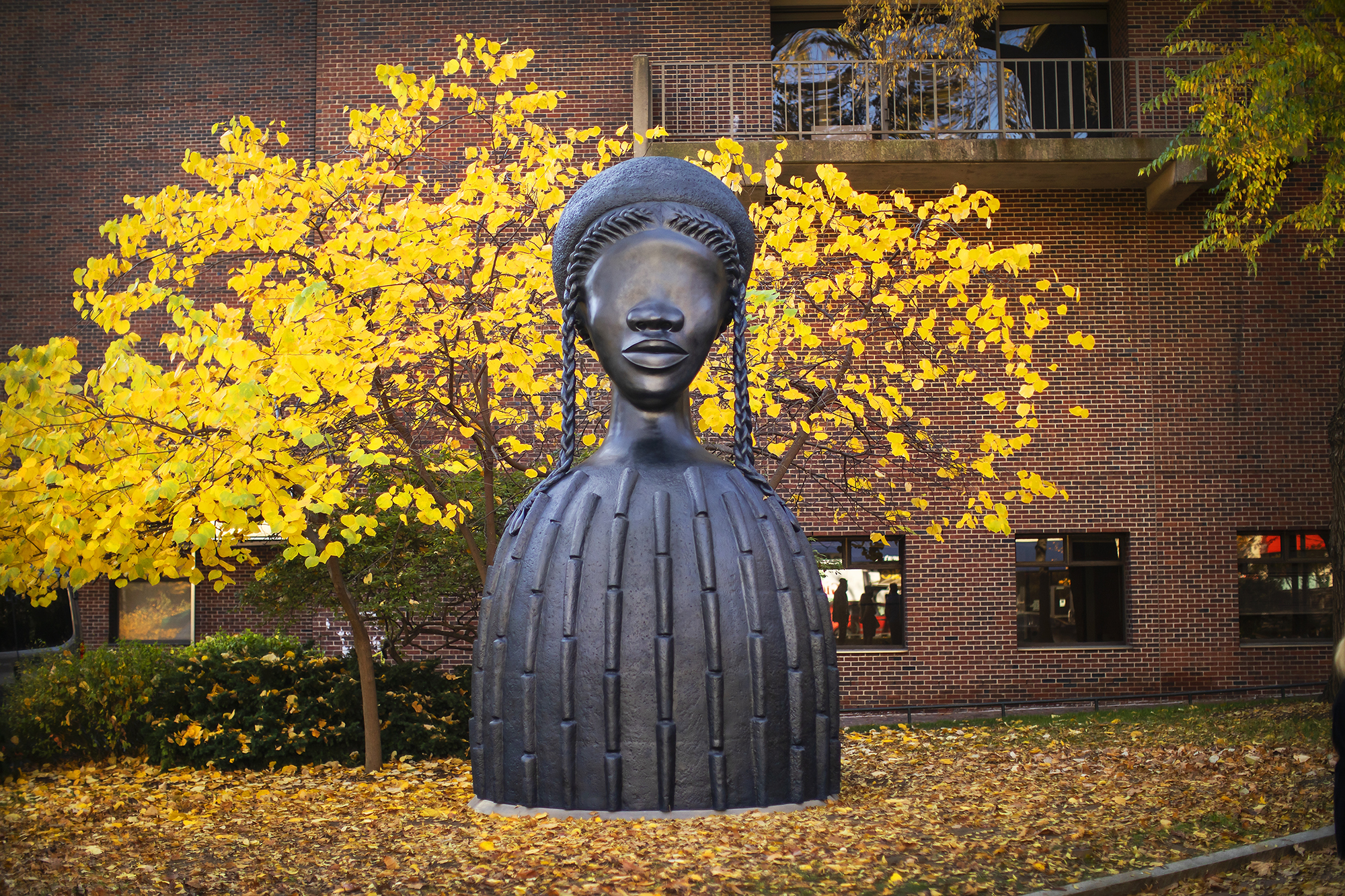 A monumental sculpture by acclaimed artist Simone Leigh has been installed at the corner of 34th and Walnut Streets, the gateway to College Green at the University of Pennsylvania.
Titled Brick House, the piece depicts a Black woman's head atop a form that suggests a skirt or perhaps a building. It is the first large-scale piece in the artist's Anatomy of Architecture series that merges human form with diverse architectural elements. Cast in bronze, the work stands 16 feet high, 9 feet in diameter at its base, and weighs 5,900 pounds. Another edition of Brick House is on display on New York City's High Line through Spring 2021.
"Ms. Leigh's sculpture brings a striking presence of strength, grace, and beauty—along with an ineffable sense of mystery and resilience—to a central crossroad of Penn's campus," said Penn President Amy Gutmann. "When Glenn and Amanda Fuhrman first approached Penn over a year and a half ago, I was absolutely delighted by the possibility of bringing this spectacular work of art to Penn. Its enthralling presence of Black beauty with artistic references to the African diaspora will draw the attention of everyone walking or driving past one of the most traveled corners in West Philadelphia. And how perfectly fitting it is that we welcome Brick House to our campus at the same time as we redouble our collective efforts to confront issues of racial justice. Brick House adds immeasurable depth to the public art accessible for viewing and studying across Penn's campus. We look forward to it generating countless conversations about its meaning and significance."
Penn alumnus Glenn Fuhrman earned an undergraduate degree from Penn in finance with a minor in art history in 1987, and an M.B.A. from The Wharton School in 1988. He is the founder and CEO of his family office, Virtru Investment Partners. Previously, he co-founded MSD Capital, the private investment firm for Michael Dell, founder and CEO of Dell Technologies, and served as managing director and head of the Special Investments Group at Goldman, Sachs & Co. Fuhrman serves as a board member of The Institute of Contemporary Art at the University of Pennsylvania, and as a trustee of The Museum of Modern Art and The TATE Americas Foundation. In 2007, he founded The FLAG Art Foundation in New York City as an independent exhibition space.
Amanda Fuhrman earned her undergraduate degree from Penn in 1995 with a major in diplomatic history and a law degree from Columbia University Law School in 2000. She went on to work at Simpson Thacher & Bartlett and as Deputy Executive Director of Millennium Promise Alliance, both in New York. She is a Trustee of The Brooklyn Museum and of Edible Schoolyard NYC.
"We first encountered Simone's work in 2016 and immediately felt an almost visceral sense of both its historical resonance and incredible connection to our contemporary reality," said Mrs. Fuhrman. "Because we were aware that Simone felt strongly about having this particular work reside on a university campus, we advocated for bringing it to Penn."
Mr. Fuhrman added: "While I was a student at Penn studying art history, I gained a deep appreciation for the power and influence of artistic expression. I feel—and Simone agrees—that our urban campus is the perfect location for Brick House, where it can be seen by a large and diverse population."
Simone Leigh has received numerous accolades for her work, most recently being named the American representative to the 2022 Venice Biennale—the first Black woman to represent the U.S. at this prestigious international exhibition. In addition, she has received a Creative Capital Award (2012), a John Simon Guggenheim Memorial Foundation Fellowship (2016), and the 2018 Hugo Boss Prize, among other honors. Her work has been displayed in solo and group shows at major museums, galleries, and exhibition spaces, including a solo exhibit at the Solomon R. Guggenheim Museum in New York City (2019).
Leigh's scholarly approach to her art imbues her work with historical relevance. After earning a degree in fine art with a minor in philosophy from Earlham College in Richmond, Indiana, Leigh was trained in traditional ceramic techniques. A post-college internship at the Smithsonian National Museum of African Art in Washington, D.C., sparked an interest in the African diaspora that is reflected in "Brick House." The cowrie shells that adorn the braids on its subject simultaneously symbolize wealth and femininity, and also the African slave trade in which cowrie shells were used as currency. Global inspirations for the abstract skirt-like base come from Batammaliba architecture in Benin and Togo and the teleuk dwellings of the Mousgoum people of Cameroon and Chad, but also the restaurant Mammy's Cupboard in Natchez, Mississippi.
"Brick House is part of my series called Anatomy of Architecture in which I conflate ideas concerning the body and architecture as well as gender and representation," explained Simone Leigh. "I operate in an auto-ethnographic way, in which I research African and diaspora art objects, material culture and philosophies. Often my work is sparked by underlining texts from Black feminist thinkers. Brick House is not a portrait. It brings disparate forms together in a way that collapses time. I would describe this way of building sculpture as 'critical fabulation.'"
Gwendolyn DuBois Shaw, Class of 1940 Bicentennial Term Chair in the History of Art department at Penn, believes that welcoming Brick House to a prominent new home at Penn is especially meaningful as the University community intentionally pursues dynamic ways of re-considering our nation's past. "As an art historian and teacher who works at the intersection of race, gender, sexuality and class, I anticipate that this evocative sculpture will lead students toward new paths of exploration and understanding. I couldn't be more excited to facilitate those conversations in the classroom."
In its initial stages of construction, Brick House pushed the limits of Leigh's favored medium of ceramics. She sculpted the massive ceramic prototype on a wire mesh frame using 9,000 pounds of clay; it was then cast using 6,000 pounds of bronze at a foundry located in Philadelphia. The first casting is currently on display at the High Line Plinth, a landmark destination for major public artworks in New York City.
Brick House was transported to Penn on a flatbed truck and carefully hoisted into place by crane to a specially constructed concrete platform. 'Brick House is an enthralling and powerful piece by one of the most consequential artists of our time," said Frederick Steiner, Dean and Paley Professor at the Weitzman School, who co-chairs the design review committee charged with location of major projects on campus. "At a time of expanding awareness of the unique experience of Black people, this symbol of strong Black femininity is a striking and timely addition to our shared landscape."