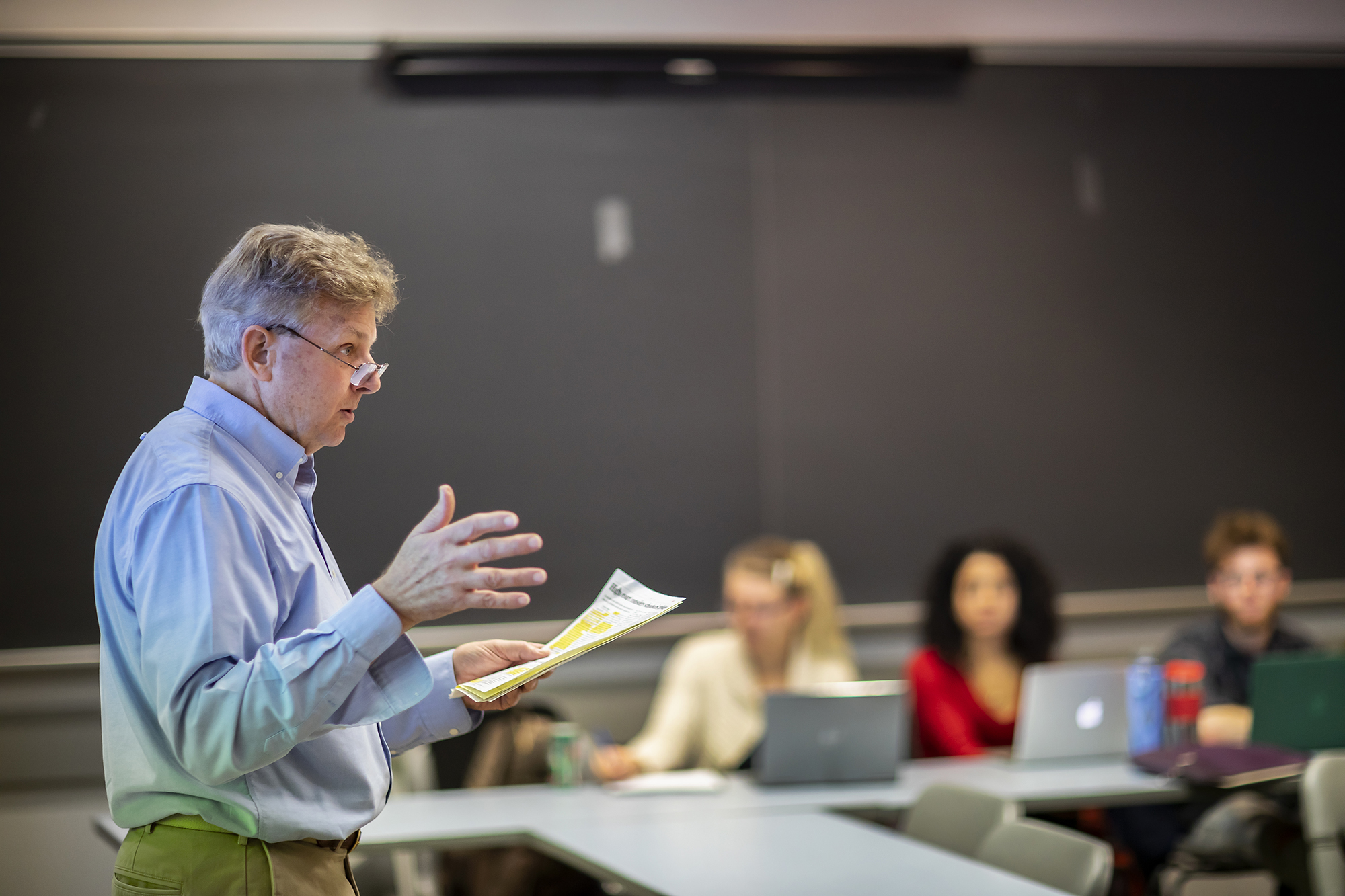 One of the largest workforces in America is undergoing major changes. Richard Ingersoll at the University of Pennsylvania's Graduate School of Education says the latest edition of his groundbreaking work on the nation's teachers points to serious implications for the nation's schools and taxpayers, and should serve as a wake-up call to better understand the problems teachers face in schools.
The new report shows America's schools are hiring more teachers than ever, a "ballooning" in the number employed, yet are struggling to keep them in the classroom. More teachers today are female, young, and have little experience. Despite a significant increase in the hiring of minority teachers, it is those teachers who are leaving the profession the fastest. And the diversity of the teacher workforce still doesn't reflect the student population.
The updated analysis is based on recently released national data collected over 30 years by the U.S. Department of Education's National Center for Education Statistics. Ingersoll's original report on the workforce was released five years ago.
"We have found that the trends we earlier identified are continuing, which in itself is striking," he says.
The implications are important, especially the sharp increase in the total number of teachers, which Ingersoll says was surprising to him. In the most recent year of data available, 2015-16, there were 4 million public and private elementary and secondary school teachers, up steeply by more than 400,000 since 2011-12.
"I don't see how it is sustainable," he says, noting that teacher salaries are the largest part of a school system budget. "I don't know how the number of teachers can continue to increase dramatically faster than the number of students."
Between 1987-88 and 2015-16, the number of teachers in public, private, and charter schools grew by more than three times the rate of student enrollment increases. The growth is tied, in large part, to reforms that the public has demanded: smaller elementary school class sizes, more math and science teachers, more special education teachers, more enrichment teachers in elementary schools, more reading teachers, and more English as a Second Language and bilingual teachers—the last two categories the fastest growing of all.
Another surprising discovery in the update was the dramatic surge in minority teacher hires in public schools, both in number and percentage, from 305,000 in 1987-88 to 760,000 in 2015-16, or from 13 percent to 20 percent of the workforce. Growth in the number of minority teachers was three times greater than growth in the number of white teachers.
"There has been something of an unheralded victory here. There has been a huge increase in the numbers of minority teachers, suggesting that minority teacher recruitment initiatives have worked," Ingersoll says. "That's an important finding."
The growth is even more remarkable because at the same time, the minority teachers are more likely than white teachers to leave the profession, with above-average turnover. This makes sense, Ingersoll says, because minority teachers are two to three times more likely than white teachers to work in schools serving high-poverty, high-minority, and urban communities, which can have some of the most challenging working conditions, and where teacher turnover is the highest.
Although the number of minority teachers is up, there still is not parity in the classroom, he emphasizes.
"The percentage of students who are minority [50 percent] is far greater than percentage of teachers who are minority [20 percent]," Ingersoll says.
School leaders are challenged to find ways to keep teachers in the classroom. One in 10 teachers quits after a year, and between 40 and 50 percent of new teachers leave teaching within five years. The problem is especially acute in low-income rural and urban schools, which tend to receive fewer resources than schools in the suburbs. About half of all turnover takes place in a quarter of those schools.
"We conclude teacher recruitment initiatives are worthwhile and it seems to have worked, but we need to work on improving teacher retention," he says. It's the working conditions in challenged schools, especially the lack of teacher autonomy and "voice" that is pushing these new recruits out the door, says Ingersoll.
"They've managed to get all these bright new teachers into these hard-to-staff places, but those places leak teachers like a sieve: it's self-defeating," he says. "School systems have done an admirable job with teacher recruitment and hiring, but then they're losing many of them in a few short years. The key question now is: What can we do to improve retention?"
Teachers also have less experience today—typically just one to three years—compared with 15 years of experience in 1987-88. And there are fewer men, with women making up more than three-quarters of the public school teaching workforce. In a growing number of elementary schools, there is not one male teacher.
All of these topics beg for further research, Ingersoll says. "There are all these fascinating questions, and people want to know the answers," he says.
"I'm a former schoolteacher. I study these problems, but I also care about these issues," Ingersoll continues. "I'd like to see the situation helped. And the data certainly provide some answers in how to improve the retention of teachers, minority teachers in particular. Most simply put, it is a matter of improving the job conditions in schools."
Homepage photo: The updated analysis on the nation's teachers from GSE's Richard Ingersoll is based on national data collected over 30 years by the U.S. Department of Education's National Center for Education Statistics.