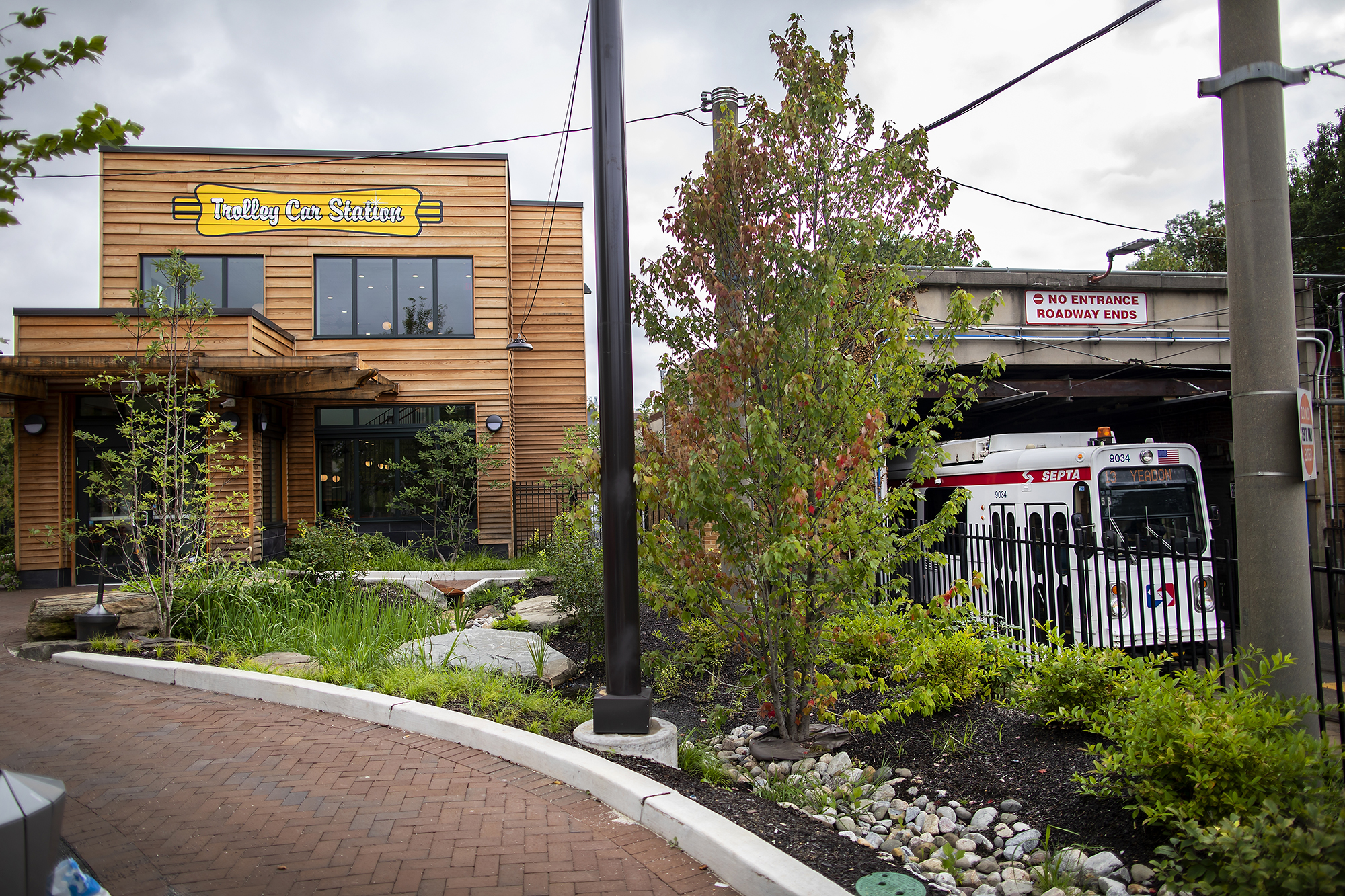 Just over the crest of the hill adjacent the 40th Street Trolley Portal, gone is the desert-like expanse of unembellished concrete that fed from the station drop-off into the residential neighborhood of University City. 
In its place: a new restaurant, a smattering of Princeton Elm trees, a brick pathway, colorful public seating, a drainage system, vines that crawl up the side of the building and animate the space—plus, a collection of planters with native plant species. All are situated in a 40,000-square-foot space. 
"I think what's really neat about this project is the community was really the impetus for it, and has been involved the whole way through," says Alissa Weiss, director of strategic initiatives and communications at University City District (UCD). The partnership of West Philadelphia institutions, businesses and residents that is UCD was responsible for developing the project and amassing the funds—from philanthropists and grants—to make the beautification project happen. 
The project started in 2010, when the Spruce Hill Civic Association approached University City District with the suggestion that the area surrounding the 40th Street trolley station—a portal that's been around since 1952—be transformed into a captivating and eye-catching space. The City of Philadelphia and SEPTA collaborated to plan a design that would work for all parties involved. Eight years later, the project is finally completed and open to the public. 
"After working out operational details, and complicated legal agreements that let everybody do this work, we completed a design that is beautiful and accessible for the public, and creates an incredible new gateway to West Philadelphia," says Andrew Stober, UCD vice president of planning and economic development. "One that says 'welcome' to new visitors, and 'welcome home' to people who live here."
Approximately 60,000 people pass through the portal on the trolleys every day, Stober says. That knowledge presented a unique opportunity to make a space that is useful not just for West Philadelphia residents and Penn students, but nearby workers—many of whom commute to the VA Medical Center and the Hospital of the University of Pennsylvania (HUP). 
"It's really at the crossroads of the institutions and the neighborhood—Penn is literally right there, and the Veterans Affairs hospital has 3,000 people pass through per day less than a block away, and it's no more than a 15-minute walk from the main CHOP and HUP buildings," Stober says. "Hopefully, we'll be pulling folks from those buildings onto Baltimore Avenue, and all the Penn students who live right around here—or, it's a short walk from campus to have a non-campus dining experience."
That experience is the Trolley Car Station Restaurant, a full-service restaurant that seats 160 people, and offers both food and alcoholic drinks. The menu, says general manager Andrew Boyask, is largely seasonal with some items he hopes will be fixtures, like a ful madammas, a variety of milkshakes, cocktails concocted by the bartenders. One cockatil, the 11th and Washington, is made with a "pho-spiced syrup." The wine list is curated by Boyask, who was formerly a general manager of wine hotspot Tria Café in Center City. 
"We try, with the menu, to bring comfort food, but also give an international flair," Boyask adds. "To open, we're doing solid American classics, but as specials roll out, it'll be comfort food from all around the world. We're consulting with people from the area who are immigrants or have a long food history, trying to get authentic recipes that reflect the pride they take in their food, and we're doing the same with the drink menu."
There are also, he adds, a variety of vegan and gluten-free options—including a chickpea burger. 
Aesthetically, the restaurant is heavy on the color green—aside from a colorful second-floor mural by artist Ben Howard with West Philadelphia nods, like a drawing of the Benjamin Franklin statue on Penn's campus. Seats are upholstered with an ivy green and walls are painted a light, mossy green. 
"The reason I lived in West Philadelphia for years is it's so green. So, we made everything green," Boyask says. "And I like the idea that it's this Emerald City gateway to the west—bright and vibrant. I love that.
"And from there, the rest of the décor, we went 'Mad Men' meets 'The Golden Girls.'"
Of note, the restaurant will provide a 10-percent discount to people who work in medicine in Philadelphia.
"Those third-shift nurses are more than welcome to come here at 7 in the morning and sip beers," Boyask quips. (Note: State law prohibits the sale of alcohol before 9 a.m. on Sundays.) 
Students can eventually look forward to a communal table that will have electronic outlets, conducive to studying. The restaurant will be open Sunday through Thursday, 7 a.m. to 10 p.m., and Friday and Saturday from 7 a.m. to midnight.
A grand opening celebration, with a ribbon-cutting ceremony and light refreshments, will take place Thursday, Sept. 27, from 5 to 7 p.m. at Trolley Portal