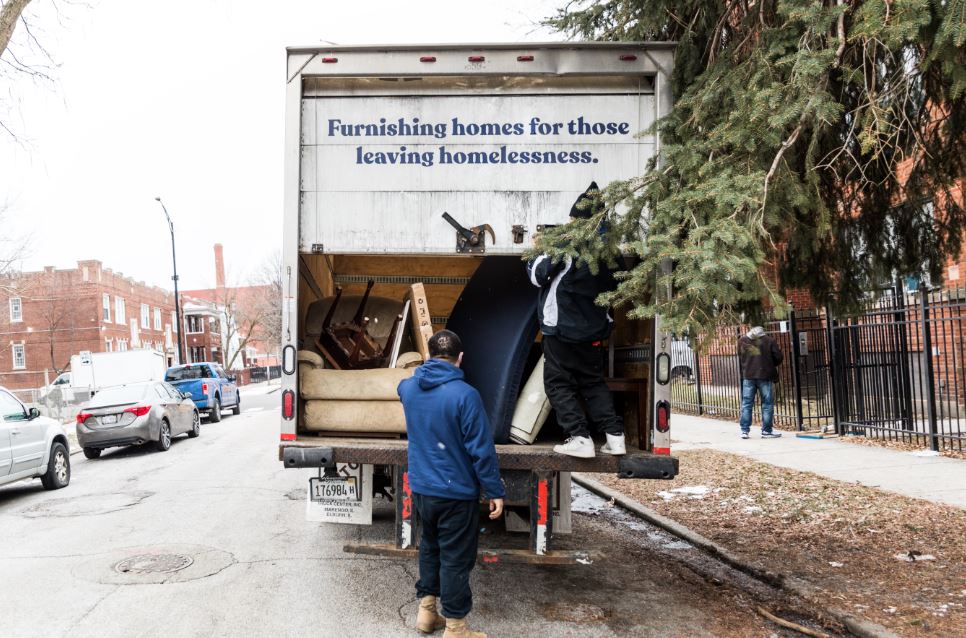 When Griffin Amdur, Andrew Witherspoon, and James McPhail learned in 2018 that their then-fledgling concept for the Chicago Furniture Bank would earn a Penn President's Engagement Prize, they promised to do all they could to create a "sustainable and long-lasting organization." Fast-forward three years and 5,500 furnished homes later—their efforts have proven enormously successful.
Talking via Zoom from Chicago Furniture Bank's 70,000-square-foot warehouse in Brighton Park, which the team purchased and moved into earlier this year, Amdur ticks down his list: "We are now the largest furniture bank in the country, we are covering 100 percent of our costs, we have 35 full time employees, we have eight trucks and are planning to bring on another four trucks soon, we've become the main furniture and moving vendor for the city, and we are doing massive liquidations of residence halls and hotel rooms." 
What started as an idea by three Wharton School friends to bundle used furniture for Chicagoans in need has morphed also into a nonprofit that significantly reduces environmental waste in landfills, creates jobs in the community through intentional partnerships with local workforce development agencies, and provides a convenient removal service for donors through Honest Junk Co., a 501(c)(3) that donates any revenue to the furniture bank. Amdur and Witherspoon officially launched Honest Junk Co. in March 2020, just days before COVID-19 was declared a pandemic. 
The pandemic itself brought forth new challenges for the organization, which was forced to adapt its naturally in-person function of bringing folks physically to the warehouse to pick out furniture to offering a virtual, online appointment option. With agencies in Chicago more than ever focused on finding housing for people most at risk of COVID-19, Amdur says it only "spotlighted the need for our essential services even more."
"For people getting housed for the first time, especially with the stay-at-home order, why or how are you going to stay in your home if there's nothing in it?" Witherspoon adds.
Since its inception, Chicago Furniture Bank—the only furniture bank in the city—has been boosted by its mission to take, for a competitive price, unwanted furniture and household items off of people's hands, and then turn the goods around to people who might be transitioning, for instance, out of homelessness or domestic violence shelters. Typically, a bundle of items—including beds, couches, tables, dressers, chairs, desks, lamps, artwork, mirrors, and more—costs $50 total, with a small additional fee for delivery if customers don't want to haul it themselves. As one customer named Josephine, who was formerly homeless, put it, the furniture she received gave her "a sense of appreciation, comfort, and stability."
In a breakdown of demographic data from people Chicago Furniture Bank has served, nearly half said their reason for assistance was due to previous homelessness (with 21 percent naming poverty/other crisis), and close to 60 percent have an annual household income of less than $6,000. 
"We have had families come to tears about the opportunity," explains Yolanda Perry, who works for By the Hand Club for Kids, one of Chicago Furniture Bank's 400-plus partner organizations. "Some parents spend all they have on their first month's rent and security deposit, and they don't have enough funds to purchase household items. Chicago Furniture Bank has just been a blessing onto the people we work with."
These days, Amdur and Witherspoon run the Chicago Furniture Bank full time, with McPhail serving in more of an advisory role from New York City, where he works at Bain & Co. They all agree that their organization would be nowhere close to reaching the success it has today if it weren't for the President's Engagement Prize, which jumpstarted their project with $100,000, and provided them each with a $50,000 living stipend.
"Of course the funding was amazing and got us off the ground, allowing us to rent a warehouse and to live, but it's really Penn's stamp of approval that has allowed us legitimacy," notes Witherspoon. "People were willing to talk and were interested; it's what got the ball rolling with a lot of relationships."
Amdur adds that in addition to the credibility, Penn itself, as well as its alumni network in Chicago, has served as an exceptional resource.
"We have some amazing Penn alumni who serve as advisers and board members and just as sounding boards," says Amdur. "And basically anyone at Penn has always been willing to help us or take our calls, allowing us to ask questions whenever we needed important guidance."
Looking ahead, Amdur and Witherspoon hope Chicago Furniture Bank continues to grow, with an expected furnishing of 3,200 homes in 2021 alone. By 2024, they hope to furnish 5,000 homes per year. They also have their sights set on expansion to other cities if the right opportunity is presented, something Perry says she would love to see. 
"It'd be great if it were in all 50 states, offering its quality furniture to those who need it most," she says. "I hope Chicago Furniture Bank becomes a household name—with everyone knowing what it is and what it can do."