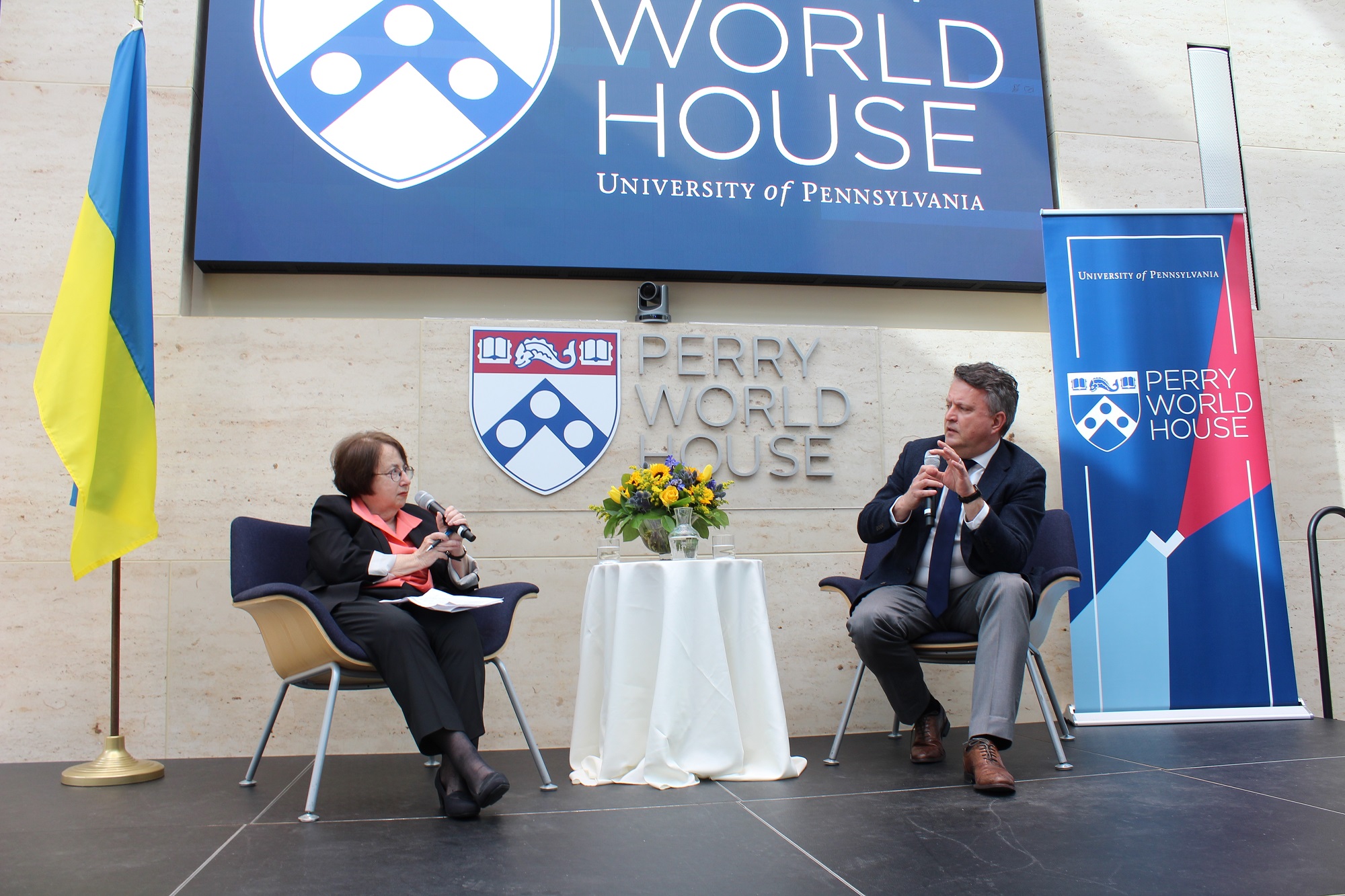 The fight against aggression by Russian President Vladimir Putin in Ukraine is not only a fight to save Ukraine but to also protect Europe and democracy globally, said Sergiy Kyslytsya, Ukraine's ambassador to the United Nations, during a discussion at Perry World House.
"It is not the issue of how to equip or provide enough weapons to Ukraine to defend Ukraine," Kyslytsya said. "It is in the intrinsic interest of every European nation and the collective civilized world to do everything possible and provide Ukraine with everything possible so that Putin's regime is defeated by Ukrainians."
Ukraine needs more weapons and supplies and is in "quiet but very intense" bilateral and multilateral discussions with several nations to get that support, said Kyslytsya . "It's possible" Ukraine can survive this war, he said, if democracies around the world "continue to be our partners and support us economically and militarily."
But if Ukraine cannot prevail, he said, "Putin will not stop" and will target other nations. "I have no doubt that if Ukraine fails, Putin won't be satisfied, and a small NATO country will be attacked," he said.
Kyslytsya spoke to an in-person audience of more than 100 at a Perry World House public event on April 14 that was also livestreamed online. He spoke with Trudy Rubin, foreign affairs columnist for The Philadelphia Inquirer and a Perry World House Visiting Fellow.
Penn Interim President Wendell Pritchett noted in his introduction that it was the 49th day since Russia invaded Ukraine, creating "unprovoked destruction" with the all-out assault.
"Obviously we are appalled and outraged," Pritchett said. "But we also feel enormous admiration for the bravery of the Ukrainian people. They show all of us just how precious and how hard-won liberty really is. Ukrainian courage and perseverance serve as the most compelling reminders that nobody can take liberty for granted."
Pritchett added that "we must always stand united against forces" that would try to steal "the things we hold most dear," life, liberty, and the pursuit of happiness, even if that place was far away. Kyslytsya's visit to Penn, he said, was important to "seek to better understand the greatest challenges of our time" and contribute to solutions to improve and save lives.
Kyslytsya described the Russian government as a "toxic mold" that has been growing in the structure of the United Nations for more than 40 years, and rather than scraping away that mold the U.N. has been painting over it, layer after layer, with each aggression, listing Georgia, Syria, Crimea, and now Ukraine.
"Under those many layers of paint there is a rotten structure," and unless action is taken the U.N. will collapse, he said, creating a dangerous situation.
"The victory for all of us is not the military victory in the territory of Ukraine over the Russian army. The victory for the entire civilized world is putting Russia back at the very beginning of the long path towards democracy," he said. "That is why the most dangerous scenario that I describe to my colleagues is that, if Russia is militarily defeated in Ukraine, we switch to business-as-usual overnight."
However, Kyslytsya said he continues to defend the U.N. in daily conversations with Ukrainian leaders. "Because destroying the United Nations is what evil wants," he said. He clarified that Ukraine's President Volodymyr Zelenskyy has said that the U.N. should be dissolved only if a serious effort to reform it fails.
As to the question of whether Kyslytsya believes Russia can be removed from the U.N. Security Council, he replied, "I say Russia is not a member; Russia occupies the seat of the Soviet Union." The Security Council and General Assembly did not vote to give Russia that seat after the collapse of the Soviet Union, as is required by the charter, he said. But no nation wants to revisit that question now, he said.
The reaction by Ukrainians to come together to fight for their nation's freedom reminded Kyslytsya of the reaction by Americans after the 9/11 attacks, he said, when he lived in Washington, D.C.
"I don't believe that any peace deal that includes territory concessions is feasible," Kyslytsya said, adding that it would be "politically suicidal" for Ukrainian leaders to support such an agreement.
Even if Russians are "zombiefied" by government-controlled Russian television, he said, Russians travel abroad, talk to friends and relatives outside of the country, and have access to the internet and other media but choose not to face the reality of the war.
"Many Russians say, apologetically, You know we should not really blame the Russians and Russia because they are so terrorized by the police and by the state. I don't buy it," he said. "I do not buy the narrative that Russians are not responsible for this happening because they do not have access to the news. The Russians simply do not want to critically digest the information."
Rubin asked Kyslytsya what he would consider a victory for Ukraine and the democratic world in the fight against Russia. "We have to be mentally, politically, militarily, and economically ready for a long-haul process that stretches well beyond the point of the military defeat of the Russian army in the territory of Ukraine," Kyslytsya said.
"The ultimate victory is the moment when the Russian people abandon this scenario that has been so deeply engrained in their mentality by Putin, and they tell themselves, We need to return to the path of democracy, and they take meaningful, verifiable actions and steps toward a democratic Russia."
A recording of the event is available on Perry World House's YouTube channel.