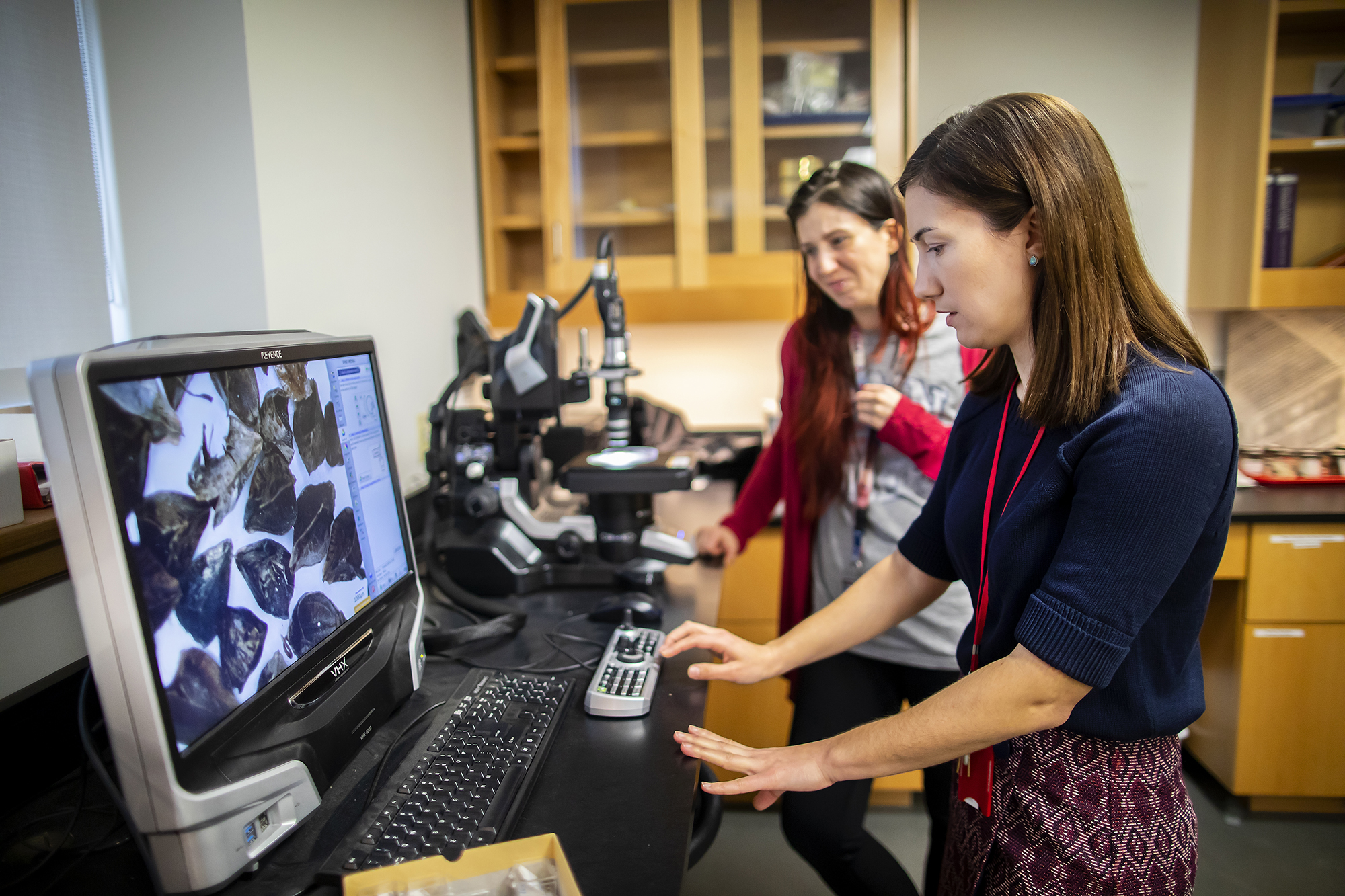 Most people wouldn't think to vacuum up and keep an assortment of dirt and seeds, cobs and shredded paper discovered under the floorboards of a centuries-old farmhouse attic. And even if such a collection was spared, fewer people still would give it a second look, relegating it to the trash bin.
But in a fortunate turn of events, just such an assemblage—which belonged to the Bartram family, arguably the first botanical scholars in North American history—was saved, and then landed in the lab of Penn archaeobotanist Chantel White. Now, White and her students are sorting and identifying the specimens.
"No discussion of North American botany ever takes place without mentioning the Bartrams. For the longest time all we had was their seed catalog and their written journals," says White, a teaching specialist in the Penn Museum's Center for the Analysis of Archaeological Materials (CAAM). "This is the first actual plant material we have from their estate."
After just a few months and analysis of a fraction of the collection, the research team has already made some intriguing findings, verifying what the family was selling and exporting to Europe sometime around the early 1800s but also, and somewhat more surprisingly to White, learning about the Bartrams' daily dietary habits. "We ended up finding what they were growing and eating in their kitchen garden," she says. "We hadn't realized just how much they were cultivating there."
The Bartram legacy
The first Bartram, John, moved to Philadelphia in 1728, eventually acquiring three adjacent farms partially preserved in the 46 acres today known as Bartram's Garden. A self-taught herbal doctor with a strong interest in plants, Bartram quickly started offering medicinal plant treatments, then began traveling locally to find new samples and remedies. "That's the start of his business and his interest in the science of botany," says Joel Fry, curator of Bartram's Garden.
Soon, Bartram journeyed farther and farther afield in search of plants, north to New England and south to Florida. His reputation crossed the Atlantic, making its way to members of London's scientific and garden communities, and specifically to a man named Peter Collinson.
"Collinson is a Quaker cloth merchant and an avid amateur gardener," Fry explains. "Bartram and Collinson begin a correspondence in the 1730s that lasts their entire lives, they become incredibly close friends, and most of what we know about this garden comes from those letters. They talk about plants constantly."
At first, they just wrote letters. Then Bartram began sending seeds to Collinson, who was so intrigued by what his American friend shared that he encouraged other scientists and gardeners in London to buy them. "Eventually Bartram is getting 100, 200 pounds a year," Fry says. "That doesn't sound like much, but it's a lot of money in the 18th century and the fact that there were Europeans who would pay for these items allows this to become a real scientific botanic garden."
Bartram trained several of his nine children to find plants in the wild, an endeavor that led to the creation of a large botanic library in Philadelphia and a growing business that remained a family affair for two more generations. Bartram's son William took it over, and working with his brother John, sold not only to Europeans, but also to several of America's Founding Fathers. The business then went to John's daughter (the elder John's granddaughter) Ann Bartram Carr and her husband Robert Carr. Together, they expanded the garden to 10 greenhouses, 1,400 native plants, and 1,000 exotics.
"She and her husband began looking at the local Philadelphia community, because as the middle class is growing in Philadelphia, they want to buy plants. Indoor plants, house plants, greenhouse plants become a big thing," Fry says. "They're able to keep this garden going for a very long time, and it really becomes the first American scientific botanic garden. There are many gardens that claim to be the oldest or first in America, but this one really is."  
A happy accident
That's why it was so exciting to find actual plant material in the family's attic, especially because it happened purely by accident.
In the 1970s, in preparation to restore the Bartrams' home, architectural historians were combing through every inch, removing doors, looking in closets, pulling up floorboards. On the third level in the back room under the floor, they found debris likely brought in by squirrels, rats, and other rodents. "It looked like what you'd find under a bed, kind of like dust bunnies," Fry notes.
For reasons no one will likely ever know, they vacuumed up and bagged the pile of dusty plant material, then put it into a box—where it stayed for three decades. Fry, who earned his bachelors and master's degree in archaeology at Penn, remembers seeing and being interested in the box during work there in the 1980s, but at the time, there was no money to have it analyzed.
White often brings her Penn archaeobotany seminar to Bartram's Garden so students can experience a garden landscape within the city. In 2017, "we came out here for a field trip and it turned out that in talking with Joel, there was a chance to study an assemblage of plants found here in the house," White says. "The opportunity to work hands-on is fantastic for students. It's one thing to hear someone talking about archaeobotany in a lecture setting. It's a completely different situation to get to study a unique assemblage that's never been looked at before."
Bartram's Garden initially agreed to lend Penn the materials for the Spring 2018 semester, when students Bevan Pearson and Elizabeth Coulter, both 2018 graduates, began a preliminary study. Analysis of the materials has continued since then. "It's such a big collection," Fry says. "It could be studied for many, many years, if there is interest and students who want to work on it."
At this point, there's no dearth of either, with enthusiastic participation from people like White and alum Juliet Stein, who earned her master's in liberal arts from Penn in May 2018. As a graduate student concentrating on ethnobotany, Stein worked with the Bartram's materials, and she continues to do so now as a project volunteer. She sees great potential in the preserved plant assemblage.
"When you're looking at archaeology as a whole, people get very excited about spectacular displays of archaeological phenomena" like the remains of an entire village, Stein says. "But I think through food and plant remains, we really get a photograph of everyday life."
Surprising findings
Before White and Stein began digging into the assemblage, they expected to find evidence to corroborate the Bartrams' writings about what they were selling to plant enthusiasts in Europe. The researchers didn't think, however, that they might also discover what the family was eating.
"We found parsnip. We've got peanuts and Brazil nuts that were probably being grown or at least consumed by them," White says. "We found remnants of peaches and cherries, chestnuts and hickories and kidney beans. A lot of partial kidney beans."
Both agree buckwheat was one of the most intriguing kitchen-related discoveries. "In one of the surviving documents, William Bartram writes about 'making pancakes in the fall and winter, making a thin cake on a hot iron plate using butter and served with coffee and tea,'" Stein says. "It may seem mundane, but that's really reconstructing life back then. Our food nowadays looks quite different, but that gives us a great historical culinary snapshot."
Beyond that, the Penn researchers are also using this physical evidence to substantiate specifics of the Bartram seed business. For instance, they've identified sweetbay magnolia from the Southeastern U.S., as well as oak and pine trees, and witch hazel, which was discovered and cultivated by Bartram senior.
It's hard to pinpoint an exact date for the assemblage. With financial support from CAAM, White radiocarbon-dated two specimens, but the results came back inconclusive. Newspaper scraps suggest an early-1800s timeframe based on fonts and the news of ships arriving in the Philadelphia harbor. But "it's difficult to say whether it would have been William Bartram or a little bit later," White says. "We're matching it up as best we can with some of the literary records and historical documents that we know the Bartram family had."
In a broader context, why do seeds and shell casings from the 1800s matter? White has a quick answer.
"John Bartram is the father of North American botany," she says. "The family was the first to start cultivating the Venus flytrap. They were the first, and only, to find a small tree called the Franklinia in 1765, and every one that grows in any garden is descended from theirs. They collected and entered into the gardening world so many species that we think of as common today."
'Botanical oasis'
Despite the already-promising results from this work, there's plenty more to do. White estimates she, Stein, and the Penn students have analyzed about one-tenth, maybe one-sixth of the collection. Which also means there could be much more to learn, Fry adds.
"The work is really giving us an overarching view of what was growing in the garden at some point," he says. "We don't know how it was selected. Squirrels or rats pulled this material in because they were storing it and eating it over the winter, in which case they probably only took things that are edible and good and nutritious, not tiny, dusty seeds that were not interesting to them. And it may have been over a long period of time, decades even." Future findings could also illuminate the eating habits of early Philadelphia citizens.
For the moment, though, the researchers are basking in their role as archaeological detectives in what Stein describes as a "botanical oasis in the middle of a bustling city."
"You turn into the Bartram's Garden entrance, and immediately the sounds of the city bleed away," she says. "You're on an old piece of land that used to be a farm and plant business and you kind of still feel like you're there. It's really quiet. Everything is preserved really nicely, and you step into this other world." One inhabited by three generations of a family that added richness to the history of North American botany like few others.
Homepage photo: In the lab at the Penn Museum's Center for the Analysis of Archaeological Materials, White's team has been painstakingly sorting and studying the collection found in the Bartram's attic, then comparing their thoughts with any available historical records.