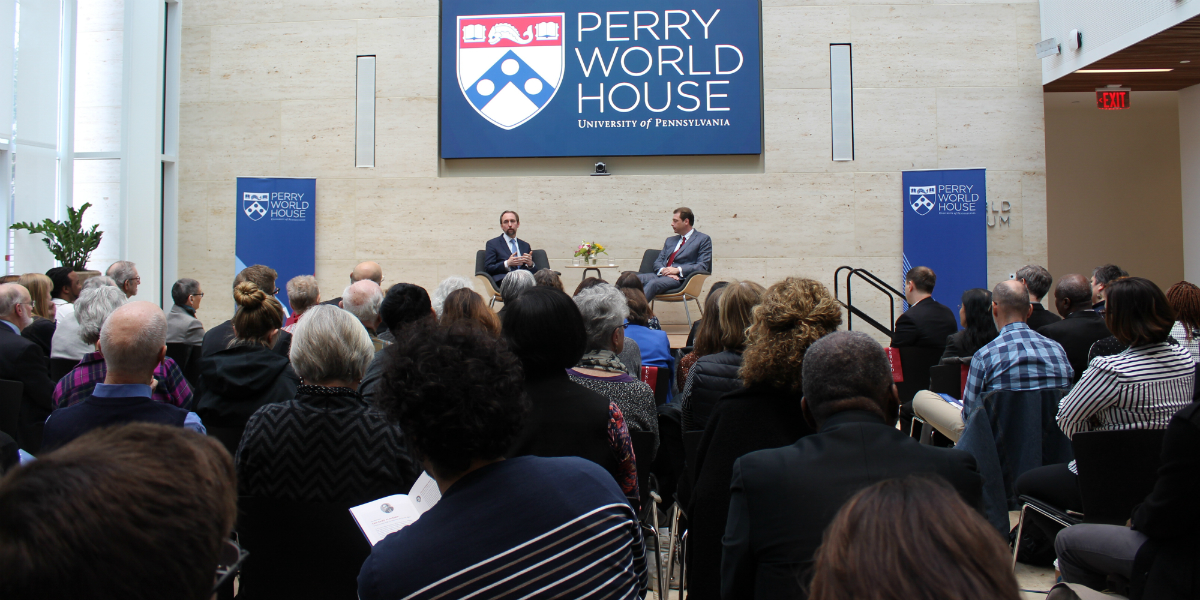 As the United Nations' Universal Declaration of Human Rights turns 70 this year, scholars at the Perry World House (PWH) brought thought leaders together with the public to examine how these rights are denied, ignored, and challenged.
Penn Provost Wendell Pritchett introduced the keynote speaker, Zeid Ra'ad Al Hussein, at the PWH Global Shifts conference on April 10, saying that "the challenge is clear ... human rights are under siege."
Al Hussein, the U.N. High Commissioner for Human Rights, has been a vocal critic of human-rights abuses around the world, particularly those committed by the Syrian government as well as the government of Myanmar.
"The human rights field," said Al Hussein, "depends very much on the need for shame," and he hopes that shining a spotlight on human rights violators will embarrass them." He then asked rhetorically, "But what happens when they don't have shame? When they couldn't care less?"
He decried Syria for killing its people with chemical weapons and destroying three medical facilities there, in a calm voice saying, "There's no limits. No shame."
He also singled out anti-immigration hard-liner Viktor Orban's election this month as prime minister of Hungary as evidence that the political oppression of immigrants and refugees in that country will increase.
Said Al Hussein, "After waging a campaign almost exclusively on hatred, [Orban] is now in a position to change the country's constitution for the worse."
Orban opposes the UN Global Compact for Migration and Hungary has adopted his 12-point proposal, that Al Hussein called so "outrageous" that he had to read it during his address. He ticked off each of the 12 points.
"Migration is unfavorable and dangerous ... migration is not part of human rights," he read. "Migration is not beneficial," then he joked, "tell that to the United States." The aside drew laughter, providing a moment of relief and levity.
"When we speak about migration we speak about a very small percentage of the global population that's moving, three to five percent. Ninety-five percent of the population is not moving," he stated.
Al Hussein has witnessed crimes against humanity. He personally knows refugees who have been compelled to flee their homeland and those wrongly imprisoned for crimes they did not commit. But it was only after he watched a television cooking program that moved him to tears, that Al Hussein, says that he knew it was time to step aside.
He told the audience that he knew it was time to leave his post after speaking with his wife who was at home in New York. He was at his office in Geneva. She encouraged him to watch some internet videos of cooking shows that she and their daughter had enjoyed seeing. It would give him something to talk to the eight-year-old about and help get his mind off the world's troubles. But when he caught an episode of "The Great British Bakeoff" he saw a contestant take a soufflé from the oven. It collapsed and Al Hussein did too. "I burst into tears and I knew I probably needed a rest."
In December, he explained his decision not to seek a second four-year term in an email to his staff. He wrote, "To do so in the current geopolitical context, might involve bending a knee in supplication; muting a statement of advocacy; lessening the independence and integrity of my voice—which is your voice."
He ended his speech referencing an allegorical tale from a Sufi poem about a group of birds looking for a leader. After a perilous journey in which they had to endure many hardships, eventually 30 birds arrived across seven oceans, ruffled and worn out. The birds found 30 mirrors when they landed, reflecting the leader each was looking for, with the moral of the story being we are our own leaders.
He implored the audience to speak out, and to find the mirror in themselves.
He was given rousing applause and a standing ovation. During a question and answer session moderated by Inaugural PWH Director William Burke-White, Al Hussein was asked what we should be doing today to prevent another Syria, another Myanmar, another Hungary.
He turned the question around to the audience and asked, "Of 193 countries, 193 foreign ministries, how many would we need to keep the world safe, 20? 10? Name them." That daunting task is the threat we face, finding enough foreign ministries of like minds to stand up for human rights.
"No one, not the students here, should doubt the importance of their own voice," Al Hussein imparted.
During the forum, he engaged several Penn students, who took the mic, in dialogue: Rachel Brock, a senior international relations and French major from Ithaca, N.Y., Elizabeth Peartree, PWH undergrad student fellow, a junior from McLean, Va., Thabo Dhlamini a sophomore from Zimbabwe, and Amanda Jonas, a first year Penn Law student.
He then held court with a large circle of audience members who eschewed the line for lunch before the conference continued that afternoon with a session on the protracted displacement of refugees. It featured Barbara Rijks, head of the International Organization for Migration's mission-coordination unit in Baghdad; Saskia Sassen, a sociology professor at Columbia; and Edward Kallon, U.N. resident coordinator in Nigeria.
The conference closed with a session that featured Yasmine Mustafa, CEO of ROAR for Good,and;former Philadelphia city solicitor Sozi Tulante, a lecturer at Penn Law, discussing their experiences with forced migration and immigration policy in Philadelphia and the U.S. PWH Deputy Director Lashawn Jefferson moderated the session.
Earlier in the day, the conference opened with a session on the role and responsibilities of journalists and the media in reporting on refugees and migration issues. Trudy Rubin, columnist for The Philadelphia Inquirer, moderated a panel with Graeme Wood, national correspondent for The Atlantic and PWH Visiting Fellow; Sasha Polakow-Suransky, deputy editor at Foreign Policy; Sarah Stillman, staff writer at The New Yorker and director of the Global Migration Project at Columbia University's Graduate School of Journalism; and Bill Orme, U.N. representative for the Global Forum for Media Development.
This is the second colloquium for Perry World House's research theme, Global Shifts: Urbanization, Migration, and Demography. It is an annual colloquium highlighting a focal area of the Global Shifts research theme. Perry World House regularly hosts other workshops, events, and working groups as part of this research theme during the year.