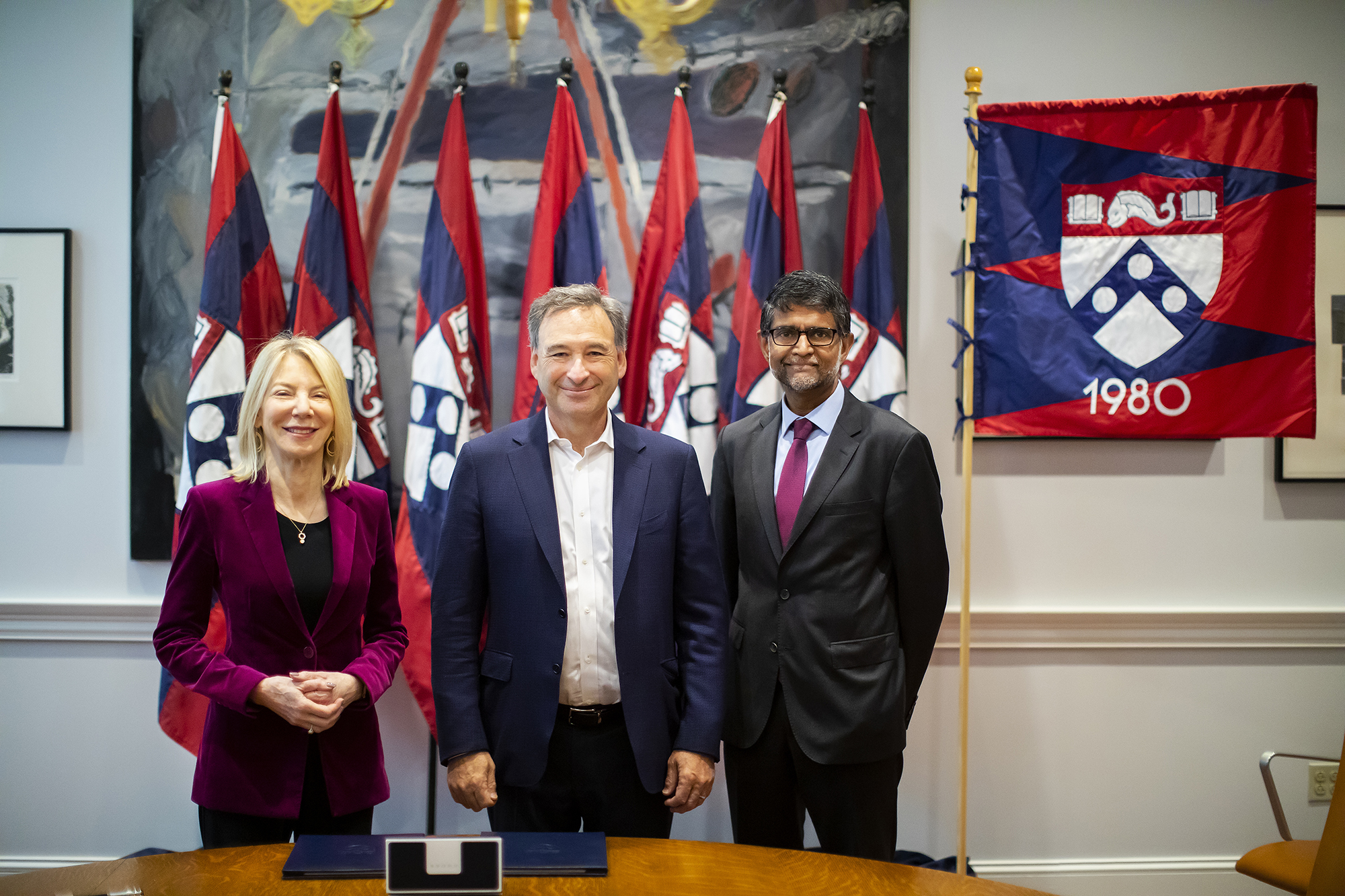 The University of Pennsylvania School of Engineering and Applied Science announced today the largest gift in the School's history—a $25 million commitment from Harlan M. Stone, C'80, PAR'13, to support the construction of a new Data Science Building.
The building, which will be located at the corner of 34th and Chestnut Streets, will serve as a hub for cross-disciplinary collaborations that harness expertise, research, and data across Penn's 12 schools and numerous academic centers. Upon completion, the Data Science Building will centralize resources that will advance the work of scholars across a wide variety of fields while making the tools and concepts of data analysis more accessible to the entire Penn community.
"We are profoundly grateful to Harlan Stone for this exceptional gift," said Penn President Amy Gutmann. "As a loyal Penn alumnus and a long-time friend of Penn Engineering, his vision and leadership are truly inspirational. The Data Science Building will promote collaborations across disciplines as scholars harness data responsibly to discover innovative solutions for crucial issues facing the world. Applying knowledge to create real-world impact is why Benjamin Franklin founded our University, and Harlan Stone's leadership gift strengthens the very heart of The Power of Penn Campaign."
Planned features for the Data Science Building include active learning classrooms; collaborative spaces for student projects; a data science hub for the entire Penn community; research centers for new socially aware data science methodologies and novel, bio-inspired paradigms for computing; and laboratories that will develop data-driven, evidence-based solutions for safer and more cost-effective health care.
"I feel very strongly that rigorous application of engineering principles can benefit humanity, especially data science," said Mr. Stone. "The possibilities for utilizing data to improve lives around the world are virtually endless and exciting to think about. There is no better place than Penn Engineering for this to be accomplished and I am humbled to help make this a reality."
"Data-driven approaches and methodology are being used to drive decision-making and propel innovation in virtually every academic discipline and business," said Penn Engineering Nemirovsky Family Dean Vijay Kumar. "Harlan Stone's vision and generosity in supporting this new educational and research facility will elevate data science to greater prominence on our campus, fueling Penn Engineering to the forefront of a field that is central to the future of humanity."
Mr. Stone's gift supporting the Data Science Building helps Penn Engineering achieve one of its major objectives for The Power of Penn Engineering: Inventing The Future Campaign. Through the Campaign, the School is adding cutting-edge spaces for education, research, and technology innovation; growing its distinguished faculty, including new endowed positions; and cultivating innovation and entrepreneurship among students by creating opportunities for networking within Philadelphia's tech ecosystem.
Mr. Stone is the CEO of HMTX Industries, a global flooring manufacturer whose brands service a diverse cross-section of the construction marketplace. An alumnus of the School of Arts & Sciences, he serves on the Penn Engineering Board of Overseers and is currently Chair of its Academic Life Committee. He also chairs the newly formed Penn Engineering Technical Advisory Board.
His past philanthropy to Penn Engineering has advanced the School's highest strategic priorities, including an endowed professorship, financial aid support for undergraduate and graduate students, and an interactive animation theater in the Digital Media Design program. Mr. Stone is also active at Penn Medicine, serving as a member of the Abramson Cancer Center Innovation Advisory Board and supporting the Basser Center for BRCA and the Tumor Sequencing and Analytics Fund.
The School of Engineering and Applied Science at the University of Pennsylvania is comprised of six academic departments and numerous interdisciplinary centers, institutes, and laboratories. Penn Engineering's goal is to prepare students for leadership roles in a technological world where creativity, critical quantitative thinking, effective communication skills, and a strong commitment to humane values are essential.
The University of Pennsylvania, founded in 1740, is an Ivy League institution with a distinctive past. Its 12 undergraduate, graduate, and professional schools are located in Philadelphia on an attractive urban campus that serves a diverse community of more than 20,000 students from throughout the nation and around the world.  Ranked consistently among the top universities in the nation, Penn has a longstanding reputation for excellence in graduate and professional education.