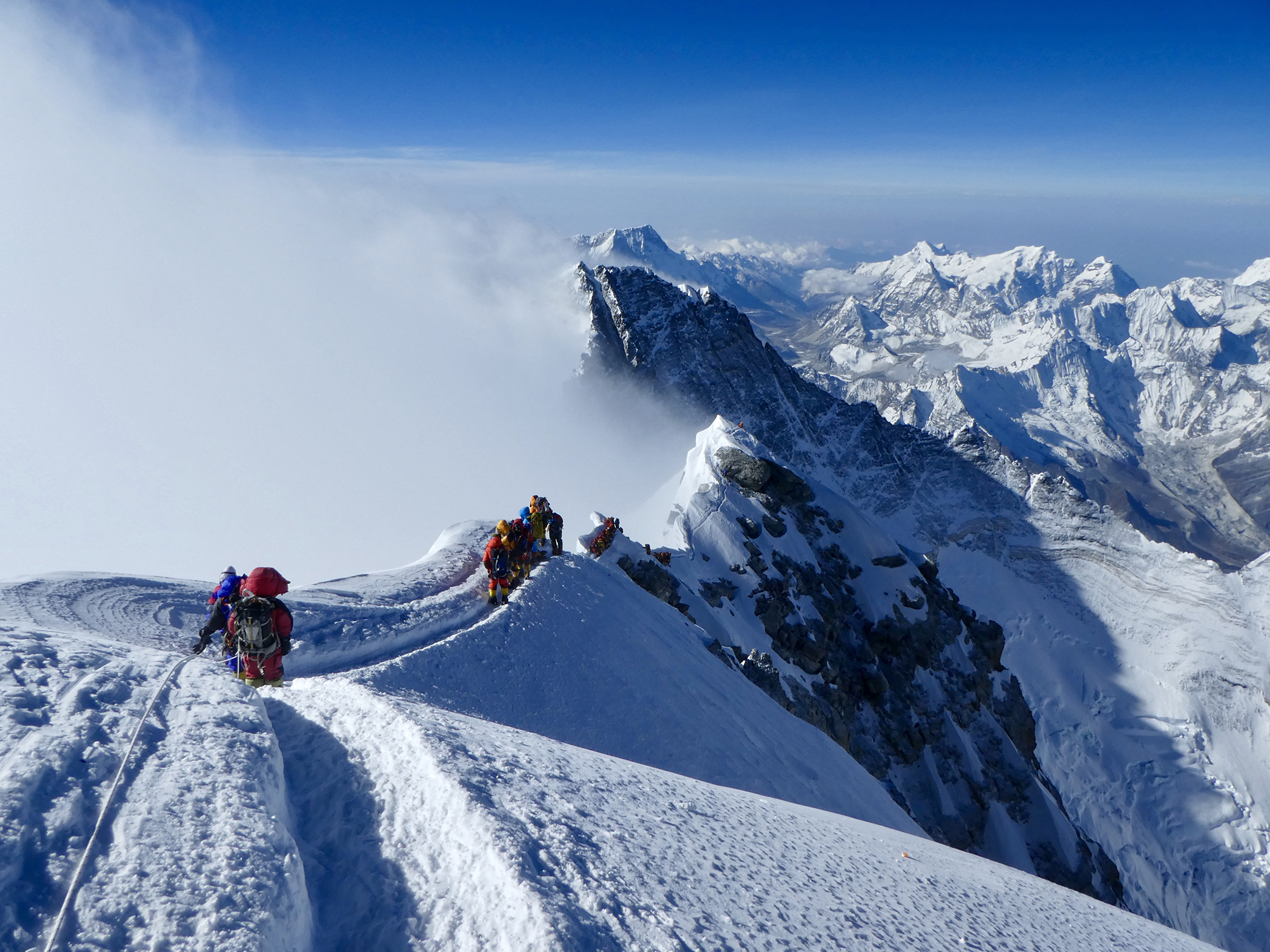 Andrew Towne set out to climb Mount Everest, the highest mountain in the world at 29,029 feet, to overcome his fear of heights.
The Grand Forks, North Dakota, native, a 2015 alumnus of the Carey JD/MBA Program, made his first attempt in the spring of 2015 from Nepal. 
He was thwarted by the Gorkha earthquake, a 7.8 seism that struck near Kathmandu on April 25 and caused around 9,000 deaths and destroyed more than 600,000 structures.
Around 1 p.m., he was eating lunch on a folding table in a tent at Base Camp, located on the slowly flowing Khumbu Glacier at around 17,500 feet, when he felt some light rumbling. He thought the person sitting next to him was jiggling his leg, but then he saw the eyes of his expedition leader light up, who instantly recognized what was occurring and said, "Earthquake."
Towne hurried outside the tent terrified that an enormous crevasse would open up in the ice underneath them and the earth would swallow them up whole. He heard rocks and snow falling, looked north to Everest, and saw a cloud of ice and rocks more than a quarter-mile tall rushing at him. 
"I had no idea what was in this enormous cloud, but I figured it was not good, so I ran behind the nearest bolder and ducked into the fetal position," he says. "All my attention went to my back so that I could focus on feeling the first bit of snow and immediately taking one last deep breath in case I was going to tumble down the glacier in an avalanche."
But in an instant, the danger receded. Everest had spared him. 
He stood up, brushed maybe a centimeter of snow powder off his person, and realized that he survived. He heard a crackle on his radio; it was the voice of his expedition leader confirming that his team was safe. 
Other parts of Base Camp were not so lucky.
The thrust of the avalanche hit hardest as close as 300 feet from their tents. An ice shelf fell during the earthquake from about 5,000 feet above and smashed on a ridge atop the camp. When the ice shelf crashed into the mountain, it created a cloud of snow, rocks, and large blocks of ice raining down from high above.
"The damage at Base Camp and the deaths occurred when, inside this cloud of snow, some people and tents were hit by chunks the size of tractors and maybe even some as big as a semitruck," Towne says. "I was lucky enough that the cloud hit me, but none of the chunks of ice or rock hit me."
Towne's camp turned out to be one of the least afflicted sections of all of Base Camp. Within half an hour, it was transformed into a triage hospital as casualties began pouring in.
"Quickly, other people started bringing their dead and dying to us," he says. "There were doctors from other expeditions who set up a makeshift hospital and we started treating them as fast as we could."
Towne helped doctors distribute warm water bottles to patients, feed the injured, and fetched sleeping bags from other areas of the camp. With the arrival of dusk, temperatures would plummet. Wounded who were not kept warm were at a greater risk of falling into shock.
As night fell, the able-bodied made sure every patient had been treated two or three times, and set up an overnight call schedule so victims could continue to receive care while the unscathed got some sleep.
"We had no idea how long it would take before evacuation to a hospital could take place," Towne says.
He went to sleep nervous—and woke up to the sound of the first helicopter just after dawn. By noon the following day, all injured persons had been evacuated to hospitals in Kathmandu. Towne and his teammates began trekking away from Everest a day or two later.
"My experience surviving the avalanche on Mount Everest in 2015 made me appreciate life more and realize how everything can change in an instant," he says. "It was a tragic occurrence at Base Camp. Somewhere between 15 and 35 people were killed that day. But relative to the devastation across the country of Nepal, where many thousands of people died in the earthquake, the avalanche it triggered at Everest was trivial."
Unbowed and still fascinated by the mountain, and the Sherpa people of the Khumbu Valley, Towne returned to Everest two years later to attempt another summit. Aided by his Sherpa climbing partner, Pasang Kami, an experienced team led by WEMBA Himalaya venture leader Ang Jangbu, and his good health, he was successful.
Reaching the top, he says, "felt good. It felt real good." He was flooded with feelings of joy, relief, and inspiration, but also dehydration, oxygen deprivation, and concern about the descent, the most dangerous part of the entire expedition.
Towne summited Everest along with Jason Wolfe, his good friend and Wharton classmate who received his MBA in 2013. They climbed together for the most part, with Wolfe reaching the top first and descending slightly faster. 
When Towne safely reached Camp 2, about 9,000 feet below the summit, he met up with Wolfe again and they celebrated their achievement with hot ramen soup. The next morning, they walked down to Base Camp side by side, and were in Kathmandu a day or two later.   
"That's when I really started to appreciate the fact that for me, it was the end of a 14-year journey," says Towne, who has climbed the Seven Summits. "I had begun climbing the tallest mountain on every continent in 2003, so achieving the goal had been a long time coming, and I'd been able to do it alongside a good friend, which made it that much more fulfilling."
Wolfe tragically died in a mountaineering accident eight months later while descending Pico de Orizaba, the highest mountain in Mexico and the third-tallest mountain in North America.
"Jason was very well loved by our Wharton MBA class," Towne says. "We continue to mourn his loss."
From the top of Mount Everest, Towne says you can look around 360 degrees and see a tiny, sharp ridge below, which is Mount Lhotse, the fourth-tallest mountain in the world. Across the valley is Cho Oyu, the eighth-tallest mountain in the world. In another direction lies Makalu, the fifth-highest mountain in the world. 
"It's incredible to look down on the tallest mountains in the world, realizing that you're above them all," he says.
The view, he says, is awe-inspiring.
"I saw the sun rise and paint the shadow of Everest as a pyramid stretching halfway into Tibet across the Tibetan plateau in the north of Mount Everest on the other side of the Himalayan mountain range," he says. "It's a view unlike anything I've ever seen before."
 Towne says the sense of satisfaction from reaching the top of Everest is greater than other mountains he has summitted because "the physical exertion and the altitude play so much more of a larger role than they do on some many other mountains."
Climbing Mount Everest did not cure Towne of his fear of heights. He says he still gets anxious when rock climbing or when hiking on particularly steep terrain.
"But whereas 15 years ago, that fear would paralyze me, today that fear makes me hyper-alert," he says. "While it's still fear, I'm better able to rationalize with myself the source of the fear and what I can do to calm my nerves and overcome it."
If a person were to travel from sea level and rapidly ascend to the top of Mount Everest, sometimes called the "death zone," he or she would be dead in a matter of minutes. There is not enough oxygen in the air at that altitude to sustain homeostatis. Everest's summit approaches the cruising altitude of commercial airplanes, and it would be as if a traveler was flying in a plane and it suddenly decompressed.
In order to survive at high altitudes, climbers must first acclimatize, a process by which, over several weeks, they allow their bodies to adjust to the oxygen-deprived air.
Tejvir S. Khurana, a professor in the Department of Physiology and the Pennsylvania Muscle Institute at the Perelman School of Medicine, says the acclimatization process for a mountaineering expedition to Everest takes one month to six weeks, depending on the individual. Protocols call for climbers to ascend at a snail's pace, climbing high and sleeping low. This enables their bodies to increase production of hemoglobin, which causes their blood to carry more oxygen.
"Your body needs that amount of time," says Khurana, an expert on muscle diseases and high-altitude medicine. "It's not just the blood component; you actually change the amount of vessels you have. You change the way your muscles and lungs handle oxygen. You change your breathing capacity. There are all kinds of changes."
Failure to sufficiently acclimatize can lead to high-altitude cerebral edema, swelling of the brain, or high-altitude pulmonary edema, fluid in the lungs. Both are life-threatening medical conditions.
Khurana, a lifelong mountain climber who grew up in India in the Himalayas, has conducted research on Everest to study the effects of high altitude on the body. Individuals who climb high mountains develop hypoxia, or lack of oxygen, which effects many body functions and is crucial for the study of diseases.
"One of the diseases I work on is muscular dystrophy," Khurana says. "That's my main focus, and patients with muscular dystrophy actually can't breathe too well so they end up getting hypoxic."
Medical experts can develop scientific chambers that simulate hypoxia, but they are not as accurate as experiments done on actual mountains, he says.
Hypoxia has been implicated in the development of ophthalmological diseases such as diabetic retinopathy, central retinal artery occlusion, and glaucoma, and is also known to affect visual functions, including color vision.
Along with former graduate researcher Gabriel Willmann, Khurana traveled to Everest in 2008 to investigate changes in color discrimination in the eyes as a result of chronic hypoxic exposure induced by altitudes above 27,000 feet. 
During the same expedition, Khurana and Willmann, in collaboration with the World Anti-Doping Agency, did research on Everest to develop a blood test to catch athletes who synthetically boosted their hemoglobin, an illegal form of performance enhancement.
Willmann and Khurana have also conducted experiments on Denali, the tallest mountain in North America, and the Andes in Chile, the highest mountain range outside of Asia.
"Our main goal is to use that information towards developing treatments and therapies for patients with muscles diseases and other respiratory diseases," Khurana says.
In the course of the 2008 excursion, Khurana got within 1,200 feet of Everest's summit before turning around due to concerns for the mice they were using in their study. In partnership with Beijing Sport University, he is planning another research expedition to the mountain, although he says he would not be disappointed if he never reached the top.
"It's all the same," he says. "Part of [the allure of mountain climbing] is the expedition, part of it is just that mountaineering is fun. If it happens, it happens. If it doesn't happen, it doesn't happen. It's no big deal."
On Thursday, May 23, at 5:55 a.m., Sophie Hilaire of Chagrin Falls, Ohio, reached the top of Mount Everest.
The Wharton alum, who received her MBA in 2017, began her summit attempt from Camp 4, at 26,000 feet, in the black of night at 10 p.m. the preceding evening.
Walking in the dark—the sun would not rise until 5 a.m.—and suffering from hours-long nausea, all she could see were the headlamps of other climbers off in the distance, which looked like stars against the backdropped sky.
Along the way, she came across the bodies of several dead climbers and ill and incapacitated mountaineers who were being brought down the mountain by Sherpas. The photo that went viral showing a long line of climbers attempting to reach the summit was taken the day before.
 "On that crowded day, they had casualties, they had a lot of rescues, and there were three dead people on the mountain that we passed right next to us on our way up," she says.
A graduate of West Point who was previously deployed to Afghanistan, Hilaire says even in the Army she had never been this close to death.
"It's crazy because these people that are passing me on the way down or frozen there on the mountain right next to me were just like me a few hours ago," she says. "They had the same dream, they probably also trained for years. They wanted to come home to their families and celebrate when they were done, and instead their whole life just ended on this mountain."
For all these reasons, Hilaire began to wonder if the deceased knew they were in trouble right before they died, and she made sure to monitor her vital signs to ensure that she could survive the journey. 
Once she reached the top of Everest, all of her fear and anxiety subsided.
"It was just the most beautiful thing I had ever seen," she says. "When you're in a plane and you're flying over mountains, the view is obviously stunning—but my feet were on the ground and I was looking down on the Himalayas. It was so magical. The lighting was beautiful, the mountains were purple, and I felt so much gratitude for my guide, Ang Dorjee, and my Sherpa, Rinji.
"I cried a lot," she says. "I was really happy. I'd been worried that by the time I reached the summit, especially with how nauseous I was feeling earlier, that I wouldn't be able to enjoy it and I would just kind of be out of it, but I was able to fully appreciate it. I felt an undeniable, powerful energy up there. I didn't want to leave. Even when we were on our way back down, I kept turning around. I wanted to go back. I felt like I had everything I needed up there."
Hilaire climbed Everest with a company called Adventure Consultants, which has more than 20 years of experience helping people acclimatize and summit the mountain safely.
Her two-months-long acclimatization process involved three rotations, or three different climbs from Base Camp, each progressively higher to enable the body to adjust to the altitude. The third rotation was to the summit.
The hike to Base Camp took 10 days.
"It's really cool, the trek into Base Camp, because you get to really experience the Nepalese culture, and you're in the mountains, and you're outside of Kathmandu," Hilaire says. "You're staying in lodges that are pretty rustic, but you get to talk to the owners, eat Nepalese food. It's really pretty special."
She says she first started to feel the altitude on the march to Base Camp; she started getting very light headaches. The first time she felt it more intensely was on the last day of the trek to Base Camp.
"My body just swelled up," she says. "It was really weird. My legs and arms were unrecognizable."
She attributes this to the altitude, the physically demanding climb, and drinking too much of an electrolyte drink, which she believes caused her to retain some water. In order to flush her system, she took some Diamox, a medication for altitude sickness.
While on Everest after acclimatizing, she says she started to experience altitude sickness at Camp 2, a little less than halfway to the summit. 
"I was just getting nauseous up there and my heart would speed up," she says. "It's hard to sleep when your heartrate is high. I definitely slept better as we went higher because at Camp 3 and 4 and the summit, you're on oxygen, which is really nice. Oxygen helps keep you warm, it helps get your heart rate down, it makes you feel like you're back at sea level, so you don't have as many symptoms.
Her military training unquestionably helped her climbing experience, she says, instilling in her a steely resolve and the importance of working as a team.
"I think in the Army, you learn a lot of great things. For me, one of them was definitely mental toughness in a physical sense," she says. "Everest is physically demanding, very physically demanding, and in the Army, you just never quit."
Of the five climbers on her Adventure Consultants team, the only two to summit successfully were Hilaire and Roman Tschupp, a 2016 graduate of the Wharton MBA program.  
She says she is not surprised that a number of Wharton students have climbed Mount Everest.
"There are a lot of really driven students at Wharton who love a challenge, who want to understand themselves better and find what those personal limits are and learn more about themselves," she says. "I think you learn a ton about yourself or whatever your perceived limits are and pushing those even further when it's you against Mother Nature. There's nothing more powerful than that."
Hilaire, a fitness enthusiast who has climbed Denali, Mount Baker in Washington state, and volcanoes in Ecuador, began thinking about climbing Everest around seven years ago after running in the Death Race in Vermont, a multi-day adventure in which 200 or so participants try to push their bodies to their breaking point or physical limit. Various entrants in the race were also training to climb Everest and she became curious about how much training it would take climb the highest peak in the world. 
"I think Everest just has this magnetic quality about it that really draws people in," she says. "No matter where you live in the world, we're all curious about this place, and maybe watched films or read books about it, and are fascinated by it in some way. I wanted to go there and see it for myself and have that experience. I knew when I came home, I would be a different person. I would have some transformational shift on the inside, no matter what happened, whether I summitted or not."