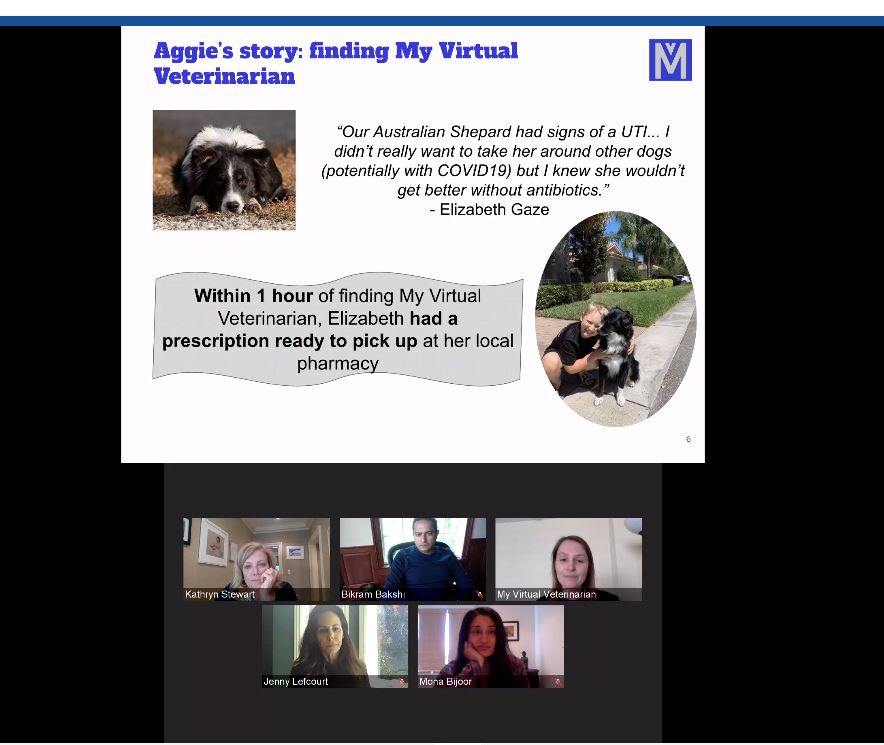 My Virtual Veterinarian, founded by second year Wharton MBA Felicity Johnson and advised by John Hurst, who is the only graduate student in Wharton and the School of Veterinary Medicine, collected the top prize at this year's Penn Wharton Entrepreneurship Startup Challenge.
Due to the global health crisis surrounding COVID-19, the competition was held in a virtual setting for the first time on Friday, May 1, and Saturday, May 2.
Eight finalist teams in the challenge pitched their new ventures to compete for $135,000 in cash and prizes. More than 170 viewers from across the globe tuned in to watch teams compete in the fourth annual event.
"The event spotlights the best and brightest student-led ventures from across the Penn community," says Cathy Ogur, associate director for Penn Wharton Entrepreneurship. 
It was sink or swim when the 'Shark-Tank'-style competition started with a group of nearly 30 student-founded startups from across the University. Judges narrowed the field to the final eight.
While the eight finalist pitches were streamed live on May 2, a group of Penn alumni panelists discussed how to navigate the world of entrepreneurship during a global pandemic, moderated by Wharton professor Mauro Guillen.
The webinar discussion, "COVID-19 & Beyond: Entrepreneurship & Innovation in a Recession," included Davis Smith, founder and CEO at Cotopaxi; Kathryn Stewart, founder and managing director at Cranbrook Capital; and Michael Vaughan, former COO at Venmo and current EIR at Oak HC/FT.
Stewart was asked what kind of advice she had for aspiring entrepreneurs in the midst of the coronavirus crisis with the economy in lockdown.
"Everyone talks about how great companies are formed in these times," she says. "A lot of it depends on how you are managing your cash flow, and I am seeing the businesses who are pivoting are actually increasing their cash flow. It also depends on knowing your customer and knowing your client's need, and can you help elevate their ping point."
Smith says existing entrepreneurs can also look at this crisis as an opportunity.
"Current businesses should think about this economic crisis in a more strategic way versus being fear-focused," he says. "Shifting products versus discounting for existing entrepreneurs is the best way to go. You do damage to the brand when you discount too much."
Vaughan says working for a start-up for new graduates or anyone else can exhilarate one's learning experience. 
"If you are graduating and debating whether to go work for a big firm or thinking, 'Do I work for a startup?'— if you want to be a founder at some point, I would highly recommend working for a startup," he says. "Even if it's unstable, and there are a lot of problems in the economy right now. You will learn way more in a few months at a start-up than you will working for a conglomerate."
This year's competition proved to be very different from years past for the judges, having to anticipate things that they were not used to because of the virtual setting, says Ogur.
"For instance, for the semifinals, normally the teams would pitch for five minutes and have seven minutes of Q&A," she says. "We felt that with the virtual format, we needed to adjust that. So what we did was we had teams pre-record their semi-finals pitches, so we could present them to the judges ahead of time to try and preempt technical difficulties."
The student teams then gave a short, elevator-type pitch followed by a more extended Q&A that was about 25 minutes long.
"This gave the judges more time to interact with the students and less pressure for the students," says Ogur.
The eight Startup Challenge finalists were selected Saturday morning after two rounds of closed-door pitch sessions in front of entrepreneurs and investors. These teams solved inventive problems across biotech, travel, health care, and fashion sectors.
Above all, one group dominated.
My Virtual Veterinarian connects pet parents with veterinarians for video and chat appointments, providing a unique solution during the COVID-19 pandemic. Felicity Johnson founded the company after experiencing time-consuming medical visits when her cat Tiffany was diagnosed with cancer. 
Through the My Virtual Veterinarian iOS app, pet parents can access their primary veterinarian, or find a different veterinarian who is available for virtual veterinary appointments, and schedule a convenient appointment time. This flexibility extends to the veterinarians, who can schedule appointments that fit their schedule, avoid unnecessary office visits, and access new customers.
Stewart, who was on the panel and also one of the final judges, says My Virtual Veterinarian serves an immediate need for a product already in demand by its users. 
"In March, the FDA suspended rules requiring vets to physically examine animals, creating a catalyst for a product with a high and immediate demand," she says. "The team did a great job communicating the value prop and its impact on a big and immediate problem with a large market. My Virtual Veterinarian's approach is one of creating a marketplace through user demand, differentiating itself from its competition and enhancing scalability."
Johnson spoke to Penn Today after the competition about their motivation, Penn's impact on her career, and future plans.